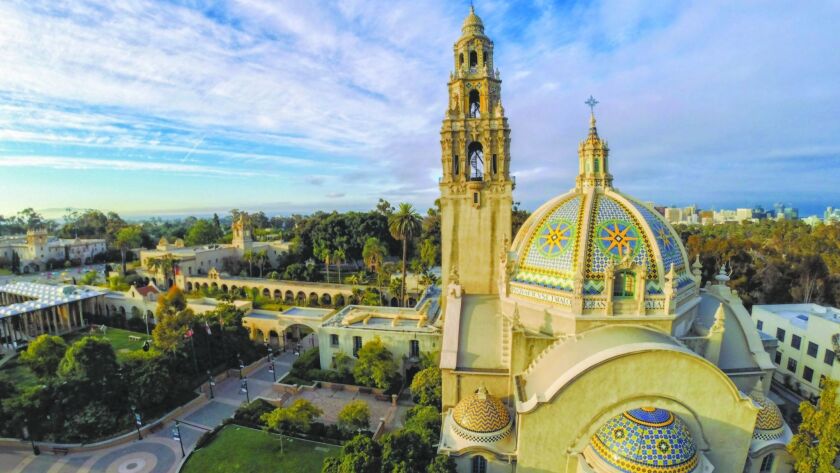 What does summer in our city mean to you? Given that our city is actually a sprawling county that offers a Choose Your Own Adventure assortment of experiences — Beach bum! Urban hipster! Insane Scooter Posse! — summer in San Diego could mean anything from a Day at the Races to a Night at the Pops. In fact, you could do both and still have time to sneak in a beer tour.
For me, the ideal San Diego summer means indulging your inner tourist with visits to the zoo and Coronado while flashing your locals badge at hometown spots that don't immediately trip the guidebook-meter. Each type of experience sparks its own kind of joy, and all of them will remind you that a day of San Diego fun is a gift that we get to open every day, all year long.
From Beethoven by the bay to a delightful walk on an old-school pier, here is a guide to some San Diego adventures that will give you that summer-in-our city glow, no matter which ZIP code you call home.

STARRY MUSICAL NIGHTS
Go big: Bayside Summer Nights
If your bucket list does not include an evening at a Bayside Summer Nights concert, you need emergency bucket-list assistance. With its ridiculously gorgeous setting next to the San Diego Bay, a dizzying collection of acts — Beethoven! Chaka Khan! "Singin' in the Rain" in concert! — and the singular sight of fireworks bursting in the balmy air, the San Diego Symphony's Bayside Summer Nights series distills everything we love about living here into one Champagne-worthy experience. Feel free to toast yourself for hitting the hometown jackpot. The seagulls won't tell. sandiegosymphony.org
Get cozy: Green Flash Concerts
Forget sleeping with the fishes. Since the monthly Green Flash summer concerts are held on the Tide-Pool Plaza of the Birch Aquarium at Scripps, you will be singing with the fishes. And the seadragons, sharks and moon jellies. You may or may not see the famed green flash, but the view from the plaza will always include the iconic Ellen Browning Scripps Memorial Pier and a glittering swath of La Jolla. And in addition to intimate performances from the likes of Tommy Castro (May 22), the Mother Hips (Aug. 14) and 10,000 Maniacs (Sept. 18), your ticket gives you free adults-only rein of the Birch Aquarium. Drinking a craft beer while communing with the exotic residents of the Kelp Forest? Don't mind if I do. aquarium.ucsd.edu

ANIMAL ENCOUNTERS
Go big: The San Diego Zoo
It may have turned 103 this year, but the San Diego Zoo never, ever gets old. If you haven't visited in awhile, get thee to Africa Rocks, which opened two years ago to great fanfare and will still knock your sweaty socks off. The exhibit's eclectic collection of animals includes African Penguins and their waterfall, lemurs (as adorable in real life as they are in "Madagascar") and the ever-lively hamadryas baboons, who are an Animal Planet show in the making. You can beat the heat and the crowds when the Nighttime Zoo's extended hours and glow-in-the-dark activities kick off on June 16. zoo.sandiegozoo.org
Get cozy: Living Coast Discovery Center
One minute, you're trapped in traffic, the next minute, you are relaxing with the rays and communing with a kestrel and feeling miles away from anything remotely stressful. Such is the magic of the Living Coast Discovery Center. This 3-acre educational zoo and aquarium is conveniently located right off Interstate 5, but it is also located on the wide-open wilds of Chula Vista's 313-acre Sweetwater Marsh National Wildlife Refuge. In addition to being home to endangered sea turtles, stingrays, native shorebirds and an impressive collection of raptors, the Zen-like gem is one of the county's best unplugging stations. Amble for an hour or two, feel refreshed for many more. thelivingcoast.org

BEER CRAWL
Go big: North Park
While it stretches from Normal Heights to South Park and includes establishments that are not technically on 30th Street, what North Park's 30th Street beer corridor lacks in geographic accuracy it makes up for in hoppy excellence. There are more than 120 breweries and beer-friendly establishments along this stretch of San Diego's sprawling Mid-City, from the perpetually packed Toronado bar to the bright and roomy Fall Brewing Company. If you can't find a beer you love in this part of town, you might want to switch to whiskey. You'll find plenty of that at Seven Grand, which is also in North Park. Explore responsibly!
Get cozy: Barrio Logan
Small of footprint but big in flavor, your Barrio Logan beer crawl can take you from the brew-and-food-truck haven of the Thorn Street Brewing Co. to the Mexican-beer ambassadors at Border X Brewing (Tuesday is Taco Night!) to the super-chill Iron Fist Brewing Co. in minutes. But you will want to linger in these welcoming neighborhood spots a lot longer than that. Save room for an Alta Brewing tasting and a Barrio Taco (or three) at Salud! There's beer there, too.

PARK IT
Go big: Balboa Park
And by big, I mean 1,200 acres of gardens, museums, fountains, sculptures, jugglers, picnickers, ducks, dogs and endless opportunities to make this list even longer. Balboa Park is my favorite place in San Diego because this bustling landmark welcomes anyone and everyone to come and do anything or not much at all. It is our front porch and our backyard. It is our garden and our school. It is the jewel in the crown that we all get to wear anytime we want, and it makes us look really good. balboapark.org
Get cozy: San Diego Botanic Garden
At 37 acres, this Encinitas oasis is not tiny, but it feels like an intimate retreat created just for you. In addition to its 4 miles of trails and 29 themed gardens — everything from bamboo to Australian plants — the San Diego Botanic Garden offers bird-watching gatherings, art shows and multiple special events, including a Fairy Festival (June 22) and Insect Festival (July 20 and 21). Summer brings longer hours and Thursday Family Fun Nights, beginning June 6. Stars and flowers forever. sdbgarden.org

KIDS STUFF
Go big: Legoland California
If you are a parent of small children, there is no escaping theme-park duty and the exhaustion, hysteria and expense that come with the deal. Fortunately, Legoland California (in Carlsbad) is the rare theme park that can keep youngsters deliriously diverted while not turning their parents into bug-eyed lunatics. Everything from the classic Fun Town Driving School to the Duplo Play Imagination Zone is scaled for little kids, leaving adults free to take photos and eat apple fries in relative peace. And if you choose to ride the Coastersaurus roller coaster, your smile will be real and your screams will be just for show. No chiropractic intervention necessary. legoland.com/california
Get cozy: The New Children's Museum
Sophisticated, yet stimulating. Educational, but boat-loads of fun. That's the yin-yang package deal you and your youngsters will get at the New Children's Museum. This downtown San Diego treasure gets kids thinking, creating and merrymaking with interactive installations that will have their bodies moving and their creative pistons firing. The Wonder Sound is like a tree house from Planet Art, the ingenious Desert Derby has a vroom-vroom vibe and an ecological message, and the Rain House is a magical, meditative escape for humans of all ages. thinkplaycreate.org

BEACH DAY
Go big: Coronado
Ah, Coronado. The beachiest of all beaches. The dream stay-cation. The place you take visitors to if you want to make them love you and hate you at the same time. From the fairy-tale grounds of the Hotel del Coronado to the postcard-ready sands of the main beach and the Mayberry-esque downtown, Coronado is the beach-town of our dreams. But when we wake up, it's still right here. coronadovisitorcenter.com
Get cozy: Imperial Beach
So, what does one require from a beach? A pier? IB has a great pier. A beach-adjacent park with public art? Welcome to Dunes Park, with a playground, basketball court and a view of the pier. Ice cream, fish and chips, and flip-flop friendly dining? Yes, yes and heck yes. It's a no-sweat destination that will make you feel like both a smug insider and an excitable tourist. Perhaps you should get a scoop of Cow-A-Bunga ice cream for each of you. portofsandiego.org
---