San Diego Zoo extends giant panda finale to April 29
Visitors have two extra days to say farewell to the San Diego Zoo's longtime resident giant pandas, Xiao Liwu and his mother, Bai Yun.
The last day of exhibition has been extended to April 29, said Ted Molter, chief marketing officer for San Diego Zoo Global. The pandas will return to their native China in the near future, fulfilling the conditions of their loan.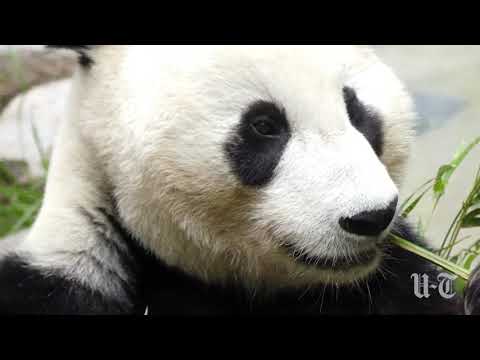 Panda Xiao Liwu, 6, eats bamboo in his enclosure at the San Diego Zoo on Tuesday
Bai Yun, 27, arrived at the zoo in 1996. She gave birth to six cubs there. Her last, Xiao Liwu, was born in 2012. While he has never lived in China, all offspring belong to China under the loan terms.
A third panda, Gao Gao, who fathered Xiao Liwu, returned to China last year. So for the first time in decades, the San Diego Zoo will house no pandas.
More pandas may be on the way to replace them, Molter said. The zoo is discussing potential research programs with Chinese authorities.
While panda numbers are now increasing in their native habitat in China, additional problems must be solved to make their survival secure. Their habitat is fragmented. And the mother pandas need old-growth forests to find dens for their newborns.
Meanwhile, visitors have been leaving tags with good wishes and buying commemorative bells to place on a Giant Panda Friendship Wall, located across from the exhibit in Panda Canyon. The tags are free; the bells cost $3 each, or two for $5.
When full, the wall will be dismantled and stored, Molter said.
"We want to hold onto it, so if we do have pandas in the future, we'd like to put the wall back up on display and use that to celebrate the return of the pandas."
A camphor tree -- also a Chinese native -- has been planted near the panda exhibit as a long-lasting memory.
The Giant Panda Friendship Wall is located across from the Giant Panda Research Station in Panda Canyon. Among the panda fans there was Linda Shoemaker of El Cajon.
"I have seen the pandas since they arrived at the zoo," Shoemaker said. "I have come for every single baby panda multiple times. I had a special behind-the-scenes tour last year and got to see Bai Yun a little closer. Because I'm such a panda fan, it was so cool to see her closer than most people get to be."
Shoemaker said Bai Yun has a special place in her heart because the panda had so many cubs.
"She's the panda baby mama," Shoemaker said.
Sign up for the Pacific Insider newsletter
You may occasionally receive promotional content from the Pacific San Diego.