Los Angeles by rail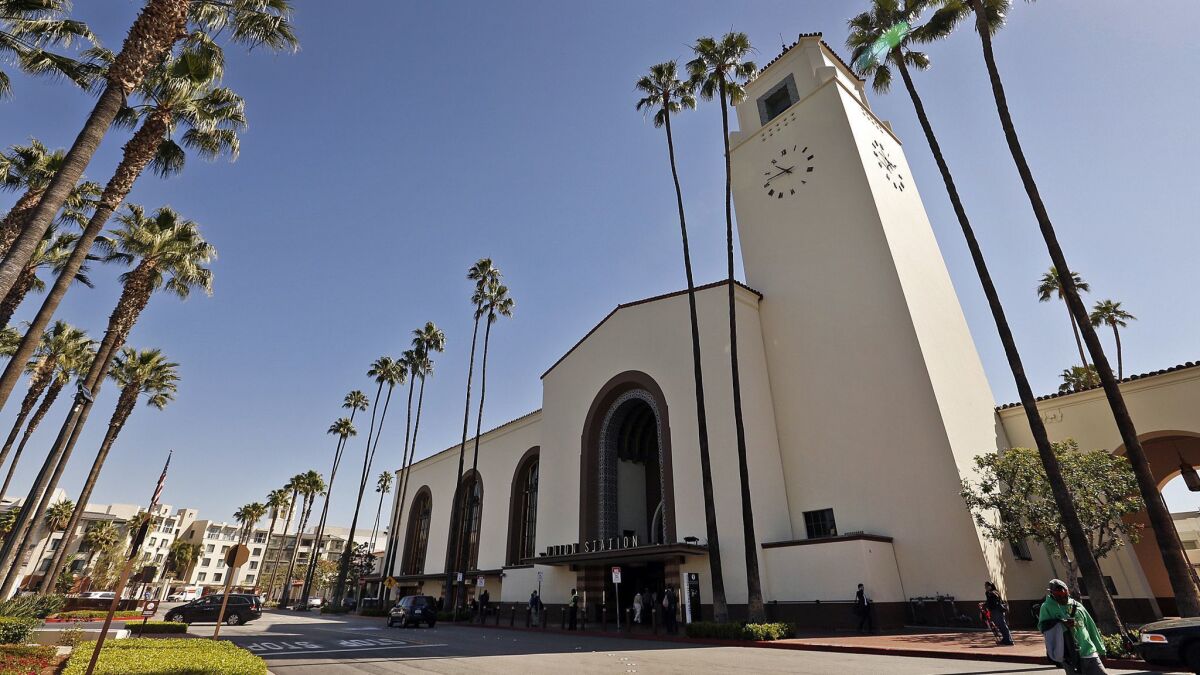 Los Angeles, just 125 miles to the north of San Diego, presents many wonderful cultural and shopping opportunities that can give San Diegans much nearby pleasure. However, driving in gridlock traffic on I-5 is not one of those pleasures. If you have put off a visit to Los Angeles due to the traffic, have no fear — rail is here.
AMTRAK trains leave downtown San Diego's Santa Fe station approximately every 90 minutes and deposit you at downtown Los Angeles' Union Station in three carefree hours. From Torrey Pines to Dana Point, the train travels along the ocean, giving passengers great view of surfers, swimmers and the pounding surf.
From Dana Point to Los Angeles the train heads inland through fields, suburban tracts, industrial zones and finally along the unlovely Los Angeles River. Should a Los Angeles Angels or Anaheim Ducks game be on your agenda, all trains make a stop in Anaheim, just a short walk to both venues.
Metro Red Line to Downtown
From Union Station, the Metro Red Line subway can take you to within a couple of blocks of great downtown hotels, such as the Millennium Biltmore, InterContinental, Hilton Checkers, Sheraton, Miyako, Standard, Ritz-Carlton and J.W. Marriott LA Live, the Roosevelt, Loews and W in Hollywood, or the Hilton or Sheraton at Universal City.
We chose the historic Biltmore (Pershing Square Metro Stop), which is in walking distance of the Grammy Museum at LA Live, Staples Center (Kings, Clippers and Lakers), the Los Angeles Convention Center and some of the finest museums and theaters in the city. The hotel has been a host to presidents, kings and Hollywood celebrities since its 1923 opening.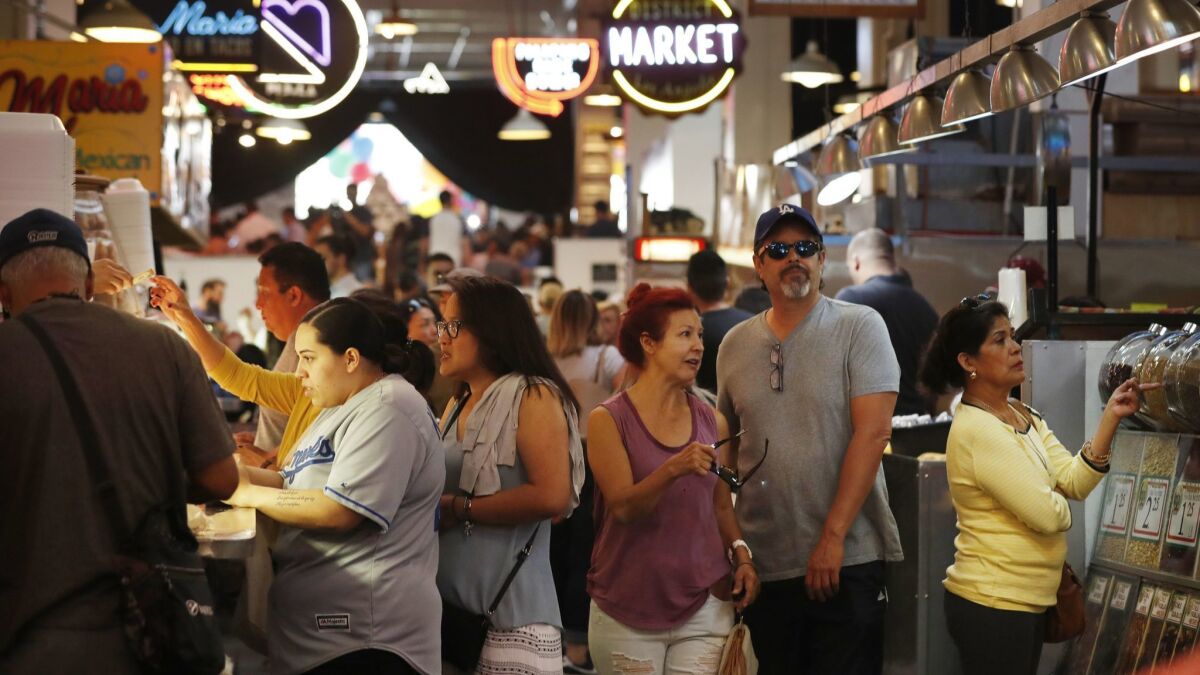 Also nearby is the Grand Central Market, a downtown favorite since 1917, featuring many ethnic restaurants as well as vendors of the freshest fruits, vegetables, meat and seafood.
Broadway, two blocks from the Biltmore, can also remind you of shopping streets in a Mexican city, which Los Angeles once was. Historic buildings — including the Bradbury Building opened in 1893 with its great interior skylight, open cage elevators and wrought iron railings, and the great early 20th century movie palaces — compete with dozens of discount clothing vendors. For a comprehensive and informative look at old Los Angeles, join a tour conducted by the Los Angeles Conservancy ($15 for general public. See www.laconservency.org).
Grand Avenue music and museums
Grand Avenue has become the cultural hub of downtown as it takes you to the Museum of Contemporary Art, the Broad (online advanced reservations a must), the Frank Gehry-designed Walt Disney Concert Hall, the three theaters of the Music Center and the Cathedral of Our Lady of Angels with its untraditional architecture and alabaster windows. Make sure to bring comfortable shoes since you will be traversing Bunker Hill.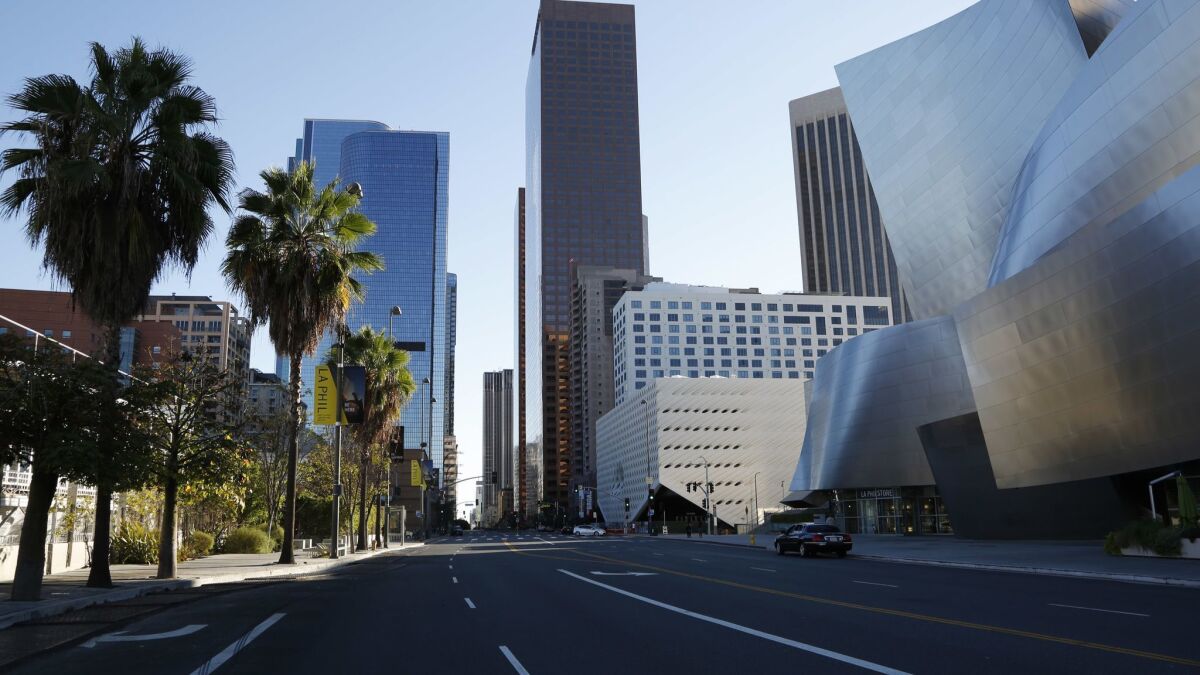 Downtown Los Angeles has changed greatly in the past decade, with scores of new condominiums, many new restaurants and two of the tallest buildings in the western United States — Wilshire Grand Center and US Bank Tower, with 73 stories overlooking the city from downtown to the Pacific Ocean.
The keys to stress-free Los Angeles are the six subway lines and light-rail lines of the Metro. Most of Los Angeles' other great attractions are just a Metro ride away. Metro offers 93 stations and 105 stops.
Immediately adjacent to the north or east of downtown is Little Tokyo and Olvera Street, the heart of the El Pueblo Historic Monument, with more than 80 shops selling items reminiscent of Tijuana's Avenida Revolución, and the largest Chinatown this side of San Francisco. You could walk to all of these attractions, by why do so when you can take the Metro Red Line to Little Tokyo (Civic Center stop), Olvera Street (Union Station) and Chinatown (connect at Union Station for the Metro Gold Line (Chinatown stop).
Go Gold Line to Chinatown, Pasadena and East L.A.
Speaking of the Metro Gold Line, this light-rail train departs Union Station every 15 to 20 minutes for Pasadena, where the Del Mar or Memorial Park stations are only a few blocks from Old Town Pasadena and the Paseo Colorado, where you'll find sophisticated shopping, restaurants and cinema.
The Gold Line continues as far north and east as Azusa. Traveling south and east, the Gold Line takes you to East Los Angeles, the vibrant heart of Mexican-American life in the city.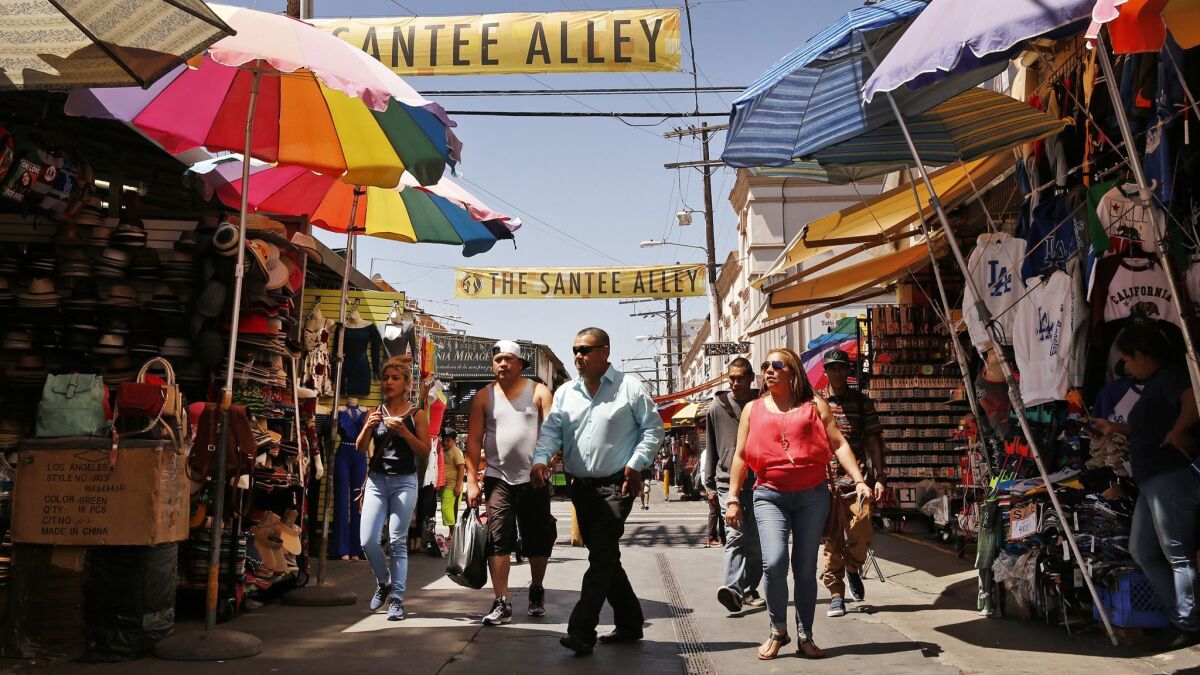 Walk to jewelry and fashion districts
Back downtown, to the south of the Biltmore is the Jewelry District with more than 450 merchants to compete for your business.
Serious shoppers come from Seattle to San Diego to hit the Fashion District, centered on Santee Alley, and the numerous side streets and marts that sell clothing and accessories at sharply discounted prices. Santee Alley is bordered by Olympic Boulevard to 12th Street and between Maple Avenue and Santee Street.
Here on the numerous side streets and marts you can browse and buy from more than 200 stalls and small shops. The district is open daily, with shoppers hunting for cheap jeans, trendy shoes, designer knockoffs, toys and men's suits ranging in price from $70 to $900. Most shops give a discount for cash, and bargaining is expected.
Nearby on Ninth Street is the California Market Center, the largest wholesale apparel emporium in the nation with more than 2,000 showrooms. It's open to the public once a month, so check with www.californiamarketcenter.com for dates when you can shop for deeply discounted designer clothing.
With your purchases stowed at the hotel, it's time to explore the rest of Los Angeles — without a car.
Take the Blue Line South to Long Beach
One Metro Red Line stop past Pershing Square is Seventh/Metro Station. This is the meeting place for four subway lines. It's where the Red Line meets the southbound Metro Blue Line, which goes all the way to Long Beach and fun at the Pine Street restaurants, Queen Mary and harbor side attractions.
Purple Line to Koreatown and Metro Rapid to LACMA
The Metro Red Line and Purple Line parallel each other from Union Station, then split at Wilshire/Vermont. The Purple goes to Wilshire/Normandie, the heart of Koreatown. K-town is also known for having one of the largest concentrations of nightclubs and 24-hour businesses and restaurants in the country.
One more stop, on Purple Wilshire/Western, takes you to the historic Wiltern Theatre. Leave the subway at Wilshire/Western and take a Metro Rapid bus to the Los Angeles County Museum of Art, La Brea Tar Pits, Beverly Hills or Westwood. Metro Rapids are buses with fewer stops that cut down travel in Wilshire Boulevard by 29 percent, according to MTA authorities.
Red Line to Hollywood, Universal City and beyond
The Metro Red Line subway goes through Hollywood and under the Santa Monica Mountains to North Hollywood.
Exit at the Hollywood/Highland Station and the escalator whisks you to the surface at the Hollywood/Highland Center home of the Kodak Theatre, the location of the annual Academy Awards, and next to Grauman's Chinese Theatre, where visitors match the foot- and handprints of the stars to their own.
The Kodak Theatre is just part of the Hollywood/Highland shopping complex, and worth a half-hour tour. Other theaters are the historic El Capitan and Egyptian movie houses, as well as the historic Pantages for live theater. Across the street from the Chinese Theatre is the Hollywood Roosevelt, a former home of the Academy Awards, and now a hangout for L.A.'s hip, young and beautiful, particularly around the David Hockney-painted swimming pool.
Like downtown, Hollywood is undergoing a renewal, but some of its former grittiness is still there if you want it. Tourists still line up to place their feet in the cement footprints of the stars in front of the Chinese Theatre; they still have their pictures taken with the stars on the Walk of Fame.
Longtime dining venues are the Magic Castle and the Japanese-style Yamashiro, with great Hollywood views. Traditionalists can dine at the Musso & Frank Grill, serving comfort food to Hollywood since 1919.
When you tire of Hollywood, you can get back on the Metro Red Line subway and head north to Universal Studios and another experience in Hollywood make-believe. Universal Hollywood is a working movie studio, theme park and shopping and dining experience. You should plan an entire day there for family-friendly fun.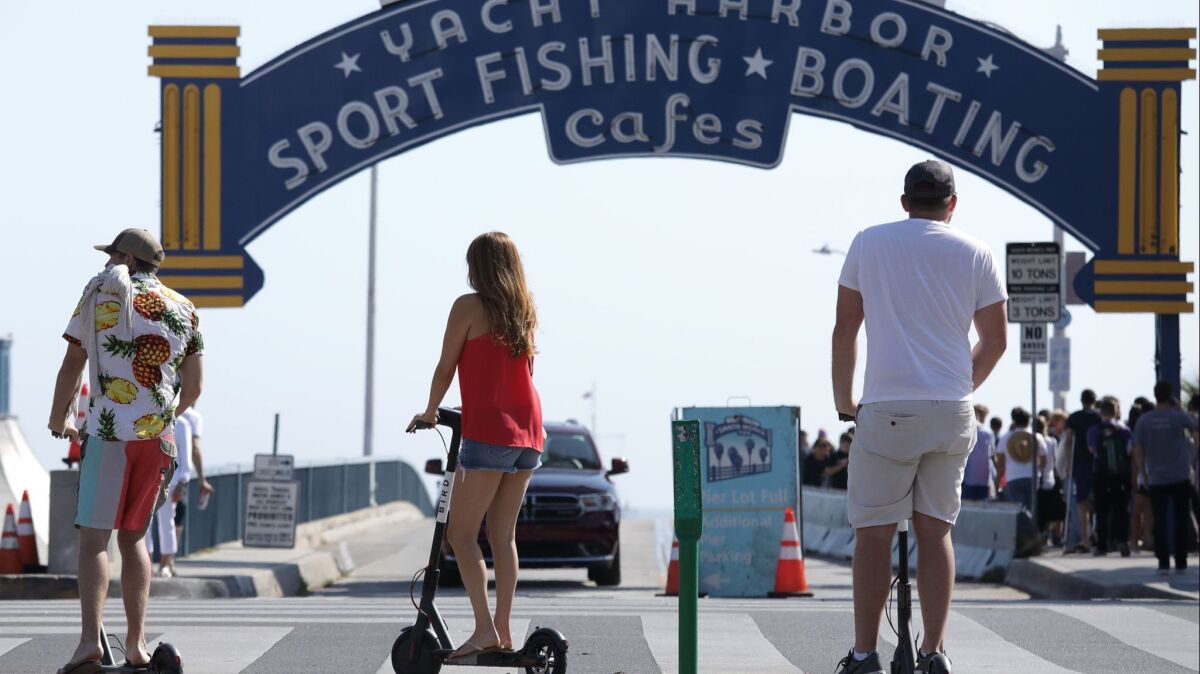 Expo Line to Exposition Park and Santa Monica
Another great trip is the Expo Line, which connects to the Red Line at Seventh/Metro. Expo goes all the way west to Santa Monica and its famous Santa Monica Pier. On the way is the Expo Park/USC stop for Exposition Park and the University of Southern California.
In Exposition Park is the renowned Rose Garden, the California Science Center, the Natural History Museum of Los Angeles County, the California African American Museum and the Mercado La Paloma with its shops and restaurants.
Green Line to Los Angeles International Airport
Catching a flight from the West's busiest airport? East/west travel is a benefit of the Green Line, which goes from Norwalk to the LAX Shuttle at Aviation, then on to Redondo Beach. From downtown, take the Blue Line to Willowbrook/Rosa Parks Station, to connect to Green.
A Los Angeles weekend without driving is a special Southern California experience. The base fare on Metro Lines (Red, Blue, Purple, Green, Gold and Expo) is $1.75. Metro stations are monitored by video cameras and transit police to help assure safe transit.
When you are ready to come home to San Diego, AMTRAK awaits you at Los Angeles Union Station with a stress-free ride to Oceanside, Solana Beach or San Diego Santa Fe Station. Just don't fall asleep and miss your Oceanside or Solana Beach stops.
Clark is a former member of the Society of American Travel Writers.
---
Sign up for the Pacific Insider newsletter
PACIFIC magazine delivers the latest restaurant and bar openings, festivals and top concerts, every Tuesday.
You may occasionally receive promotional content from the Pacific San Diego.