Last pandas at San Diego Zoo are leaving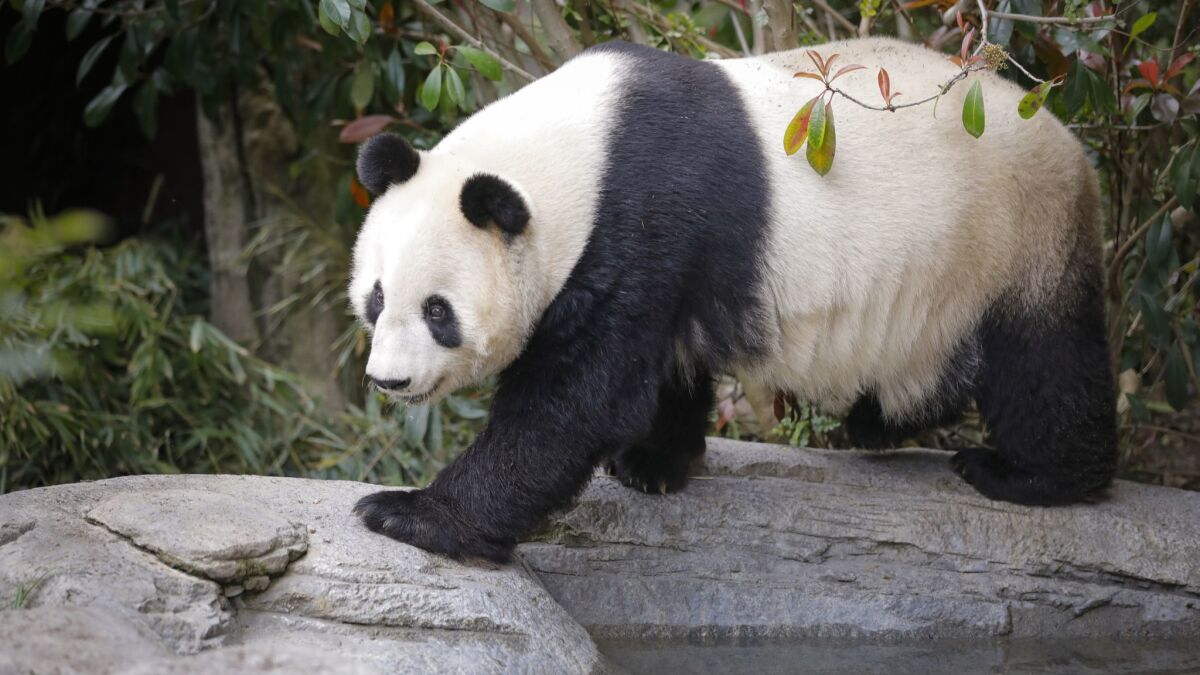 It's the end of an era at the San Diego Zoo as the last two giant pandas will soon leave for China.
In an announcement Monday, zoo officials said the pandas, Bai Yun, 27 — a fixture at the zoo for 23 years — and her son, Xiao Liwu, 6, must leave San Diego because a multi-year agreement with the Chinese to keep them here has ended. Zoo officials say sending the pandas back was always planned for April and was not prompted by any sudden request from the Chinese government.
The iconic black and white bamboo eaters have had a consistent presence at the zoo since 1996. The last day pandas can be viewed by the public is expected to be April 27.
With their impending departure, it is unknown if or when new pandas might inhabit the zoo again. Zoo officials are unable to say whether the wait is a matter of months or years.
"We have high hopes for pandas returning but I don't know that we have any set date when they might return," said Shawn Dixon, chief operating officer for the San Diego Zoo.
There are still pandas at Smithsonian's National Zoo in Washington, D.C., Zoo Atlanta and the Memphis Zoo
In the two decades since the first pandas arrived, the captivating animals have become intertwined with the image of San Diego. Their images grace T-shirts and postcards promoting the region, and they even had a starring role in the 2004 "Anchorman" movie. In the film, San Diego news anchors had a daily feature — the "Panda Watch" — chronicling the impending birth of a panda.
While the prospect of no new pandas for the indefinite future might alarm panda fans, there is a promising sign: The zoo has no plans to take down the animals' exhibit, in hopes they will get more pandas. Several zoo officials are planning to go to China in the coming months to have in-person negotiations with leaders of its panda program.
"We know our community is going to be sad when they hear this, but it's a time for celebration," Dixon said. "They are going home to their home country. It truly is a celebration of all the work we have done."
While lines are often long to catch a glimpse of the pandas at their enclosure, officials say they do not anticipate a drop in attendance once the pandas leave because all of its other exhibits.
The San Diego panda program has been very successful by most measures, producing six cubs and developing techniques now used around the world to keep young pandas alive. When pandas first came to the zoo in 1996, the International Union for Conservation of Nature, or IUCN, had listed the species as endangered. Twenty years later, they were downgraded to "vulnerable."
Two decades ago, the wild population of pandas was estimated to be less than 1,000. As of the latest count in 2014, there were 1,864 pandas living in the wild, according to the World Wildlife Fund.
Another panda at the zoo, 28-year-old Gao Gao, returned to China in October. Gao Gao and Bai Yun produced five cubs together, including Xiao Liwu. All three will be back together at the China Conservation and Research Center for the Giant Panda in Dujiangyan. Don't expect much of a reunion — pandas are very solitary and aren't expected to interact.
Pandas are only native to China, so all pandas in American zoos are on loan from the Chinese government. Even those born on American soil are considered property of China. It's unclear from zoo officials what their negotiating strategy will be with the Chinese, or if whatever program comes next would necessarily involve breeding.
The species is the rarest of all bears and lives among damp bamboo forests in southwestern China. Most of the decline in numbers has largely been attributed to human encroachment, but pandas are also notoriously difficult to breed. They only mate one to two days a year and successful pregnancies are rare.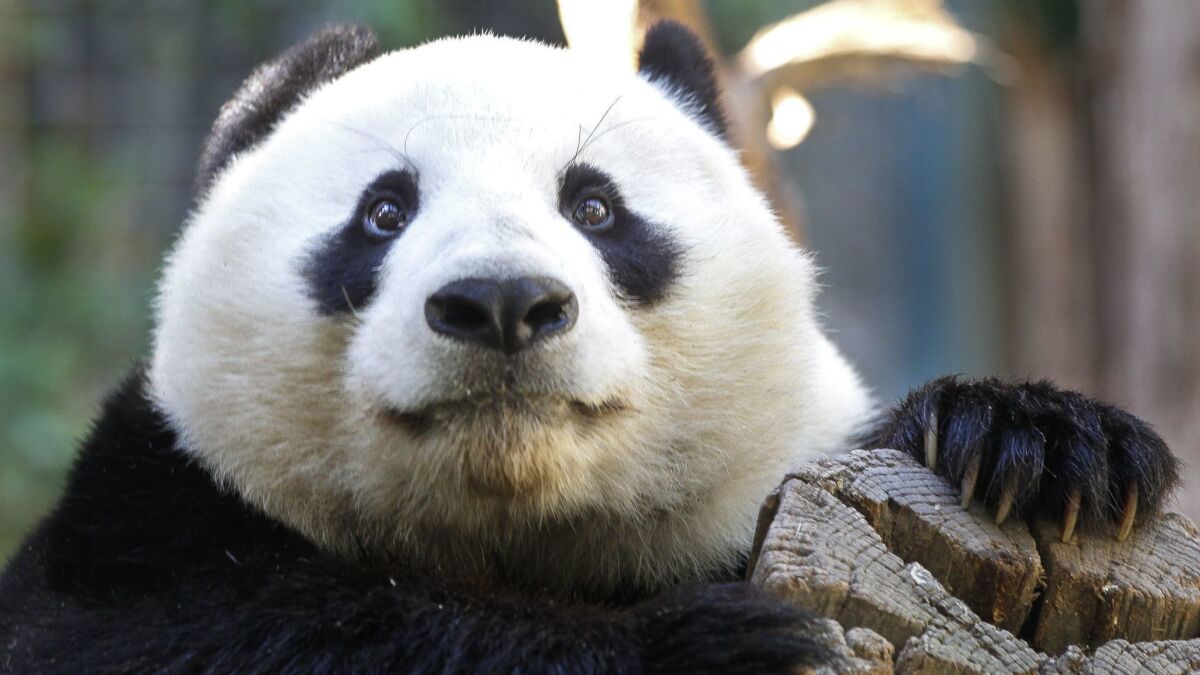 It is unknown exactly when the pandas will leave. Bai Yun and her son Xiao Liwu will travel by plane and be attended to by numerous keepers and veterinarians. Bai Yun is expected to go into a retirement wing of the center, and Xiao Liwu will eventually be put in a breeding situation.
Zoo officials said it was bittersweet to say goodbye to the pandas but they were proud of everything they accomplished over 23 years.
"The intent was to prevent the extinction of the species. This program can be looked at as one of a handful of programs that have actually prevented the extension of a key species," said Carmi Penny, director of husbandry sciences at the zoo.
While there might be tension with the Chinese government and the Trump administration over tariffs, zoo officials say that sort of issue doesn't filter down to those who are working with pandas in both nations.
A storied history
Pandas first took San Diego by storm in 1987 when two pandas — Basi and Yuan Yuan — stayed for 200 days. The pandas were a sensation, drawing more than 2 million visitors, the zoo said.
A 1987 article in the San Diego Evening Tribune described their arrival as "a fanfare usually saved for humans" as news reporters, TV cameramen and zoo employees fawned over the pair. The price of a one-day adult ticket at the time was $8.50 and $2.50 for children. Now it is $56 for an adult and $46 for a child (ages 3 to 11).
Pandas did not return again until 1996, when Bai Yun and another panda, Shi Shi, arrived at the zoo from the Wolong Panda Preserve in China. Both were supposed to stay 12 years, although Bai Yun remained 13 years longer. The pandas, in special traveling crates, were loaded onto a moving truck and escorted by the California Highway Patrol to the zoo.
Things were rocky at first with Shi Shi, who was not interested in mating with Bai Yun. Regardless, Bai Yun gave birth to her first panda, Hua Mei, in 1999 by artificial insemination. That panda became the first one born in the United States to survive and grow into adulthood.
In 2003, Gao Gao showed up and quickly began a successful pairing with Bai Yun. A son, Mei Sheng, was born in 2003. Four other cubs followed: Su Lin in 2005, Zhen Zhen in 2007, Yun Zi in 2009 and the last, Xiao Liwu, in 2012.
Under the agreement with the Chinese government, most young pandas born in other countries are supposed to go back to China when they are around three years old. Xiao Liwu, though, has now stayed longer than expected, as has Bai Yun, who was allowed to remain because of how much success she had in breeding.
Even if San Diego never gets another panda, the legacy of the zoo's program will likely be viewed as a positive step in the rebuilding of the species.
Bob Weise, chief life sciences officer at the zoo, said several of the six cubs have gone on to have children of their own, building on a lineage originating in San Diego.
At the time that that pandas were brought to the United States in 1996, the survival rate for cubs was 10 percent to 20 percent, Weise said. Now, there is a 95 percent likelihood they will survive, he said, and part of that is because of work done at American zoos. One of those advances came from a San Diego Zoo nutritionist who developed a milk formula for cubs from Bai Yun's lactation that is now in widespread use.
The formula is especially useful if the mother panda is not giving her cub enough milk. The milk that panda newborns need to survive is much more nutrient-dense than that of many species and is crucial for survival, making any neglect from the mother potentially disastrous.
Congcong Zheng, a Chinese-born entrepreneurship professor at San Diego State University, noted that pandas have been used throughout history as a goodwill gesture by the Chinese.
"It's something only the Chinese have," she said. "It signifies something uniquely Chinese. At the same time, they are really cute and people around the world like them. It has been a way for the Chinese government to establish friendships."
As beloved as the pandas are in San Diego, it's unlikely their absence at the zoo will dampen visitation or lower the institution's profile, said Joe Terzi, CEO of the San Diego Tourism Authority.
"It will continue to be a place that people all over the world come to see, with or without the pandas," he said. "The zoo is bigger than just the panda exhibit."
A lazy day
More than 100 people waited in line Friday to see Xiao Liwu on a cool 64-degree day. The line slowly snaked through the exhibit until the end where adults and children crowded around the six-year-old panda.
Xiao Liwu climbed around the tree fort-style enclosure and plopped down in one of his favorite spots to sit. A ray of sunshine illuminated the top of his head as he leaned back with a bamboo stalk. He put the stalk in his mouth and peeled off outer layers to begin his meal.
Visitors were squishing against each other to see Xiao Liwu, although he didn't seem to notice. One gets the impression the panda was completely content and having a good day.
"He's right there," yelled Brooklyn Putich, 6, of Chino, as she finally got her first look at the panda and climbed on railings to get a better look.
Families of young children made up much of the crowd, leading to the occasional baby stroller traffic jam. Stephanie Toscano, of Tucson, Ariz., said she was in town for a wedding and decided to take her 4-year-old daughter Adynn to the zoo.
"She's waited all day for this. She wouldn't stop talking about it," Toscano said.
Zoo officials said none of the staff that worked with the pandas will be laid off, but will instead work with other animals. Still, it will be tough for employees that worked with the pandas each day to say goodbye, especially to Bai Yun, who has lived in San Diego for 23 years.
"She was the perfect panda," said Carmi Penny, the husbandry director at the zoo. "She was behaviorally stable, very intelligent, very inquisitive, not aggressive. Just a nice, good animal."
Bai Yun was not on display for much of Friday, but no one seemed to notice with Xiao Liwu content to put on a show. He got up from his sitting spot, climbed across logs in the enclosure, grabbed another bamboo stalk, leaned back and started to chew again. Each movement was captured by dozens of smartphones.
Staff writer Bradley J. Fikes contributed to this article
phillip.molnar@sduniontribune.com (619) 293-1891 Twitter: @phillipmolnar
ALSO
Is San Diego County done building single-family homes?
San Diego County apartment rush continues. More than 4,500 planned for '19
New Tijuana condo towers will hit record heights
Sign up for the Pacific Insider newsletter
PACIFIC magazine delivers the latest restaurant and bar openings, festivals and top concerts, every Tuesday.
You may occasionally receive promotional content from the Pacific San Diego.