A big addition to Safari Park's babies
San Diego Union-Tribune
San Diego —
The San Diego Zoo Safari Park's population has a slightly wobbly new addition to its population of African elephants.
The baby elephant, dubbed Umzula-zuli, was born late Sunday night to Ndlulamitsi, better known as "Ndlula." The male calf came into the world uneventfully, and began nursing as normal.
Umzula-zuli was weighed Monday morning, coming in at more than 270 pounds. That's a big baby, even for an elephant, and the largest born at the Safari Park, the zoo said. Newborn elephants usually weigh from 200 to 268 pounds.
Still a little bit unsteady on his feet, Umzula-zuli nevertheless began walking about with his mother and other adult elephants on Monday afternoon.
Whenever he stumbled, a helping trunk was there from the mother or another of the herd to stabilize the pachydermal progeny.
"The other elephants were clearly excited to meet the new baby—touching him, trumpeting and smelling him with their trunks." said Mindy Albright, the Safari Park's lead keeper, in a zoo statement.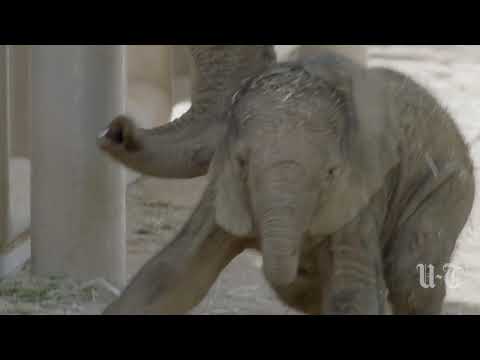 The baby elephant, dubbed Umzula-zuli, was born late Sunday night to Ndlulamitsi, better known as "Ndlula." 
Ndlula and her baby had been kept separate from other elephants during and immediately after birth, Curtis Lehman, animal care supervisor at the Safari Park, said in the statement.
"This separation, much like what would occur in natural habitats in Africa, allows mom and baby time for bonding," Lehman said.
The Safari Park now has 13 African elephants, four adults and nine youngsters. The adults were rescued in 2003 from Swaziland, where they were to be killed.
Since 2004, San Diego Zoo Global, the zoo's conservation arm, has given an annual $30,000 yearly to Swaziland's Big Game Parks. The money funds anti-poaching patrols, infrastructure upgrades and purchases of more land for the Big Game Parks.
The Safari Park's elephants can be watched on the Zoo's Elephant Cam, at j.mp/elephcam.
African elephants are classified as vulnerable on the International Union for Conservation of Nature (IUCN) Red List of Threatened Species.
Sign up for the Pacific Insider newsletter
You may occasionally receive promotional content from the Pacific San Diego.