Here's a first look at Sycuan's new hotel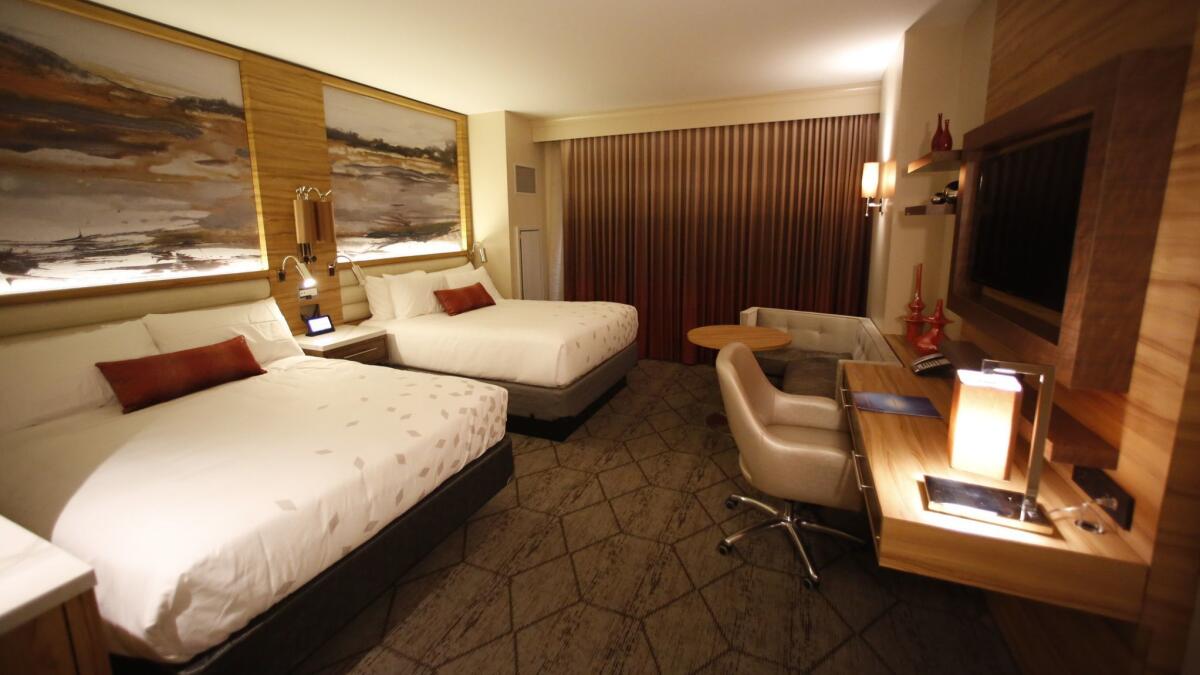 With six months to go before Sycuan Casino opens its first hotel resort, one of San Diego's oldest casinos is trying to find the balance between its past and its future.
During a tour Tuesday of two mock hotel rooms, Sycuan officials noted several design details still being tweaked before the March grand opening, such as lighting, furniture fabrics, hall carpeting and seating styles.
Behind each of these decisions is more than aesthetics. As one of the longest-established casinos in San Diego County, Sycuan has to weigh the needs of its loyal clientele against the desires of a still-to-be-tapped, more tech-savvy generation of customers.
That's why each of the 302 rooms and suites in the 12-story tower will have two ways to get in — a traditional key card sensor above the door handle and a wall mounted digital screen that can grant room access with the swipe of a smart phone's Sycuan app.
"We don't want our technology to alienate our longtime guests. We want to dance with the ones who brought us here, and at the same time, we want to give new (guests) the technology they'd expect," said Sycuan general manager John Dinius.
Sycuan tribal chairman Cody Martinez said with the clock ticking on the completion of the $247 million expansion — which was originally announced at $226 million — this final stretch is an exciting time.
"It's the biggest project we've done since 1983," Martinez said. "Sycuan has always been a hometown casino and to go to being a destination resort, it's been a long road and a hard sell. But Sycuan's time has come, and it's time for us to take that center stage and these amenities will get us there."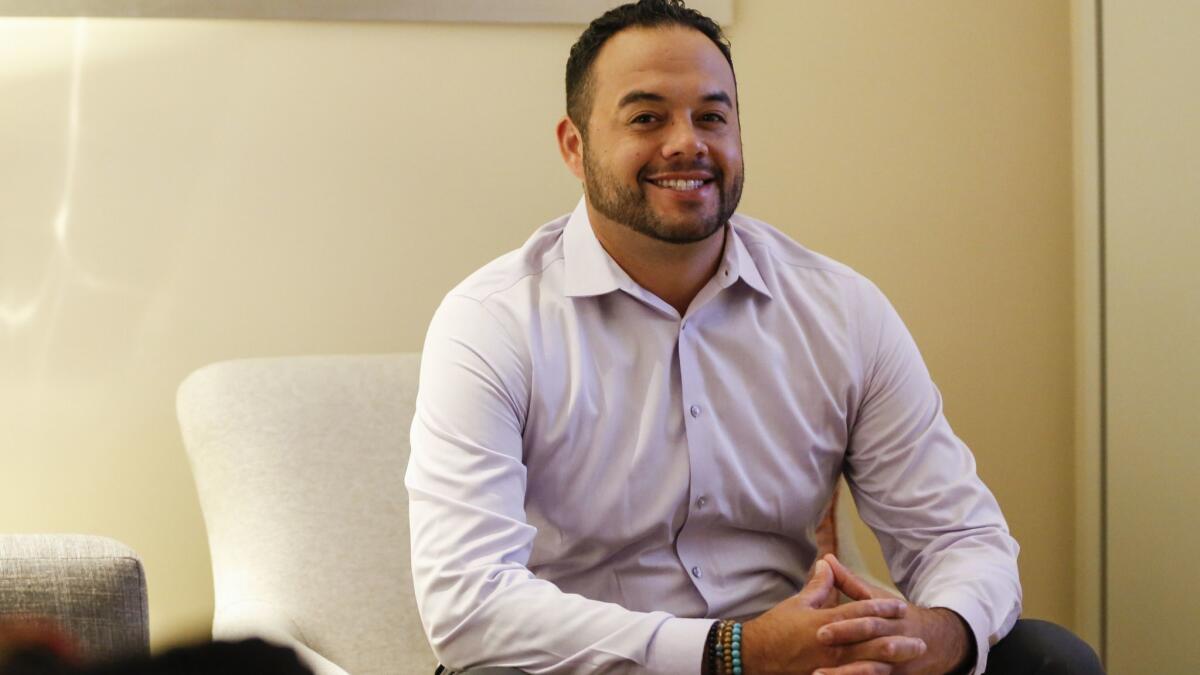 Sycuan's expansion — which includes a large-scale pool complex with a lazy river, an all-ages and an adults-only pool with a swim-up bar, a day spa with eight treatment rooms, an events center, and multiple new dining concepts — comes amid the San Diego area's casino ultra-competitive casino market.
In light of that, Martinez said Sycuan officials favored a more conservative budget early in the process.
"Not knowing what the financial impact would be from Hollywood Casino (now known as Jamul Casino) opening (in 2016), we had to develop things still in the unknown," Martinez said. "We've been happy with the underperformance of Hollywood."
He said purse strings have been loosened somewhat to add superior touches to the property.
"We don't want to go back six months later and say we wished we had done (this)," Martinez said.
With the hotel tower still under construction, the mock hotel rooms were created in a giant warehouse, more akin to a Costco than a luxury resort. But standing inside replicas of a 351-square-foot standard room and an entry-level, 631-square-foot suite, visitors would be hard-pressed not to think they were in an actual hotel. No room detail was overlooked, down to the fire sprinklers, tiled showers and 55-inch TV screens, a coffee maker on the quartz-topped bar and bathrobes and slippers in the closets.
The understated décor features muted earth tones, warm woods and a contemporary style that is decidedly more homey than glitzy.
"There's almost a bit of a residential feel," Dinius said.
"We didn't want to be something we're not," he said, adding that an overly glamorous promo ad was rejected in favor of showing Sycuan's more relaxed air.
"That teaser, it's not us today. This is just the first step in our elevation," he said. "We're not going to get too big overnight."
But that doesn't mean Sycuan is compromising on luxury. Dinius said the resort is making decisions on finishes and room amenities with an eye toward being awarded coveted hospitality ratings.
"We're going for the 4-Diamond, 4-Stars," he said, referring to AAA's and Mobil's rankings, respectively.
Sycuan's existing property, including the casino floor, is also undergoing a floor-to-ceiling refresh, so there's no distinction between old and new. And instead of one grand opening, the project will be unveiled in phases during the month of March, to highlight one feature at a time, Martinez said.
He also said a groundbreaking and blessing ceremony will be held on Friday at the site of a new Sycuan Square gas station, market and expanded smoke store. The 16-pump fueling station and 5,000-square-foot market will be built on a corner lot at the intersection of Dehesa Road and Harbison Canyon Road.
After all, if you're going to transform into a destination resort, you need to make it convenient for customers to get there and back.
"It's definitely something people have been asking for," Martinez said.
Sign up for the Pacific Insider newsletter
You may occasionally receive promotional content from the Pacific San Diego.