Review: SeaWorld's Electric Eel coaster squeezes a lot of excitement into a tight space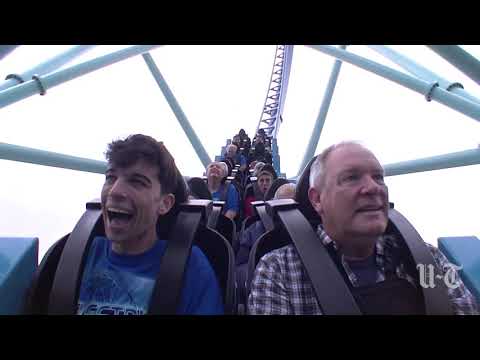 SeaWorld's new ride the Electric Eel coaster
The new triple-launch looping roller coaster at SeaWorld San Diego may sit on a small footprint, but don't let its compact size fool you: Electric Eel delivers a thrilling jolt.
The vertically-oriented ride officially debuted Thursday on a relatively small 1.2-acre site next to Journey to Atlantis.
I rode Electric Eel six times and found the ride to be super smooth and packed with tight twists. Electric Eel is a bit on the brief side at 55 seconds, but there are a lot of thrills packed into a short ride. I loved the triple-launch element and the unforgettable slow-motion inline twist.
Electric Eel is exactly what SeaWorld San Diego needs if it wants to change its spiraling fortunes. The marine theme park has struggled ever since the 2013 release of the "Blackfish" documentary, which was critical of SeaWorld's treatment of captive whales.
SeaWorld's sister park in Orlando, Florida, places a heavier emphasis on thrill rides and family attractions while the San Diego park remains closer to its roots with a greater dependence on marine life shows. SeaWorld San Diego needs more spinning, twisting thrill rides like Electric Eel and fewer stadium shows with acrobatic whales and dolphins if wants to reverse the tide of negative opinion.
Built by Maryland-based Premier Rides, the Electric Eel coaster jams a lot of excitement into a relatively short ride that lasts less than a minute over approximately 800 feet of track.
The coaster's triple-launch experience is a big part of the show — for both riders and those waiting in the station to board. Propelled by electromagnetic linear synchronous motors, Electric Eel starts out with a forward-backward-forward launch before ascending to a signature upside down twist 15 stories in the sky.
"Electric Eel is an awesome coaster," said Derek Perry, 40, of Los Angeles, who has ridden 654 coasters. "The acceleration both forward and backward is unlike anything else. It's cool to see San Diego and the park upside down like that. It's a new perspective."
Departing from the station, Electric Eel propels riders forward into a vertical twist, then careens backward through the station into another twist before racing through the station once again, this time accelerating to more than 60 mph.
Climbing to the top of the first loop, the train navigates a slow barrel roll at nearly 150 feet in the air that ranks as one of the world's tallest inversions. Known as an inline twist, the sky-high element leaves riders feeling like they're going to fall out of their seats.
Magnetic brakes slow the train just before a near-vertical twisting descent that leads into a non-inverting loop that keeps riders upright throughout the loop.
The diving train again passes through the station, ascends the vertical twist one last time and descends backward to a halt.
"It just has so many different elements integrated into one coaster," said Steve Berto, a ride enthusiast who has ridden more than 900 coasters. "It's a fun coaster."
Electric Eel is the ideal coaster for the tween transitioning from a family coaster to bigger rides.
"It's a really good first ride for someone looking for their first roller coaster that goes upside down," said Ben Minke, 17, of Newport Beach, a member of American Coaster Enthusiasts, a coaster group on hand for the grand opening.
As is the case with most vertical coasters, Electric Eel will likely suffer from capacity issues that could lead to lengthy wait times. With a single 18-seat train and tight seating rows that add to load times, Electric Eel can theoretically handle only a few hundred passengers per hour.
Premier Rides has installed the Sky Rocket II vertical coaster at amusement parks in Germany, Mexico, China, Virginia, Connecticut and Northern California.
This new class of extremely compact and vertically oriented rides do away with the traditional lift hill, and stack the track perpendicularly rather than letting the course meander horizontally as roller coasters have done for more than a century.
The compact footprints allow amusement parks to squeeze a thrilling coaster into a space usually occupied by a smaller ride like a sedate carousel or leisurely Ferris Wheel.
The Electric Eel coaster joins the Ocean Explorer themed land, which debuted last summer at SeaWorld San Diego with an unimaginative collection of off-the-shelf kiddie rides. The themed land is filled with atmospheric volcanic rock and coral reef that adds to the ocean depths theme.
Geared toward 4- to 8-year-olds, Ocean Explorer is located next to the Sesame Street Bay of Play kiddie land that caters to the same demographic. The new land's centerpiece ride is Submarine Quest, a slow-moving transportation system that combines a people-mover-style ride vehicle with a video game console and animated video screens.
Electric Eel adds a much-needed jolt of energy to the Ocean Explorer themed land that should help woo thrill seekers to the San Diego park.
"It's definitely something needed as part of the park," said Perry. "It's a good balance now between the shows, the education, the aquariums and the roller coasters."
The ride is included in the admission price to the park.
Brady MacDonald is a freelance writer based in Orange County who has written about theme parks for the past decade.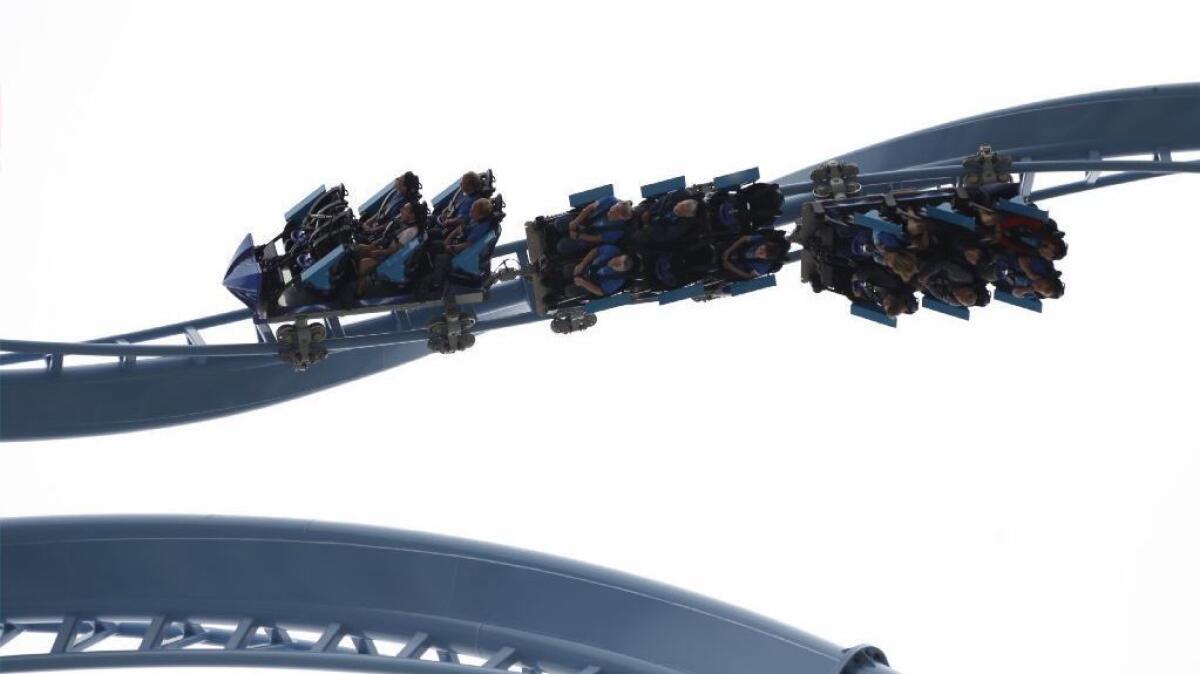 Sign up for the Pacific Insider newsletter
You may occasionally receive promotional content from the Pacific San Diego.