More than 2,000 new San Diego apartments to open this year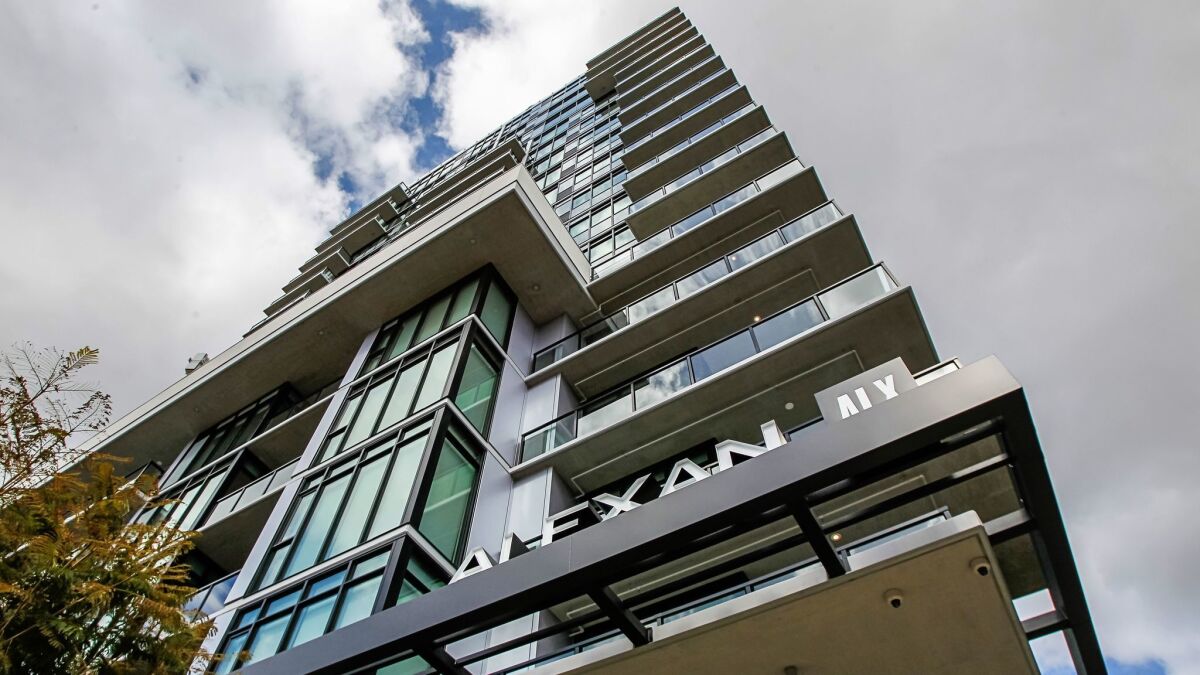 From the saltwater pool on the 18th floor of East Village's Alexan ALX, the latest luxury apartment to open downtown, it seems like all of San Diego is at your feet.
Views stretch from the San Diego-Coronado Bridge to the Cabrillo National Monument and Tijuana. Amenities include an outside sanctuary with a two-story artificial waterfall and comforts that you might expect at a four-star hotel, such as a business meeting room and an expansive lounge with a 12-foot-by-12-foot wall of TVs.
Rent prices reflect the amenities — starting at $2,015 a month for a 520-square-foot studio.
Alexan is just one of the more than 2,000 new apartments opening this year in San Diego County, most of which are high-end and downtown. Trends follow past years as luxury complexes cater to pets, install high-tech gyms and zero-edge pools typically found at resorts in an effort to outdo each other.
Experts say developers are looking for a specific renter — the affluent millennial — and most market projections show it is working.
The average rent for the new apartments this year is around $2,489 a month. That's about $868 more a month than the average San Diego County rent, said real estate tracker CoStar.
Russ Valone, CEO of MarketPointe Realty Advisors, said the market has proven it can handle high rents but it's unclear for how long.
"You can continue to ask" for high rents, he said. "Will we get them? I don't know."
What is unique this year is not that most new construction is high-end, but that there are so many luxury projects.
Apartment construction tends to yo-yo even in high demand years because of labor shortages, weather, financing and other factors — but it is looking like 2018 will be big for new units. Local real estate tracker MarketPointe Realty Advisors said 861 new apartments came out last year compared to 765 in 2016. Those numbers are a far cry from the 3,825 projects unveiled in 2015 and 2,100 in 2014.
With new apartment complexes come major changes to neighborhoods. Most of the new complexes are in East Village and Little Italy, where former commercial areas and two-to-three story buildings have been easy to knock down and replace compared to other parts of the city.
Eighty percent of all new apartments coming out in San Diego County this year are in the city, said Marcus & Millichap.
Growing pains are most evident in East Village, which has a large homeless population and is a frequent complaint of residents. Driving can also be difficult in the area because homeless people often walk in front of cars without looking and new parks, like the one in front of Pinnacle on the Park, has become a hangout for transients.
Alec Schiffer, managing director of Alexan ALX developer Trammel Crow Residential, said being in an urban environment means a homeless presence but it has become better since construction started.
"We anticipate that the situation will continually improve as the neighborhood evolves," he said, "and new residents and business populate the area."
The amenity rush
To compete for renters, developers have allocated much of the space in complexes toward amenities — even though that space could be used for more housing units.
In Oceanside, Ryan Companies is building a new apartment building directly across from one they completed in 2016. Pierside South will be completed in October with 110 units, many with ocean views.
Now under construction, the property will include a gym, dog run, office areas, lounge on the top floor, yoga studio and storage units on each floor.
"The younger workforce looks for these features," said Garrett Faller, project manager at Pierside. "The amenities are the selling point."
Unlike its first apartment building on the property that was wood frame, Pierside South will be built with steel. Although more expensive, it makes future alterations to the building easier.
Other new buildings have also doubled down on amenities. Vici in Little Italy, likely opening around late spring or early summer, features a yoga deck, gym, rooftop spa, bicycle and maintenance repair room, pet spa, vehicle charging station and concierge services.
Vici's website features a sleek marketing video in which animated people do yoga on the roof while birds chirp and residents walk around Little Italy on a gorgeous day.
Related: New apartments opening in 2018
At Shift in East Village, which opens this month, the 21-story building makes use of its height with a sundeck and rooftop pool — almost mandatory at new apartments. It goes a step further with a "sky lounge," an enclosed gathering place for on the top floor protected from the elements.
Other amenities include a sky terrace on the seventh floor, dog park, charging stations for electric vehicles, 24-hour gym and co-working space. Also a selling point for transforming East Village, Shift will include 19,000 square feet of ground floor retail.
In the shadow of the yellow Pinnacle on the Park building, Shift will likely become a landmark for those in downtown with its tallest tower accented by bright burgundy that should be seen for miles.
Real estate consultant Gary London said developers know the market opportunity is in rentals and attracting the right renter is key.
"They are appealing to a select group of affluent millennials," he said.
The coming condo boom?
There are about 250 new condos coming out this year, but most developers avoid constructing them because of strict liability laws.
Many of the new apartment buildings opening this year are built well enough that they could be converted to condos very easily — especially those with steel construction that are easier to modify. Conversions pretty much stopped after the housing boom and frequent litigation over construction defects made condos less profitable for developers.
Condos are subject to strict defect legislation over a 10-year period. So, after 10 years could all these high-end apartments become condos and avoid a barrage of lawsuits?
There's no clear answer because of a lack of history on the subject, said attorney Paul Robinson of the San Diego firm of Hecht Solberg Robinson Goldberg & Bagley.
He said a strict reading of the condo defect law — Senate Bill 800 — could be interpreted to mean apartment conversions after a decade do not fall under it.
But, Robinson said California judges are prone to siding with consumers and might decide the 10-year clock on defects starts the day the apartment switches to a condo.
"It's not an easy answer," he said. "There's never been a case law on this."
Also, he said any defects of the converted condo would need to be disclosed to the buyer or it would be fraud. The seller could still face a breach of contract if a defect is found even if they were not aware of it at the time of the sale.
Even though the legal possibilities might not make it worth it for condo conversion, Gary London said at least the high-end apartments today could make a conversion easier.
"If you build it really good today," London said, "then 10 years from now you're not going to have to put in hard costs or construction costs to make it condo-eligible."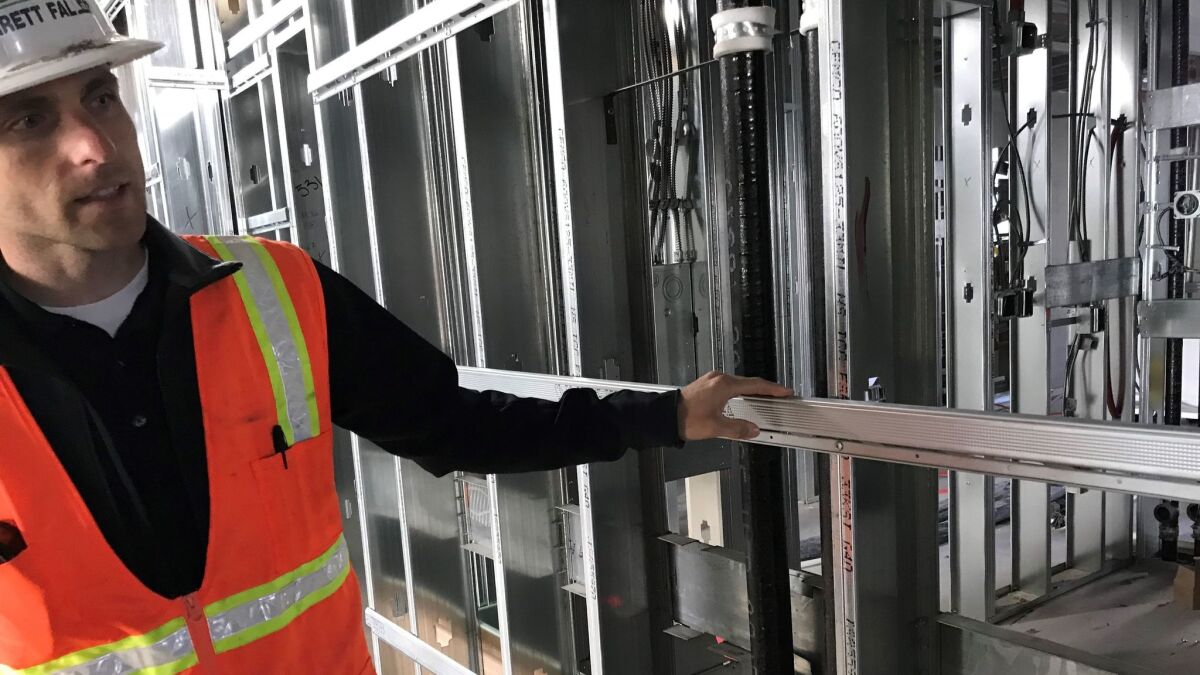 phillip.molnar@sduniontribune.com (619) 293-1891 Twitter: @phillipmolnar
ALSO
Sign up for the Pacific Insider newsletter
PACIFIC magazine delivers the latest restaurant and bar openings, festivals and top concerts, every Tuesday.
You may occasionally receive promotional content from the Pacific San Diego.