Sneak peek at Legoland's latest hotel: a castle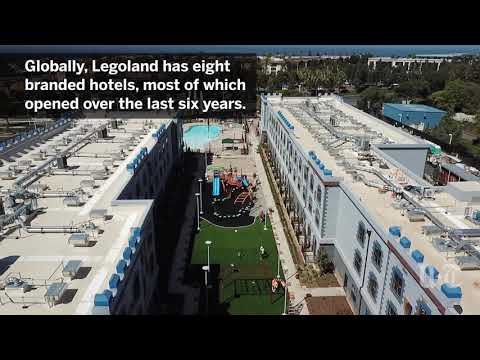 Legoland's newest hotel, themed to mimic a medieval castle filled with Lego knights, wizards and princesses, is an example of the growing popularity of theme park-connected hotels.
Carlsbad —
You might call it Lego on steroids.
From the moment young kids are greeted in the hotel lobby by a towering Lego wizard who stages a surprise light show to when they crawl into their bunk beds and gaze up to see a shooting star, they are transported to a medieval castle inhabited by more than 2,000 Lego-crafted characters.
And that's even before a visit to Legoland next door.
This Friday, the Carlsbad theme park will debut the 250-room Castle Hotel, its second onsite hotel in five years. Conceived four years ago, the latest lodging project capitalizes on the broad appeal of all things Lego — from licensed films and video games to the brand's toy sets and its familiar swivel-armed brick characters.
A guide to the Castle Hotel's key features
Legoland's parent company, British-based Merlin Entertainments, is also embracing a savvy business strategy honed decades ago by entertainment behemoth Disney: Build a hotel at your theme park and they will come.
Globally, Legoland has eight branded hotels, most of which opened over the last six years. By comparison, Disney boasts 37 that it owns and operates at its theme parks, with nearly half of those at Walt Disney World in Florida. In Anaheim, work is expected to start this year on a new 700-room luxury hotel, which will be the Disneyland Resort's fourth theme park hotel.
Universal, which for years did little to expand its hotel portfolio, has been ramping up development in recent years, while the SeaWorld-branded parks have no hotels of their own.
"As a professor of the industry, I've always thought the hotels made sense and not just for the reason it is copying the most successful competitor in the marketplace," said Martin Lewison, a theme park expert and business management professor at Farmingdale State College in New York. "Having a hotel makes the park feel more like a resort, which are popular because everything is taken care of you and you get all those characters in your room.
"And it's definitely worth noting you can charge a lot more for a room that has all the bells and whistles than the Days Inn down the street."
Nightly rates at the Castle Hotel, which can be up to $50 more a night than those at Legoland's original 250-room hotel, are expected to range from a low of $205 to the $400's during the peak season.
While Legoland won't divulge specific financial figures for the performance of its first hotel, the occupancy has averaged an impressive 80 percent, park president Peter Ronchetti has said previously. And during the summer months, the hotel generally sells out.
"Once we approached 2014 and saw the bookings, we were confident there wouldn't be an issue adding a second hotel," said Frank Idris, general manager of the Legoland Castle Hotel. "And bookings now are right on track with the first hotel, which is good, considering this is our second. We're not seeing any cannibalization of the first hotel."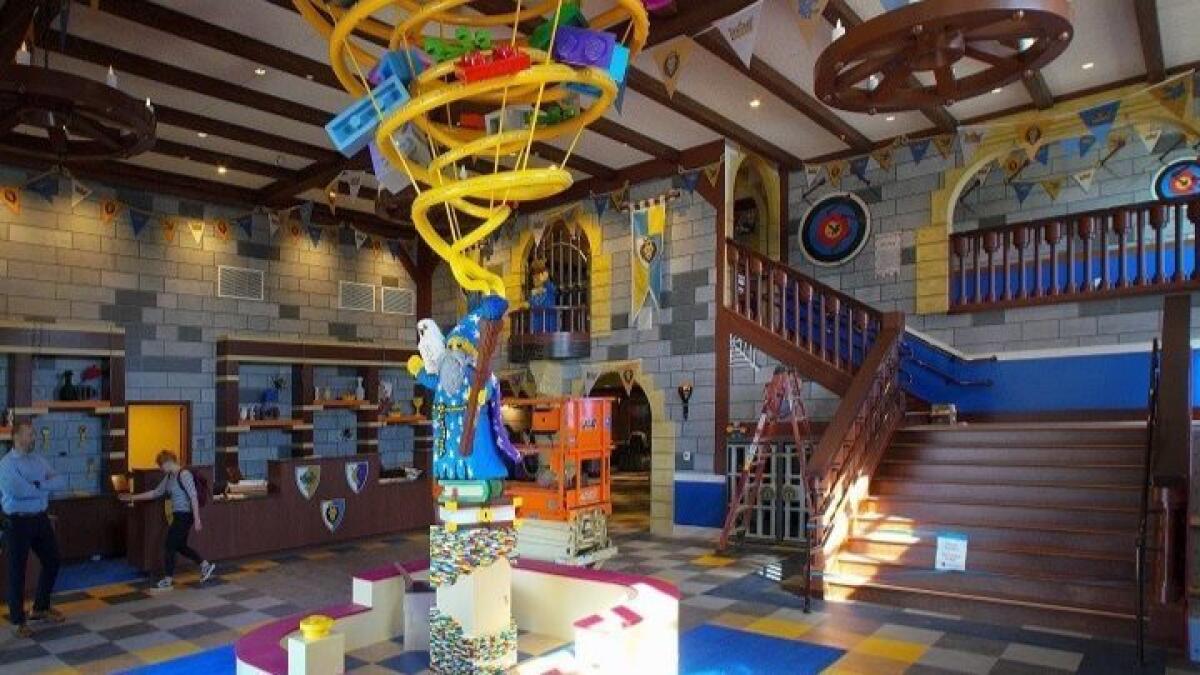 The design of the Castle Hotel is a creative blend of Lego-building artistry, whimsy and a generous dash of humor. Take, for example, a royal throne that doubles as a whoopee cushion and emits fart noises and a jester door that tells bad knock-knock jokes.
Everything about the hotel, from the Dragon's Den restaurant to the knight-, princess- and wizard-themed rooms, is designed around a simple story line created to captivate Legoland's key demographic —children. The narrative is that the bad knights, many of whom are hiding in plain sight throughout the hotel, weren't invited to the upcoming grand tournament, and they're doing everything in their power to sneak in.
"In the knights and dragons rooms, the headboard looks like stained glass when you turn on the lights, almost like a glass mosaic piece," explained Keith Carr, Merlin Entertainment's project director for the Americas. "In the wizard rooms, you feel like you're in a wizard's office, potion bottles lit within the inside and (Lego) owls in the corner overseeing what's going on. It's like painting the story and making you feel like you're living inside a medieval castle."
It is that same sort of immersive environment that is the hallmark of Disney's hotels, some more heavily themed than others. It's a way of letting theme park guests stay in the "middle of the magic" even longer, says Lisa Black, director of hotel and resort strategy for Disney.
As an example, she points to the Animal Kingdom Lodge, linked to Walt Disney World's Animal Kingdom theme park in Florida.
"It's like you're in Africa where you can actually go out onto our deck and see the animals grazing," Black said. "The decor of the lodge is reminiscent of Africa, you'll hear drumming from the lobby area and our cast members (employees) are from the different countries within Africa."
Disney also is cognizant of reminding its guests of its licensed characters, so you'll also see imagery related to the "Lion King" story line.
The principle goal, though, says Black, "is to transport you so you don't feel like you're staying at a regular hotel. It gives people the opportunity to continue the theme park experience well after they leave the park."
It's a formula that appears to be paying dividends to Disney. While the Walt Disney Co. does not report performance of its individual hotels, the most recent quarterly report stated that hotel spending was up 6 percent and occupancy hit 91 percent.
Like Disney, Legoland is trading on a lucrative licensed brand, namely the Lego toys. In the case of the castle, designers not only took inspiration from the actual toy sets, but they were fastidious in scaling the toys to real-life proportions. For example, the brick motif on the castle exterior and on the interior wallpaper is exactly 25 times the size of a toy Lego piece.
What distinguishes the newest hotel from the first is much more robust, premium theming — more Lego models, more storytelling imagery on the walls, more interactive elements. The guestrooms are slightly larger, and the hotel's outdoor courtyard area, which covers two-thirds of an acre, is an attraction in itself — from a resort-style pool and cabanas to a playground with slides, a live entertainment stage and a giant LCD screen for movie viewing.
Bryan Brandow, whose wife and two young children traveled from their home in Fremont to vacation at Legoland earlier this month, stayed four nights at the Legland California hotel, which they used as a home base to visit the park, the Sea Life Aquarium and the San Diego Zoo.
Staying at the resort was all about the "fun factor" and the ever-present Legos, says Brandow, but convenience was also a huge inducement.
"It was definitely binging on Lego for a few days," said Brandow, whose sons are 7 and 6. "And the proximity to the park is amazing. If we were staying offsite, we're the type who would get to the park right when they open but here we could take an afternoon break and then come back before the park closed.
"I got the sense my kids would want to live there."
While the Brandows won't be returning to Legoland anytime soon, their extended stay is exactly what theme parks are banking on when they develop new hotels.
"If a guest is only going for a day they're only paying for parking, admission, something to eat and souvenirs," said theme park blogger Todd Regan, who founded the Disney-focused micechat.com. "But with a resort you get two extra meals a day, the second day's admission, and the hotel stay, and that's a lot of extra revenue. So it's a great bet for theme parks to build hotels."
It was a "tactical error" on SeaWorld's part, says Regan, to not have planned for in-park hotels decades ago.
Recently departed SeaWorld Entertainment CEO Joel Manby announced three years ago that he would be pushing the parks to develop more branded hotels. In the intervening years, though, SeaWorld's financial and attendance woes have persisted, and it's unknown whether a new SeaWorld CEO will make hotel development a priority.
In San Diego, however, plans are moving forward for a new 350-room SeaWorld hotel that would be developed in partnership with San Diego-based Evans Hotels. An environmental analysis of the project is currently underway, and the goal would be to have it open by 2022, said Bill Evans, an executive board member of the hotel company.
The site is on the east end of the SeaWorld leasehold on Mission Bay near Journey to Atlantis.
A marketing study conducted a year ago on Evans Hotels' behalf by CBRE Hotels concluded that there would be demand for such a hotel, even with the public image issues dogging SeaWorld, said Bruce Baltin, a managing director in CBRE's Los Angeles office.
While a SeaWorld San Diego hotel would incorporate some kind of aquatic-related design, it is unlikely that it would have the kind of heavy theming typical of the Legoland hotels.
"SeaWorld has been working diligently to reverse the negative image but at the same token they do still get 3 million visitors a year," Baltin said. "And by the time the hotel is built, with the steps they're taking, they should be back on more positive ground."
lori.weisberg@sduniontribune.com
(619) 293-2251
Twitter: @loriweisberg
Sign up for the Pacific Insider newsletter
You may occasionally receive promotional content from the Pacific San Diego.