Developer planning Gaslamp hotel on Dick's Last Resort site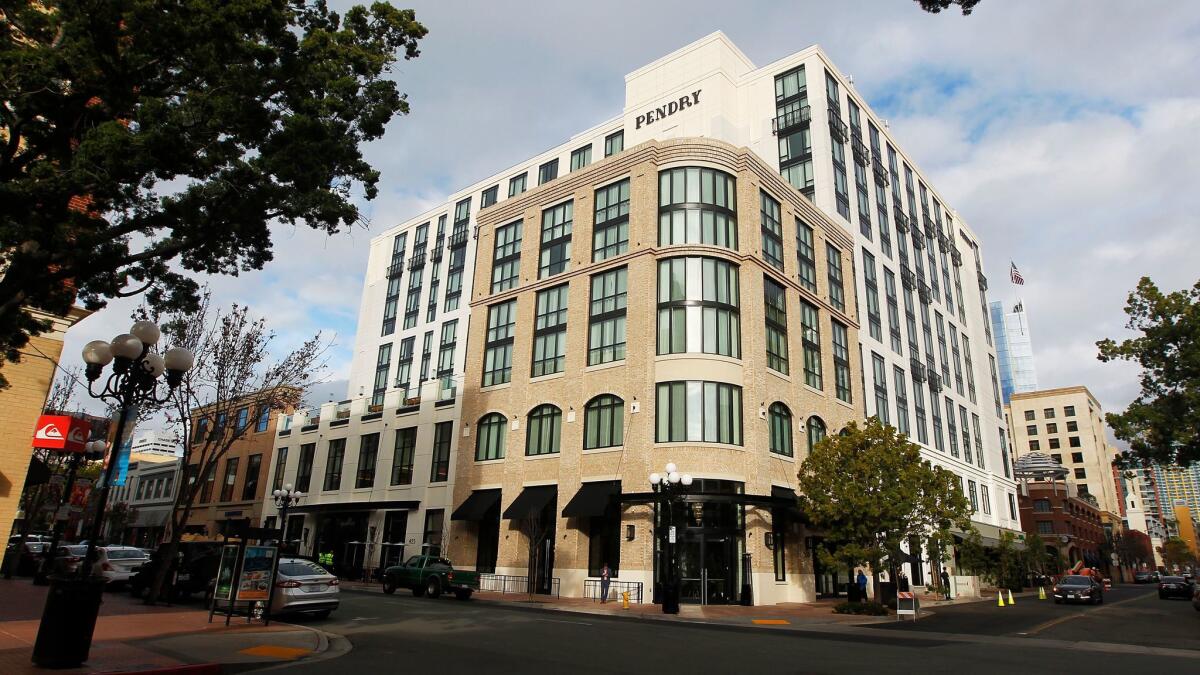 Just a year after opening the tony Pendry hotel in downtown San Diego, developer Robert Green is hoping to open a second Gaslamp Quarter hotel, which would be located on the block occupied by the now closed Dick's Last Resort.
While in the very early stages of planning, Green's hotel development company already has completed the first crucial step in the development process: control of the land.
Late last year, the Encinitas-based Robert Green Company negotiated a 99-year ground lease for nearly all of the block bounded by Fourth and Fifth avenues and J and K streets. Much of the block is occupied by current or vacant dining venues, including Dick's, which has been vacant since 2016; the Thai restaurant Rama, also closed; and the Gaslamp Strip Club and Jolt'n Joes, both currently operating.
The ground lease is the same vehicle Green used for acquiring the land for development of the 317-room Pendry across the street at Fifth Avenue and J street.
"The family across the street approached us about doing the same kind of lease structure, and we felt really good about where things were going for the Pendry," Green said. "We love the market and the concept of a high quality hotel with really good food and beverage and decided there's some demand in the market for something similar."
Green, who expects the development cost will be similar to the $120 million spent on the Pendry, expects to be ready to turn in his specific hotel plans by this summer to Civic San Diego, the city's downtown development arm.
Like the Pendry, it would be about 12 stories high but would have fewer rooms, about 250 to 270, said Green, and would not be quite as upscale. He has not landed yet on a preferred brand that he hopes will distinguish the property from what he sees as more traditional chains.
"There are some really great brands out there that are not as high a price point as the Pendry," he said. "They're not mid-scale or extended stay but brands like Virgin, Joie de Vivre, W and Kimpton. We want something that's unique and compelling with a decent price point but not super expensive and not economy either."
Green's ambitions for downtown come at a time when San Diego is seeing increasing hotel development activity following a years-long drought. In downtown alone, there are hotels accounting for more than 2,500 rooms in the planning stage, including a Ritz Carlton that has been approved but is being held up because of ongoing litigation.
And that doesn't count the hotels envisioned as part of the redevelopment of Seaport Village and Harbor Island, as well as an 833-room hotel Green is proposing with partners Art Engel and Ray Carpenter, who control the bayfront site behind the convention center via a lease with the Port of San Diego.
Meanwhile, the 400-room Intercontinental hotel on the waterfront is due to open this fall.
Green's latest hotel proposal would have the advantage of a well-situated location in the heart of the Gaslamp Quarter, just across Harbor Drive from the convention center.
As confident as Green is about the appeal of downtown as an economic driver for hotels, he also understands the difficulty of timing the hotel market.
"These hotel projects take years to put together, so you can't sit around and wait until everything is good and then think about building a hotel," said Green, whose company currently has more than 1,700 hotel rooms in development or in construction in California. "You have to start now, and if you're lucky you'll get one under construction in three years and maybe it opens in six years. For the Pendry, I acquired that ground lease in early 2012 and didn't open until 2017."
Brad Richter, assistant vice president for Civic San Diego, believes that the Gaslamp Quarter location is key to boosting the chances of success for Green's proposal.
"It's hard to get a better location than close to the Gaslamp and the convention center," he said.
In the meantime, Green will be collecting rent from the existing businesses on the 31,000-square-foot site and is searching for prospective tenants for the closed restaurants.
lori.weisberg@sduniontribune.com
(619) 293-2251
Twitter: @loriweisberg
Sign up for the Pacific Insider newsletter
You may occasionally receive promotional content from the Pacific San Diego.