Amid protest at San Diego airport, workers warily welcomed news of the government reopening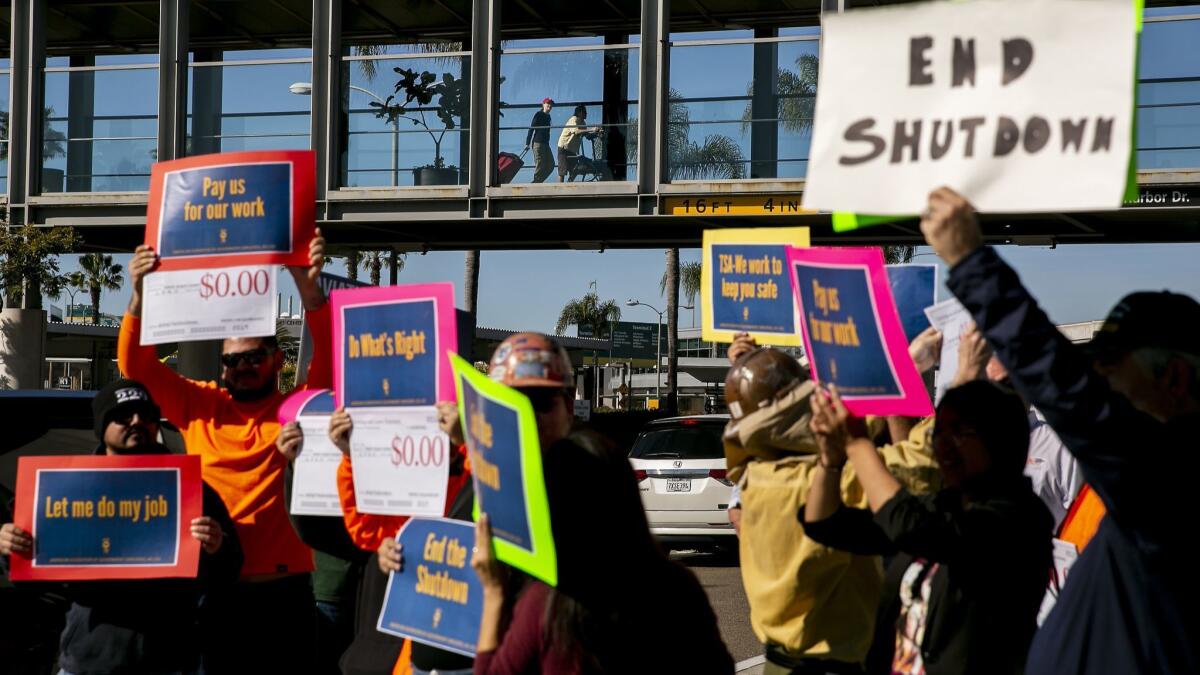 As federal air safety workers and their union leaders were mounting a protest Friday morning at the San Diego airport, President Donald Trump was announcing a deal to temporarily reopen the government.
While the announcement that they would soon be receiving the back pay owed them was welcome news, some remained concerned that less than a month from now they'll once again be fretting about unpaid bills amid a revived government shutdown.
"It's a start but it still keeps us an edge," said Ron Gerber, a TSA worker at the San Diego International Airport. "This is only until Feb. 15. It's the unknown that really hurts. That's what scared everyone up until now.
"So OK, you have a little respite and you can catch your breath and it can happen again Feb. 15. They should get on the stick and fund us forever. Pay these people for the job they do."
Gerber was among dozens of workers and union leaders representing not only TSA workers but also aviation safety specialists employed by the Federal Aviation Administration who gathered outside Terminal 1 for the protest. As they raised signs imploring the government to "End the shutdown" and "Pay us for our work," drivers passing by honked their horns in support. Members of other San Diego unions participated in the protest.
Like Gerber, Rep. Scott Peters, D-San Diego, who spoke at the morning rally, said the temporary reprieve was good news but it doesn't go far enough.
"I can't imagine anyone is going to be opposed to reopening the government, even for three weeks, but that's not a satisfactory answer," Peters said. "We should never have gotten to this point. We can agree about how we spend federal tax money but we should do that while the government is open and we're keeping the skies safe, we're keeping terrorists out of our country, and screening cargo. I'm sick and tired of beating up on public employees who are just doing their jobs, so of course this is progress but it should be for the rest of the year, it shouldn't be for just three weeks."
Friday marked the 35th day of the government shutdown that began Dec. 22 when Trump refused to sign any government spending bills unless he received $5.7 billion for a border wall. It also marked the the second paycheck that 800,000 federal employees would not be receiving.
"For us, our main thing is we wanted people to get paid and to get back to work, so anything that can get folks their paychecks so they can take care of their families makes us happy," said Ryan Nims, legislative political organizer for the American Federation of Government Employees, District 12, whose representation includes TSA workers.
Earlier Friday morning, the Federal Aviation Administration had temporarily halted flights into LaGuardia Airport in New York because of a shortage of air-traffic control staff. While it prompted flight delays across the Northeast, it was not having a ripple effect in San Diego, according to an airport spokesman.
According to the FAA's website, some arriving flights into LaGuardia were experiencing delays averaging one hour and 15 minutes Friday afternoon. Meanwhile, the FAA's flight delay map was showing no disruptions for most of the country, including San Diego, with general arrival and departure delays averaging 15 minutes or less.
"So far, there's been no impacts because of what's happening on the East Coast, but we're closely watching the situation because it can change," said San Diego airport spokesman Jonathan Heller.
In a statement posted on Twitter, the FAA said, "We've mitigated the impact by augmenting staffing, rerouting traffic, and increasing spacing between aircraft as needed."
As for security lines at Lindbergh Field, TSA worker Gerber said he has not noticed any longer-than-normal delays.
The TSA on Friday reported a 7.6 percent rate of unscheduled absences across the nation Thursday compared to a 3 percent rate one year earlier. It said that many employees were reporting that they were not able to come to work due to financial limitations.
For the San Diego airport, it reported maximum wait times of 14 minutes, well under national average wait times of up to 30 minutes.
lori.weisberg@sduniontribune.com
(619) 293-2251
Twitter: @loriweisberg
Sign up for the Pacific Insider newsletter
You may occasionally receive promotional content from the Pacific San Diego.