Pixar Pier debuts Saturday at Disney California park. Here's what you need to know.
Last weekend, "The Incredibles 2" raked in $180 million in ticket sales, yet another sign that Disney's long and lucrative partnership with Pixar Films shows no sign of cooling off.
Twenty films and 23 years since their film romance began, Disney is finally ready to put a ring on it Saturday with the opening of Pixar Pier at Disney California Adventure theme park in Anaheim.
Over the past winter, the former Paradise Pier area of the 17-year-old theme park has been transformed into a mix of rides, restaurants, shops and arcade games inspired by characters from Disney Pixar films.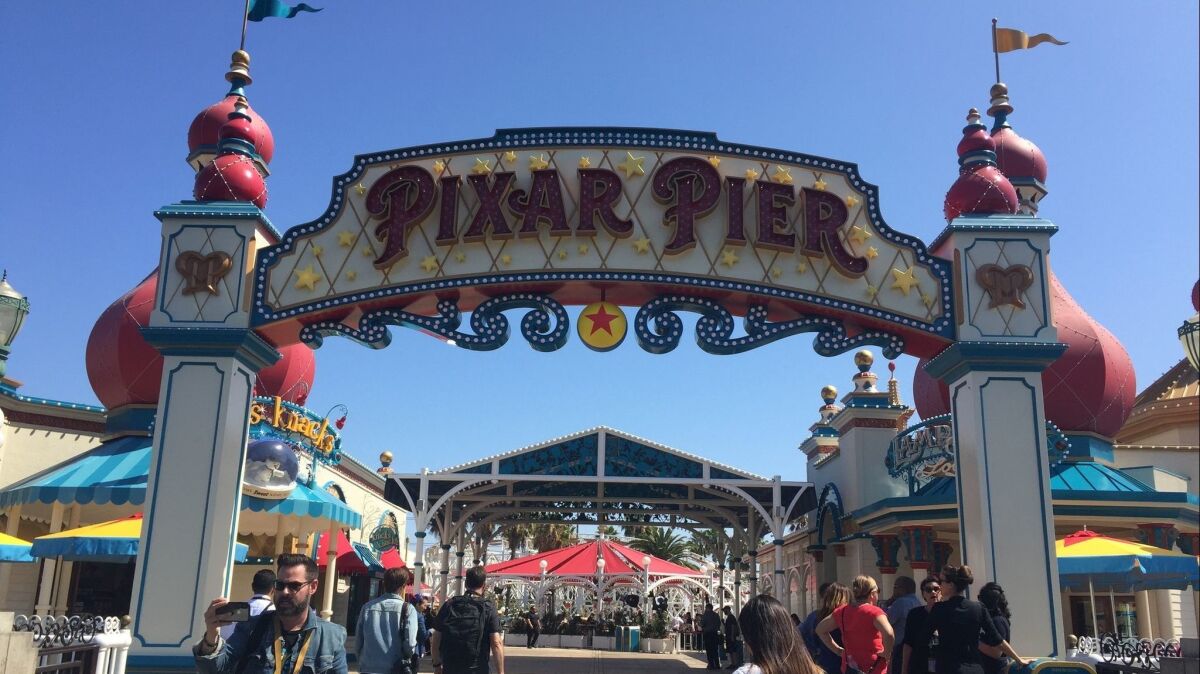 Throughout Pixar Pier, which surrounds a large man-made pond at the west end of the theme park, there are tributes to the movies "Toy Story," "Monsters Inc.," "Inside Out," "A Bug's Life," "Wall-E," "Up," "Coco," "A Bug's Life," "Ratatouille" and many more.
A new lighted monument sign marks the pier entrance. Just behind it is the newly re-themed Lamplight Lounge, named for the Pixar's mascot, a humanlike desk lamp seen in Pixar's 1986 digital short "Luxo Jr." It replaces the former Ariel's Grotto (a family-friendly dine-with-characters restaurant) and the beachy rooftop Cove Bar.
Lamplight Lounge ups the sophistication factor with a more modern, upscale gastropub menu featuring high-quality and creative dishes, like the delicious Salmon PLT, a $23 sandwich made with grilled salmon, crispy pancetta and roasted tomato with lemon-bacon aioli on a toasted focaccia bun. There's a fresh take on potato skins with brown butter-caper yogurt and smoked paprika aioli, and even a ratatouille (fortunately prepared by humans, not rats) for vegetarians, as well as a lengthy list of craft cocktail (and mocktails).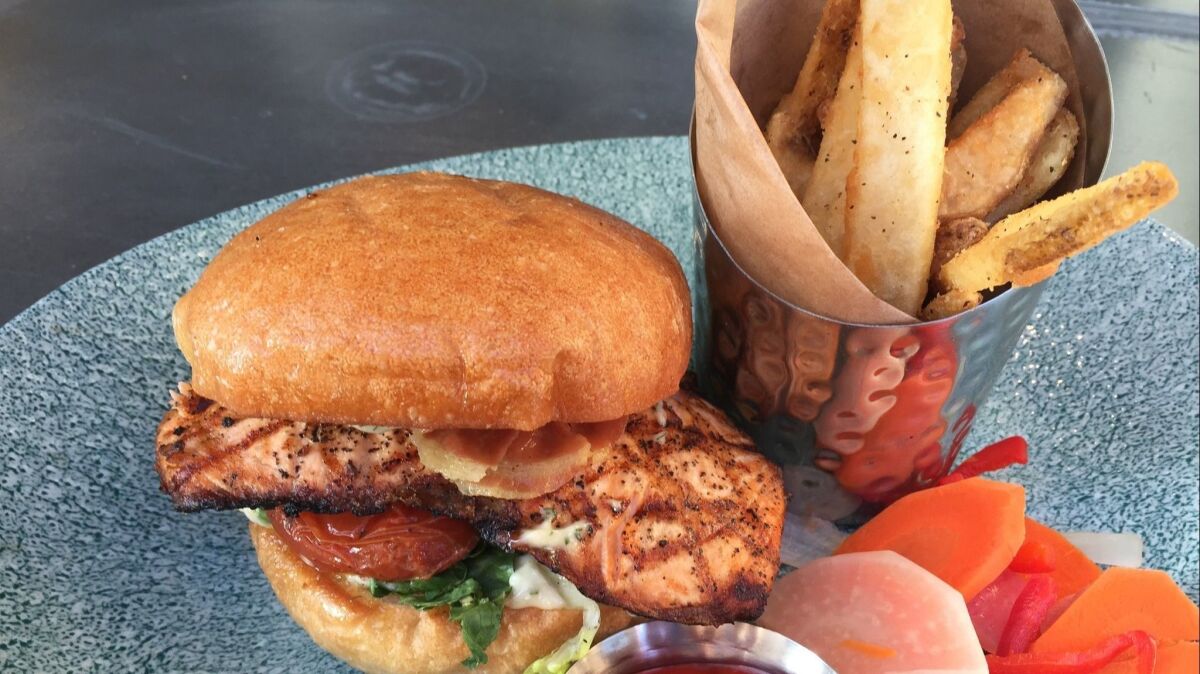 The former California Screamin' roller-coaster has been dramatically reimagined as the Incredicoaster, where riders can hear and see a comical drama unfold inside a series of black "scream tunnels" when the animated superhero family loses and finds once again their shape-shifting magical baby Jack-Jack. The new music, voice-overs, lighting and sculptural additions add an element of joy and mystery to the ride.
The long-popular ride-through video arcade Toy Story Midway Mania! needed no update, and the 24 gondolas on the former Mickey's Fun Wheel (an oversize Ferris wheel now renamed Pixar Pal-A-Round) has been repainted with pictures of Pixar characters.
Parkgoers can try their luck at rolling a giant granite sphere that floats on a cushion of water, as seen in Tomorrowland at Disneyland, but this one is painted with the star and stripe of the ball in "Luxo Jr."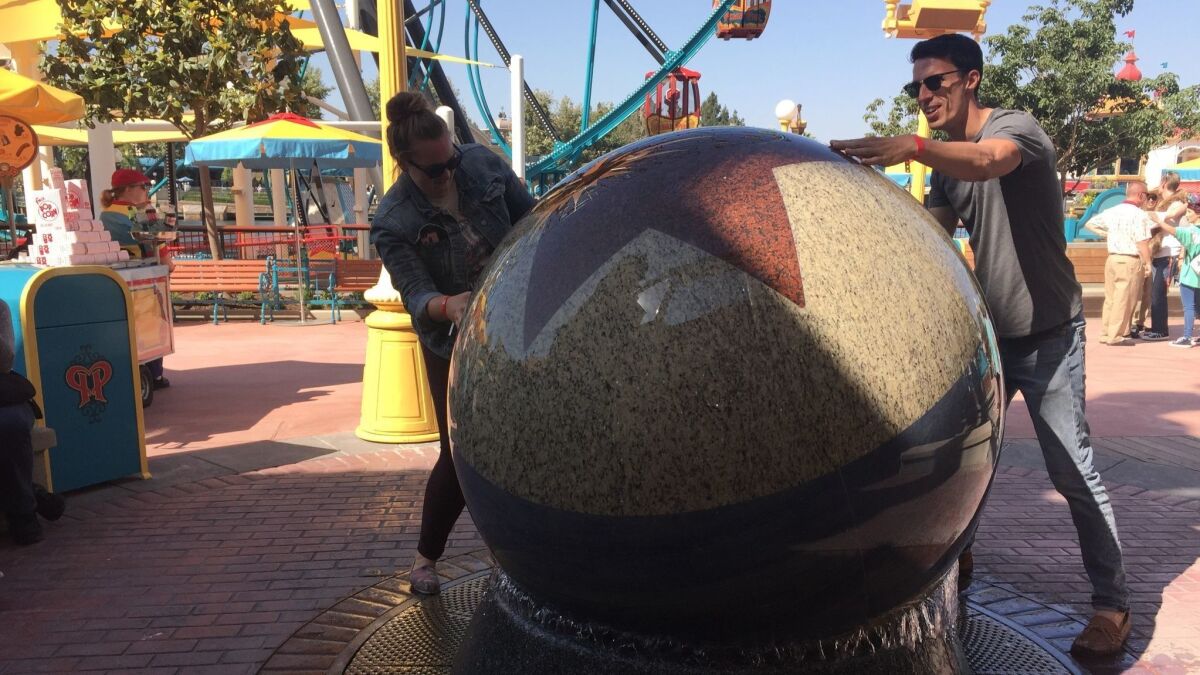 A handful of clever new Pixar-themed food booths have also been added along the Toy Story Boardwark.
Near the Incredicoaster exit is Jack-Jack Cookie Num Nums, selling oversize $6 cookies, including a frosted shortbread cookie, a gluten-free sugar cookie with raspberry jam center and, best of all, a giant, deep-dish chocolate chunk cookie that's baked right on the spot and served warm.
The "Monsters Inc"-inspired Adorable Snowman Frosted Treats sells refreshing soft-serve lemon Dole whip, vanilla and chocolate cones and parfaits. And Angry Dogs, inspired by the flaming emotion in "Inside Out," sells two versions of hot dogs, fiery hot and a mildly annoyed variety, which can each be dressed with spicy condiments to up the furious factor.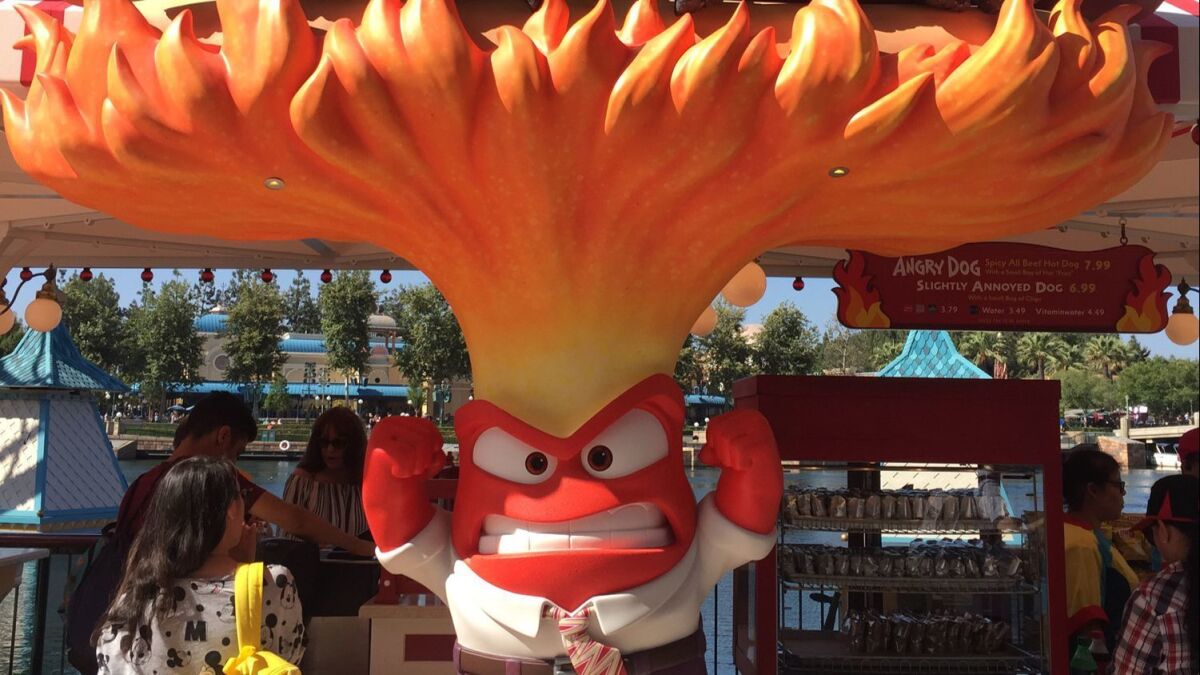 There's also Poultry Palace, inspired by a Pixar short, serving fried chicken drumsticks and corn on the cob with a not-too-spicy Mexican chili-lime seasoning and giant roasted turkey legs. And the Señor Buzz Churros stand is the only place in the park where you can find a churro dipped in red sugar that tastes like cinnamon Red Hots and a regular version dipped in "galaxy" sparkly sugar in keeping with Buzz Lightyear's celestial travels.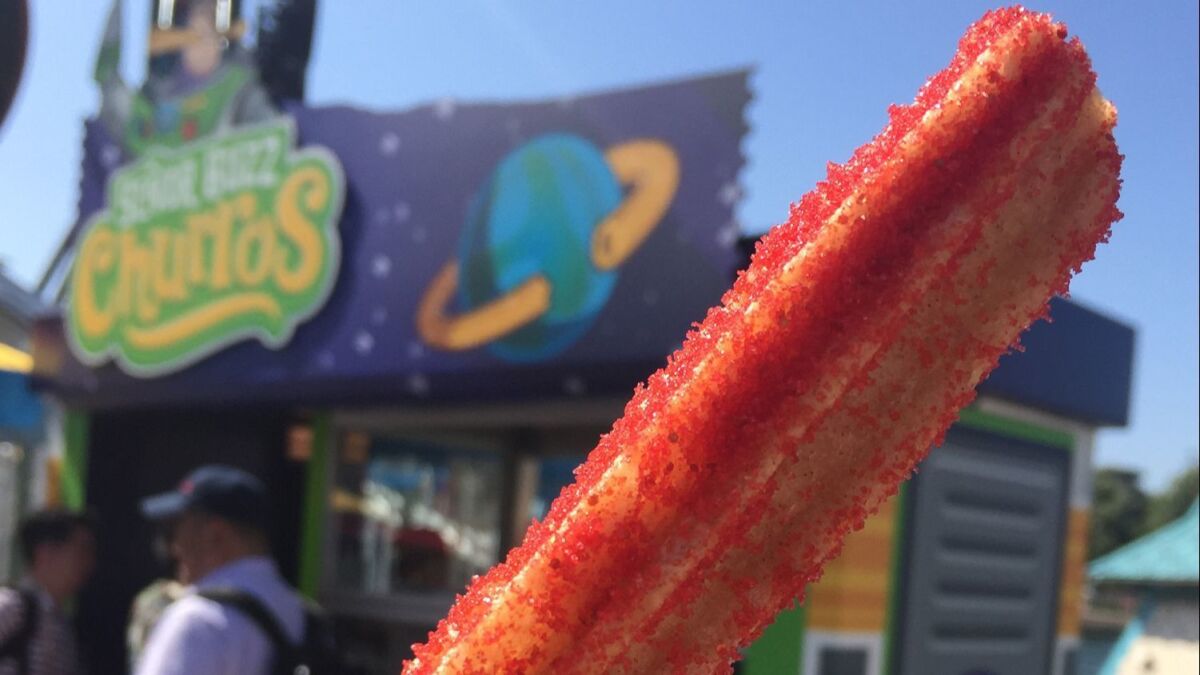 The arcade games have also been Pixarized. Customers can win prizes by tossing candy corn beanbags into the mouth of Heimlich (the adorable chubby German caterpillar from "A Bug's Life"); or they can send Wall-E and his robot love, Eva, dancing into orbit by hitting a bulls-eye with a water cannon.
Later this year, a candy store inspired by Bing-Bong, the elephantine imaginary friend from "Inside Out," will open on the boardwalk. And next year, the now-closed King Triton's carousel will reopen with an Old West "Toy Story" theme.
All of the merchandise in the Pixar Pier shops is also new, with an emphasis on Pixar storytelling and the artists who created the original Pixar characters.
Inside the new Knick Knacks gift shop, one corner has been set aside for a studio where customers can watch a Disney artist sketch Pixar character. They can even order their own sketch to be made and packaged on the spot.
The decor inside the Lamplight Lounge is similarly devoted to Pixar artists' characters and film scenes. There's a chandelier-like paper sculpture made entirely of hand-drawn sketches and an entire wall in the dining room isdevoted to Pixar character artwork and memorabilia.
There's also a secret hideaway in Lamplight Lounge known as The Office, a sort-of speakeasy/private dining room and balcony for up to 13 guests. Its walls are covered with hand-drawn sketches, not of Pixar characters but self-portraits of the Pixar artists themselves. The Office is not advertised anywhere yet, but customers can request a reservation for the room, accessed via an elaborately detailed door, by contacting the restaurant's managers.
To celebrate the opening of Pixar Pier, Disney is hosting a summerlong Pixar Fest, which continues through Sept. 3. Here's a look at some of the highlights.
"Together Forever — A Pixar Nighttime Spectacular": Disneyland's nighttime fireworks show is now exclusively devoted to Pixar music and characters with the theme of friendship. The spectacular 15-minute show includes animated projections on Sleeping Beauty's Castle and Main Street, fireworks, fire effects, a flying Buzz Lightyear, giant inflatable calaveras (skeletons) from "Coco" and Carl's house from "Up" floating skyward under a giant bouquet of balloons.
"Paint the Night," Disneyland's 4-year-old nighttime procession illuminated by 1.5 million lights, is now playing at Disney California Adventure. It features several new Pixar characters and on Saturday, June 23, a new "Incredibles" float will be added.
"Pixar Play Parade," a daytime procession formerly at Disney California, moves to Disneyland. It has new elements from "Up" and "Inside Out" and it's now led by a giant re-creation of Pixar's logo, an animated desk lamp.
A selection of Pixar short films are now screening in Disney California's Sunset Showcase Theater.
The new seven-piece Pixarmonic Orchestra, inspired by the film "Inside Out," plays retro songs and Pixar tunes in the new Pixar Pier bandshell.
New Pixar-themed food items have been added throughout both Disney theme parks, including "Toy Story" alien macaron cookies, "Coco"-themed Mexican food including vaporcitos, mole verde con pollo and tacos de estilo callejero, "Ratatouille"-themed gourmet seafood items and a grape slushy drink and fried bologna sandwich from "Up." Other new items include colorful cake, root beer float and berry funnel cakes.
Through Sept. 3, Redd Rockett's Pizza Port restaurant in Disneyland has been re-themed Alien Pizza Planet, serving "Toy Story"-inspired pepperoni and cheeseburger pizzas, among other items.
For more information, visit disneyland.disney.go.com.
pam.kragen@sduniontribune.com. Twitter: @pamkragen
Sign up for the Pacific Insider newsletter
PACIFIC magazine delivers the latest restaurant and bar openings, festivals and top concerts, every Tuesday.
You may occasionally receive promotional content from the Pacific San Diego.