New rides, shows and hotel roll out at region's theme parks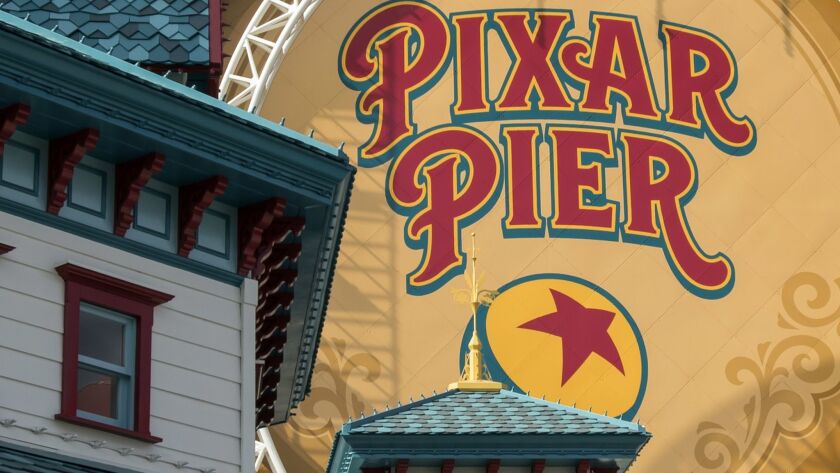 Every year around Memorial Day weekend, Southern California theme parks unveil their new rides and attractions in time for summer tourism season. This year's new offerings include a host of new rides, attractions, shows and even a hotel. Here's a look at what's new this summer: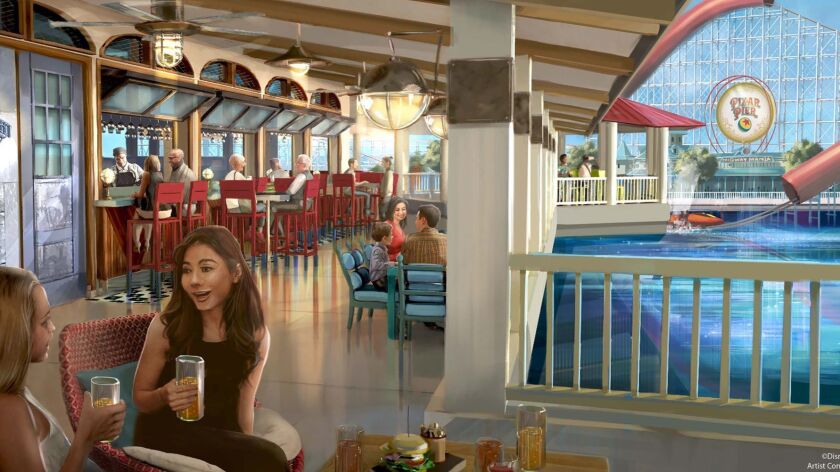 Disney's two Anaheim theme parks, Disneyland and Disney California Adventure, are celebrating the company's 22-year partnership with Pixar Films this summer. On June 23, Disney California will open Pixar Pier, a Pixar re-theming of the rides, shops and attractions in the former Paradise Pier area. The centerpiece will be the Incredicoaster, a revamp of the old California Screamin' roller-coaster in honor of the Disney Pixar film franchise "The Incredibles" (which returns to theaters June 15 in "Incredibles 2"). The pier area has been divided into five "lands" themed to Pixar film franchises. Incredibles Park is home to the coaster, which will have animated film, modeling and special effects telling an "Incredibles" family story in enclosed "scream" tunnels throughout the ride. Toy Story Boardwalk includes the existing Toy Story Mania ride and in 2019 will include a rethemed Jesse's Critter Carousel. Inside Out Headquarters, in the area of the former Maliboomer ride, will have a new "Inside Out"-themed ride, though its opening has not been announced.
The Pixar Promenade area, located in the old arcade area, includes the existing Ferris wheel which is being renamed the Pixar Pal-A-Round, with new paint and gondola designs. The arcade area is being rethemed for popular Pixar characters, including Heimlich's Candy Corn Toss (inspired by "A Bug's Life"), WALL-E Space Race, La Luna Star Catcher (after the Pixar short "La Luna") and Bullseye Stallion Stampede (inspired by "Toy Story"). All of the pier's food booths and shops will also be refashioned with Pixar themes, including the newly opened Adorable Snowman Frosted Treats (from "Monsters, Inc.").
One of the most anticipated new features will be Lamplight Lounge, a "Pixar history" re-theming of the former Ariel's Grotto pier restaurant and bar. The lobster nachos will be back, but a new "California gastropub" menu will include sushi-style carne asada rolls (and PB&J sandwich rolls for kids), potato skins with brown butter-caper yogurt and smoked paprika aioli, warm spinach salad and spicy chili chicken sandwich, among other new dishes. Meawhile, the summer celebration Pixar Fest continues through Sept. 3. Pixar animated film characters have been integrated into the park's shows, rides, merchandise and food offerings. Highlights include "Together Forever — A Pixar Nighttime Spectacular" at Disneyland; Pixar Play Parade in Disney California Adventure; the new Pixharmonic Orchestra at Disney California Adventure; and a Pixar re-theming of Disneyland's Pizza Port restaurant. 1313 Disneyland Drive, Anaheim. disneyland.disney.go.com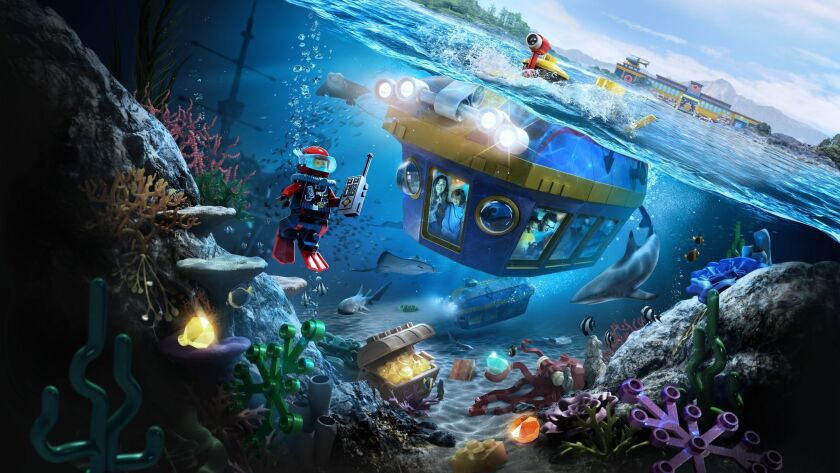 In July, Legoland will open its most expensive-ever attraction, the Lego City Deep Sea Adventure submarine ride. The new ride, featuring eight 12-seat submarines, will take riders on a "deep sea" ride through a 300,000-gallon underground aquarium stocked with more than 2,000 fish, stingrays and sharks, as well as numerous Lego brick sculptures. Opening date has not been announced. On April 27, the park also opened its second hotel. The Legoland Castle Hotel has 250 rooms with princess, knight and wizard themes.1 Legoland Drive, Carlsbad. legoland.com/california/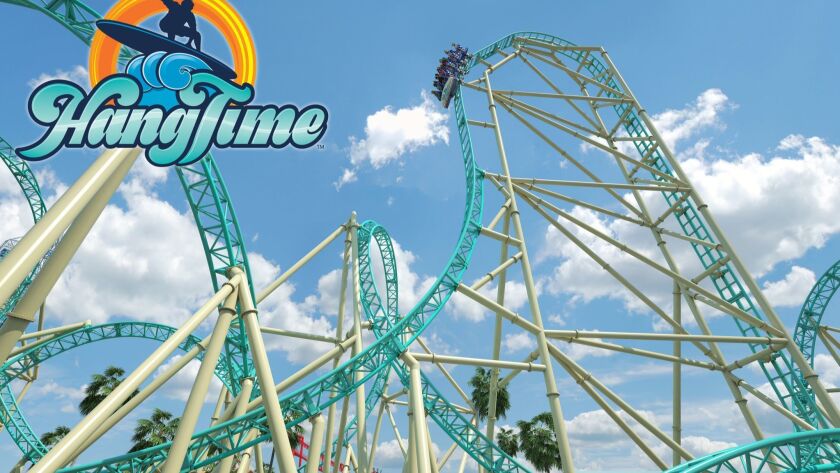 On May 18, Knott's opened HangTime, which it bills as California's first "dive coaster." It's said to be only the second roller-coaster in the Western Hemisphere with a negative G-stall loop, which gives the sensation of floating in mid-air. Riders come to a suspended halt at the ride's peak, then drop at a 96-degree angle down 2,189 feet of steel track. 8039 Beach Blvd., Buena Park. knotts.com
There are no new attractions this summer at the zoo, but it will once again present its Nighttime Zoo program from June 17 to Sept. 3. The park's hours will be extended from 9 a.m. to 8 p.m. from June 17-29, then from 9 a.m. to 9 p.m. June 30 to Sept. 3. 2920 Zoo Drive, San Diego. zoo.sandiegozoo.org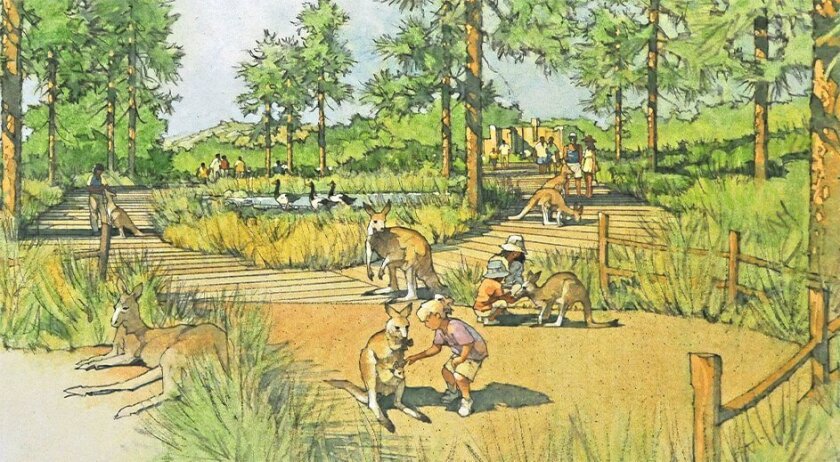 On Memorial Day weekend, the Safari Park will open Walkabout Australia, a lushly landscaped walk-through exhibit where visitors can see up close — and in some cases, touch — several species native to the land Down Under. They include Western gray kangaroos, red-necked wallabies, Southern cassowaries, Matschie's tree kangaroos and magpie geese, as well as native Australian plants. The park's Summer Safari season runs June 23 through Aug. 12 and will feature extended hours, from 9 a.m. to 7 p.m. daily, as well as live entertainment from 12:30 to 7 p.m. daily on the Summer Safari Stage. 15500 San Pasqual Valley Road, Escondido. sdzsafaripark.org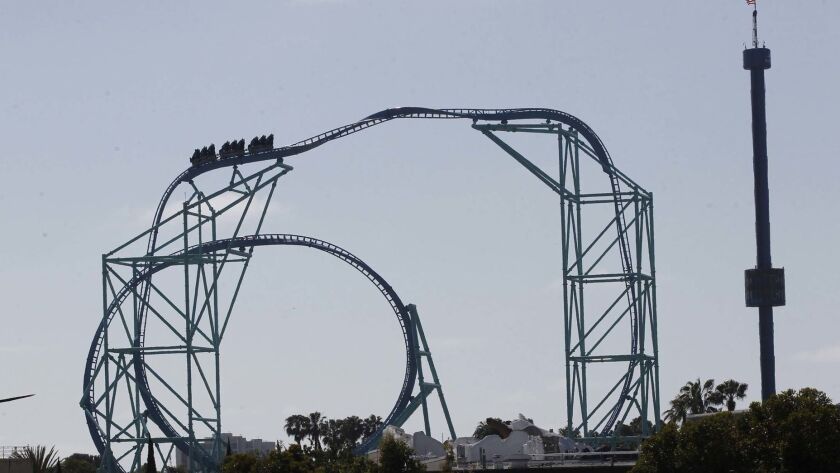 On May 10, SeaWorld opened Electric Eel, its tallest and fastest roller-coaster. The aquatically themed coaster offers a one-minute ride that includes a 150-foot ascent and an inverted roll with a top speed of 62 miles per hour. The park has also rolled out a new 12-month pass for $109, which includes no blackout dates and free parking. 500 Sea World Drive, San Diego. seaworldparks.com/seaworld-sandiego/
Sometime this summer, CraZanity will open at Six Flags. Standing 17 stories, it is billed as the world's tallest pendulum ride. Forty riders are seated around the rim of a giant disk that swings back and forth at speeds up to 75 miles an hour. This spring, the park also unveiled a newly remodeled boardwalk area, enhanced bumper cars attraction and new dining, games and shopping areas. 26101 Magic Mountain Pkwy, Valencia. sixflags.com/magicmountain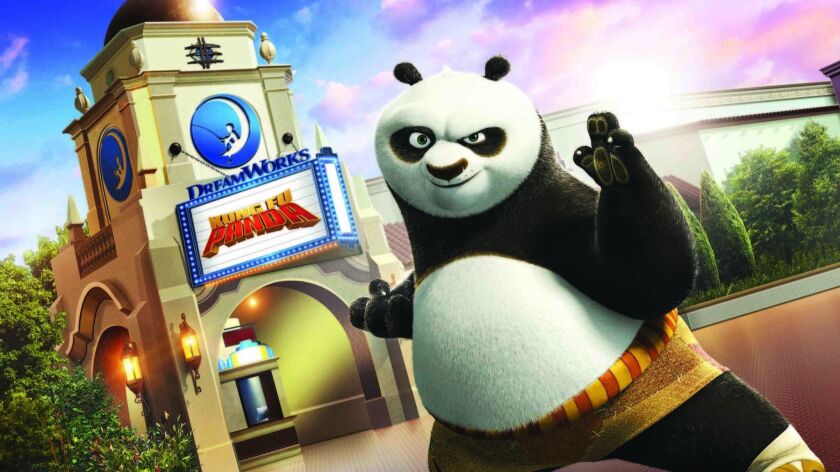 On June 15, Universal Studios Hollywood will open "Kung Fu Panda: The Emperor's Quest," a new multisensory film experience, in the new DreamWorks Theatre. Po, the animated star of "Kung Fu Panda," will go on an adventure that will be shown on screens stretching 180 degrees around the audience that creators say is virtually lifelike. There will also be 360-degree sound and special effects like water and wind to add to the experience. 100 Universal City Plaza, Universal City. universalstudioshollywood.com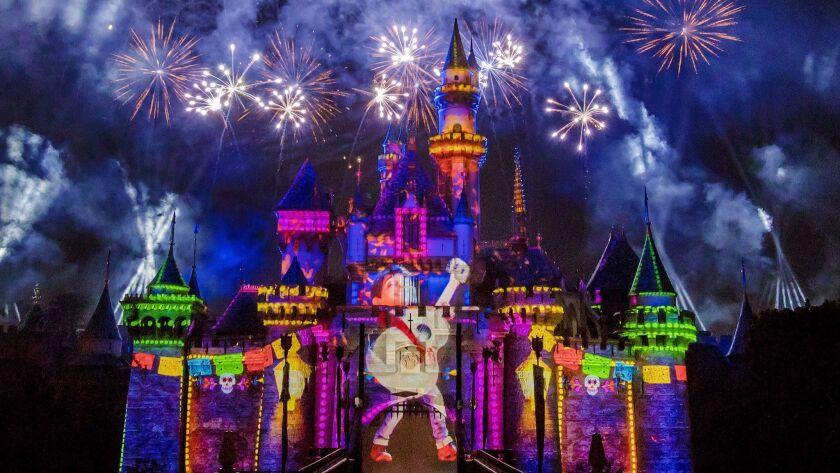 pam.kragen@sduniontribune.com. Twitter: @pamkragen
---