The best casino spa treatments for sun-parched skin
We don't have to tell you it's been blazing hot this summer.
But we do have to tell you that if you've been sunbathing, swimming in chlorine, exercising outdoors or just plain living in Southern California, your skin could probably use some serious hydrating right about now.
"In the summer, people really overdo it. Being outside, they're so active, they forget to reapply sunscreen or even if it's overcast ... those UV rays are getting deep into the skin, causing damage," said Nancy King, owner of Spa Barona at Barona Resort & Casino.
And you haven't done your skin any favors by seeking relief and relaxation in the pool or Jacuzzi.
"Chlorine for sure is going to dry out your skin," King said. "You'll see that white film on your skin because it's just taken all of the moisture out."
Since it's early September and the San Diego-area likely has two more months of intense heat and sun, why not put the moisture back into your thirsty summer skin at one of the region's five casino resorts day spa?
Like the casinos themselves, the spas differ in size and ambiance but they all offer a high level of luxury and professional pampering. Treatments also come with added perks, such as unlimited use of the spa's amenities, the resort pool and fitness center. And players can also get discounted, or free, services depending on their club-card tier. The spas are also open to the public, not just resort guests, so anyone can indulge — and not just during summer.
"Hey, we're in Valley Center, in sunny Southern California, so we're prepared and ready to do any of these hydrating services any day of the year," said Gina Layland, spa manager at Harrah's Resort Southern California.
That was echoed by Whitney Tabor, spa manager at Pechanga Resort & Casino: "As you know, we here in Temecula get lots of sun!" she said. "We really encourage guests to come early, stay for the day — use the steamroom, spa pool, sauna — and really enjoy the day with us."
Of course, you could slather on face cream and body lotion at home, but parched summertime skin is just begging for a facial, exfoliating scrub or body butter rub.
"Even one kind of corrective action is going to help your skin," King said. "Your skin is going to thank you."
To help you find the most hydrating treatments for your skin, we we visited these elegant retreats and asked their spa directors for their top recommendations. You're welcome.
Barona Resort & Casino
Spa: Spa Barona
Amenities: Five treatment rooms, two nail stations and hair services by appointment; acupuncturist three times a week; spa patio with golf course view.
Experience: A supremely serene, boutique spa with notable personalized and unrushed service. A highlight of lunch on the spa patio is the panko-crusted goat cheese, kale and citrus salad.
Recommended treatments: Avocado Body Treatment: an avocado and coriander seed exfoliation precedes a moisture-rich rub using the avocado's natural fatty oils. Intraceuticals Oxygen Facial, with Collagen Booster: after an exfoliation with papaya enzymes, an airbrush gun-like instrument uses oxygen to gently press in the plumping collagen booster. A binding cream is applied to seal it in.
Special touch: An aromatherapy-infused face cradle on the spa table keeps the bliss going throughout the treatment. Barona chocolates are plentiful in the dressing room. The only spa located on a hotel floor; if you've booked a room, you can just float back in your bathrobe after your treatment.
Details: (619) 328-4772. spabarona.com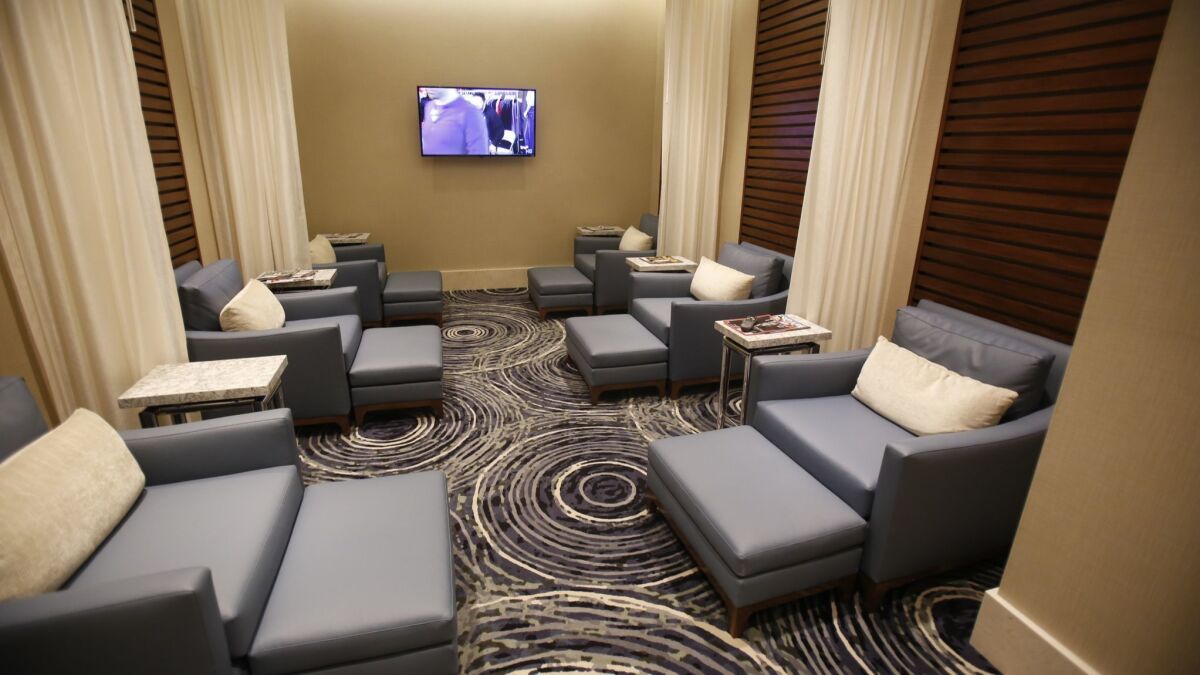 Harrah's Resort Southern California
Spa: The Spa at Harrah's
Amenities: 15 treatment rooms, cedar-lined saunas, steam rooms and saltwater baths; full-service hair and nail salon; barbershop
Experience: Recently expanded, this tastefully contemporary spa feels welcoming to both singles looking to chill and groups celebrating a bridal shower — or just the weekend.
Recommended treatments: Kissed by the Sun: geared for those exposed to too many rays, it's an aptly named intense, yet soothing, moisture body wrap and coconut milk-based massage rub. Oxygen Facial: Harrah's SoCal also uses Intraceuticals (see above). "You walk in looking like leather-face, and you walk out looking like Beyoncé," quipped Layland.
Special touch: With a men's, women's and co-ed relaxation rooms, you can unwind pre- and post-treatment your way. In need of nourishment? Smoothies and açaí bowls can be delivered to the spa from the on-site Robeks.
Details: (760) 751-7709. harrahssocal.com/play/spa-at-harrahs
Pala Casino Spa & Resort
Spa: Pala Spa
Amenities: 17 treatment rooms, steamroom, dry sauna, whirlpools, vitamin C and aromatherapy showers; full-service salon and fitness center; new spa pool area with in-water loungers, whirlpool and luxury cabanas; extensive retail boutique.
Experience: The epitome of refined elegance, this award-winning, sophisticated spa leaves no detail unattended, like incomparably plush spa robes and couples' suites with exclusive patios for outdoor massages.
Recommended treatment: Deluxe Hydrafacial: One of several mega-moisturizing services (along with the Argan Oil Moroccan Body Ritual and the Hydrating Caviar Facial), the Hydrafacial combines cleansing, exfoliation and hydration, using a hydradermabrasion process with "super serums" with peptides, hyaluronic acid and more.
Special touch: Every guest gets a personalized welcome card in their locker; each locker also comes with a bag for your wet bathing suit; the shaded relaxation patio has two private, outdoor showers. VIP guests get special black spa robes.
Details: (760) 510-2189. palacasino.com/spa
Pechanga Resort & Casino
Spa: Spa Pechanga
Amenities: 17 treatment rooms, wellness patio, with a spa and private pool; eucalyptus stream rooms, dry sauna and hydrotherapy pools; hair and nail salon. Large fitness center and yoga studio.
Experience: Showstoppingly stylish, this new, two-story, stand-alone spa is a gleaming highlight of Pechanga's $300 million expansion. The luxe finishes are in tastefully muted tones.
Recommended treatment: Citrus Drench: an exfoliating scrub and wrap combination using shea and vitamin C that's aimed at sun-exposed skin needing intense hydration. Great Oak Purification: a full-body ritual that begins with a dry brush exfoliation, then a warm, clay wrap infused with lavender and sage. A scalp massage uses chia seed extracts and jojoba oil while a Himalayan salt stone massage uses native white sage-infused warm oil.
Special touch: Spa Pechanga offers several treatments that use indigenous Indian ingredients and botanicals, such as native white sage, acorn and elderberry. The relaxation lounge features freshly baked chia seed blueberry muffins.
Details: (951) 770-8501. pechanga.com/indulge/spa
Viejas Casino & Resort
Spa: Willows Spa
Amenities: Seven treatment rooms, salt sauna, steam room, two (each) hair, manicure and pedicure stations; a spa garden, two outdoor spa cabanas for treatments, a private spa patio with saltwater spa pool and swanky daybed swings; 24-hour fitness center.
Experience: With an ultra-glamorous design and tasteful touches throughout, San Diego's newest casino day spa sets a high standard. For lunch by the Willows' Allure pool, feel righteous by ordering the healthy spinach mushroom wrap, then give in to the crazy-crisp fries.
Recommended treatments: Rice Milk Body Treatment: a blend of natural rice milk peptides (amino acids) and other elements that work to remove dry skin and increase hydration. Desert Rose Facial; an soothingly aromatic, botanical-based service that uses fresh roses combined with lightly steamed rosehips, to gently treat and hydrate sun-irritated skin.
Special touch: Every locker comes with a velvet jewelry pouch — no more stray earrings! And Willows' commitment to the skin-restorative properties of salt is full-on, with a saltwater spa pool, indoor saltwater whirlpool and sauna with a salt wall.
Details: (619) 659-5385. viejas.com/willows-spa
Tips for making the most of your spa day
For many of us, getting a spa treatment is a special treat. Here are some tips from the pros at area casino spas on how to get the most out of your experience — and making it last.
Get there early to use the facilities and truly unwind.
If you're having more than one treatment, try to schedule a spa lunch in between to savor your time.
Don't kill the spa chill by scheduling anything too soon after a treatment.
Get your pool/whirlpool time in before your service appointment so you don't wash off all of those great (and expensive) skin products.
If getting a facial, try to avoid putting makeup on afterward, for your skin's sake and to also be able to sleep with just the spa products on.
To avoid irritation, don't shave your legs before getting an intense scrub or exfoliation.
Use your spa voice — shhh! — in the spa. It will not only be more relaxing for you, it's basic courtesy.
If you want more of a zen experience, try to book a mid-week appointment, when spas tend to be less crowded.
Looking for a discount? Mid-week services might be less expensive. And ask about monthly specials.
Turn off your phone and leave it in your locker. Stressed Spa Barona's Nancy King, "This is the kind of place where you'll want a technology detox."
Whitney Tabor, Pechanga's spa manager, said you can keep your skin glowing — and hydrated — after you leave the spa by drinking lots of water, using sunscreen, taking cool showers, which are less drying than hot water, using moisturizing shower oils, removing dry, dead skin cells with exfoliation, and by exercising. Regular exercise increases blood flow, which helps nourish skin cells, flush out cellular debris and can lower stress, which may improve skin. "When it comes to maintaining beautiful skin year-round," Tabor said, "nothing is more effective than movement and exercise."
Sign up for the Pacific Insider newsletter
PACIFIC magazine delivers the latest restaurant and bar openings, festivals and top concerts, every Tuesday.
You may occasionally receive promotional content from the Pacific San Diego.