Weekend adventurer: Joshua Tree National Park
Whether you've wondered about Joshua Tree since the days of U2's famous album, or are a newbie outdoor adventurer, head a mere 2.5-3 hours outside of San Diego and discover one of the most unique national parks in the area.
Straddling the Mojave and Colorado deserts, Joshua Tree National Park encompasses more than 792,000 acres and ranges in elevation from 536 to 5,814 feet. A magical and mystical landscape of Dr. Seuss-like trees, massive rock formations, and wide expanses as far as the eye can see, it is a wonderland like no other.
A must-visit for any outdoor lover and families with kids, the park does require a bit of planning and wise thinking.
Plan ahead
Here are a few crucial insider tips to making your trek in the desert a safe and fun one:
When to go: Head to Joshua Tree in the spring, late fall or winter for more tolerable temperatures. It tops 110 degrees in the summer, so do your body and rescuers a favor and don't be careless.
Where to enter: All the Angelenos come through the West entrance, so drive the extra 15 miles to the North/Twentynine Palms entrance and save yourself the patience-testing car backup.
What to wear: Remember you are going to the desert, so dress smartly with hiking shoes, moisture-wicking clothes, plenty of sunscreen and layers for the drastic changes in temperatures. In sum, do not wear a brightly printed mini dress and thigh-high suede stiletto boots (recently spotted). You look ridiculous and will undoubtedly regret it.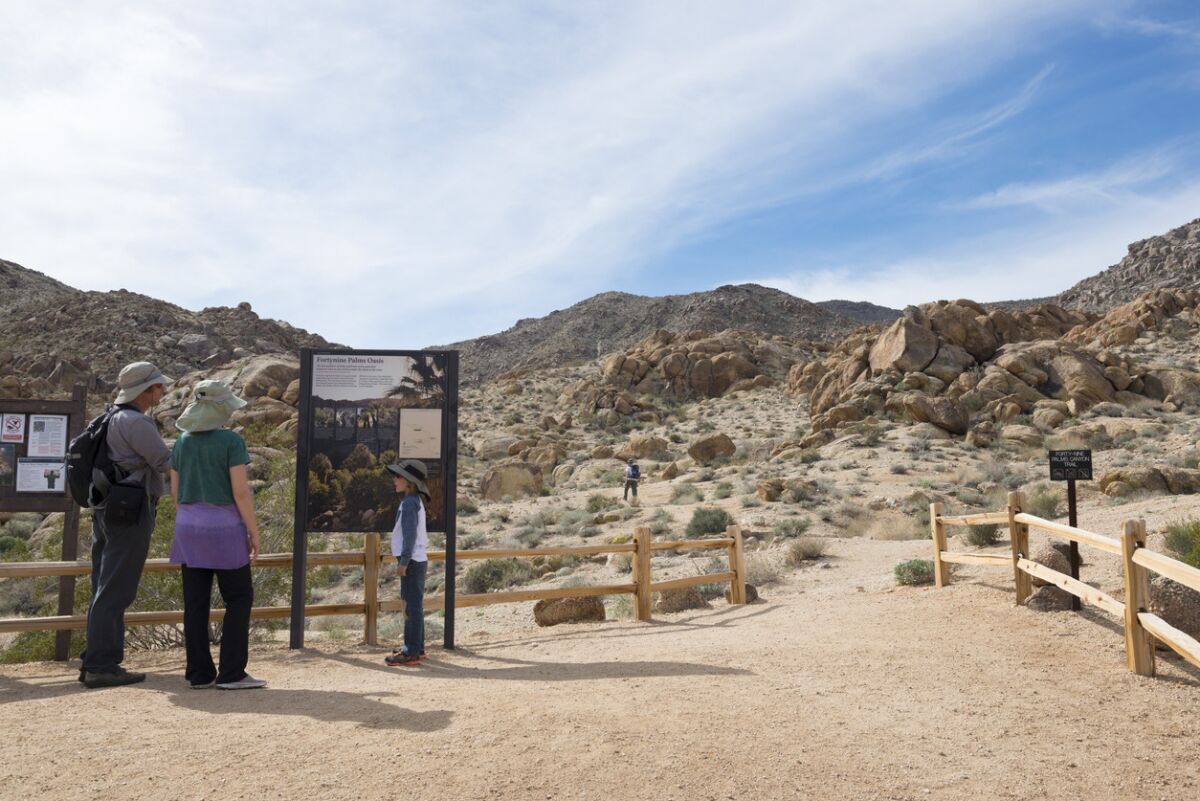 How to hike: Some of the trails are easy to follow, others not so much. Do yourself a favor and bring a compass (and know how to use it). If you do get turned around and lost, this will be invaluable to making a safe return to your car.
Picture worthy sites
Cholla Cactus Garden: Don't skip this breathtaking site off the main drag. It's a ways down, but it is well worth the detour. This magical garden is prime for sunrises and sunsets, when the fuzzy cacti glow with colored light.
Skull Rock: A famous rock formation that looks like, you guessed it. Climb up a bit and capture a picture in the "head" itself.
Any Joshua Tree: Stop along the road at nearly any point, find the funkiest tree you can find, and pose your friends for a U2-like shot. Or spread out your arms and capture the vastness of trees in the desert distance.
Where to eat and drink
There are zero places to eat or drink in the park itself, so pack lunches and snacks accordingly. Anywhere is a good place to park it for lunch, however, pull-offs with campgrounds get packed quickly, so opt for spots like Split Rock, Hidden Valley or Indian Cove. Always take more water than you think you need. This should go without saying, but it's a desert people, and you can die. If you're outside of the park, try one of these popular options:
Crossroads Cafe: Hungry hikers love this spot for their hearty breakfast dishes, "Roadside Specials," and multiple vegan options like Soy-Rizo Hash and the Hell Burger.
61715 Twentynine Palms Highway, Joshua Tree, 760.366.5414, crossroadscafejtree.com
Pie for the People!: After hiking for miles in the desert, you've certainly earned a pizza. Open since 2001, the popular locale has been serving up New York-style pies at more than 500 festivals, motorcycle rallies, and events around the country. Try the David Bowie with bacon, roasted pineapple, jalapenos and Guinness caramelized onions or for a slightly healthier option, dig into the Vegan, with pumpkin seed pesto, spinach, roasted potatoes, artichoke, and garbanzo beans.
61740 Twentynine Palms Highway, Joshua Tree, 760.366.0400, pieforthepeople.com
Where to stay
Plan ahead for accommodations: Campgrounds fill up fast as do hip, local hotels. If you can nab a reservation, try these favorites:
Mojave Sands Motel: Hip, modern and eco-chic, desert-goers love this hotel for its minimalistic decor and vibe, the pool out back, and bonfire-lit evenings. Be aware, there's no wifi or TV, but get over it, you're in Joshua Tree. Rooms start at $125.
62121 Twentynine Palms Highway, Joshua Tree, 760.550.8063, mojavesandsatjoshuatree.com
Sacred Sands Bed & Breakfast: This upscale B&B is pricier than other options, but for special occasions (they also host weddings and special events), the amenities make it worth the while. Choose between the Guest House Studio or Guest House Suite with river rock showers, mineral hot tubs, a fire pit, and panoramic views. Studio priced at $339 per night, Suite runs $369 per night, both require a two night minimum.
63155 Quail Springs Rd., Joshua Tree, 760.424.6407, sacredsands.com
More...
Adventure awaits: Desert vistas, below sea level elevations at Death Valley National Park
Sign up for the Pacific Insider newsletter
PACIFIC magazine delivers the latest restaurant and bar openings, festivals and top concerts, every Tuesday.
You may occasionally receive promotional content from the Pacific San Diego.