Walkabout Australia opens at San Diego Zoo Safari Park
San Diego Zoo Safari Park to open new Walkabout Australia exhibit.
The vastness of rural Australia and its varied habitats — the desert outback, the lush grasslands, the dense forests and the northern rainforests — can't be known in just a few hours.
But you'll get a taste of what it's like at the San Diego Zoo Safari Park's new Walkabout Australia attraction, which opens Friday.
Inquisitive kangaroos and energetic wallabies; fearsome megabirds called cassowaries; laughing kookaburras and other native Australian wildlife now live in the habitat.
Encompassing 3.6 acres and costing $17.4 million, Walkabout Australia is located at the base of the trail to Condor Ridge, near Tull Family Tiger Trail. It's included with admission to the Safari Park, east of Escondido.
As visitors walk the paths to different habitats, the climate changes to match.
The shaded rainforest supports Matschie's tree kangaroos. Beside living in trees, they're notable for resembling a cross between a kangaroo and a bear.
These endangered kangaroos are naturally found in a remote corner of Papua New Guinea, which used to be part of the Australian continent.
"There's only about 2,500 of them left in the world, and there's only 46 of them in North America as part of the species survival plan," said Steve Metzler, animal care manager for the Safari Park.
"This habitat is to simulate where they're from, the higher elevation rainforest of northern Australia and Papua New Guinea," Metzler said.
"We wanted to make sure we are not only going to be taking great care of them here, but that it's conducive for the breeding program, so we're going to make little tree kangaroos for years to come."
The hot, humid air of the rainforest is replicated using misting devices, which supports the foliage.
Elsewhere in Walkabout Australia, the continent's other main elements — namely sun, desert and heat — are naturally provided by San Diego's climate.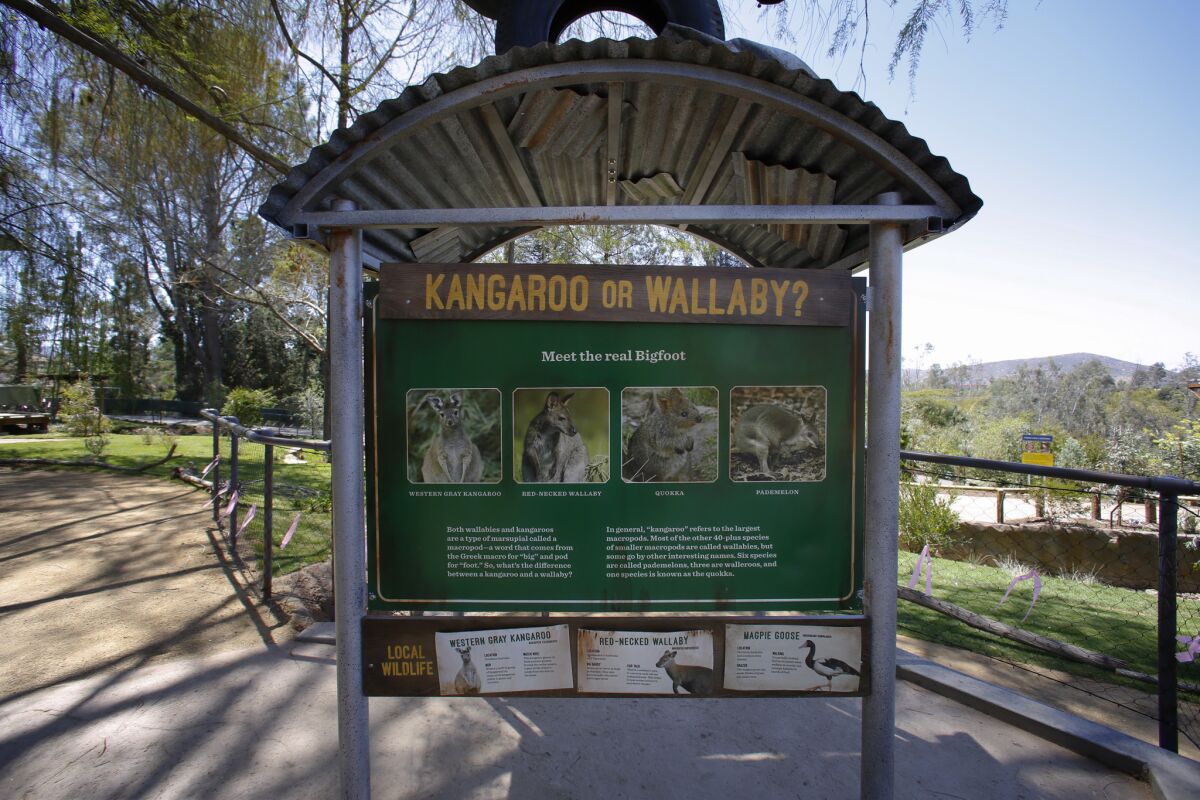 These habitats simulate what would otherwise require extensive travel to experience, Metzler said.
"It's the mixed grasslands and woodlands of Australia, the northern rain forest areas of Australia and then into the deserts of Australia, so you really get a sense of the totality of Australia," Metzler said.
Buildings and signs built out of weathered wood and corrugated metal mark the habitats, including a veranda and water tank.
Hungry or thirsty? Drop by the Zeust Family Station, a replica of a sheep-shearing shed.
While they enjoy Safari Park fare, visitors can take in the features of a sheep farmer's life hanging from the walls and ceiling. Even the toilets, or "dunnies," replicate old outhouses found in the Outback. (With the addition of modern plumbing).
Outside, replicas of old utility poles mark the paths, along with signs appropriate to the regions.
Many of the structures were inspired by the youth of Safari Park architect Robyn Badger, who grew up in the South Australian city of Adelaide.
"I used to take drives with my family when I was younger out in the countryside," Badger said. "Along the road we'd find tumble-down houses that were from the 1930s or 1800s. The entrance to the kangaroo exhibit is a tumble-down house.
These features were largely manufactured for this purpose, Badger said. The cost of importing actual structures from Australia was prohibitive. The water tank came from a rural part of San Diego County. It was donated by one of the zoo's trustees, Judith Wheatley.
In the grassland area, the barriers between people and animals come down. A pathway leads visitors through a lush, green landscape where Western gray kangaroos and red-necked wallabies graze.
It's the animal's choice whether to interact. Visitors are asked to remain on the walkway and be quietly observant.
The kangaroos and wallabies are curious about the humans among their midst, Badger said. Keepers have been slowly acclimating the animals to the proximity of people.
"If (visitors are) nice and quiet, the kangaroos may even come up to them, and then you could maybe extend a hand and let them sniff it," Badger said.
Even amid the din of final construction last week, the animals freely ventured outside, pausing to look at a Union-Tribune photographer and reporter before resuming their browsing.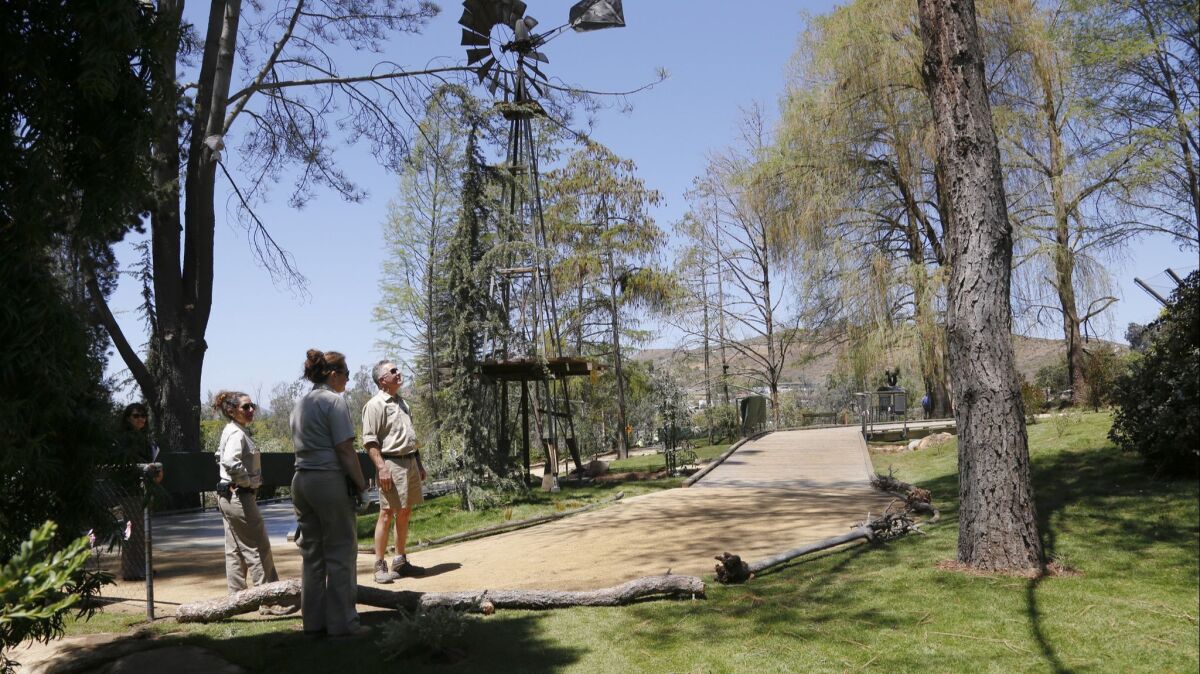 The cassowaries, giant prehistoric-looking territorial birds, aren't so approachable. They're kept in their own enclosures, easily visible but not accessible to visitors.
Like the tree kangaroos, the cassowaries will be allowed to mate as part of a species survival plan.
Guests may also meet "animal ambassadors" taken around by keepers to educate people about the species. These include prickly primitive mammals called echidnas that hatch from eggs; and stubby-legged, muscular wombats. Like the kangaroos and wallabies, wombats are pouched marsupials.
Not only the animals, but the plants are also picked for education. The vegetation in Walkabout Australia includes drought-resistant plants, said John Horne, curator of horticulture at the Safari Park. That's something Southern California residents might benefit from.
"One huge part of what we're doing here is trying to teach people about the efforts of water conservation," Horne said.
"Australia is in a drought. We're in a drought. We have similar climates. The plants that we've selected for this exhibit will do well in homeowners' yards."
For those who want to get an even more intimate look, Walkabout Australia offers "Roos & Mates," a 90-minute safari-style tour led by a guide who will explain the new habitat.
Visitors will be able to explore behind the scenes with keepers, and meet the animal ambassadors, and learn how to help their wild counterparts.
For the price and dates of "Roos & Mates," and other "Behind the Scenes" attractions, call reservations at 619-718-3000 or book online at sdzsafaripark.org.
Related reading
3 baby wallabies have arrived at San Diego Zoo Safari Park
Baboons, geladas and a 500-year-old tree: San Diego Zoo's Africa Rocks is complete
Permanent home found for smuggled tiger cub Moka
Rhino pregnancy stirs hope for a nearly extinct species
Chuck the rhino, longtime companion to Nola, passes away at Safari Park
---
Sign up for the Pacific Insider newsletter
PACIFIC magazine delivers the latest restaurant and bar openings, festivals and top concerts, every Tuesday.
You may occasionally receive promotional content from the Pacific San Diego.