Spend a day in La Jolla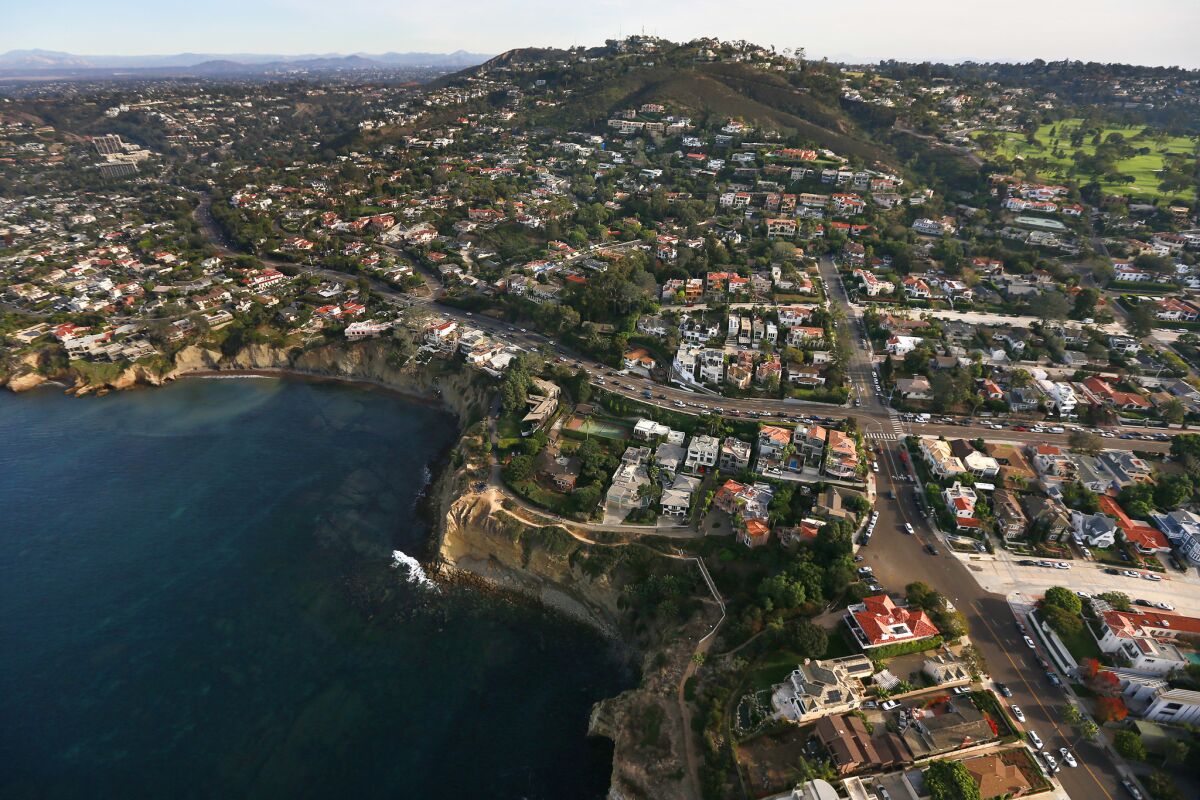 Nicknamed "The Jewel City," La Jolla has fine dining, exquisite boutiques and breathtaking views of the seaside cliffs. La Jolla is real estate gold, having some of the most lavish homes in San Diego. Although not everyone can live there, the food, drinks, shops and sights are available for all to experience.
Check out a famed spot
Start the morning at a local jewel within a jewel. Harry's Coffee Shop is mentioned on countless "must-eat" lists from Buzzfeed, The Food Network, Food and Wine Magazine and USA Today. This family-owned restaurant is the epitome of the local diner, donning the same vintage decor since its 1960 debut and serving a hospitable dining experience. The BW Benny, a hefty dish containing a waffle with bacon inside and on top, a slice of ham, poached eggs topped with Hollandaise sauce is one of its most iconic dishes. Or go simple with the pancakes and eggs or one of the many "ummelettes."
7545 Girard Ave., 858.454.7381, harryscoffeeshop.com
Some quick, post-breakfast sightseeing
Harry's Coffee Shop is not too far from the coast. Before venturing out to the rest of the neighborhood, stop by to see the seals and sea lions gather and relish in the San Diego sun. Make sure to give the marine animals their much needed space, they may look approachable, but their barks are loud and flippers pack a punch.
La Jolla Cove & Seal Rock
Shop 'til you drop
La Jolla is a shopping mecca, from local boutiques to the high-end shops and department stores, it's hard to avoid the temptation to spend more than needed. But as Tom Haverford and Donna Meagle put it, "treat yo self." Head slightly inland where Westfield UTC is bursting with department stores and smaller-scale chains. Or stick to the coast and shop all things local on Ivanhoe Avenue, located in downtown La Jolla. Boutiques and high-end shops line up along the streets of Girard Avenue and Prospect Street.
Various locations
Have a fork'n good meal
For lunch, indulge in meaty burgers and cheesy mac. The Promiscuous Fork incorporates classic dishes and amps up the flavor with interesting ingredients. Try the lamb lollipops with coconut-jalapeño rice, just a fork'n burger or "the hippie," a veggie-packed sandwich. The place is on the smaller side, but open seating with views of the street make it feel less so.
6984 La Jolla Blvd., 858.454.3663, thepromiscuousfork.com
Get sustainable with wine
Sip wine and eat light bites at LJ Crafted Wines. Owned by a family with deep roots in the wine industry, this restaurant serves quality wine and is ocean friendly through their sustainable practices.Their San Diego-made wine is also available to take home in growlettes.
5621 La Jolla Blvd., 858.551.8890, ljcraftedwines.com
The curtain calls for theatre
Spend the night watching a theatrical masterpiece. La Jolla Playhouse is home to many shows that have made it to Broadway, snagging a few Tony noms along the way. Just this year "Junk," "Latin History for Morons," "Summer: The Donna Summer Musical" and "Escape to Margaritaville" were some of the works that landed a spot in the esteemed New York theater. This spring and summer, "The Squirrels," "Queens" and "Seize the King" will take the stage in La Jolla.
2910 La Jolla Village Dr., 858.550.1010, lajollaplayhouse.org
Need a place to crash?
Fall asleep to the sound of the waves at La Jolla Cove Hotel and Suites. Oceanfront views are available for standard rooms and suites. On-site amenities include a saltwater pool, a jacuzzi, a rooftop deck (popular for weddings), complimentary continental breakfast, parking and much more.
1155 Coast Blvd., 858.459.2621, lajollacove.com
Experience a hacienda-style getaway, packed with dining and relaxing. Estancia La Jolla Hotel & Spa offers an award-winning hotel spa concealed in acres of lush gardens and greenery. Its restaurants take influence from Napa Valley and Mexico, serving an array of dishes, drinks and social events.
9700 N. Torrey Pines Rd., 866.451.3341, meritagecollection.com/estancialajolla
Sign up for the Pacific Insider newsletter
You may occasionally receive promotional content from the Pacific San Diego.