Ahead of the pack: Making sure everything fits for the destination
Ahead of the Pack
Local travel blogger Jessica Corson helps make sure everything fits for the destination
When the internet couldn't provide blogger Jessica Corson with helpful information for her travels, she took matters into her own hands and created the blog The Belle Voyage. Now, she's empowering female travelers with tips on what to pack, how to arrive in style and itineraries for popular destinations around the world.
PACIFIC recently found Corson grounded long enough to share her top travel destination, budget-friendly tips and even a few favorites around San Diego County.
Name: Jessica Corson
Age: 36
Hometown: Mount Horeb, Wisconsin
Current neighborhood: Cardiff
What do you do for a living?
I work in the biotech industry.
Website/social media handles:
thebellevoyage.com
Instagram: @thebellevoyage
Facebook: facebook.com/TheBelleVoyage
Pinterest: pinterest.com/thebellevoyage
Twitter: @TheBelleVoyage
In her own words
I'm a Midwestern girl turned San Diegan who has lived and studied on four different continents. I regularly cross the U.S. for business, use my vacation days to embrace new adventures, and I always have my travel makeup bag packed and ready to go. I created The Belle Voyage in 2014 to inspire female travelers to make travel effortless and beautiful by providing destination guides and travel tips specifically tailored to the modern woman.
Why did you decide to start your blog, The Belle Voyage?
Since I travel regularly for work, I am always on the hunt for ways to adapt my fashion and beauty favorites to a lifestyle that includes lots of carry-on packing. I had a hard time finding other blogs with a similar focus, so I decided to just write the book I wanted to read. It's been a fun creative outlet, and I've had the opportunity to meet so many other wonderful female travelers and bloggers along the way.
What is your favorite destination to travel to and why?
No matter how many times I travel to New York City, I still feel like the small town girl who is seeing it for the first time. To me, the energy of the city is synonymous with possibility, and if I could bottle up that feeling, I would.
What are some must-have items you should pack in your carry-on bag for a long flight?
My iPad is my lifeline when I fly. I have an app called Texture that allows me to download unlimited magazines, so I'm never more up to speed on celebrity gossip than when I've just flown cross-country! For comfort, I always have a big, cozy scarf, socks and lip balm.
Any budget-friendly tips for traveling abroad?
Accommodation can often be the biggest expense for travel abroad, so consider how you plan to spend your days, and choose your accommodation accordingly. If you'll be busy with activities and sightseeing, a simple budget hotel as a place to sleep is much more practical. Save the upscale hotels for a time when you'll be there to enjoy the property's amenities.
October 30th, 2012, San Diego, California, USA. | This is a patio area outside the Pony Room Bar at the Rancho Valencia Resort in Rancho Santa Fe on Tuesday in San Diego, California. | _Mandatory Credit: photo by Eduardo Contreras/UT San Diego/Zuma Press. copyright 2012 UT San Diego User Upload Caption: rancho valencia
(Eduardo Contreras / UT San Diego/Zuma Press)
** FILE ** A resort employee walks along the deserted walkway of the Baros Island resort, Jan. 15, 2005 in the Maldives. The Maldives economy, which depends in large part on tourism has taken a hit in the wake of the asian tsunami disaster, but many resort owners are hopeful that the industry will recover quickly as the resorts remained largely undamaged by the tsunami.(AP Photo/Ed Wray)
(ED WRAY / AP)
ENCINITAS, May 10, 2016 | Meat Department Supervisor Mark Smith shows the Burgundy Pepper Tri Tip, also know as Cardiff Crack, at Seaside Market in Cardiff on Tuesday. | Photo by Hayne Palmour IV/San Diego Union-Tribune/Mandatory Credit: HAYNE PALMOUR IV/SAN DIEGO UNION-TRIBUNE/ZUMA PRESS San Diego Union-Tribune Photo by Hayne Palmour IV copyright 2016
(Hayne Palmour IV / San Diego Union-Tribune)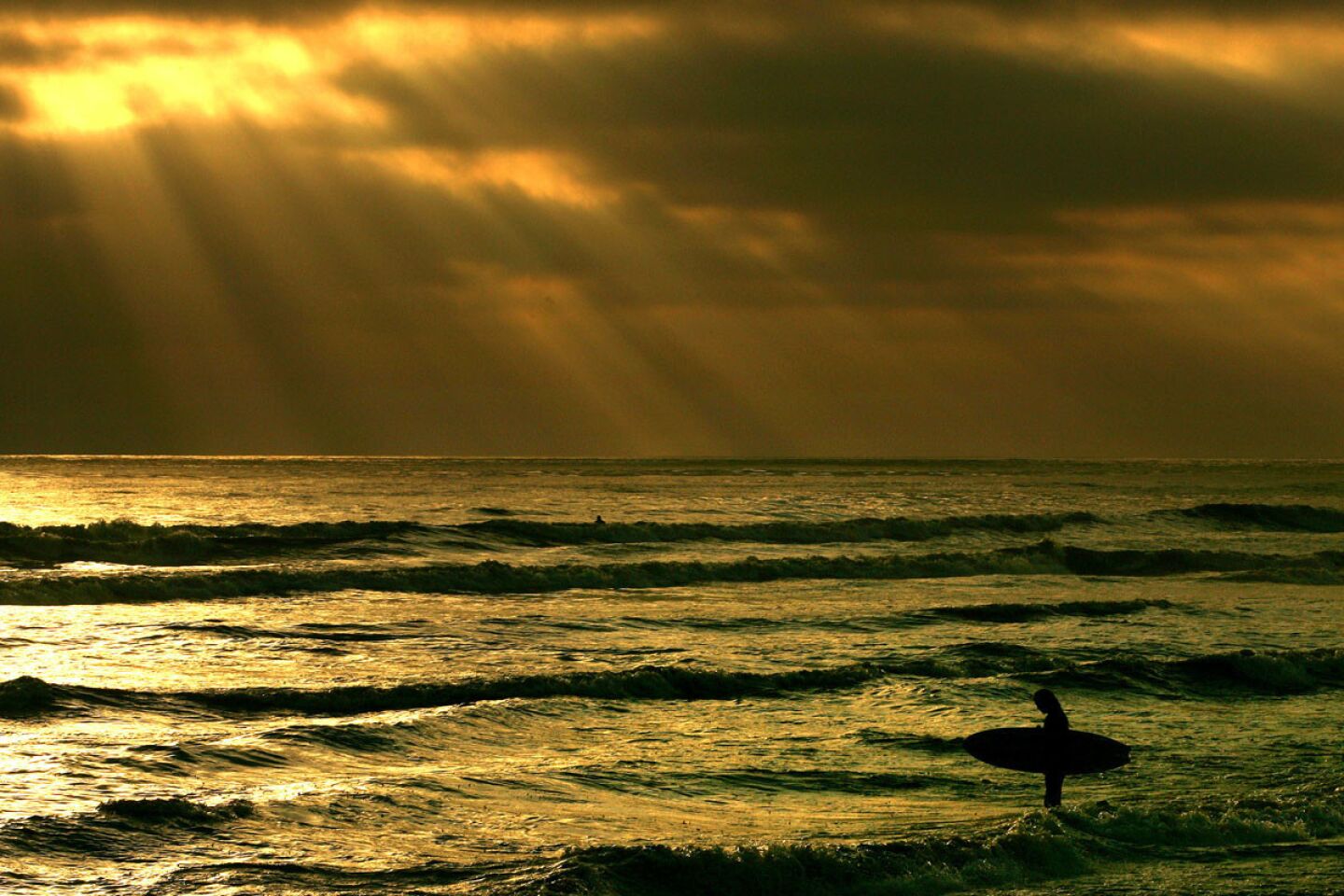 CARDIFF-BY-THE-SEA, CA - JUNE 23: A surfer enters the water as the sun sets through low clouds on June 23, 2005 at Cardiff State Beach in Cardiff-By-The-Sea, California. (Photo by Donald Miralle/Getty Images)
(Donald Miralle / Getty Images)
What are your road trip essentials?
Nothing makes the miles fly by on a road trip like a great soundtrack. Lately, instead of music, I've been loving podcasts. I listened to the entire season of S-Town on the way home from a recent trip to northern California, and it felt like the trip took about two hours instead of eight. A few other favorite podcasts are Serial and This American Life.
What is your least favorite mode of transportation and why?
As long as I'm heading somewhere exciting, I'll put up with just about anything. But truthfully, I get terribly seasick, so I avoid boats whenever I can. For once-in-a-lifetime experiences that I really don't want to miss, like snorkeling the Great Barrier Reef, I'll get a scopolamine prescription from my doctor ahead of time. It's a patch that you wear behind your ear, and it's the only thing that truly works for me.
How do you avoid overpacking?
I pick a few key pieces that are versatile enough to be the foundation for multiple outfits, and I have a rough plan for what I'm going to wear on each day. Another great way to save space in your bag is by investing in one or two multi-functional pieces, like the ones carried by Encircled. One of their flagship pieces is a cardigan that you can wear eight different ways, including as a scarf and a dress – it's pure genius.
What's one thing people would be surprised to find in your suitcase?
In my suitcase, you might be surprised to find that there's usually only one pair of shoes! I love shoes as much as the next girl, but it's rare for me to bring more than two pairs of shoes on a trip. I wear the larger pair as part of my travel outfit, and pack the second pair.
If you were able to plan your dream vacation, where would you go, how do you get there, where would you stay, etc.?
If it's on the map, it's probably on my wish list, so it's difficult for me to pick just a single trip! One place I would really love to go is the Maldives, an exotic chain of small islands off the coast of India. The Maldives are literally halfway around the world from San Diego, so I'd make a stopover in London along the way to break up the flights a bit. Since it's a dream trip, I'd stay in a luxury overwater bungalow, one with a glass floor so that I could gaze down at the sea creatures below. I'd enjoy plenty of beach time and spa time, and have dinner on a deserted island. It sounds incredible!
What are some of your favorite San Diego stores or boutiques?
Sea + Wander in Cardiff is a chic new addition to the boutiques in North County. It's one of my favorite spots for unique gifts and jewelry, as well as a well-edited selection of clothing. In North Park, nothing compares to Pigment! I think I'd move in there if they'd let me.
Favorite San Diego restaurant?
I adore The Pony Room at the Rancho Valencia hotel. The setting feels so secluded, and there's nothing quite like sipping on one of their specialty margaritas by the fire pit on a summer evening.
Favorite San Diego happy hour?
Anywhere with champagne and a good cheese plate! For me, that usually means Cucina Enoteca, Wine Steals or the Third Corner.
What do you think is San Diego's coolest neighborhood and why?
I'm loyal to my neighborhood, so I have to go with Cardiff. The vibe is laid-back and eclectic, and we've got VG's Donuts, Pipes Café, and the world-famous Cardiff Crack at the Seaside Market. I love walking the clifftop path above Swami's beach with my dogs and being grateful that no matter where I travel, I always get to come home to San Diego.
Sign up for the Pacific Insider newsletter
PACIFIC magazine delivers the latest restaurant and bar openings, festivals and top concerts, every Tuesday.
You may occasionally receive promotional content from the Pacific San Diego.