Top weekend events in San Diego for Feb. 16-19: Mardi Gras, film festivals and more
For many people, this is a three-day weekend with a celebration of Presidents Day on Monday.
It's also the continuation of Black History Month and San Diego Museum Month, where discounted admissions are available at cultural institutions across the county.
Contest for local students will award cash prizes for best creative works highlighting a person or event instrumental in shaping the world
Here's a list of events to check out this weekend.
Thursday
San Diego International Jewish Film Festival: This festival begins Feb. 15 and runs through Feb. 26 before going virtual from Feb. 27 through March 3. There will live discussions, screenings, food and drinks, a chocolate tasting reception, highlight reel and more. Some screenings are complimentary, while others require purchased tickets. The opening night film is "Karaoke." For more information go here: 2023sdijff.eventive.org/welcome
Oceanside International Film Festival: The Oceanside International Film Festival returns for a five-day run with an opening night premiere of the documentary feature, "I Am Alright." The film explores the challenges facing independent artists through the story of indie rockers The Silent Comedy. Opening night reception 5 p.m. Tuesday with film at 6:30 p.m. Festival runs Wednesday through Saturday; programs and times vary. Brooks Theatre, 217 N Coast Hwy, Oceanside. Tickets and schedule at osidefilm.org
Outdoors and more: The Bart Hall Show features the latest in boating, fishing, camping, water sports and all things outdoors — as well as family entertainment such as the Ultimate Air Dogs, the Paul Bunyan Lumberjack Show and the Kids Fish Free Trout Pond. Noon to 8 p.m. Thursday and Friday; 10 a.m. to 8 p.m. Saturday; 10 a.m. to 5 p.m. Sunday. Del Mar Fairgrounds, 2260 Jimmy Durante Blvd., Del Mar. $20 general admission; seniors (62-plus) and military, $15; ages 15 and under free with paid adult. hallshows.com
The Wuhan Lockdown: This lecture by University of Pennslvania's Guobin Yang will feature the story of the Wuhan, China pandemic lockdown in the voices of the city's own people. 4:30 p.m. to 5 p.m. Thursday. UC San Diego School of Global Policy and Strategy, Gardner Room. Thurgood Marshall Lane International Lane, La Jolla. Free. eventbrite.com/e/the-wuhan-lockdown-tickets-482783577677
"Anything Goes": San Diego Musical Theatre presents this classic dance-filled musical about stars and stowaways aboard a trans-Atlantic ocean liner. 7 p.m. Wednesdays and Thursdays; 8 p.m. Fridays; 3 and 8 p.m. Saturdays; 2 p.m. Sundays. Through March 12. 4650 Mercury St., San Diego. $25-$70. (858) 560-5740, sdmt.org
"R-E-S-P-E-C-T": Lamb's Players Theatre presents Kerry Meads and Vanda Eggington's revue of music by American women singers and songwriters of the 1960s. 7 p.m. Tuesdays, Thursdays and Fridays; 2 and 7 p.m. Wednesdays and Saturdays; 2 p.m. Sundays. Through March 12. 1142 Orange Ave., Coronado. $67-$72. (619) 437-6000, lambsplayers.org
"The Ferryman": New Village Arts Theatre presents Jezz Butterworth's play about an Irish family enduring the "Troubles" in 1980s Northern Ireland. 2 p.m. Wednesdays; 7:30 p.m. Thursdays; 8 p.m. Fridays; 2 and 7:30 p.m. Saturdays; 2 p.m. Sundays. Through March 5. Dea Hurston New Village Arts Center, 2787 State St., Carlsbad. $30-$50. (760) 433-3245, newvillagearts.org
The Future of Democracy and the Rule of Law – Challenges in the International Arena: This keynote address will be made by M. Margaret McKeown, a United States Circuit Judge of the United States Court of Appeals for the Ninth Circuit. 5:30 p.m. Thursday. UCSD Faculty Club, Atkinson Pavilion Muir Lane, La Jolla. eventbrite.com/e/future-of-democracy-and-the-rule-of-law-with-the-honorable-margaret-mckeown-tickets-415658665257
Friday
Mardi Gras in the Gaslamp: Bars, restaurants and lounges throughout the Gaslamp District will celebrate starting Friday with live music, drinks, dancing and free entry to venues such as Tin Roof, Double Deuce and more. Some locations will offer welcome shots or other food or drink discounts. This three-day event begins with an opening party at American Junkie and finale party at PARQ. Tickets start at $29 plus fees. GaslampMardiGras.com
Kountry Wayne comedy: This "Strange Love" film star, comedian and social media influence — whose offstage name is DeWayne Colley, a married dad of eight from South Georgia — brings his "Help Is on the Way" comedy tour to El Cajon. 7:30 p.m. Friday. The Magnolia, 210 E Main St., El Cajon. Tickets start at $38. magnoliasandiego.com
"El Huracán": Cygnet Theatre presents the final weekend of Charlise Castro Smith's play about three generations of Cuban American women facing a massive hurricane in Miami. 8 p.m. Friday; 3 and 8 p.m. Saturday; 2 p.m. Sunday. 4040 Twiggs St., San Diego. $30 and up. (619) 337-1525, cygnettheatre.com
Sean Shibe joins Quatuor Van Kuijk: UCSD's ArtPower presents the renowned Scottish guitarist Sean Shibe, in concert with France's Quatuor Van Kuijk in a program that includes Mendelssohn's String Quartet, Op. 80, Boccherini's Guitar Quintet No. 4 and Castelnuovo-Tedesco's Guitar Quintet Op. 143. 8 p.m. Firday. Conrad Prebys Concert Hall, UCSD, 9500 Gilman Drive, La Jolla. $50-$65. .(858) 534-143. artpower.ucsd.edu
Headed to San Diego, the five men met in Norway during lockdown and further their connection in concert
SACRA/PROFANA: "Beauty Reimagined": The choir will perform the West Coast premiere of Saunder Choi's "Verum Corpus" for choir and string quartet. 8 p.m. Friday. St. James-by-the-Sea Episcopal Church, 743 Prospect St., La Jolla. $10-$35. sacraprofana.org
Saturday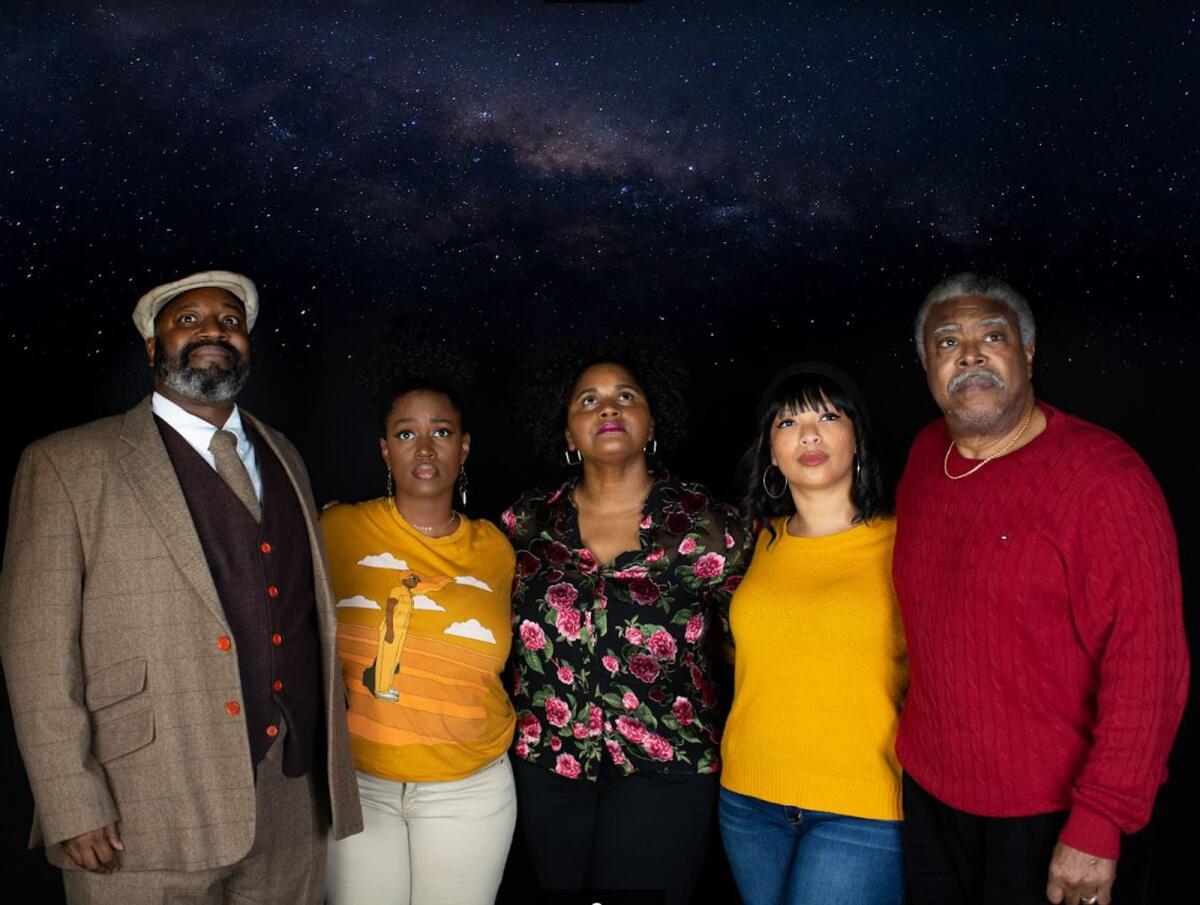 'High Table' premiere: Diversionary Theatre presents the U.S. premiere of Temi Wilkey's play about a Black lesbian couple seeking angelic guidance for a family blessing on their marriage. Opens Saturday and runs through March 5. 7 p.m. Thursdays; 8 p.m. Fridays and Saturdays; 2 p.m. Sundays. 4545 Park Blvd., University Heights. $20-$50. (619) 220-0097, diversionary.org
San Diego Symphony presents "Carnival of the Animals": The orchestra presents two 50-minute family concerts featuring animal-themed works, including Saint-Saëns' "Carnival of the Animals," Leroy Anderson's "Waltzing Cats" and a piece by Haydn. 11 a.m. and 12:30 p.m. Saturday. Balboa Theatre, 868 Fourth Ave., San Diego. $15 to $40. Children under 3 are free. sandiegotheatres.org
Indigenous Film Festival Initiative: As part of a larger effort to establish an Indigenous film festival in San Diego, UC San Diego's Latin American Studies program and the Suraj Israni Center for Cinematic Arts will host several film screenings this weekend. The films are "Amuzgo Y P'urhepecha" from Mexico and "Mapuche Y Aymara" from Chile. Filmmakers will be there for discussions after the screenings. 3 to 9:30 p.m. Saturday. Room 113, Mosaic Building, Arts & Humanities, 9605 Scholars Dr. North, La Jolla. Free. las.ucsd.edu/about/events/index.html
Girl Scout cookie and beverage pairings: A group of San Diego County restaurants and breweries are celebrating the return of Girl Scout cookies with special drink pairings this Saturday. Belching Beaver Brewery, Coco Maya, Park 101, The Original 40 Brewing Company, Second Chance Beer Company, and The Smoking Gun are all participating. For more information, go here: altstrategies.com/cookieevent
"The Marvelous Wonderettes": The Theatre at Welk presents Roger Bean's revue about four female high school song leaders in 1958 forced to perform at their prom, where comedy ensues. 1 and 7 p.m. Saturdays; 1 p.m. Sundays. Through March 26. 8860 Lawrence Welk Drive, Escondido. $62. tickets.thewelksandiego.com
San Diego's Soul Swapmeet: This event promoting Black entrepreneurs is moving to North Park every third Saturday of the month starting this weekend. 11 a.m. to 4 p.m. North Park Community Park. Howard Avenue and Oregon Street. sdsoulswapmeet.com
Soul Swapmeet has a new location in North Park where it will host its event every third Saturday of the month. The next event is on Feb. 18.
Rocket Con: San Diego Rocket Con brings its fifth annual comic and toy convention to San Diego for two days. Vendors will have all kinds of collectibles, comics, toys and other fan items. Meet voice actors from your favorite anime, take a picture with the Power Rangers, enjoy the panel discussions, or compete in the cosplay contest. 10 a.m. to 6 p.m. Saturday and 10 a.m. to 5 p.m. Sunday. Scottish Rite Event Center, 1895 Camino del Rio South, San Diego. One-day badge $22-$28; two-day badge plus exclusive convention comic, $40. sdrocketcon.com
Mardi Gras Madness Crawl: This hosted Mardi Gras-themed pub crawl in the Gaslamp District will take you and your pals to four bars (no cover charges) with drink specials at each location. Enjoy this walking tour complete with dancing, free beads, and plenty of atmosphere. 8 to 11:15 p.m. Saturday. Taste & Thirst, 715 Fourth Ave., San Diego. Tickets start at $31.99 at bit.ly/3DRDsLL
Sunday
"Black Voices/Black Writers": This staged reading of classic and contemporary works by black writers features pieces by Toni Morrison, James Baldwin, Audre Lorde and Lorraine Hansberry. 4 p.m. and 7 p.m. Sunday (doors open at 3:30 and 6:30), First Lutheran Church of San Diego, 1420 Third Ave. $20 donation suggested. facebook.com/firstlutheransd
Aris Quartett: La Jolla Music Society presents this German string quartet performing works by Mozart, Mendelssohn and Grieg. 3 p.m. Sunday. Baker-Baum Concert Hall, Conrad Prebys Performing Arts Center, 7600 Fay Ave., La Jolla. $43. (858) 459-3728. theconrad.org
Beatles tribute concert with organ: The Spreckels Organ Society will present a free outdoor concert of Beatles hits featuring San Diego Civic Organist Raúl Prieto Ramírez on the Spreckels Organ with the Choir of St. James-by-the-Sea, drummer Richard T-Bone Larson and vocalist Lauren Leigh-Martin. 2 p.m. Sunday. Spreckels Organ Pavilion, 2125 Pan American Road, Balboa Park, San Diego. spreckelsorgan.org
Sign up for the Pacific Insider newsletter
You may occasionally receive promotional content from the Pacific San Diego.