It's happening! It's all happening!
The "Hamilton" movie — originally scheduled to be released in movie theaters on Oct. 15, 2021 — will be available to stream starting Friday on Disney+.
This is pretty much the most exciting news of the year for musical theater fans who have memorized the soundtrack, know every member of the Original Broadway Cast Recording (OBCR), and likely stood in line (virtual or actual) for tickets to the show.
But now that "Hamilton" will be available on Disney+, a whole new audience will get to experience the groundbreaking, Tony-winning musical by Lin-Manuel Miranda. Just don't expect a traditional movie. What you'll see is a recording from Broadway that will look more like a filmed stage show than a feature like "Chicago," or even "Cats."
So whether you're going in cold, or you know every word to every song, here's a look at all things "Hamilton."

What is it, exactly?
"Hamilton" is a sung-through musical (meaning there's hardly any spoken dialogue) that opened Off-Broadway in February 2015 and was already a smash by the time it opened on Broadway in July 2015.
The movie features most of the original cast and was recorded at the Richard Rodgers Theatre over three days in June 2016: two days of filming with a live audience, and one where they shot close-ups and other angles. The movie is directed by Thomas Kail, who also directed the stage version.

What's it about?
The show is about the rise and fall of Founding Father Alexander Hamilton. It focuses on his immigrant roots, his quest to earn status on the battlefield, and later, helping to form the United States government. It's told from the perspective of Hamilton's lifelong rival, Aaron Burr.
Is it based on facts?
The musical is inspired by the 2004 biography "Alexander Hamilton," written by historian Ron Chernow.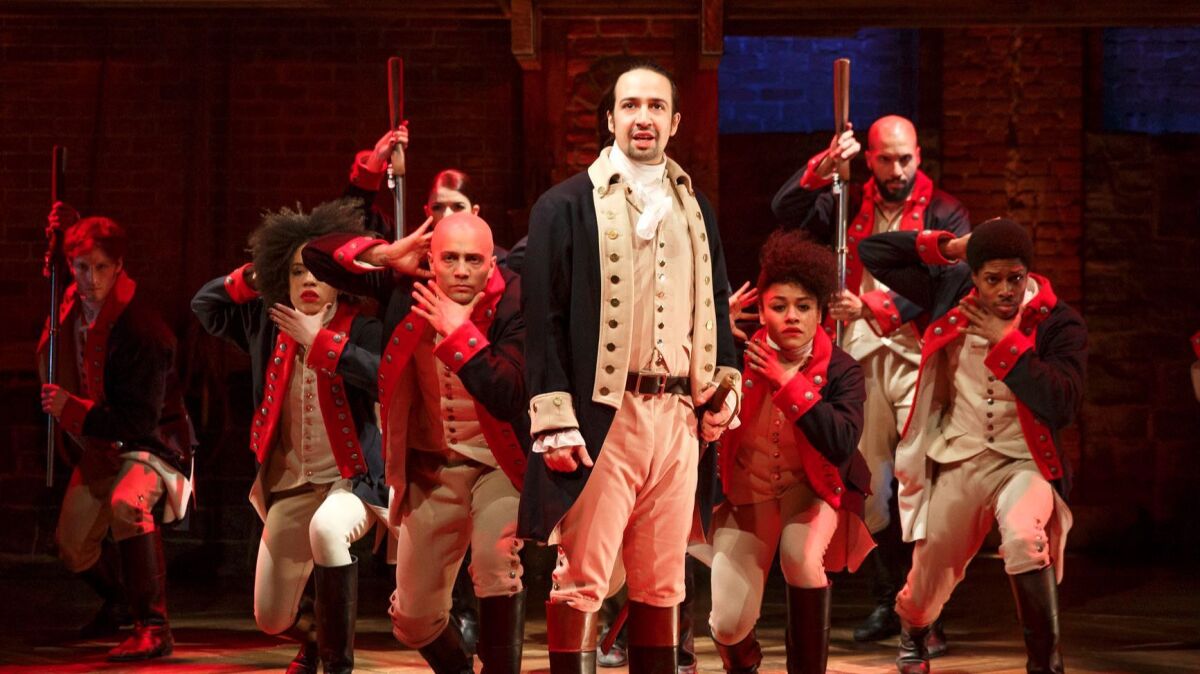 Why is a musical about Alexander Hamilton such a big deal?
What first caught people's attention is that the Founding Fathers (and Founding Mothers) are mostly played by Black, Latin, Asian and other minority actors. It's also told through rap, jazz, pop and R&B — music associated with the radio, not the theater.
"This confluence of what's heard on the American musical stage and what's heard on the airwaves and in the clubs hasn't existed for at least six decades," wrote New York Times theater critic Ben Brantley when he first reviewed the show in February of 2015.
The diverse casting and innovative storytelling engaged new audiences in both theater and American history.
Who wrote "Hamilton?"
The show's music and lyrics are by Lin-Manuel Miranda, who also starred as the original Alexander Hamilton. Miranda has since won a Pulitzer, a Grammy, several Tonys and various other prestigious awards for this show.
Did "Hamilton" win the Tony for Best Musical?
Yes, it beat out the Old Globe-bred "Bright Star" by Steve Martin and Edie Brickell, as well as "Waitress," "School of Rock" and "Shuffle Along, or, the Making of the Musical Sensation of 1921 and All That Followed."
"Hamilton" also earned a record-breaking 16 nominations and won a total of 11.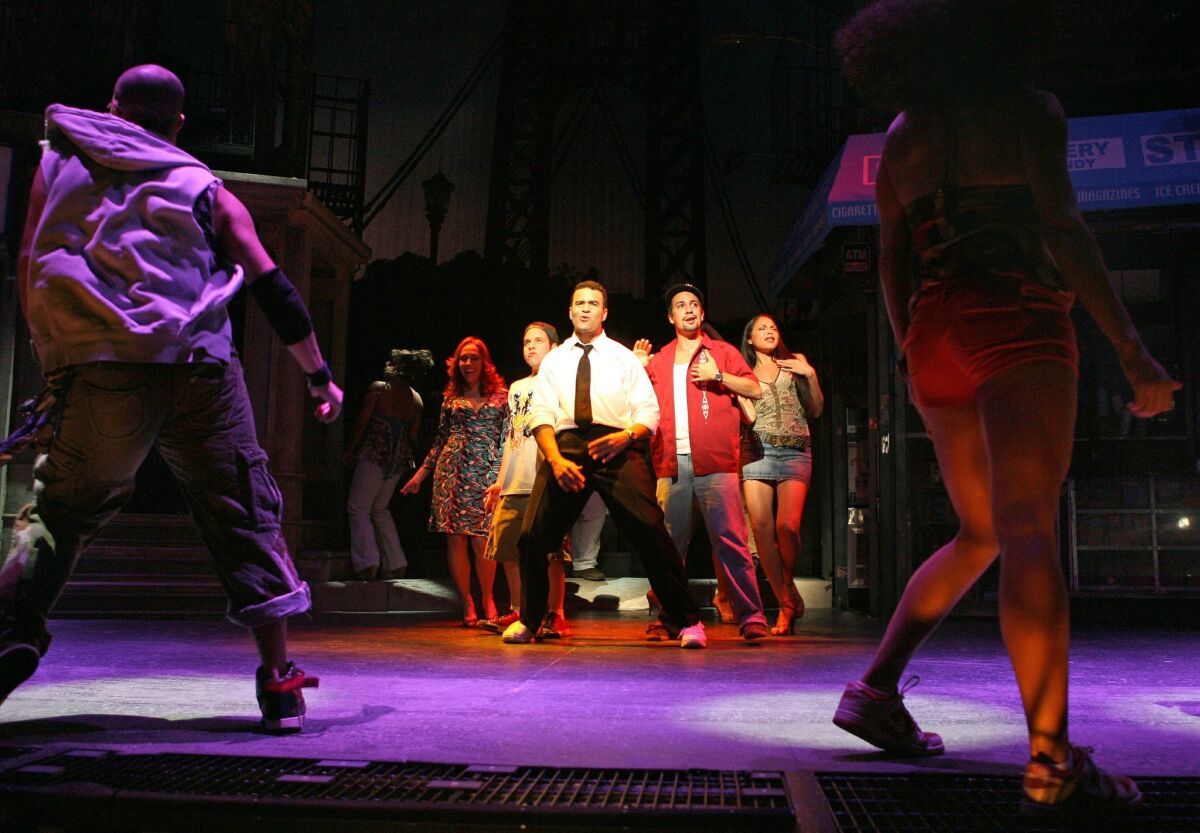 What else has Miranda written?
By 2016, Miranda already won Tony awards for his musical "In the Heights," which ran on Broadway from 2008 to 2011. That show, about Miranda's mostly Dominican-American neighborhood in New York City, is also being adapted into a movie that will be released in June 2021.
And did you know Miranda co-wrote the music and lyrics for 2011's "Bring It On: The Musical?"
It's a lesser-known show that's since evolved into a favorite among high school and teen theater groups.
Wait, isn't this the guy from "Moana?"
Yes, since leaving his role as as Alexander Hamilton in July 2016, Miranda has worked on various film and TV projects, including "Mary Poppins Returns," "His Dark Materials" and "Moana."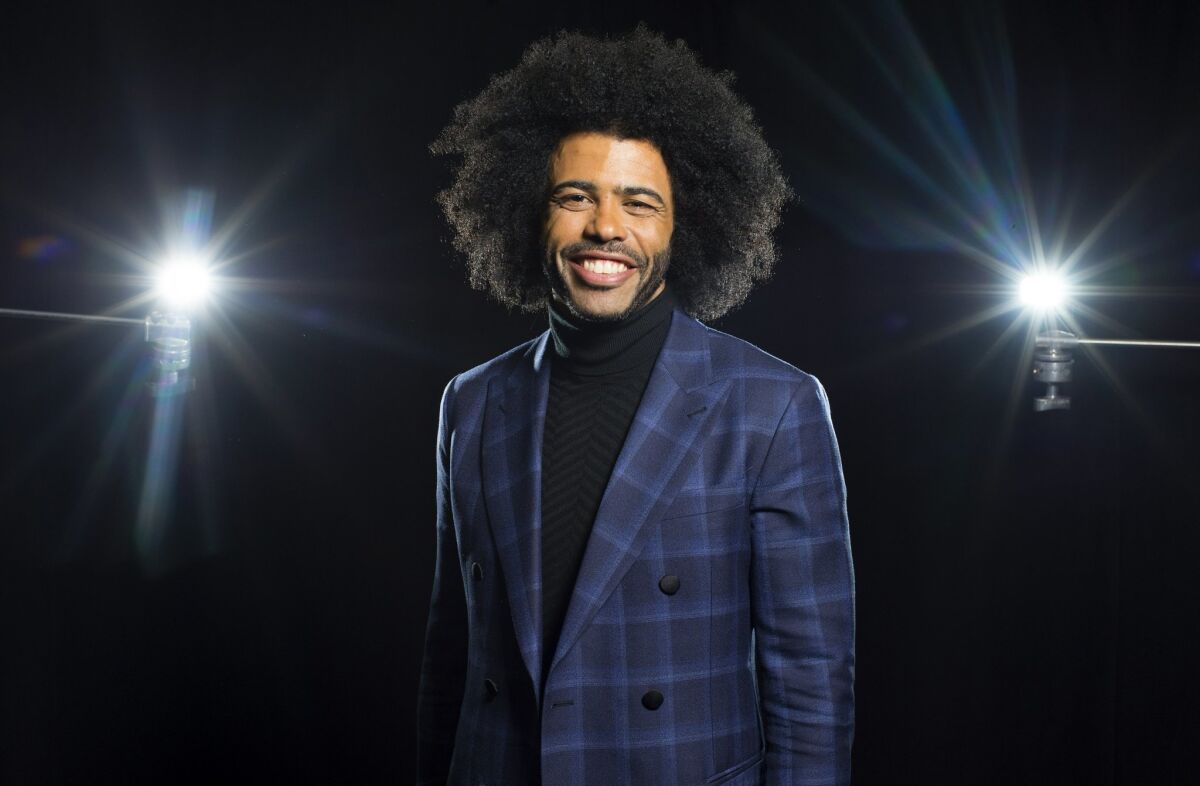 Who else is in "Hamilton?"
Names you may recognize include:
Daveed Diggs as Marquis de Lafayette and Thomas Jefferson. Diggs has since appeared in TV shows and films, including "Wonder," "Black-ish," "Snowpiercer" and "Central Park." He also wrote, produced and starred in the 2018 film "Blindspotting."
Renée Elise Goldsberry as Hamilton's sister-in-law and confidante Angelica Schuyler. Goldsberry has since appeared on various TV shows and films, including HBO's "The Immortal Life of Henrietta Lacks" and "Zoey's Extraordinary Playlist" on NBC.
Jonathan Groff as King George III, who stars in Netflix's "Mindhunter" and is also the voice of Kristoff in the "Frozen" franchise.
Leslie Odom Jr. as Aaron Burr who now stars in the animated series "Central Park" on AppleTV+ and will play musician Sam Cooke in the upcoming film "One Night in Miami."
And for fans of local theater, Ariana DeBose as a member of the ensemble (specifically the "Bullet"). DeBose originated the role of Disco Donna in La Jolla Playhouse's "Summer: The Donna Summer Musical," which she also performed on Broadway, earning her a Tony nomination in 2018. She will play Anita in Steven Spielberg's upcoming "West Side Story" film adaptation.
Is "Hamilton" still on Broadway?
Yes! Before coronavirus shut down Broadway, the musical was still a hot ticket in New York, plus it had extended runs in Chicago, San Francisco and London. There were also two separate touring companies performing throughout the country (and one featured San Diego actor Edred Utomi as Alexander Hamilton).
The tour did make it to San Diego for about a month in January 2018.

I don't like musicals, will I like this?
As innovative as "Hamilton" is, at its core, it's still a musical. The story is told through song and dance — and like with any musical, you can miss major plot points if you're not paying attention to the lyrics. Some of the raps are lightning fast (looking at you Marquis de Lafayette), so it may help to listen to the soundtrack before watching the film.
There are so many songs! What should I listen to?
Of the 46 songs on the OBCR, the opening number, "Alexander Hamilton" immediately sets the tone for the entire show. "My Shot" and "Non-Stop" are all about Hamilton's drive and ambition. "Satisfied" and "Guns and Ships" are without a doubt the best examples of theatrical rapping. "What'd I Miss" gives you a jazzy dose of humor, and "Wait For It" is a gorgeous ballad that stands on its own.
Will listening to the soundtrack spoil the show?
100 percent, yes. But since it's based on history, it's likely you already know the fate of "the ten dollar Founding Father without a father."
What is "The Hamilton Mixtape?"
Not to be confused with the OBCR, the mixtape features popular songs (as well as some deleted numbers) performed by various pop musicians and rappers. Alicia Keys interprets the soulful "That Would Be Enough," and Jimmy Fallon and the Roots offer their playful spin on King George's "You'll Be Back."
How can I watch it?
You'll need to have a Disney+ subscription. Fees range from $6.99 per month to $69.99 per year (which is a pretty good deal if you remember that tickets for the live production averaged about $150 per person). Sign up at disneyplus.com.
---