These 8 coworking spaces are opening to the public next week — for free
San Diego Coworking Week starts Monday, and locally-owned spaces are opening their doors to anyone and everyone
Many people have never seen the inside of a coworking space, despite the popularity of the shared office model made famous by WeWork. So a collection of locally-owned spaces in San Diego are opening their doors to the public next week — for free.
Starting Monday, through Friday, anyone can work from one (or all) of eight coworking spaces across San Diego, from Little Italy to Carlsbad. Locations include Hera Hub, Downtown Works, Ansir Center, Ugather and Ivy Street Cowork (addresses below). During Coworking Week, visitors can also attend educational workshops on small business topics and join networking parties during the evenings.
The shared office spaces are furnished with desks, tables, cushy couches and all the other comforts of a modern office — WiFi, coffee and conference rooms, among other amenities. Some spaces have extra luxurious perks, such as beer on tap and podcast recording studios. Attendees can bring their laptops and get to work, living a week in the life of a digital nomad.
Like other major cities, coworking has exploded in San Diego. Five years ago, the region was only home to a handful of locally owned coworking spaces. This year, there are roughly 90 coworking venues throughout the county, said Felena Hanson, founder of San Diego's longest-running coworking space, Hera Hub.
The coworking model is often embraced by startups with small teams who need cheap rent and flexible leasing terms. But it's also a popular option for solo workers, such as freelancers or contractors. Even tech giants like IBM and Microsoft are placing whole remote teams in coworking spaces around the globe instead of opening up satellite offices.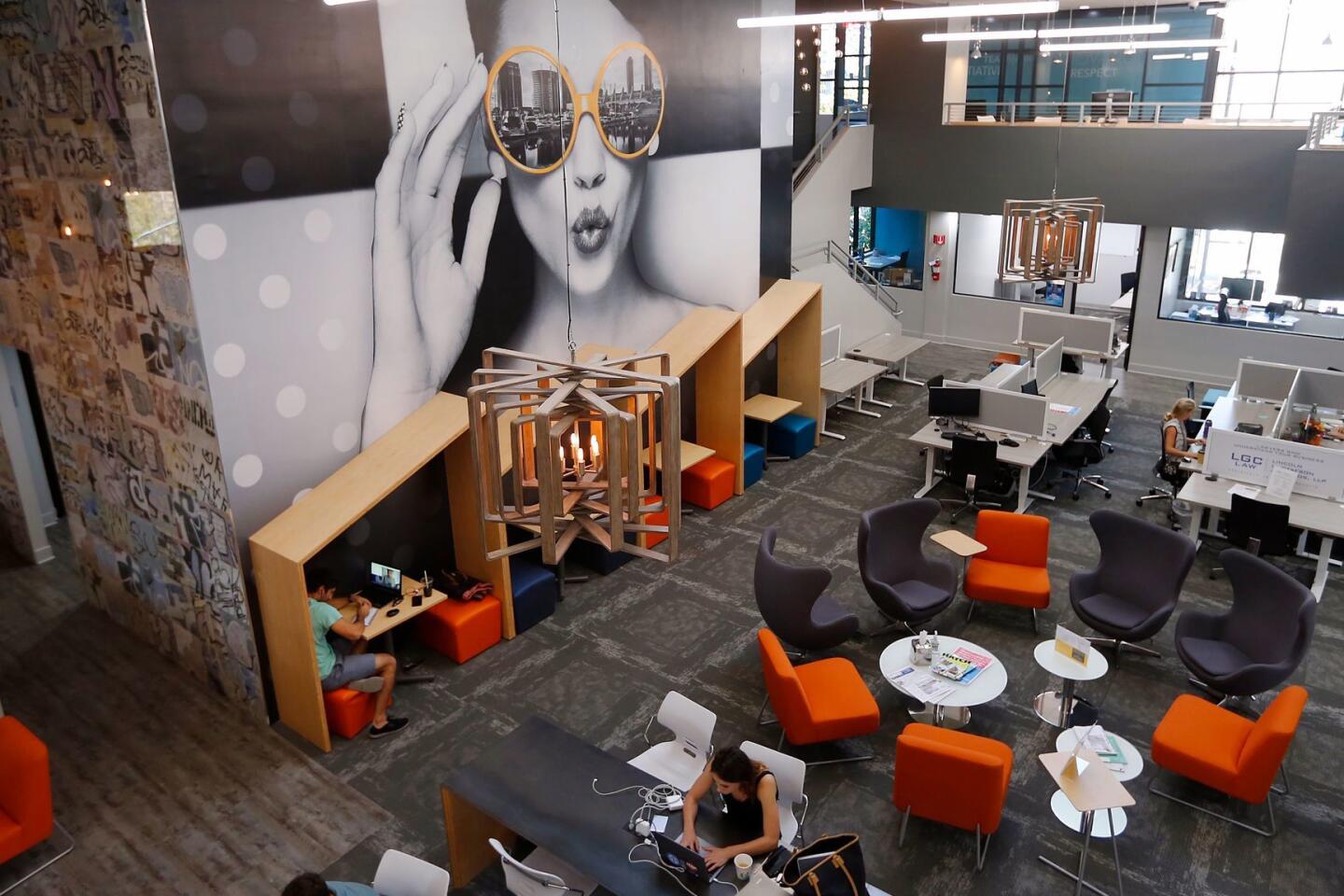 Downtown Works
(K.C. Alfred / San Diego Union-Tribune)
Hanson said San Diego Coworking Week, which is organized by an alliance of local coworking operators, is a way to get the word out that San Diego is home to many small or locally-owned spaces that residents may not know.
"We wanted to share that there are other options in town than the big boys," Hanson said.
San Diego was once dominated by locally-owned coworking spaces, but that changed in 2016 when WeWork opened a six-floor location at 600 B. Street. The coworking giant later opened a location in UTC, and has plans for a third spot in East Village.
Other titans of the industry are on their way in, including Industrious, which is set to open a 29,000-square-foot location in UTC by the end of this year.
Hanson said it's nice that coworking is now a mainstream concept.
"I used to have to explain what coworking was to everyone I met," Hanson said. "Thanks to WeWork, everyone knows what coworking is now."
But it's also brought fierce competition to the local market. WeWork and Industrious have the marketing budgets to be on everyone's radar. Plus, they have dazzling offices and fancy cucumber water for tenants.
Hanson said she thinks there's a perk to leasing a desk at a locally-owned spot instead.
"You will get to regularly connect with the owner instead of a hired hand," Hanson said. "The owners are invested in San Diego. They want to see other local businesses succeed."
This year's Coworking Week includes a launch party at Ugather Cowork, a Business Acceleration Expo at Hera Hub and a wrap-up party at The Nest. Free tickets can be reserved on Eventbrite.
Full schedule below:
Monday, Aug. 5
Ugather Cowork – Hillcrest
1223 Cleveland Ave, Suite 200, San Diego, CA 92103
9 a.m. – 5 p.m. — open coworking
5 p.m. – 7 p.m. — launch party
Tuesday, Aug. 6
Ivy Street Cowork – South Park
2986 Ivy Street, San Diego, CA 92104
9 a.m. – 5 p.m. — open coworking
Wednesday, Aug. 7
Downtown Works – Little Italy
550 West B Street 4th floor, San Diego, CA 92101
9 a.m. – 5 p.m. — open coworking
Ansir Center at Scale Matrix Launch Center – Kearny Mesa
5795 Kearny Villa Road, San Diego, CA 92123
9 a.m. – 5 p.m. — open coworking
Thursday, Aug. 8
Hera Hub – Mission Valley, Sorrento Valley & Carlsbad
Mission Valley: 8885 Rio San Diego Dr, #237, San Diego, CA 92108
Educational session agenda can be found on Eventbrite
Sorrento Valley: 4010 Sorrento Valley Blvd, #400, San Diego, CA 92121
Educational session agenda can be found on Eventbrite
Carlsbad: 5205 Avenida Encinas, Suite A, Carlsbad, CA 92008
Educational session agenda can be found on Eventbrite
9 a.m. – 5 p.m. — open coworking
Friday, Aug. 9
The Nest – Little Italy
1855 1st Ave, #100, San Diego, CA 92101
9 a.m. – 5 p.m. — open coworking
6 p.m. - 8 p.m. — wrap-up party
Sign up for the Pacific Insider newsletter
You may occasionally receive promotional content from the Pacific San Diego.