La Mesa farmers' market's new digs drawing rave reviews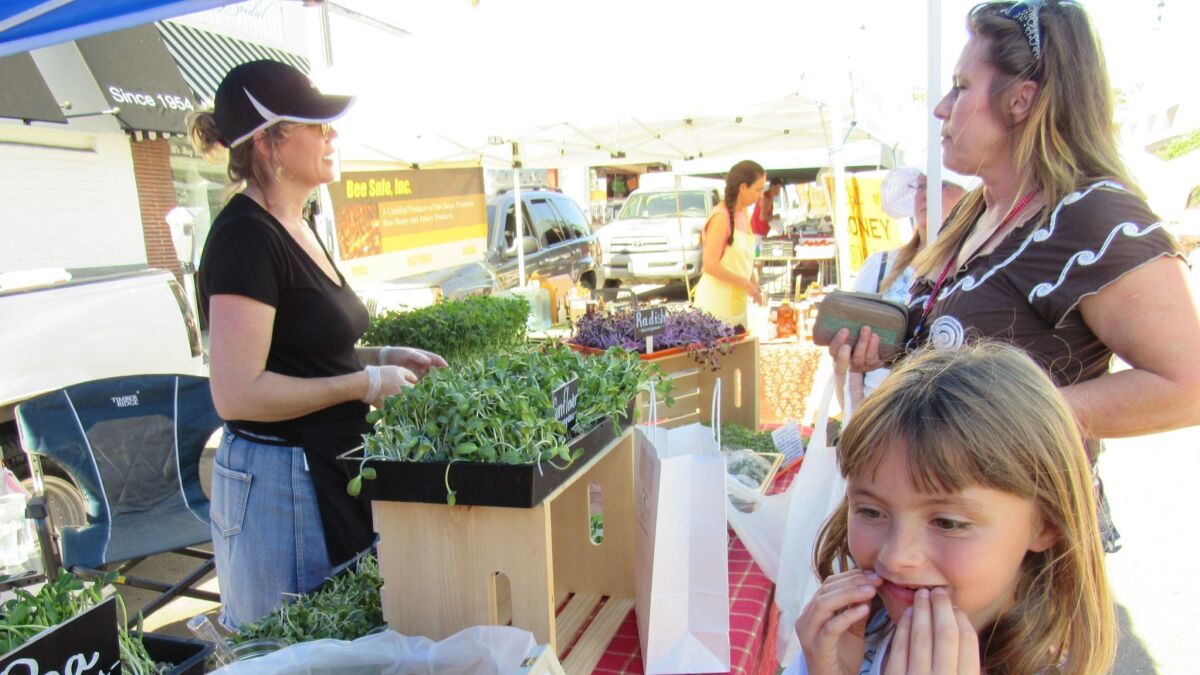 Reporting from East County —
La Mesa Boulevard was bustling last Friday, with moms pushing babies in strollers, dogs pulling on leashes and about 50 vendors hawking their goods at the newly relocated La Mesa Certified Farmers' Market.
After years tucked into the corner public parking lot at Allison Avenue and Spring Street, the market moved across the Trolley tracks and over a few blocks, settling comfortably into its new digs along the boulevard between Palm Avenue and Fourth Street.
The new location will last at least through October, when the city will decide whether the market can stay or needs to move elsewhere.
The City Council in March approved the change of venue, time frame (from 3 to 7 p.m. instead of 2 to 6 p.m.) and leadership for the farmers' market. The nonprofit La Mesa Village Association is now sponsoring the market with outside consultant Brian Beevers in charge instead of the city, which had run the market since 1993.
As Beevers had promised the city, the number of vendors was about double what it was in the old spot. There were decidedly more farmers, more floral offerings and more fresh food choices, as well as several local artisans selling craft items. There was even a woman singing and playing the guitar at one site along the boulevard.
Shoppers Robin Judd and Pam Erb of Santee said they had heard about the new venue and decided to come check it out. The two arrived just after 2 p.m., about an hour before the market was scheduled to open, to make sure they would be able to find a parking spot.
Judd and Erb braved the nearly 90-degree heat of the day, stopping several times to buy different fruits and vegetables from various vendors. The friends finished their afternoon in Johnny B's Burgers, Brew & Spirits.
They said they came in to cool off and grab a couple of burgers at a venue they had never before tried. The two called it a great day in La Mesa as they finished a basket of what Judd called "the best French fries I've ever eaten."
Downtown village resident Susan Wayne, who has expressed opposition to the change, made it to the market to check things out. She said one of her fears was realized when she overheard a visitor recommend parking in her neighborhood in the hills directly above La Mesa Boulevard.
She also said she was unhappy that there were vendors selling prepared food. The City Council had recommended that the Village Association keep food trucks out.
Beevers said he saw more people eating at restaurants on the boulevard and acknowledged there were still some adjustments to be made.
"By the third week, we will be like a well-greased machine," he said.
Suzy Henline from San Diego said she easily found her way to the new site to continue her monthly trip to La Mesa to buy bouquets from Hidalgo Flowers out of Vista. Vendor Norma Lopez of Behneman Farms in Valley Center said the foot traffic never stopped all afternoon.
In-between bites of ice cream, La Mesa resident Josh Krimston admitted, "I didn't want to like it, but it's freakin' awesome. This is a great building point for La Mesa. It's only going to get bigger and better."
Lemon Grove farmer Steve Cornett sold out of his vegetables an hour before the market closed. Other vendors said they also ran out of items.
"I'm going to hold my ultimate opinion in about four weeks," Cornett said. "There's a lot of hype in the beginning. We'll see if we can hold this pace of 5 times, 6 times, 7 times the amount of shoppers. A few of my regular customers were frustrated with the parking and they may drop off. But they may be replaced with new people. We'll see."
In response to residents' concerns about a lack of parking near the market, several La Mesa Village Association members shuttled shoppers in one of two oversized golf carts from the former market venue's parking lot to the new site.
Real estate agent Laura Lothian said she bought a larger, 14-passenger shuttle for the association's use that would be arriving in the next few weeks to escort even more people.
"La Mesa's been gathering a building buzz," Lothian said. "This area is full of energy. When I hear people say they can't find a parking spot downtown, I'm delighted."
Tony and Yolanda Gaipa of Mount Helix parked and took the shuttle. For many people toting heavy bags of produce and other heavy items, the shuttle rides played an important role.
"It was fun and absolutely cool," Tony Gaipa said.
The City Council has been braving backlash from some downtown residents about the loss of at least 40 parking spots, with cars inching into their neighborhoods to park.
City Councilwoman Kristine Alessio, the only elected official not in favor of the change, has stated her hope that the market would stay on the boulevard but on another day besides Friday. The city is giving the new venue and time a 6-month trial run.
Some downtown businesses continue to express some concern about the market cutting into their business on what is one of the busiest nights in the village.
Mattress Makers employee Pedro Hernandez, in a nearly empty store, said he was hopeful the market would bring more traffic into the business. He said the setup of vendors in the middle of the street keeps his store and others along the street nearly hidden, but he understands it's a work in progress.
Management from several long-serving village restaurants, including Por Favor restaurant manager Lupe Marrujo and Johnny B's owner Johnny Bedlion, have been candid about their concerns. Those restaurants bookend the street closures, which are from 1 to 8 p.m., to allow for setup and breakdown of vendor booths.
Although people packed Por Favor on Friday afternoon, Marrujo said she was still skeptical about how many of those along the boulevard, ostensibly there for the grand opening of the new site, would be return visitors.
Bedlion said while all the tables at his restaurant were taken in the early evening, he was certain that his afternoon business was hurt. Fridays are always busy for him, so he was not ready to deem the market a success as it affects his clientele.
"I'm not unhappy right now," Bedlion said, talking above a cacophony of voices at his restaurant.. "In three more weeks, I will be able to make my judgment. If I'm wrong, I'll admit it."
Deanne Ross, who along with her mother owns two clothing stores in the downtown area, said she was amazed at the number of people she saw walking, eating and shopping along the boulevard.
Ross said she counted several customers she had never seen before shopping in her stores, and that one told her she had taken the Trolley in from East Village specifically to shop at the new market.
"What is the best is that from what I've seen today, no one seems unhappy," Ross said.
---
Sign up for the Pacific Insider newsletter
PACIFIC magazine delivers the latest restaurant and bar openings, festivals and top concerts, every Tuesday.
You may occasionally receive promotional content from the Pacific San Diego.