Dockless scooters get laissez-faire treatment in San Diego as other California cities regulate emerging industry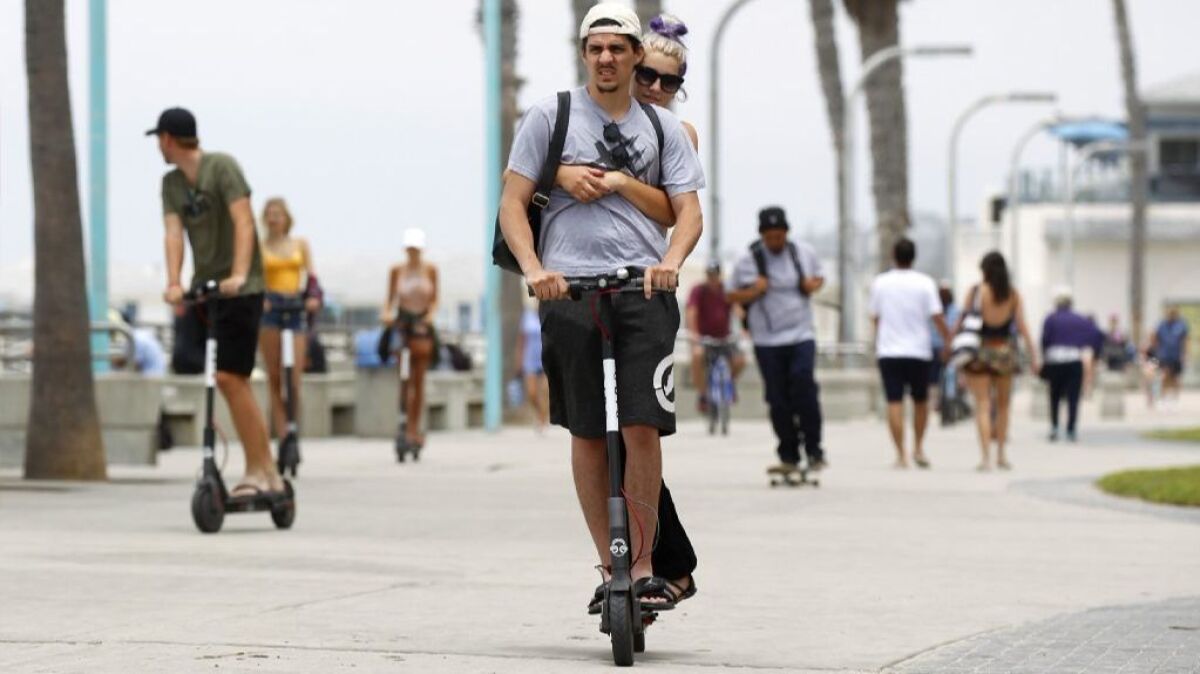 On any given day, from downtown San Diego to the boardwalk, people riding motorized scooters whiz by pedestrians at unnerving speeds — a trend simultaneously blasted as a public safety hazard and hailed as the next evolution in green mobility.
Since app-based rental scooters and bikes started popping up on sidewalks across California earlier this year, elected officials both excited and wary of the new technology have scrambled to regulate the industry.
Cities from San Francisco to Los Angeles have now taken steps to reign in these multimillion-dollar startups, such as Lime and Bird, preparing to impose fees, safety requirement and caps on the number of vehicles allowed within their borders.
San Diego 'chargers' flock downtown as app-based scooter craze soars »
However, San Diego is not one of those cities. In fact, it's one of the only major metropolitan regions in California barraged by the scooter craze that has yet to pursue some kind of rules for the industry.
This situation hasn't sat well with many of the city's most urban communities, who've seen "dockless" scooter riders blast down crowded sidewalks often without helmets, both of which are a violation of state law.
"It's the wild west at this point," said Marco Li Mandri, chief executive administrator of the Little Italy Association of San Diego.
"They need to be regulated just like anything else in the public right-of-way needs to be regulated," he added. "The problem is when people drive them on the sidewalk, it becomes really hazardous."
Local advocates pushing for alternatives to car travel have found themselves in a nuanced situation, wanting to protect pedestrian safety while not imposing rules that could slow down adoption.
"I'm not saying that there can't be any regulation or fees on this industry, but they would need to be thought through, and so far I haven't heard of any city adopting a thorough policy, especially when it come to the limits on vehicles," said Colin Parent, executive director of Circulate San Diego, an organization which promotes safety and walkability.
Like dockless rental bikes, users can unlock the scooters using a smart phone and then drop them anywhere. The business is separate from the docked model, where users must pick up and return vehicles to a fixed station.
The city has yet to release data on how many people have been injured in accidents involving the electric scooters, but reports of concussions, broken bones and intoxicated driving have started to surface.
Personal injury attorneys all over Southern California have even begun marketing on their websites directly to people injured while riding the scooters, which can travel up to 15 miles an hour.
It's the wild west at this point ... The problem is when people drive them on the sidewalk, it becomes really hazardous.
— said Marco Li Mandri, chief executive administrator Little Italy Association of San Diego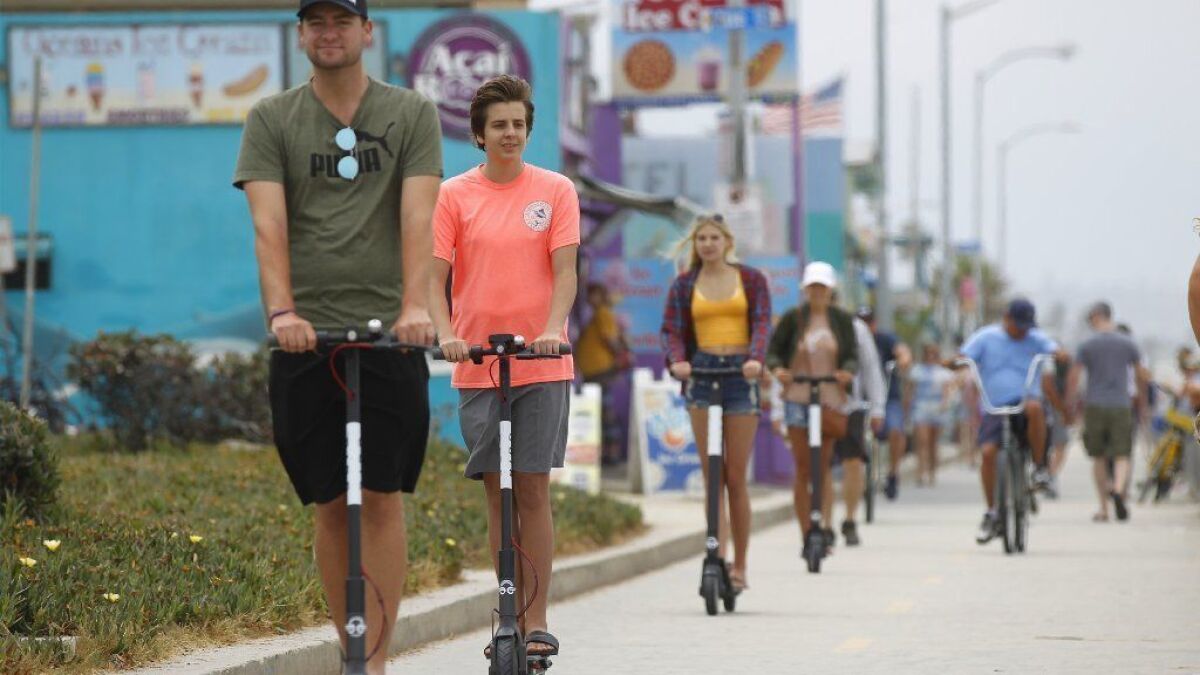 In January, Councilman David Alvarez called on Mayor Kevin Faulconer and the city to draft rules to govern how scooter and bike companies operate.
That request was met with little enthusiasm, as top officials responded in a February memo that they had no intention of recommending a regulatory framework.
"I think this is a mistake and it could lead to bigger issues for the city," Alvarez said. "We need to ensure that the operators are operating safely."
Now Councilwoman Barbara Bry said she will attempt to spearhead efforts to put rules in place aimed at, among other things, imposing fees on the scooter companies to pay for ensuring public safety.
"Have you been to Mission Beach? It's nuts," Bry said. "The police have stepped up their reinforcement, but it's not a good use of their time."
Charging scooter companies for the costs associated with the somewhat disruptive technology is not a novel idea.
Santa Monica recently followed the example of San Francisco in adopting a pilot permitting program that requires companies to pay a $20,000 annual fee to cover the cost of everything from collecting data on usage to code compliance. The city of Los Angeles is also drafting rules likely to include a fee structure, with San Jose not far behind.
Bird — reportedly the fastest startup ever to reach a value of $1 billion — declined to comment for this story.
Lime, which recently changed its name from LimeBike following the fast-growing enthusiasm for scooters, said it's not opposed to regulation, such as fees, as long as those rules don't severely restrict the number of scooters it's allowed to drop in any one city.
Rather than a hard cap on the vehicles, the company would like to see variable limits that allow fleets to shrink or grow in proportion to ridership quotas. The company also said it will continue to engage in public education campaigns to get people off the sidewalk and embrace helmets, perhaps the two most common violations among riders.
"We embrace regulation as long as it's being done well and going to help this mobility option thrive," said Andrew Savage, vice president of strategic development with Lime. "We're in the midst of the process and time will tell."
In response to questions about the city's reluctance to regulate the industry, Mayor Faulconer's office offered this statement via email: "The mayor welcomes more transportation choices and options for people to get out of their cars. As this is still a relatively new business model in San Diego, we continue to monitor its effectiveness and believe that the market will dictate how the businesses continue to operate within the city."
The mayor offered tacit support last month for a proposed ban on the scooters along the boardwalk in Mission Beach and Pacific Beach. Councilwoman Lorie Zapf brought the idea to City Council following a string of accidents reported by lifeguards and police officers.
"I just talked with the lifeguard chief," Zapf said on Wednesday. "They were telling me about broken wrists and ankles and other injuries.
"People are not stopping when they're being pulled over," she added, "and the police cannot have a full-on police chase down the boardwalk. When they're getting flagged down, they just zoom away."
The proposal was sent back to committee after members of the City Council rebuffed the idea as a "knee-jerk reaction."
Councilman Chris Ward — who led the charge against the boardwalk ban and whose Hillcrest neighborhood recently saw a man driving drunk on a scooter severely injured in a collision with a car — declined to comment for this story.
I just talked with the lifeguard chief. They were telling me about broken wrists and ankles and other injuries.
— City Councilwoman Lorie Zapf
Following the meeting, police cracked down on those riding on the boardwalk over Memorial Day weekend, giving out hundreds of warnings and citations.
Community members in Pacific Beach have said an increased police presence in recent months has made a difference.
"There's been a lot of enforcement and we've see them out every day, and there's been a decrease in riding on the sidewalk," said Sara Berns, executive director at Discover Pacific Beach. "The helmet thing is still the biggest issue."
Still, it's not hard to find people riding on the sidewalk on any given day and it's rare to see anyone with a helmet. Law enforcement officials said they don't have the capacity to enforce rules around scooters with any regularity.
"We try to take the enforcement, but we're called away for so many other higher priority issues that it can be difficult," said Lt. Brent Williams, spokesman for the department. "The department doesn't have a dedicated team for scooter enforcement."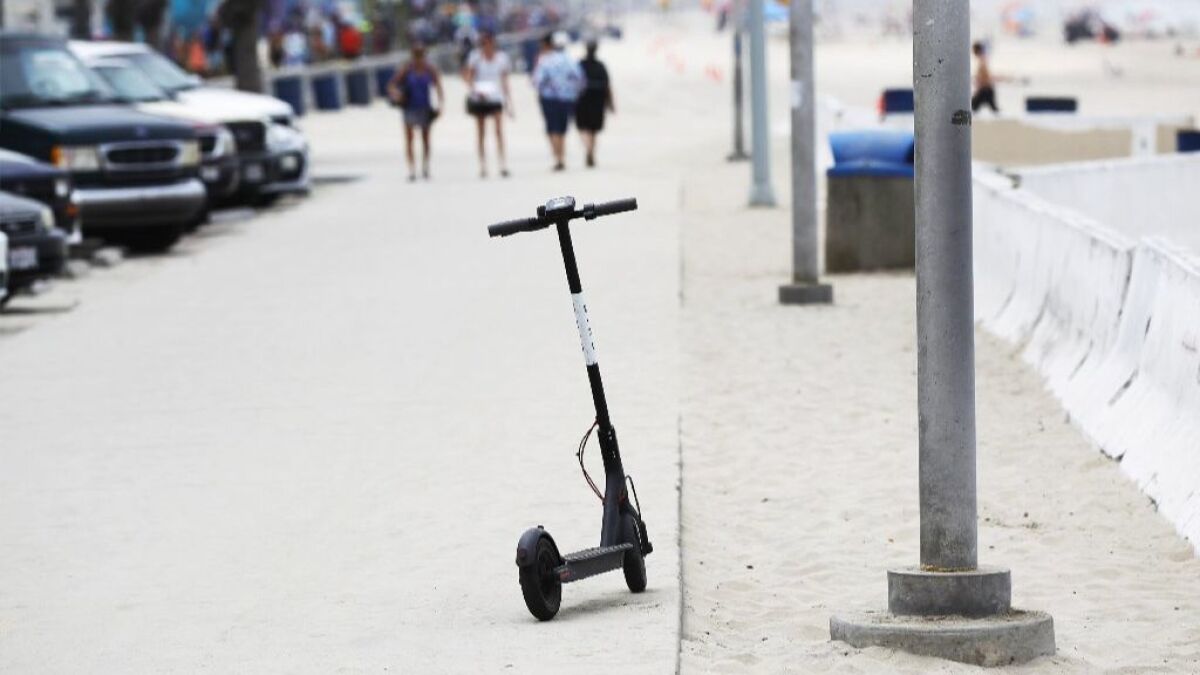 Efforts by cities in California to regulate dockless scooter companies:
San Francisco is reviewing applications for a year-long pilot program that will issue permits to five companies, with a citywide cap of 1,250 scooters in the first six month, expanded to 2,500 for the second half of the program.
Applicants have been asked to submit blueprints for ensuring public safety, including plans to encourage users to wear helmets, neatly park the vehicles and not ride on the sidewalk.
Venders will be required to share real-time data with the city and pay a $25,000 fee, plus a $10,000 endowment to ensure taxpayers don't bear the burden of rolling out the program.
Venders are expected to be chosen by the end of the June.
Santa Monica approved this week a 16-month pilot program that will allow two scooter companies to operate within the city. The city has agreed to design a dynamic cap for the number of scooters allowed per vendor, which will likely fluctuate based on fee usage.
Vendors will be required to share real-time data with the city.
The city will also charge a flat operator fee of $20,000, plus $130 per scooter to pay for a code-enforcement officer and a program coordinator.
Vendors are expected to be selected by September.
Los Angeles is designing a pilot-permitting program expected to be presented to members of the City Council within a few weeks.
The proposals will likely include requirements to share data, a fee structure and rules for parking.
The city is also debating whether and how to impose a cap on the number of scooters allowed per vendor. It's also exploring "geofencing" that would prevent the scooters from working in specific areas.
The city has issued cease-and-desist letters to scooter companies as the rulemaking process plays out.
The pilot program is expected to be in place by the end of the fall.
Twitter: @jemersmith
Phone: (619) 293-2234
Sign up for the Pacific Insider newsletter
PACIFIC magazine delivers the latest restaurant and bar openings, festivals and top concerts, every Tuesday.
You may occasionally receive promotional content from the Pacific San Diego.