2018 guide to Christmas tree and menorah lightings in San Diego County
It's countdown to Christmas, and communities throughout the region will decorate plazas, courtyards or city parks with festive trees. They'll be adorned with tinsel, silver and gold ornaments and twinkling lights in celebration of tree-lighting ceremonies and festivities. Some are also hosting menorah lightings to mark the eight-day Jewish holiday of Hanukkah.
Here is a list of some of the major neighborhood gatherings — organized by county and then by date. They are free and open to the public.
Central San Diego
Seaport Village: The USO San Diego Giving Tree lighting ceremony starts at 6:30 p.m. Nov. 9 at The Headquarters' Courtyard, 789 W. Harbor Drive, San Diego. The celebration includes holiday performances by the All American Boys Chorus, complimentary hot chocolate and cookies and a visit with Santa. Bring a toy donation through Dec. 19 to benefit the more than 1,000 active-duty military families served through USO San Diego. (619) 235-4013. bit.ly/2ABB8Ig
The Old Globe: The 13th annual Christmas Tree Lighting will be held at 6 p.m. Nov. 11 at the Globe's Copley Plaza, 1363 Old Globe Way, Balboa Park. The tree will stand in the center of the Plaza through the run of the production of Dr. Seuss's "How the Grinch Stole Christmas!" which ends Dec. 29. The tree lighting event includes a special live performance by the show's cast members amid a holiday snowfall on the Globe Plaza. The event is free, but reservations are currently full. A standby line will form on the Prado walkway and efforts will be made to accommodate everyone. The Copley Plaza will open at 4:45 p.m. for ticket holders. (Please note: Free tickets to the Grinch Christmas Tree Lighting are not valid for the regularly scheduled Grinch performances.) For information, call the box office at (619) 234-5623. theoldglobe.org
SeaWorld San Diego: The marine park kicks off its Christmas Celebration with the lighting of the 40-foot Happiest Christmas Tree in Rudolph's Christmastown starting at sunset Nov. 17-Jan.6. More than a million twinkling lights will illuminate the park in addition to hundreds of Christmas trees, 5,000 feet of garland and SeaWorld's iconic 320-foot- Skytower Tree of Lights. Activities include a live nativity, Santa's Christmas Village, Christmas specials and more. The event is included in park admission. 500 SeaWorld Drive, San Diego. (619) 222-4732. seaworldsandiego.com
Bankers Hill: The 21st annual Lighting of The Forward House takes place from 5 to 10 p.m. Nov. 22 at 108 Ivy St., San Diego. Walk or drive by nightly through New Year's Eve to view this holiday display with music. Santa Claus will be making a last-minute stop with his sleigh from 5:30 to 8:30 p.m. Dec. 14 and all visitors will receive a candy cane. (619) 533-7900. americansecuritymortgage.net
La Jolla: La Valencia Hotel's annual Tree Lighting and Holiday Party will be held Nov. 27 in the La Sala Lounge with warm holiday beverages, homemade cookies, classic carols and children's crafts. The La Jolla Country Day School Madrigal singers will perform at 5 p.m., followed by the tree lighting countdown at 6 p.m., concluding with entertainment by vocalist Roman Palacios. 1132 Prospect St. (858) 424-0771.
Point Loma: Gather around the 88-foot Norfolk Pine tree for the lighting of the tree at 6:15 p.m. Nov. 30 at Liberty Station, North Promenade, 2848 Dewey Road, San Diego. From 5 to 9 p.m., there will be live entertainment on the Main Stage, free pictures with Santa, food vendors and a holiday marketplace. "How the Grinch Stole Christmas" will be screened from 6:45 to 8:45 p.m. libertystation.com
Christmas on the Prado: The fifth annual family-oriented and charity toy drive (not affiliated with Balboa Park's December Nights) will be held from 1 to 8 p.m. Dec. 1, with a Christmas tree lighting at 6:30 p.m. at Spreckels Organ Pavilion, 2125 Pan American Road E., San Diego. The event continues from 1 to 4 p.m. Dec. 2 at the International Cottages' Music Stage, 2191 Pan American Road W., San Diego. christmasontheprado.com
Pacific Beach: Christmas on Crystal Pier takes place from 2 to 5 p.m. Dec. 1 with Santa and Mrs. Claus, followed by the lighting of the pier tree at sunset. Pictures are $10, or $5 with a donation of school supplies. pacificbeach.org/event/pacific-beach-christmas
Ocean Beach: The Ocean Beach Town Council hosts its 39th annual Ocean Beach Holiday Parade on Dec. 1. It kicks off at 5:05 p.m. down Newport Avenue and includes the lighting of the Christmas tree. obtowncouncil.org
South Park: The annual Neighborhood Tree Lighting starts at 5:30 p.m. Dec. 1 at Grape Street Square in front of The Big Kitchen, 3003 Grape St., San Diego, followed by a walkabout starting from the south end of Beech Street to the north end of Kalmia Street. southparksd.com
Hillcrest: Mama's Kitchen and Village Hillcrest host the 27th annual Tree of Life Tree Lighting Ceremony at 6 p.m. Dec. 1 at 3965 Fifth Ave., San Diego. The event includes a candlelight vigil and singing and sharing. (619) 233-6262. mamaskitchen.org
Little Italy: At 6:30 p.m. Dec. 1, gather around as the new permanent 20-foot-tall live tree lights up the Piazza della Famiglia on West Date and India streets. Little Italy's iconic 25-foot tower of 1,100 poinsettias will be lit up all evening in the center of Piazza Basilone. A Christmas Village will be open from 4 to 8 p.m. littleitalysd.com
Coronado: Celebrate 130 years of a holiday legend as the Hotel Del Coronado lights the menorah to celebrate the eight nights of Chanukah from Dec. 2 to Dec. 9 in the lobby at 1500 Orange Ave. Celebrate Chanukah on Dec. 5 from 5 to 7 p.m. at The Del's Skating by the Sea, with a special skating session, menorah lighting and Chanukah treats, hosted by the Chabad of Coronado. hoteldel.com/events/chanukah
University City: The Chabad of University City and UTC will host a Menorah Lighting at 6 p.m. Dec. 2 at Westfield UTC, 4545 La Jolla Village Drive, Suite E-25, San Diego. The event also includes live music, a juggler and traditional jelly doughnuts. chabaduc.org
Point Loma: Liberty Station and the Chabad Centers of Pacific Beach and downtown San Diego will host a Hanukkah Celebration and Menorah Lighting from 5 to 9 p.m. Dec. 3 in the Central Promenade by The Lot, 2620 Truxton Road. There will be music and entertainment throughout the event, photo opportunities and prizes. libertystation.com
Coronado: The 43rd annual Holiday Parade and Open House kicks off the season with the Christmas Parade along Orange Avenue at 6 p.m. Dec. 7, followed by the Christmas tree lighting and Santa's arrival at Rotary Plaza, 1100 Orange Ave. coronadochamber.com
Balboa Park: The tree at the Organ Pavilion will be lit around 6:15 p.m. Dec. 7 during December Nights' opening ceremony. sandiego.gov/december-nights
Coronado: Naval Base Coronado presents a Holiday Concert & Tree Lighting Dec. 9 at North Island Naval Air Station, Lowry Theater, 650 McCain Blvd. The concert starts at 5 p.m., followed by the tree lighting at 6 p.m. and a holiday movie. Doors open at 4 p.m. MWR Community Recreation activities are open only to valid military ID cardholders (active duty, retiree, dependent, DOD or contractor) and their guests. (619) 437-3190. navylifesw.com
East County
Santee: Kick off the holiday season at this annual Tree Lighting Celebration at 6:15 p.m. Nov. 16 at Santee Trolley Square, 9884 Mission Gorge Road. Holiday happenings take place from 5:30 to 8:30 p.m. cityofsanteeca.gov
La Mesa: Grossmont Center will Light Up the Holidays with a giant Christmas tree lighting in Center Court at 5 p.m. Nov. 23. The Cat-illacs will perform from 4 to 6 p.m. 5500 Grossmont Center Drive, La Mesa. (619) 465-2900. grossmontcenter.com
El Cajon: The annual Holiday Lights on Main Street will be held from noon to 7 p.m. Nov. 24 at Prescott Promenade. A special tree lighting ceremony takes place at 6 p.m. at the corner of Main Street and Magnolia Avenue. There's a Santa Village with ice skating, carnival rides, vendors, holiday music, food and Santa Claus. downtownelcajon.com
Julian: The mountain community hosts a Country Christmas Tree Lighting from 2 to 7 p.m. Nov. 24 at Pioneer Park, 2811 Washington St. (760) 765-1857. visitjulian.com
La Mesa: The city's annual Tree Lighting Ceremony will be held at 5:30 p.m. Nov. 29 at Legacy Park on the corner of La Mesa Boulevard and Allison Avenue. Warm up at the hot cocoa bar while listening to live music at 5 p.m. (619) 667-1319.
Lakeside: The 20th annual Spirit of Christmas celebration includes a tree lighting ceremony at 5 p.m. Dec. 1 on Maine Avenue. Activities take place from 3:30 to 8:30 p.m. and include local area school performances, food, kids' activities, craft booths and photos with Santa. bit.ly/2NPhBru
Ramona: The 26th annual Christmas Tree Lighting happens at 6 p.m. Dec. 1 at the Guy B. Woodward Museum, 645 Main St. Family-friendly events such as sleigh rides, classic car display, carolers, visits with Santa and a "Find the Elf" contest will be held from 5 to 8 p.m. ramonachamber.com
Alpine: The Alpine Mountain Empire Chamber of Commerce hosts its 23rd annual Village Christmas Parade of Lights and Snow Festival Dec. 7. The parade kicks off at 6:30 p.m. at Alpine Boulevard, from West Victoria Drive and Tavern Road, ending at the Alpine Creek Town Center, 1347 Tavern Road, where the celebration continues with snow sledding, kids' activities and vendors. (619) 445-2722. alpinechamber.com
Lemon Grove: Mayor Racquel Vasquez will light the Community Bonfire at 6 p.m. Dec. 7 at Civic Center Park, 3200 Main St. Event attractions will be at the park from 3 to 8 p.m., including live music, food trucks, vendors, a Kids Zone, spaghetti-eating contest, hot chocolate and cookies. (619) 825-3815. lemongrove.ca.gov
South Bay
Chula Vista: Otay Ranch Town Center will host a Holiday Tree Lighting at 7 p.m. Nov. 20 at 2015 Birch Road. From 5 to 7 p.m., families and shoppers can enjoy festivities like free holiday crafts, free cookies and chocolate (while supplies last), a magic snowfall at Santa's House, roaming carolers, local entertainment and music, and a visit from Santa. There's also a holiday-themed farmers market. (619) 656-1393. www.otayranchtowncenter.com
Bonita: The Bonita Museum and Cultural Center presents its annual Tree Lighting festivities from 4:30 to 6:30 p.m. Dec. 1 at 4355 Bonita Road. (619) 267-5141. Activities include crafts, cookies and hot chocolate and Santa Claus. bonitahistoricalsociety.org
National City: The 11th annual A Kimball Holiday will be held from 4 to 9 p.m. Dec. 7-8 at Kimball Park, E. 12th St., National City. The city's Tree Lighting Ceremony takes place at 6:30 p.m. Dec. 7. Winter activities, including ice skating and sledding, food trucks, entertainment and a Ferris wheel are all part of the two-day event. Santa will be visiting from 6:30 to 9 p.m. Friday and 5:30 to 9 p.m. Saturday. nationalcityca.gov/akimballholiday
North Inland
Fallbrook: Along with the lighting of the 50-foot tree, there's music, face painting, games, food, balloon artists and a Toys for Tots collection. 5 to 7:30 p.m. Nov. 30 at the Fallbrook Community Center, 341 Heald Lane. (760) 728-1671. fallbrookcommunitycenterfriends.org
San Marcos: Santa's Village and Tree Lighting takes place from 9 a.m. to 7 p.m. Dec. 1 at San Marcos Civic Center, 3 Civic Center Drive. The festivities include breakfast with Santa, all-day entertainment, food, arts and crafts vendors and activities for the kids. Santa will light the San Marcos tree at 5:30 p.m. san-marcos.net
Escondido: The annual Winter Wonderland Festival at the California Center for the Arts, Escondido will be from 3 to 8 p.m. Dec. 1 at 340 N. Escondido Blvd. There will be carolers, children's crafts, holiday-themed entertainers, live reindeer and Santa. At dusk, the Lyric Court will be illuminated with thousands of twinkling lights to usher in the holiday season. (800) 988-4253. artcenter.org
Carmel Valley: The Village at Pacific Highlands Ranch hosts a tree lighting ceremony and holiday festivities from 5 to 7:30 p.m. Dec. 1 in the Village Square, 13490 Pacific Highlands Ranch Parkway. Highlights include live music, free photos with Santa and Mrs. Claus and sweet treats. phrvillage.com
Vista: Vista Village welcomes visitors to WinterFest from 2 to 7 p.m. Dec. 2 at Vista Village Complex, 25 Main St. Activities include holiday carolers, mariachis, ballet folkloric dancers, a holiday film, visits with Santa, a holiday marketplace, and a tree lighting ceremony at 5:30 p.m. winteriscomingtovista.com
San Elijo Hills: This year's annual tree lighting happens at 7 p.m. Dec. 7 at the San Elijo Hills Town Square Park in San Marcos. sanelijolife.com/tag/tree-lighting
Poway: A community tree lighting kicks off Christmas in the Park at 5:15 p.m. Dec. 8 at Old Poway Park, 14134 Midland Road. Carolers, live music, horse-drawn hay and pony rides, visits with Santa and other activities will be held from 3:30 to 8:30 p.m. (858) 668-4576. poway.org
North Coastal
Carlsbad: Legoland California Resort lights its 30-foot Christmas tree at dusk Nov. 17 at 1 Legoland Drive. Made from 245,000 forest-green DUPLO bricks, 400 LEGO ornaments and 11,000 LED lights, the tree will sparkle each night through Dec. 31. This event is included in admission price. legoland.com
Carlsbad: The 16th annual "The Lighting of the Forum" will be held from 6 to 9 p.m. Nov. 24 at The Forum Carlsbad, 1923 Calle Barcelona. A holiday tree lighting ushers in the season just after Santa's arrival at 7:20 p.m., followed by a light show and magical snowfall. Free refreshments, prize drawings and musical performances are part of the event. (760) 479-0166. www.eventsforumcarlsbad.com
Carlsbad: Omni La Costa Resort & Spa, 2100 Costa Del Mar Road, welcomes the holiday season with a festive tree lighting ceremony at 5 p.m. Dec. 1. Festivities start at 3 p.m. and include a holiday market, live performance, cookie decorating, hot chocolate and cider. Skydiving Santa drops in at 4:30 p.m. and will be available for pictures. (760) 438-9111.
Encinitas: Instead of a traditional Christmas tree lighting, the San Diego Botanic Garden will illuminate 37 acres of flora, including pine trees, Pony Tail palms and aloes, Dragon trees and bamboo, with more than 125,000 sparkling lights during its annual Garden of Lights. There's nightly entertainment, visits with Santa, holiday crafts, marshmallow roasting and a nutcracker display. On selected evenings, you can ride a horse-drawn carriage, drink mulled wine and beer or go sledding. Visitors can stop by from 5 to 8:30 p.m. Dec. 1-23 and 26-30 at 230 Quail Gardens Drive, Encinitas. sdbgarden.org
Encinitas: Santa will light the Christmas tree at 5 p.m. Dec. 1 at the Lumberyard courtyard (near Starbucks), 937 S. Coast Highway 101, followed by a holiday parade at 5:30 p.m. along the 101. (760) 633-2760. bit.ly/2yG0WSo
Carlsbad: The Leo Carrillo Ranch Historic Park, 6200 Flying Leo Carrillo Lane, will host Holiday at the Rancho, an evening of festivities, from 5 to 8 p.m. Dec. 1. Activities include crafts, entertainment, a holiday movie, and a tree lighting at 5:45 p.m. on the sand near the pool. Food and beverages available for an additional cost. $10 per person. Information: bit.ly/2OvcsKa
Cardiff-by-the-Sea: Cardiff 101 Main Street will host Kringle Mingle from 1 to 5 p.m. Dec. 2 at the North Courtyard of Cardiff Town Center. The event features a children's craft pavilion, live bands, holiday treats, including cookies, hot coffee, hot chocolate and warm savory soup. Supervisor Kristin Gaspar will light the tree at 5 p.m. cardiff101.com
Carlsbad: The Rotary Club of Carlsbad's 34th annual Holiday Tree Lighting Ceremony takes place from to 2 to 4:45 p.m. Dec. 2 at the south parking lot at Carlsbad Village Faire shopping center, 300 Carlsbad Village Drive. Festivities kick off at 2:30 p.m. with the arrival of Santa, Mrs. Claus and his trusty elf in an antique fire engine, followed by Mayor Matt Hall and a procession of bicyclists from the San Diego County Bike Coalition. Entertainment happens from 2:45 to 4:30 p.m., followed by the lighting of the 25-foot fir at 4:30 p.m. by Mayor Hall. There will be free cookies, coffee and cider, as well as storytelling and crafts. carlsbadrotary.com/events
Del Mar: Hosted by Del Mar Village, the holiday festivities start at 3 p.m. Dec. 2 on the northwest corner of Camino Del Mar and 15th Street, followed by a 5 p.m. tree lighting. bit.ly/2jjiZJa
Solana Beach: The city's annual Holiday Tree Lighting starts at 4:30 p.m. Dec. 2 at Fletcher Cove Park, 111 S. Sierra Ave. Live music, cookies, cider and a visit from Santa Claus are all part of the celebration. (858) 720-2453. bit.ly/2CUc95I
Oceanside: Chabad of Oceanside/Vista will host a Community Chanukah Spectacular starting at 6 p.m. Dec. 5 at Regal Cinema Plaza Oceanside, 401 Mission Ave., Oceanside. The event includes the lighting of Oceanside's largest menorah, local dignitaries, music, latkes, hot chocolate, and new this year — the Great Chanukah Gelt Drop — chocolate coins "raining down" from atop of a ladder of a fire truck. (760) 806-7765. JewishOceanside.com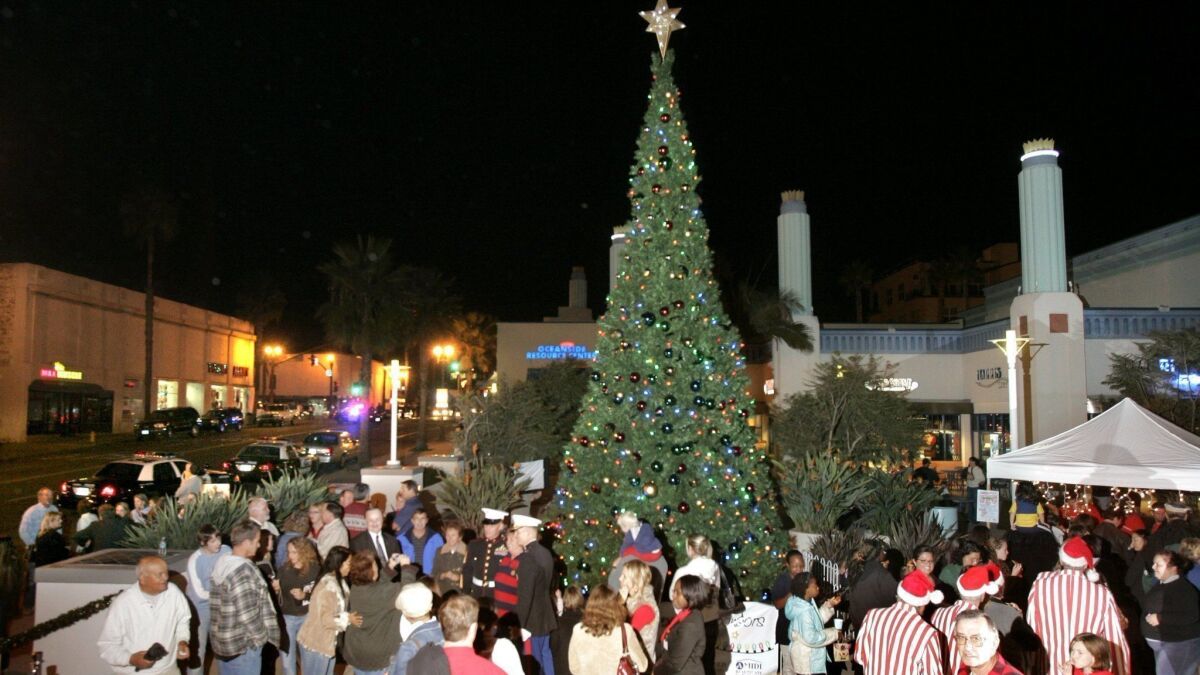 Oceanside: The annual Holiday Tree Lighting takes place at 6 p.m. Dec. 6 at Regal Plaza, 401 Mission Ave. Visitors will enjoy live music, family-friendly entertainment and games, horse-and-carriage rides, amusement rides, zip lines, bounce houses, free cookies and milk for the kids and free holiday arts and crafts projects from 5 to 8:30 p.m. visitoceanside.org
Are we missing your neighborhood? Please let us know of any additional holiday ceremonies.
Sign up for the Pacific Insider newsletter
PACIFIC magazine delivers the latest restaurant and bar openings, festivals and top concerts, every Tuesday.
You may occasionally receive promotional content from the Pacific San Diego.