6 reasons to go local this gift-giving season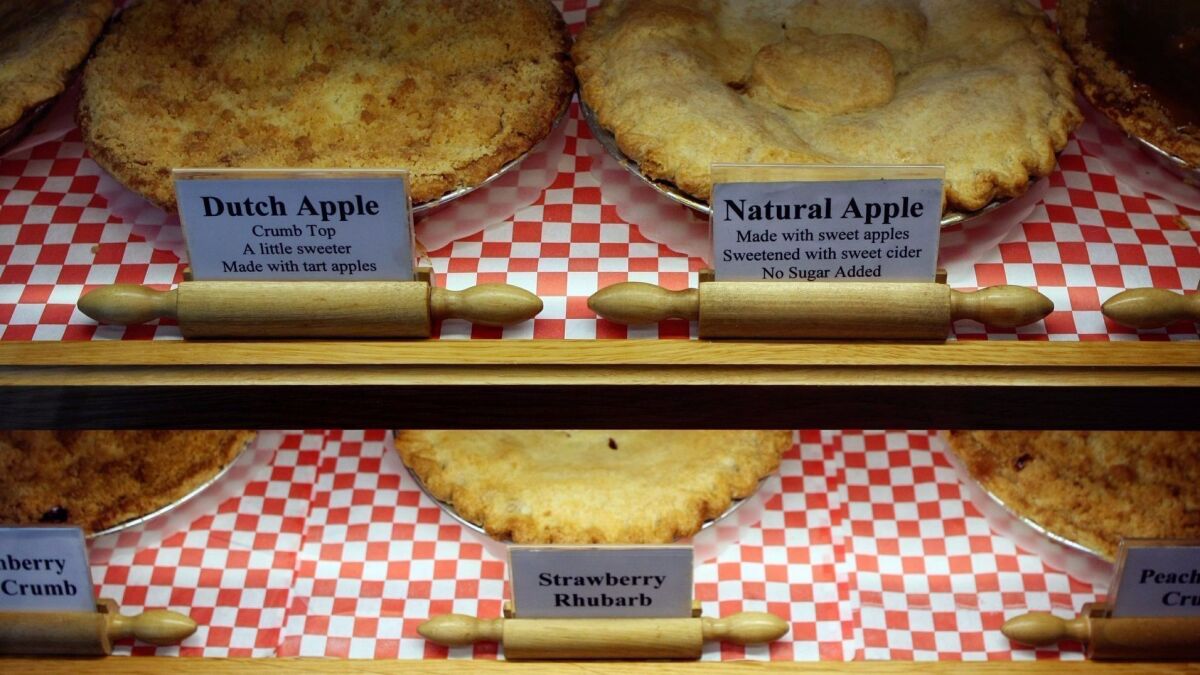 You can't bottle the beach or shrink wrap a sunset, but there are still many ways to give the gift of San Diego at the holidays. So what will it be, San Diego Santa? Pandas? Pie? A slice of local history? Here are some local choices that should bring a world of happiness.
Julian Pie Company (julianpie.com)
$20.95 and up for online orders
Share the love and the hometown carbs with the gift of a pie from the Julian Pie Company. You can pick one up at participating grocery stores (including Vons, Barons and Jimbo's Naturally) or ship a freshly baked masterpiece through the website. Mail-order pies start at $20.95, and shipping isn't cheap. But those long-distance smiles are a gift all their own.
San Diego Zoo Global (endextinction.org)
$35 and up
For a gift with legs, the nonprofit organization that runs the San Diego Zoo and San Diego Zoo Safari Park offers wildlife "adoptions" to benefit the organization's conservation efforts. Adoptable animals include snow leopards, jaguars and condors. Adoption packages start at $35 for an adoption certificate and digital photo and go up to $1,000 for a splurge that includes an exclusive talk with an animal keeper. Grrreat, right?
shoppigment.com, artbyamypaul.com
$60 and up
In her "Cityscapes" collection, local artist Amy Paul turns the streets, palm trees and telephone poles of North Park into things of noir-ish, gauzy beauty. The neighborhood's historic water tower never looked so moodily majestic. For the hipster on your list, regardless of ZIP Code.
Eclipse Chocolate (eclipse-chocolate.myshopify.com)
$10 for a single bar; $25 for three bars
If you build it, they will squeal. That's the concept behind Eclipse Chocolate's "Build-A-Bar," in which you can create custom hand-molded candy bars using the fine chocolates (dark, milk and white) and exotic mixings (basil sugar, toasted chile, toffee) that the Eclipse artisans use in their sophisticated sweets. Or let your giftees make their own with a $25 certificate to a Build-A-Bar Night at Eclipse Chocolate Bar & Bistro in South Park.
San Diego History Center (photostore.sandiegohistory.org)
$20 and up
Whether it's the Balboa Park Exposition of 1915, the VJ Day celebration of 1945 or a local Beatles press conference from 1965, the rich photographic fruits of the San Diego History Center Research Archives are yours for the ordering. Digital prints start at $20, and gallery wrapped canvas copies start at $150. Shipping prices begin at $7. Prints that are smaller that 16 x 20 can also be picked up at the San Diego History Center Library in Balboa Park.
Kitchens for Good (kitchensforgood.org)
$22
Isn't it nice when you can feed the soul while tickling the palate? This win-win comes courtesy of the "Savory Spreads Gift Set" from Kitchens for Good, the local nonprofit that tackles poverty, unemployment and hunger through workforce training and social enterprise. The gift set features the popular Apple of My IPA Jelly, Drunk Mustard and Orange You Glad We Called It Marmalade. Revenues support Kitchen for Goods' programs. So tasty.
Twitter: @karla_peterson
Sign up for the Pacific Insider newsletter
You may occasionally receive promotional content from the Pacific San Diego.