Free downtown shuttle may expand to Hillcrest, other nearby areas
San Diego —
The growing popularity of downtown San Diego's free shuttle is prompting city officials to explore expanding the service into Balboa Park, Hillcrest, Mission Hills, University Heights and Barrio Logan.
The electric open-air shuttles, launched by the city two years ago, have joined with app-rented bicycles and electric scooters to give people several new ways to conveniently get around without creating pollution or traffic congestion.
The shuttle, known by the acronym FRED for Free Ride Everywhere Downtown, set a record in July for most rides in a month with more than 17,000 thanks partly to hotels starting to encourage guests to download the FRED app.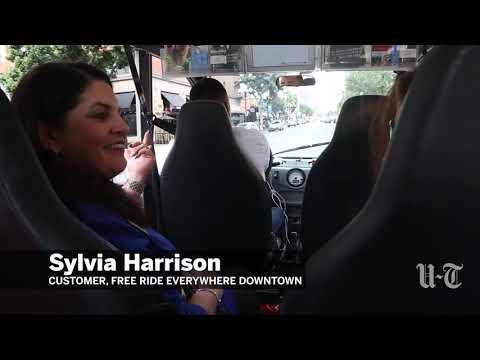 The downtown shuttle service can't meet total demand, but funding over the next three years will almost double fleet of tiny buses to 30. 
More people are also using the shuttle to solve the "last-mile" problem, when mass transit options like the Coaster or trolley get them close to their desired destination but not quite there.
In addition, the shuttle is in the middle of a three-year plan to nearly double the size of its fleet to 30 vehicles. There are now 22 shuttles in operation, with an increase to 25 scheduled for next year and then a climb to 30 in 2020.
That momentum has prompted officials from the city and the Civic San Diego downtown development agency to begin discussing an expansion to additional neighborhoods, said Ben Verdugo, Civic San Diego's project manager for parking, transit and transportation.
"We'd love to see people travel outside the boundaries of downtown," Verdugo told members of the Urban Land Institute during a lunchtime forum this week. "The city is very interested in going into Uptown, but also Balboa Park and some other outlying areas. Hopefully that materializes and takes shape."
Uptown San Diego includes Hillcrest, Mission Hills, Bankers Hill/Park West, University Heights and Middletown.
The shuttle, which is funded by advertisements on the outside of the vehicles and subsidies from the downtown parking district, would most likely need funding from the Uptown parking district to operate in those communities, Verdugo said.
"It makes it a little bit tricky because you've got two different parking districts -- Uptown and Downtown -- how do you account for the money, where does the money go, how do you pay for the operation of FRED?" he said.
Projections for 2020 show advertising revenue covering half the annual cost of $2.4 million to operate the shuttle in downtown, but ad revenue hasn't come close to reaching that level yet.
Ridership, however, has been steadily increasing, Verdugo said.
"We had a big spike in July just due to people that were vacationing down here," he said, adding that hotels have begun encouraging guests to download the FRED app.
Verdugo said he also thinks the shuttle is being combined more often with mass transit.
"There are a lot of people coming into downtown who get off at Santa Fe (Station) and they are able to take FRED throughout downtown," he said. "I know there can be certain walkability issues in certain parts of downtown."
Civic San Diego doesn't have statistics to back that up, but Verdugo said they are on the way.
"We're continually getting data analytics and we're going to hopefully get a little better answers on specific uses," he said.
One drawback to FRED is that families with young children can't take advantage of the service because the five-seat, open vehicles can't safely accommodate car seats, Verdugo said.
More than 280,000 total rides have been given since the shuttles began running, and 450,000 vehicle miles have been traveled. Verdugo said that means the shuttles have prevented the use of 23,000 gallons of gas – with one caveat.
"These numbers assume that all vehicle miles traveled by FRED are directly replacing a gas-powered vehicle," he said. "That's not necessarily the case, but it does show that we have a really low carbon footprint with this program."
Anyone can order a ride on FRED by using the app, which is similar to the apps for the Uber and Lyft ride sharing services. Pedestrians can also hail FRED, but app-based customers take priority.
FRED now serves all of downtown, from Little Italy down to the East Village and Convention Center.
"This is something we're really proud of," Verdugo said.
The app is called The Free Ride.
david.garrick@sduniontribune.com (619) 269-8906 Twitter:@UTDavidGarrick
Sign up for the Pacific Insider newsletter
You may occasionally receive promotional content from the Pacific San Diego.