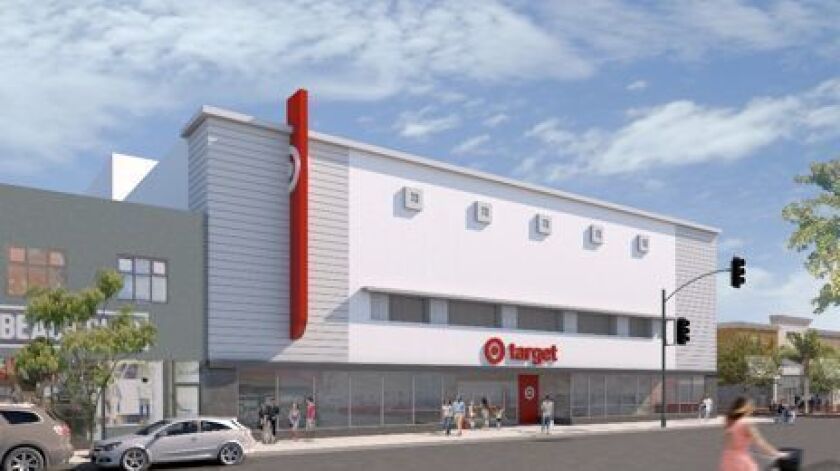 Target will take over the former Wang's restaurant building on University Avenue in North Park with a 35,200-square-foot-store meant to reflect the character of the neighborhood, the retailer said Thursday.
The store, a much smaller version of Target's big-box variety, is slated to open in November with a custom mix of beauty, apparel, toys, household goods and grocery items. The location, which will employ approximately 50 workers, will also come with a CVS pharmacy and will support online order pickup.
Wang's, a Chinese restaurant, has been closed since May of 2015.
Previously called "TargetExpress," these smaller-format locations — pared down from Target's sprawling 135,000 square-foot suburban venues — have become increasingly popular to the retailer as it seeks to develop a stronger presence in close-packed communities outside of city centers.
Target is on track to operate 130 small-format stores by the end of 2019.
Even with its scaled-down footprint, Target isn't always a welcome neighbor in San Diego's densest suburban communities. In August, the retailer came up against opposition from residents in Ocean Beach as it worked to negotiate a lease for a small-format location on Newport Avenue. Two years prior, the company also riled up members of the South Park community with a mini Target location at the intersection of Fern and Grape streets. Despite the controversy, that store opened in Oct. of 2015.
As for the North Park venue, Target said it has met with Councilman Chris Ward and community associations in hopes of better tailoring the store to area's specific needs.
jennifer.vangrove@sduniontribune.com (619) 293-1840 Twitter: @jbruin
---