You need to make $131K a year to afford San Diego home, study says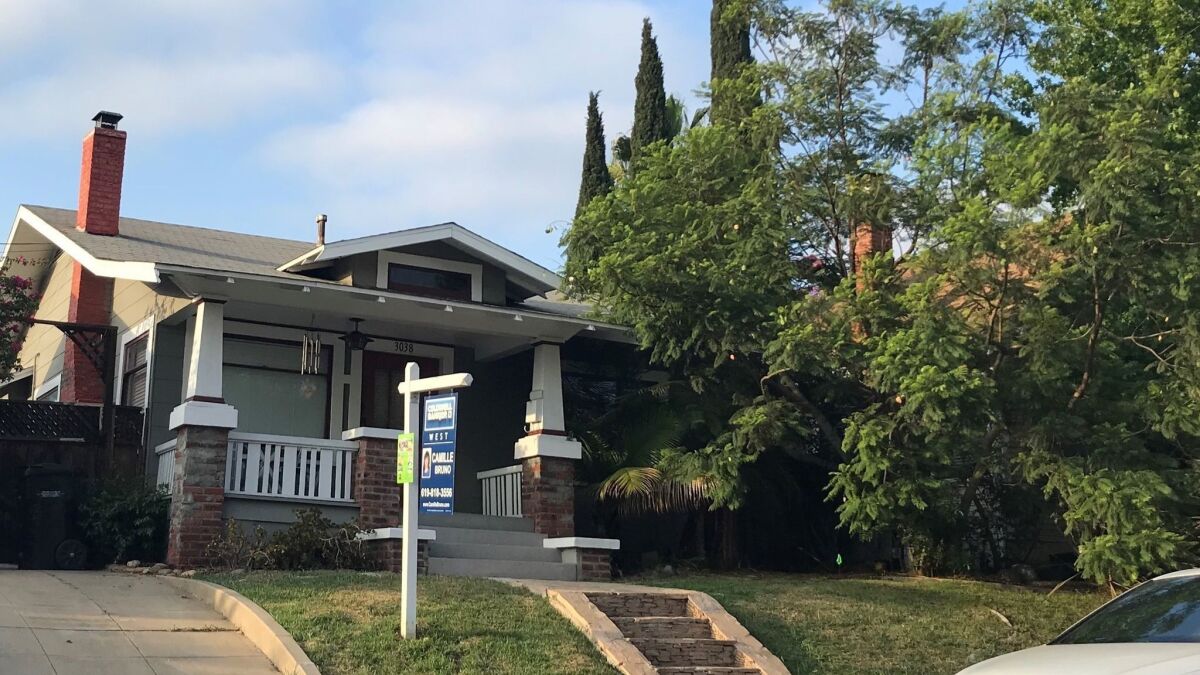 San Diego was one of the least-affordable U.S. metro areas for buying a home in the second quarter, said a recently-released study from mortgage website HSH.
Potential buyers needed to make $130,986 a year to afford the median-priced single-family house.
Only two other metro areas were less affordable — San Jose and San Francisco — said the study, which crunched numbers for 50 regions across the United States.
HSH determined rankings by looking at quarterly home price data, local property taxes, homeowner insurance costs and income needed to qualify for a loan. It also assumed that prospective homebuyers made a 20 percent down payment.
The most affordable metropolitan area was Pittsburgh where the required annual salary to afford a median-priced home was $38,253. Other affordable cities for homebuyers were Cleveland ($39,253), Oklahoma City ($40,780).
Keith Gumbinger, HSH.com's vice president, said rising mortgage rates are only a small part of the difficulty for potential buyers.
"Unfortunately, even if rates don't go up very much," he said, "part of the issue we run into is that home prices are rising so quickly."
San Diego has been locked at the No.3 spot since HSH expanded the study to 50 metros three years ago. Los Angeles was No.4, which usually is seen as less affordable than America's Finest City — but Gumbinger said the larger pool of homes in Los Angeles reduced the median cost in comparison to San Diego.
HSH said the salary needed to afford a single-family home in Los Angeles was $114,907, about $16,079 less than San Diego.
The mortgage website said that the salary needed to buy a San Diego home had increased 12.1 percent in a year. So, even a substantial raise last year would not necessarily make homeownership much easier.
Part of the issue, Gumbinger said, is a lack of homes for sale across the nation.
"In many markets, there is simply such little inventory to buy," he said. "Even if you're well-positioned to buy a home, there might not be anything you can afford to buy or anything you can afford to buy that is desirable to buy."
There were 6,413 homes listed for sale in June, said the Greater San Diego Association of Realtors. There were more than 12,000 homes for sale in June 2011.
HSH also looked at the possibility of putting 10 percent down for a San Diego home instead of 20 percent, but that would increase the needed salary by roughly $24,000. The reason is that monthly payments would be higher with a smaller down payment. Also, putting less than 20 percent down means the buyer needs to purchase private mortgage insurance, adding to monthly payments.
Gumbinger said the study did not look at even more low-cost options — such as, 1 percent down — because those are aimed at low-income buyers, and there isn't much for those buyers to purchase in expensive markets.
Nationwide, the salary needed for a median-priced home was $61,522 in the second quarter, HSH said. Across all 50 markets, the median increase in existing home prices was 6.55 percent in a year. Including available tax and insurance costs, a potential buyer would need to have seen a median increase in income of 10.58 percent just to keep pace.
Lawrence Yun, chief economist for the National Association of Realtors, wrote in the study that strong economic growth, a healthy labor market and a large millennial population should be driving sales much higher.
"With not enough homes for sale, multiple bids caused prices to rise briskly and further out of the reach of some prospective buyers," he wrote.
In June there were 3,927 home sales in the county, CoreLogic said, which is the lowest in four years. But, the median home price hit its highest in history, $575,000.
The median single-family home price, determined by the National Association of Realtors in the study, was $645,000.
Housing experts generally attribute a lack of homebuilding during the recession as one of the reasons much of the nation today faces a housing shortage. In San Diego County, 18,031 residential building permits were issued in 2003 but those dropped to less than 3,000 in 2009 during the recession. There were 9,580 residential permits issued in 2017.
* * *
Most expensive metro (second quarter 2018)
1 San Jose — $274,623.19
2 San Francisco — $213,726.86
3 San Diego — $130,986.05
4 Los Angeles — $114,907.52
5 Boston — $109,411.27
6 Seattle — $109,274.91
7 New York City — $103,235.16
8 Washington, D.C. — $96,144.49
9 Denver — $93,263.28
10 Portland — $85,369.09
Source: HSH.com
phillip.molnar@sduniontribune.com (619) 293-1891 Twitter: @phillipmolnar
ALSO
San Diego's new single-family homes are pricey, modern and in short supply
Tijuana condo craze continues in to 2018
Last year's housing market broke records
---
Sign up for the Pacific Insider newsletter
PACIFIC magazine delivers the latest restaurant and bar openings, festivals and top concerts, every Tuesday.
You may occasionally receive promotional content from the Pacific San Diego.