Troye Sivan, whose fans include Adele and Taylor Swift, on music, the Internet and coming out online
Troye Sivan counts Adele, Taylor Swift and Ariana Grande among his most enthusiastic fans. But this South African-born, Australian-raised pop-music sensation owes more of his surging popularity to the Internet in general — and YouTube and video blogging specifically — than to his famous admirers or his film role as "young Logan" in 2009's "X-Men Origins: Wolverine."
Like few other current young pop stars, Sivan, 23, was made for social media and vice versa. He debuted his own app in April, the better to increase his connectivity to his fans, who also follow him on Facebook, Twitter, Instagram, Tumblr, Vevo and his own website, troyesivan.com.
To quote the title of his recent hit single, which Sivan performed with Swift in May at the Rose Bowl for an audience of 60,000: "My, My, My." Or, as Swift told the audience: "He's destined to be legendary. In my mind, he already is."
Then again, Sivan has had an online presence for nearly half of his young life, having posted his first homemade music videos online when he was just 12. He can't imagine it any other way.
"I think the coolest part about it, for me, is the constant global conversation," said Sivan, who co-stars with Lucas Hedges, Nicole Kidman and Russell Crowe in the critically acclaimed film "Boy Erased," which opens nationally next month. Sivan sings and co-wrote the ballad "Revelation," which is featured during a key scene in the movie.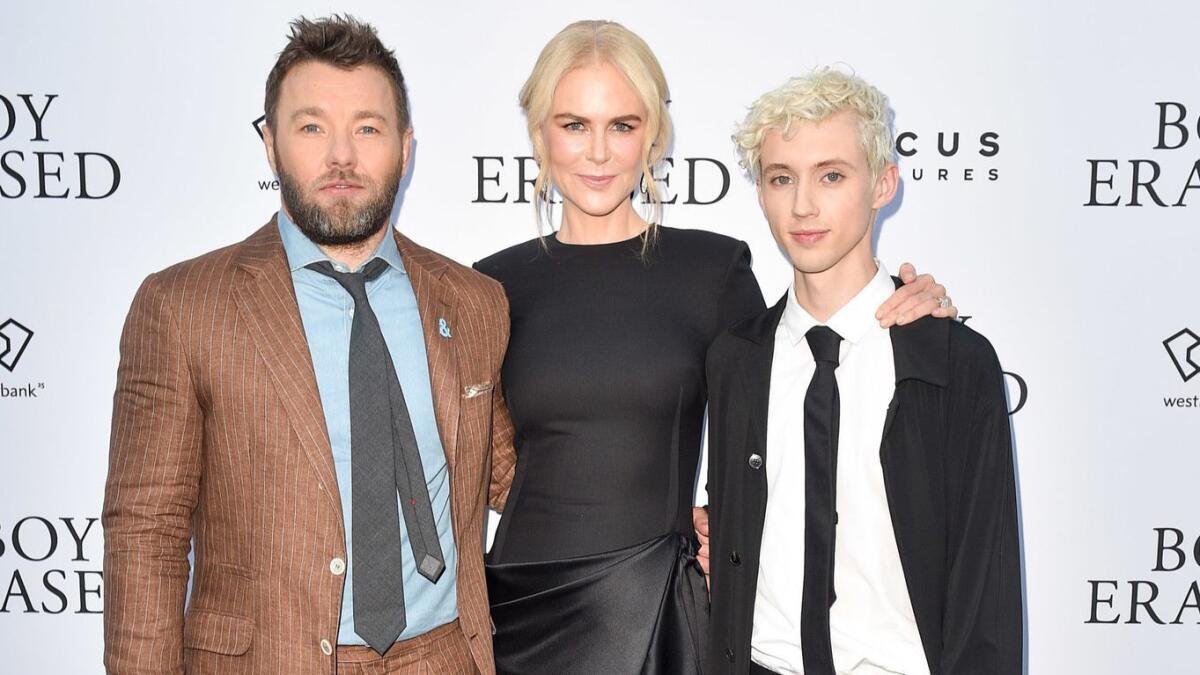 "I think, as a world society, we're moving forward in ways we couldn't have before — and at a much quicker pace — which is really exciting," he continued.
"But I also think that, like anything in life, there needs to be a balance. You have to have those moments where you're not on your phone and you're exploring the world and going for a walk. I need some moments to step away from phone and social media to get clarity and perspective."
How often is that?
"Pretty often, actually," Sivan replied, speaking by phone from a recent Philadelphia concert tour stop. "Not necessarily regularly, but I'll try and get off my phone at least a couple of times a week and walk or hang out.
"It takes a second to learn how to navigate (stardom). But I've been online since I was a kid, so I've had a lot of time to figure it out. Once you've got your ways to maneuver in those situation, there's not really any crazy downside. I get to do what I love every single day. And, at the same time, I get to go to shops and do whatever I want in my personal life."
Sivan performs Thursday night at SDSU's Cal Coast Credit Union Open Air Theatre. He was barely 18 when he came out as gay in a 2013 video on his YouTube channel. That matter-of-fact video has garnered more than 8 million views to date.
It has also made Sivan an icon of sorts for the LGBTQ community. So have his two albums, 2015's "Blue Neighbourhood" and this year's "Bloom," which was released Aug. 31.
Yet, while such rock and pop stars as Elton John, George Michael, Ricky Martin, Iron Maiden singer Rob Halford, Boy George, Melissa Etheridge, Adam Lambert and — more recently — Sam Smith came out after they were already in the public eye, Sivan did so when he was largely unknown to the world at large.
"I am really thankful, because I know I would't exist without those people laying the groundwork for someone like me. I wouldn't exist," he said. "I just feel really lucky I'm existing in 2018 and feel very thankful for all the people who came before me and put in the hard work.
"The cool thing is I don't feel like my life changed all that much, as far as tangible changes on a daily basis. The only thing was that I got to be a lot more honest and open all the time. I definitely feel like the luckiest kid in the world, a lot of the time. And the thing I try to communicate is that, when you're young, sometimes it's easy to feel that your circumstances and your life is the entire world. The thing to keep in mind is that, if you can make it out on the other side, a lot of people will accept you for the person you are."
Sivan credits his family for its steadfast support. He came out to them in 2010, three years before publicly doing so in his 2013 YouTube video.
"I had a really idyllic childhood," he said." I grew up with three siblings and life was perfect."
While Silvan's song lyrics often embrace his sexuality, his songs are aimed at a broad audience that includes almost anyone who has exulted in the heady joys of love or licked their wounds when that love is rejected. His deep voice and deft way with a melody are equally evident whether he is crooning through a heartbroken lament or bouncing through a dance-pop banger.
"You know, I don't really cry during movies or anything like that," Sivan said.
"For me, music is the quickest way to (convey) any sort of emotion in me — whether it's listening to a sad song and you feel sorry for yourself, or something you listen to before you go out. Whatever it is, music is a constant in my life as a companion. So I'm hoping my music does the same for people."
Sivan was not yet in grade school when he experienced his first musical epiphany in Perth, where he grew up.
"My parents had this Michael Jackson concert on VHS," he recalled. "I watched it over and over as a little kid and thought it was the coolest thing in the world."
Did Sivan dance and sing along?
"I was dancing and singing along, for sure," he replied.
And how would Sivan rate his attempts at emulating Jackson's famed moonwalk dance steps?
He laughed.
"Absolutely terrible!"
Sivan grew more serious.
"I look at people who are kind of multifaceted and find that really inspiring," he said. "Someone like Donald Glover or Lady Gaga — it's so cool to me that she's existed in so many forms and is constantly keeping everyone on their toes by doing everything so exciting and well.
"I don't want to get really good at one thing and do that the rest of my life. That sounds boring."
Troye Sivan, with Kim Petras and Carlie Hanson
When: 7:30 p.m. Thursday, Oct. 25
Where: Cal Coast Credit Union Open Air Theatre at SDSU, 5500 Campanile Drive.
Tickets: $25-$64.50 (plus service charges)
Phone: (800) 645-3000
Online: ticketmaster.com
george.varga@sduniontribune.com
Twitter @georgevarga
Sign up for the Pacific Insider newsletter
You may occasionally receive promotional content from the Pacific San Diego.