Chris Stapleton talks songwriting, leaving college and his best and worst day jobs
Before he won enough Grammy, Academy of Country Music and Country Music Association awards to almost fill the wing of a museum, Chris Stapleton went to Nashville as an 18-year-old eager to conquer the world.
But this rural Kentucky native did not move to the country-music capital to become one of the most acclaimed singers and songwriters of the past decade. In fact, he didn't move there to pursue music at all.
"I went through a year of engineering school at Vanderbilt University and then two years of business school," recalled Stapleton, 40, who performs at Mattress Firm Amphitheatre in Chula Vista on Aug. 16.
"The main thing I learned from both of those things is that I didn't want to be an engineer or an economist. Sometimes, when you're 18, career paths are not clear. You have things you like to do, but everyone I knew made a living in business. My dad was an electrical engineer who worked on coal mines. My brother is an FBI agent."
Stapleton chuckled.
"Everyone in my family played golf, but I don't really play golf," he noted. "You find out who you are over time. At 18, I was thinking, 'If you can get into a certain school or career path that seems lucrative. ...' But I'm glad I did (engineering and business) first because all the wrong roads bring you to the right roads."
Stapleton's career trajectory ignited in 2015 when he won Artist of the Year and Male Vocalist of the Year honors at the Country Music Association Awards in Nashville. Even more impressive, his raw, no-frills solo outing, "Traveller," won that year's CMA award for Album of the Year, beating out releases by such high-profile stars as Jason Aldean, Little Big Town and Kenny Chesney.
Under the radar no more
Prior to "Traveller," Stapleton operated mostly under-the-radar, at least as far as the general public was concerned.
His tenures in the bluegrass band The SteelDrivers and the hard-rocking Jompson Brothers attracted little attention, although both showcased his gritty vocals and increasingly assured songwriting skills. Undaunted by a lack of success, Stapleton soldiered on.
"I learned so much from The SteelDrivers about musicianship, playing with people, how to operate with a band and with a crowd," he recalled.
"There's no book or class you can take that tells you how to do those things; you just have to go out and figure out what your process is; I'm still learning to be better at that, all the time…. You can get to the point where another creative space happens that's above and beyond what is rehearsed. That's the musicianship and that's the main reason I go to hear live music."
The college-bound Stapleton was just 18 when he wrote "Nobody's Fool," which was featured on Miranda Lambert's 2011 album, "Four the Record." In the decade prior to making his unusually melancholic breakthrough album, "Traveller," Stapleton became highly regarded by Nashville music biz insiders as a formidable songwriting force, thanks to co-writing a slew of hits for other artists.
His many credits include Chesney's "Never Wanted Nothing More," Adele's "If It Hadn't Been for Love," Luke Bryan's "Drink a Beer," George Strait's "Love's Gonna Make It Alright," Thomas Rhett's "Crash and Burn," Darius Rucker's "Come Back Song," Alison Krauss & Union Station's "Miles to Go" and Alan Jackson's "Talk is Cheap."
But what really makes his best songs stand out is hearing Stapleton perform them himself.
Drawing from country, soul, rock and a whole lot of blues, his Southern-bred music is earthy and eloquent. Ditto his soulful singing, which — like his incisive guitar-playing — is equal parts grace and grit. At a time when much of what is considered country music is slick pop-rock with watered-down hip-hop beats and faux country affectations, he offers a welcome dose of authenticity.
Equally important, such sturdily constructed Stapleton songs as "Broken Halos," "When the Stars Come Out" and "Drunkard's Prayer" are gems of concision. They are free of even a single note or word not crucial to conveying their emotional essence.
"It was always just a natural inclination of mine that using less words means more," said Stapleton, who cites Tom Petty's "Wildflowers" album and B.B. King's fiery concerts as two enduring inspirations.
"I don't like to waste words in songs is the best way I can put it. If you can say something with three words that puts the point across — and leaves room for the listener to put themselves into the song — there's no need to use 10 words. I don't ever remember not wanting to do that. I've always wanted to say things as simply as I could.
"The thing I like about music, and that most people like, is when it allows you to be a part of the song. I think that, sometimes, it's harder to explain because it's so subjective. But, for me, it's really a matter of leaving room for a listener to put their own personal feelings into it, attach them to songs, and leave that room so you have some kind of ambiguity in the words.
"That's part of what I like about songs, their ability to speak to you on a personal level. And that comes partly from being really concise with words — like I'm not being right now! — and partly from leaving that space."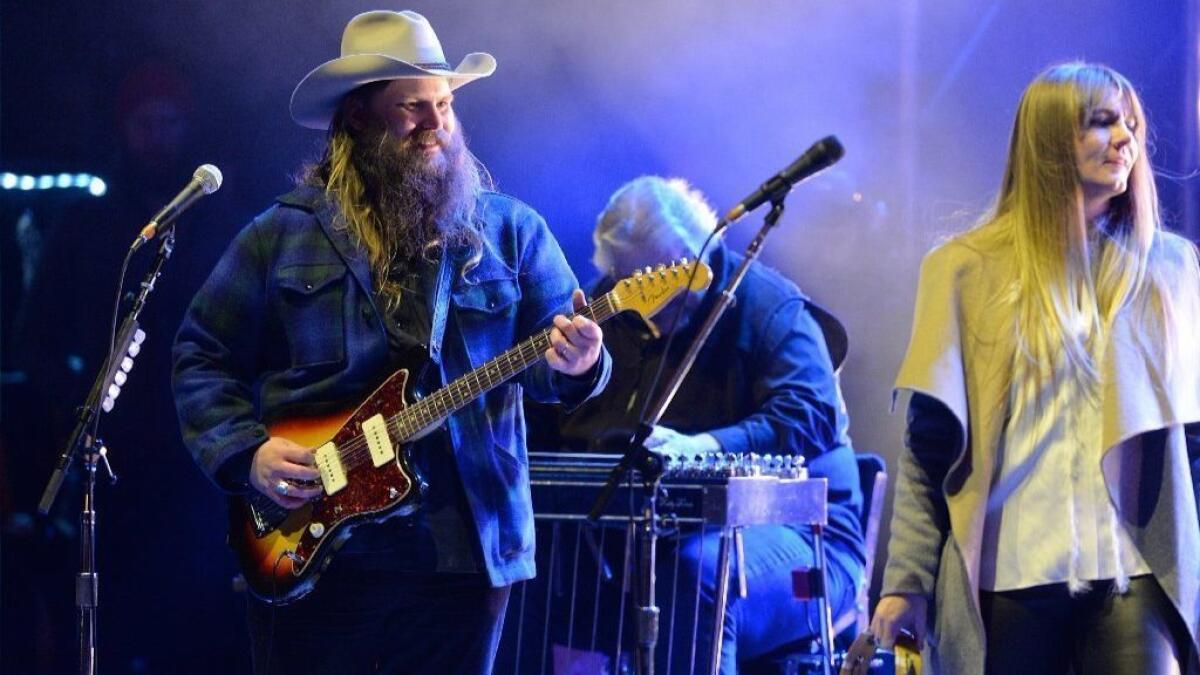 On-stage intimacy
This focus on making a strong musical connection with his audience extends to Stapleton's concerts.
He demonstrated this in 2016 at San Diego's 1,450-capacity Humphreys Concerts by the Bay and last year at Chula Vista's nearly 20,000-capacity Mattress Firm Amphitheatre. The level of intimacy Stapleton achieved in both venues was almost identical.
Credit for this goes to the durable quality of his music and the fact that, in both instances, his "show" was essentially the same. That is, there was no "show," just the music.
"Well, intimacy is the perfect word and that's always the thing we're looking for, as far as playing shows goes," said Stapleton, speaking from a recent concert tour stop in Sacramento.
"We keep the focus on the music and we don't set up any differently than when we played in rooms for 200 people than we do now for 20,000. What comes out on stage is always about what the music sounds like and creating the best environment (to hear it). Even if we have to use (video) screens — it's necessary to have lights and screens in big venues — the focus always has to be on the music. That's always central for me; that's the only thing that exists."
Maintaining that focus is made easier by the fact Stapleton's compact band usually includes his wife, Morgane, who is a potent singer and vital creative foil for her husband. She is not on the road with him this summer, however, after giving birth to twin boys in April. The Stapletons are also the parents of a daughter and another son, both now in grade school.
"She fills in all the places where I lack, which is a whole lot, personally and mentally," he said of his wife.
"She can really help me get down to the core of things I want to do or play, and — sometimes — I don't even know what those are! And she has actual taste. She's a tasteful lady in every possible way. So she helps me, musically, and not let me do things that are too crazy. I'll get off on tangents a lot, but she's great at keeping me focused and centered, musically and personally. None of the things we're getting to do now would have happened, or even been possible, if she hadn't been there."
'It's always just one wheel'
Stapleton has made three consecutive hit albums, "Traveller," "From A Room" and "From A Room, Volume 2." Yet, even as his star ascends ever higher, he continues to write songs for (or with) other artists, including — most recently — Justin Timberlake, Anderson East and Dwight Yoakam.
"It's always just one wheel, one thing, for me," Stapleton stressed. "Touring, making records, writing for other people or being on a TV show are all part of one whole thing for me, creatively, and I don't try to put them in (different) categories. … They all feed each other and all make each other better, I think, or make me more of a whole musical person.
"I don't see a point where any of them would go away. There was never a time where I only did one of those things. Sometimes, something would make me focus more on one thing than the other. But there was always a compulsion to make them all equal."
Stapleton's wheel expanded with last month's announcement that he is the new voice of the Kentucky Department of Tourism and its recently launched "Better in the Bluegrass" marketing campaign.
"The passion, sincerity and tone that Chris conveys through his music are a perfect match for the stories we want to tell," Kentucky Department of Tourism Commissioner Kristen Branscum said in a statement. "We are proud to be working with a world-renowned Kentucky artist as the voice of this campaign that will invite people from across the world to his home state."
Stapleton laughed when asked to recall his best, and worst, day jobs.
"The best was when I drove an ice truck, filling up ice coolers at gas stations," he said. "It was physical, but you got a workout and drove around in rural areas. So there was a lot of time to contemplate while you were driving around. That job was also great because, when it was done, the day was done. There was no stress about thinking what the path was going to be like tomorrow. It was pretty cut and dry.
"The worst was selling cars. I sold cars for about three months and, man, it was long hours. And everybody hates a car salesman! They assume you're lying to them the instant you open your mouth. So I always try to treat car salesmen a little better than most people do. It's not an easy job.
"But (like college), those jobs were all experience. I learned something from all of them, either about myself or other people."
Stapleton laughed again when asked if either his best or worst day job had had inspired him to write a song.
"I don't think I have a song directly about selling cars or hauling ice," he replied. "But I'm sure that — somewhere in the mix of that — all those things kind of end up in songs.
"I used to think everything I was writing was fictitious and I was being creative. But you look back on things and see a lot of what winds up in songs is actual personal experience. Or it's based on somebody you know, or how you're feeling or how they're feeling. Sometimes, it takes years to realize you had personal stuff in a song you thought was a fabrication."
Chris Stapleton, with Marty Stuart and his Fabulous Superlatives, and Brent Cobb
When: 7 p.m. Aug 16
Where: Mattress Firm Amphitheatre, 2050 Entertainment Circle, Chula Vista
Tickets: $34.75-$79.75, plus service charges
Phone: (800) 745-3000
Online: livenation.com
george.varga@sduniontribune.com
Twitter @georgevarga
---
UPDATES:
5:55 p.m.: This article was updated to include information about Chris Stapleton being named the new voice of the Kentucky Department of Tourism and its recently launched "Better in the Bluegrass" marketing campaign.
Sign up for the Pacific Insider newsletter
You may occasionally receive promotional content from the Pacific San Diego.