Haunted San Diego: 11 scary places to get your spook on in San Diego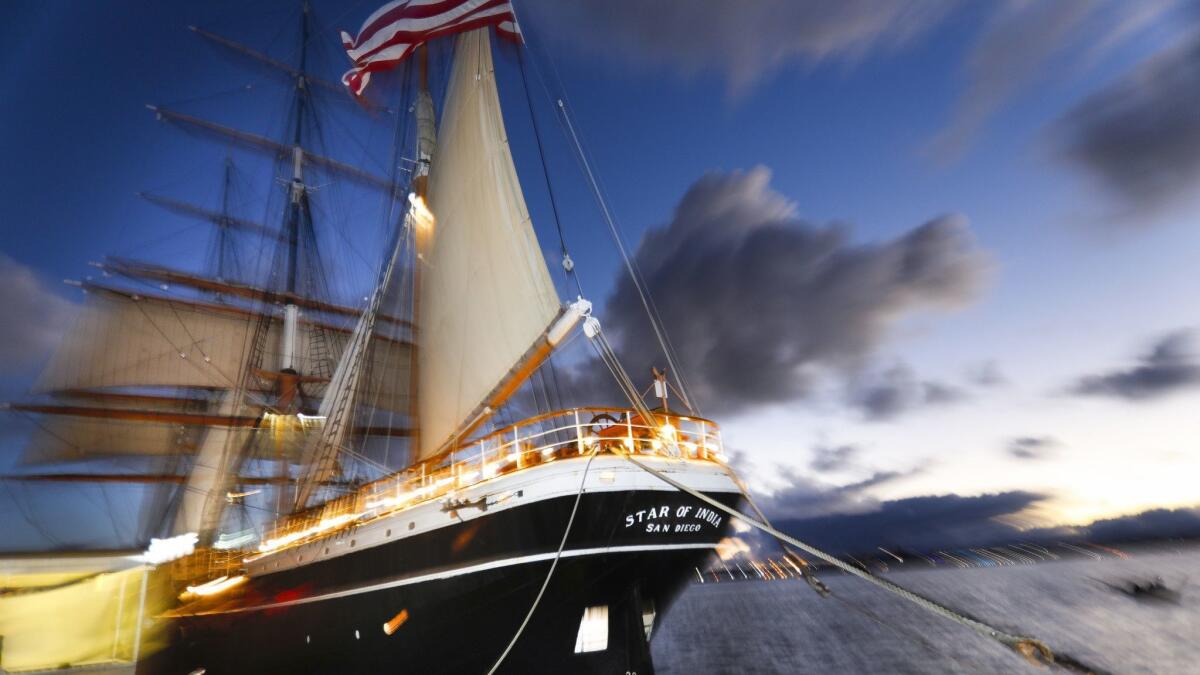 Little trick-or-treaters won't be the only ones haunting the streets of San Diego this month. Ghosts of Halloweens past will rise to the occasion to scare the bejeebers out of spirit-seekers looking to get their spook on.
Here are 11 of the most popular haunted hot beds around the region where you may just come face-to-face with the unexplained.
Whaley House Museum
Built in 1857, this old house has many a tale to tell. Named "the most haunted house in America" by Life Magazine and the Travel Channel, more than 30 spirits are said to roam the halls of the Old Town mansion, including Thomas Whaley and his wife Anna, their great-granddaughter Marion, their fox terrier Dolly Varden, and "Yankee Jim" Robinson, who was hanged on the grounds in 1852 (his heavy boots can be heard clomping through the house). Tours are held year-round. 2476 San Diego Ave., San Diego. (619) 297-7511. whaleyhouse.org
Cosmopolitan Hotel & Restaurant
The former home of Don Juan Bandini was converted into the two-story Cosmopolitan Hotel & Restaurant, which was known in its time as Old Town's hip social scene. Legend has it that in 1846, Ysidora, Juan Bandini's youngest daughter from his first marriage, leaned so far over the balcony of the home, watching a procession parade, that she fell from the balcony into the arms of Col. Cave Johnson Couts while on horseback — or did she? Ysidora's ghost is rumored to visit Room 11 at the hotel where she stayed, turning lights on and off and causing all kinds of spirited mischief. 2660 Calhoun St., San Diego. (619) 297-1874. oldtowncosmopolitan.com
Julian Pioneer Cemetery
Declared a California historical landmark in 1948, the Julian Pioneer Cemetery became the resting place of hundreds of ore miners during the gold rush fever in the 1870s. Many people who visit this old mining town report that the cemetery is haunted by the spirits of the early residents. You might just see the town's founder, Drury Bailey, roaming the grounds. 2811 Washington St., Julian. juliancemetery.org
Hotel Del Coronado
In 1892, 24-year-old Kate Morgan checked into the hotel under a fictitious name. Five days later, she was found dead from a self-inflicted gunshot wound, after a rendezvous with a lover didn't happen as planned because the gentleman never showed up. Referred to as the "beautiful stranger," Morgan's spirit has remained, occupying her former guest room, Room 302 (later numbered 3312, now 3327), where her antics are described as mild and harmless. 1500 Orange Ave., Coronado. hoteldel.com
Horton Grand Hotel
This lavishly ornate Victorian building is said to be home to a number of ghostly guests, including infamous gambler Roger Whitaker. Known for his heavy drinking and questionable card-playing techniques, he met his demise at the hands of creditors, shot dead while hiding in Room 309's armoire. Guests who've stayed in Room 309 have reported bed rattling, flickering lights and moving objects. 311 Island Ave., downtown. (619) 544-1886. hortongrand.com
Davis-Horton House (formerly William Heath Davis)
The oldest building in San Diego's Historic Gaslamp Quarter, the 164-year-old Victorian home is said to be hopping with ghosts from the past. Strange occurrences have been reported — like the well-dressed ghost of former resident Anna Scheper who's been seen at the top of the stairs, as well as apparitions of those who lost their lives on the property during the 10 years it served as a makeshift hospital. Self-guided and guided tours available. (619) 233-4692 Island Ave., San Diego. gaslampfoundation.org
El Campo Santo Cemetery
Two blocks south of the infamous Old Town's Whaley House, the 169-year-old cemetery is rumored to be the core of a host of spiritual sightings ranging from freezing cold spots and floating orbs to flashing lights and vanishing spirits. Ghosts have been seen wandering the grounds, including Juan Mendoza, a rancher who was shot in the back by Col. Cave Couts and Anita Gillis, who died of scarlet fever at age 9. 2410 San Diego Ave., San Diego.
Villa Montezuma Museum
Built in 1887, this 19th-century Victorian mansion in Sherman Heights is rumored to be haunted by its first resident — Jesse Shepard, a pianist and spiritualist who sat at his piano bench channeling famous composers. It's believed Shepard died on the bench of the Villa's piano? Paranormal researchers say yes. The Friends of Villa Montezuma Museum say otherwise: "It's enchanted, not haunted." Find out for yourself. The Villa offers inside tours quarterly. The last one is on Oct. 20. Check the website for details. 1925 K St., San Diego. villamontezumamuseum.org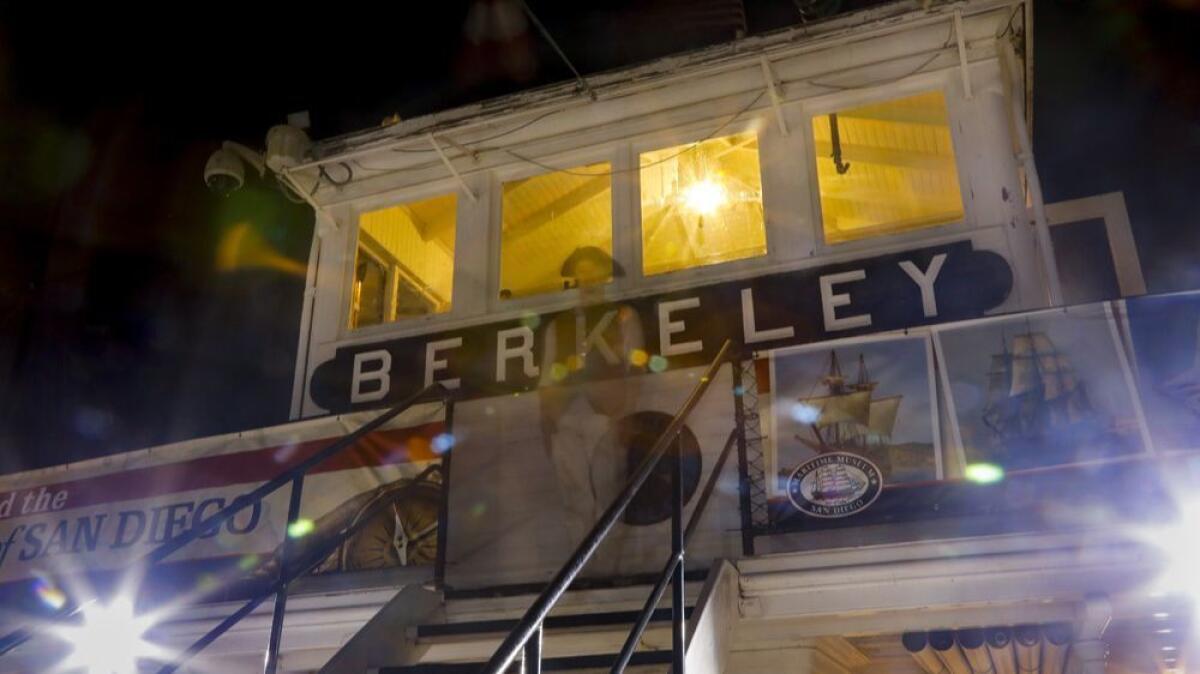 Berkeley Steam Ferry Boat
Operating as the Maritime Museum of San Diego's main entertainment venue, library and office, the ferry boat started operating in the late 1800s. Multiple passengers are said to haunt the vessel, including The Fedora Man. "I was walking the upper deck of the Berkeley Steam Ferry Boat, making my way to the front and back deck, originally known as the Ladies Deck," said Jim Davis, director of Marine Operations (one of many titles he holds) for the Maritime Museum. "It was late at night. I saw a vivid image leaning up against a door jam. He wore a trench coat, a Sam Spade-type of thing, and a fedora. I told him he needed to leave. When he didn't move, I walked toward him and all of a sudden he was gone." Davis has also heard heavy footsteps and people carrying on conversations on the Upper Deck. 1492 N. Harbor Drive, San Diego. Open daily. (619) 234-9153. sdmaritime.org
Star of India
The world's oldest working sailing ship, according to the Maritime Museum, made 21 voyages around the world before being taken out of service, and then restored in San Diego. Over the years, a large amount of lives were lost aboard the merchant vessel, including that of an Army captain who was so distraught over the loss of his platoon in the India War that he decided to end his life. "He sliced his own throat," said Davis of the Maritime Museum. "The ship's surgeon stitched him up. Later, he took the stitches out and bled to death. Now you feel all sorts of activity." Davis said other reports include shadowy figures seen on the 'tween deck, sound of heavy boot steps and voices. 1492 N. Harbor Drive, San Diego. Open daily. (619) 234-9153. sdmaritime.org
San Pasqual Battlefield State Historic Park
In 1846, one of the bloodiest and most controversial battles on horseback, the U.S.-Mexican War, took place in the San Pasqual Valley. Psychics have noted areas of violence on the property and others have seen apparitions of soldiers in uniform on horseback. Open weekends only. 15808 San Pasqual Valley Road, Escondido. (760) 737-2201.
Sign up for the Pacific Insider newsletter
You may occasionally receive promotional content from the Pacific San Diego.