San Diego: This Weekend (Feb. 28-March 3)
Top events this weekend in San Diego include Gaslamp Mardi Gras, comedian Anjelah Johnson, CRSSD Fest and 13th annual Busker Festival.
2.28: Speakeasy Supper & Spirits
Food, drink and pairing education are just the start of this night that combines craft cocktails from You & Yours Distilling Co.'s tasting room manager, April Kirby, and a five-course dinner from Searsucker's chef de cuisine, Chris Gerwig, featuring such signature dishes as grilled octopus and a swoon-worthy 40-ounce Tomahawk ribeye. — Michael Benninger
Searsucker, Gaslamp Quarter, searsucker.com/san-diego
2.28-3.2: Big Jay Oakerson
"My daughter is going to be pretty loose-lipped around me. She's going to probably tell me things I don't want to hear. Like sexual stuff, that I don't want to know, when she gets older. But if you add lesbian to any of those stories, I don't give a s**t at all. I mean that 100 percent. It would change everything. It would make a horrible story a great story. If my daughter came home at 19 and was like, 'Dad, I had a five-some last night,' that would make my heart thump. I'd be like, 'Oh my god, I tried to be a good father.' And then she'd be like, 'With four hot chicks.' I'd be like, 'Nice.' I wouldn't be upset or sad anymore. I'd smell her fingers and high-five her like a son." — Big Jay Oakerson at Comedy Works
@ American Comedy Co., americancomedyco.com
3.1: Oliver Heldens
The Dutch producer, who also performs as HI-LO, recently joined forces with Finnish DJ LENNO on the January-released co-single, This Groove. — Scott McDonald
@ OMNIA, omnianightclub.com
3.1: Zomboy
British dubstep producer Josh Mellody released his seventh EP, Rott N' Roll Pt. 1, for London's Never Say Die Records in 2017. Last year, Mellody followed it with a trio of singles — Rebel Bass, Lone Wolf, and Hide N' Seek. — Scott McDonald
@ House of Blues, houseofblues.com/sandiego
3.1: Pechanga's 11th annual Chocolate Decadence
Treat your sweet tooth to an array of chocolates and pastries while listening to live music and sampling a wealth of wines, bubbles and spirits at this highly anticipated epicurean event. —Michael Benninger
Pechanga Resort & Casino, Temecula, pechanga.com
3.1-3: Anjelah Johnson
"I'm at the age where I want to be on a newsletter that tells you which foods are being sampled on each day of the week at Costco." — Anjelah Johnson on Twitter
@ The Comedy Store, thecomedystore.com/la-jolla
3.1-4: San Diego Yoga Festival
Hit the reset button during four days of nonstop oceanfront yoga, including classes that incorporate hikes, live music, energy healing and even skateboards. — Michael Benninger
Evergreen Avenue, Imperial Beach, sandiegoyogafestival.com
3.2: Pechanga's 11th annual Wine Festival
Swirl, sniff, sip and savor as you sample a slew of distinguished vintages from notable wineries throughout Europe, Australia, South America and California. —Michael Benninger
Pechanga Resort & Casino, Temecula, pechanga.com
3.2: 3LAU
New York-born, Vegas-based DJ Justin Blau has remixed the likes of Rihanna, Justin Bieber, Ariana Grande, and Adele. He also released his 11-song full-length debut, Ultraviolet, last year. His latest single, Would You Understand featuring Carly Paige, dropped in January. — Scott McDonald
@ Parq, parqsd.com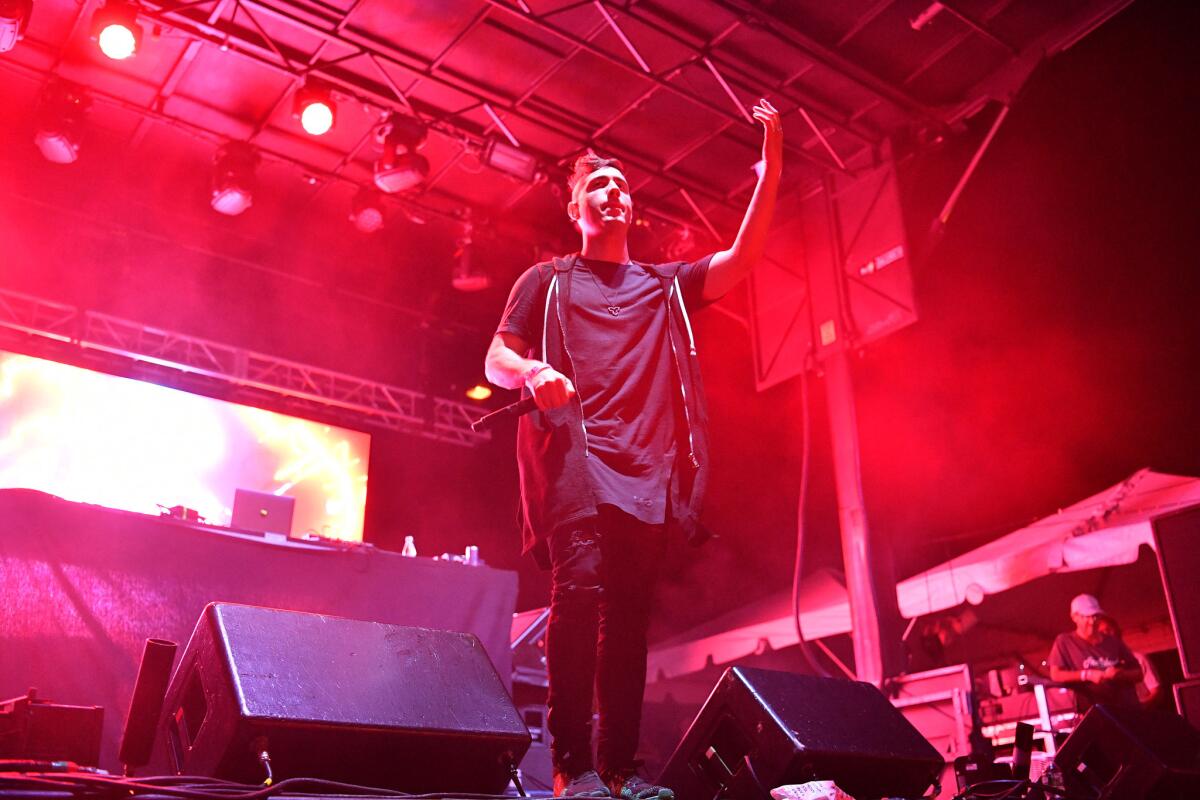 3.2: Sam Feldt
Sammy Renders, aka 25-year-old Dutch DJ Sam Feldt, enlisted Belgian singer Kate Ryan for his latest single, January's Gold. Renders also occasionally plays with a live band that includes trumpet, saxophone and guitar. — Scott McDonald
@ OMNIA, omnianightclub.com
3.2: Justin Martin
Can't fathom heading home by 10 p.m. after CRSSD ends on Saturday? Dirtybird Records co-founder Justin Martin headlines this CRSSD After Dark event that also includes UK deep house duo, Eli & Fur (aka Eliza Noble and Jennifer Skillman), Brit DJ Will Clarke (his first of two SD appearances in March), and more. — Scott McDonald
@ Hard Rock, hardrockhotelsd.com
3.2: Degas Dinner at Sparks Gallery
Sparks Gallery celebrates four years in business with a gastronomic journey inspired by the famed French painter Edgar Degas and punctuated by performances from the San Diego Ballet Company. —Michael Benninger
Sparks Gallery, Gaslamp Quarter, sparksgallery.com
3.2: Gaslamp Mardi Gras Big Easy Bites & Booze Tour
Prepare to wear a bevy of beads on this self-guided restaurant roam featuring sinful sips and Mardi Gras-inspired munchies at 20 of the Gaslamp's hottest venues. —Michael Benninger
Venues throughout the Gaslamp Quarter, sdmardigras.com
3.2: Valentino Khan
Last year, this L.A.-based DJ and producer remixed an impressive list of fellow beat makers including Calvin Harris, Diplo, David Guetta, Alison Wonderland, and RL Grime. In January, he joined forces with Kayzo for the joint single, Novocaine. — Scott McDonald
@ Bassmnt, bassmntsd.com
3.2 : San Diego Bartender Shakedown
Part of Bartenders Weekend and the only shenanigans open to the public and non-industry pros, this event will offer sample cocktails from 21 of the county's best bartenders all under one roof for one wild night only.
Building 177, Liberty Station, bartendersweekend.com
3.2, 3: CRSSD
CRSSD's Spring '19 lineup — along with its multiple satellite "After Dark" and "By Day" add-ons — is the festival's biggest and most impressive to date. Odesza, Armand Van Helden, Lane 8, Phantogram, Jungle, Petit Biscuit, Justin Martin, Ladytron and many more help to hold down the latest iteration of this ever-expanding bi-annual extravaganza. — Scott McDonald
@ Waterfront Park, crssd.com
3.2-3: 13th annual Busker Festival

A swarm of street performers from far and wide descend upon Seaport Village for SoCal's signature two-day busker festival, featuring an untamed 18+ party Saturday after sunset. — Michael Benninger
Seaport Village, downtown, seaportvillage.com
3.2-5: Sixth annual Bartenders Weekend
Hospitality heroes and heroines are invited to join more than 1,100 other industry pros for three days of networking — and not working — during these events that pay homage to the profession of bartending. The weekend will include an Official Welcome Party on March 3 (because Sunday is the new Friday in the industry), Licorería Limantour Takeover and Espolon Cocktail Fights.
Events throughout the city, bartendersweekend.com
3.2-10: San Diego Festival of Science & Engineering
More than 130 local businesses and organizations host interactive, hands-on STEM exhibits — including several activities exclusively for adults — during this 10-day educational experience that proves science exploration isn't strictly for students. — Michael Benninger
Petco Park, East Village, lovestemsd.org
3.3: Mardi Gras 10 and 5K

Don a mask, bust out your beads and strut your stuff during Rancho Bernardo's inaugural Mardi Gras Run that concludes with a party in the community park. — Michael Benninger
Rancho Bernardo Community Park, Rancho Bernardo, active.com
3.3: St. Patrick's Day Half
This fast, costume-friendly 5K invites finishers to compete in a Crossfit-inspired obstacle course before enjoying food trucks and live music in the event's exclusive beer garden. — Michael Benninger
Main Street at Magnolia Street, El Cajon, stpatricksdayhalf.com
3.3: Doggie Gras 5K & Parade
Four-legged friends are front and center on this quick course around the Embarcadero that's followed by a puppy parade, a sprawling barketplace and an assortment of other Mardi Gras-themed activities. — Michael Benninger
Embarcadero Marina Park North, downtown, animalcenter.org
3.3: The Boulevard Mardi Gras Crawl
Beginning at the Brewery Igniter facility and culminating in a final party at the LaFayette Hotel, this Mardi Gras crawl takes partiers down El Cajon Blvd. for specials at spots like Lips, Barn Brewery, Café Madeleine and Tacos Mezcla. — Michael Benninger
Various North Park locations, theboulevard.org
San Diego Sockers
(at Pechanga Arena)
3.1 vs. Turlock Express
San Diego Seals
(at Pechanga Arena)
3.2 vs. Vancouver Warriors
More...
This week's top concerts in San Diego (Feb. 25-March 3)
Art beat: March gallery + exhibit openings
The reel deal: February movie releases
Art beat: February gallery and exhibit openings
Sign up for the Pacific Insider newsletter
You may occasionally receive promotional content from the Pacific San Diego.