San Diego: This Weekend (Aug. 16-19)
Top events in town this weekend include the Latin Food Festival, Turf & Surf BBQ Classic, the World Bodysurfing Championships and Steve Aoki at Omnia nightclub.
8.16: Live Cooking Demo: Easy Summer Apps & Cocktails
Join Sam the Cooking Guy and bartenders from the Little Italy Food Hall Bar for an evening filled with ways to impress your friends and neighbors at your next summer gathering.
Little Italy Food Hall, 550 W. Date St., Little Italy, littleitalyfoodhall.com/events
8.16-18: Billy Bonnell
"I like technology, but I think it gets too fancy too fast. Like my buddy just bought a Lexus and it parallel parks itself. Seriously, he just pulls the car where he wants to park, hits a button, and the computer's like, 'I got this shit.' That's too fancy, Lexus. Great job, you guys invented a computer to get the car to park itself, but you guys never figured out how to get objects in the mirror to be exactly as they appear. Who's working on that? Hey Lexus, how 'bout you just fix that mirror, and maybe I can parallel park this sh*t all by myself." — Billy Bonnell at the Laugh Factory
@ The American Comedy Co., americancomedyco.com
8.16: National Rum Day
SO many places around San Diego have great rum cocktails, but on National Rum Day here's a list of the top spots to check out, plus some great deals.
8.17: Jeff Foxworthy
"Every house that we've ever lived in, I've always slept between my wife and the door to our bedroom. I tell her that's in case anybody gets in, they have to go through me before they get to her. That's what I tell her. Truth is, if there's a fire, I'm getting my ass out of there." — Jeff Foxworthy on Totally Committed
@ Viejas Casino, viejas.com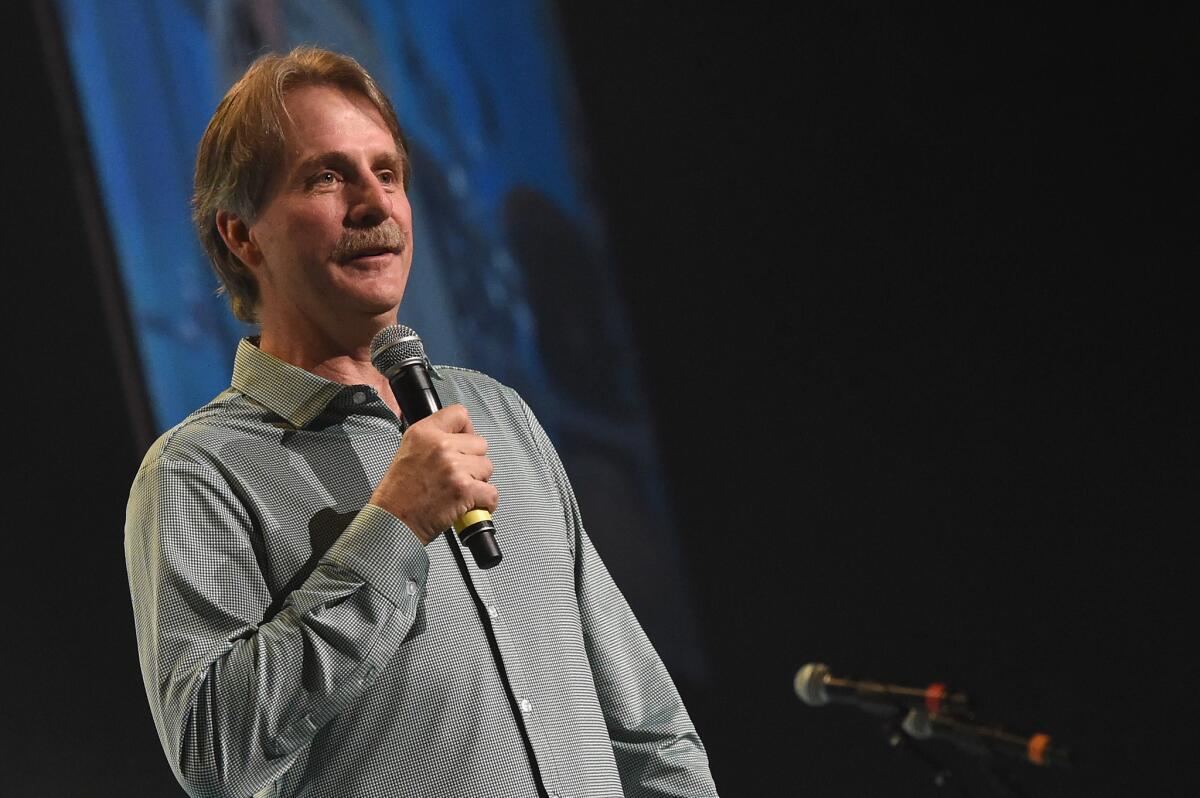 8.17: David Cross
"Just so people don't think I'm racist because you don't get my jokes, just so you know, I lost my virginity to a black prostitute. True story. We still keep in touch." — David Cross on Bigger and Blackerer
@ The Observatory North Park, observatorysd.com
8.17: Steve Aoki
What is it about food and this Grammy-nominated DJ/producer? The Guinness World Record holder for "longest crowd cheer" was first known for throwing sheet cakes into the audience during his DJ sets. Now, the globetrotting performer and entrepreneur, whose father founded the Benihana chain, is following in the family footsteps by opening his own delivery-only pizza company – Pizzaoki. Get meta and order a large pepperoni for the show!— Scott McDonald
@ OMNIA, omnianightclub.com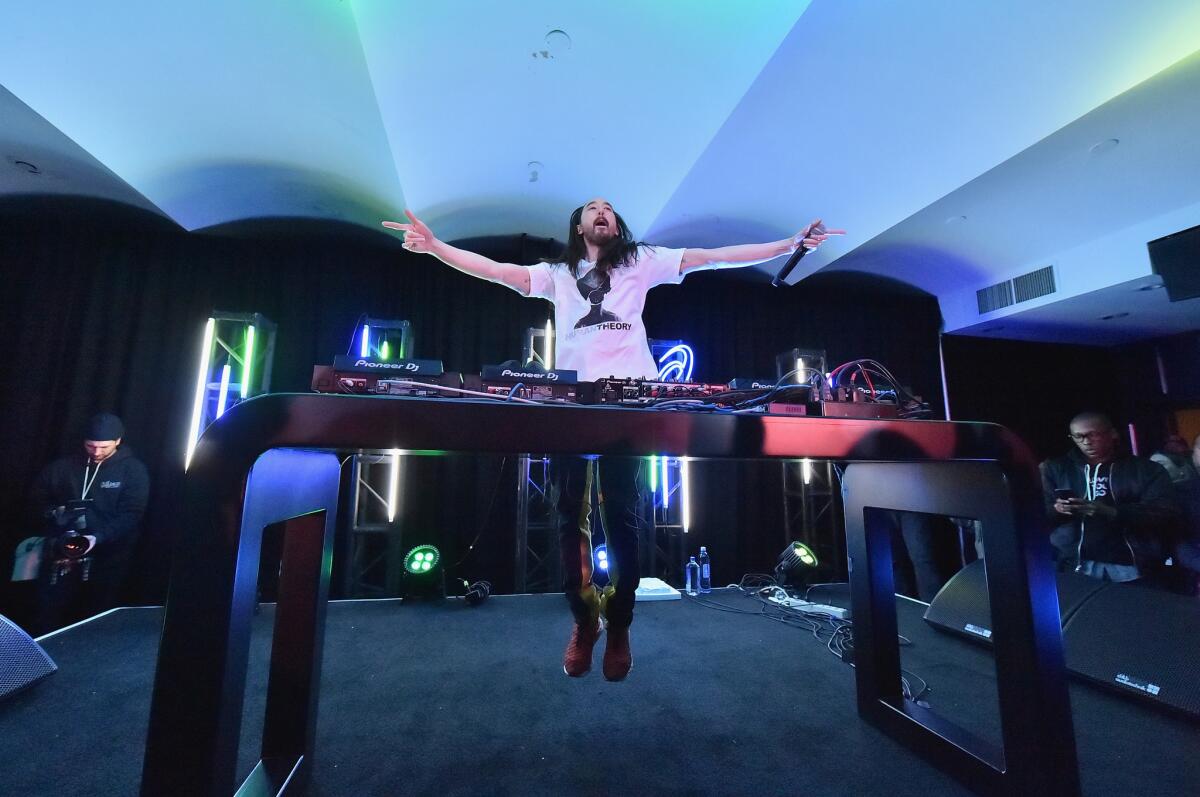 8.17-18: Sixth annual Latin Food Festival
Celebrate Hispanic cuisine at a high-energy Chefs' Night Out, featuring complimentary tapas, cocktails, wine and beer, then keep the party going the next day at the Gran Tasting culinary festival, which includes an open bar, a silent auction and various demos and workshops. — Michael Benninger
Embarcadero Marina Park, downtown, latinfoodfest.com
8.17-18: Stone 22nd Anniversary
As one of the largest breweries in San Diego, Stone is doing it up big to celebrate its 22nd anniversary. On Friday night is the Brewers Reception for the following day's Celebration and Invitational Beer Festival, which will include beer from Stone and 55 craft breweries from around the world.
California State University San Marcos (near the Kellogg Library), 333 S. Twin Oaks Valley Rd., San Marocs, stonebrewing.com/event-category/beer-festivals
8.18: Brunch Amplified
This outdoor brunch festival will feature music from Aaron Carter and Vokab Company along side "brunch-centric" activities and food available from a rotating list of local restaurants.
Lane Field Park, 1009 N. Harbor Dr., downtown, brunchamplified.com
8.18: Craft Beer Festival
Knock back samples of 100+ local and international brews, including many hard-to-find favorites, at this sudsy spectacle that includes unlimited tasters, admission to the track and access to live music all day long. — Michael Benninger
Del Mar Thoroughbred Club, Del Mar, dmtc.com
8.18: TVG Pacific Classic
Del Mar's richest and most prestigious race returns with a new betting challenge, a mandatory Pick Six payout and more than $50,000 in prizes. — Michael Benninger
Del Mar Thoroughbred Club, Del Mar, dmtc.com
8.18: Harbor Fest
Board a boat tour, take a kayaking lesson or check out the Taco, Spirits & Craft Beer Festival at this culinary contest and music concert right on Chula Vista's waterfront. — Michael Benninger
Bayside Park, Chula Vista, cvharborfest.com
8.18: Starlight Food & Wine Festival
Treat yourself to selections from award-winning wineries in Napa, Sonoma, Paso Robles and beyond during this epic, epicurean festival focused on delectable food pairings. — Michael Benninger
Pala Casino, Pala, palacasino.com
8.18-19: 42nd annual World Bodysurfing Championships
Bear witness to nearly 400 bodysurfers from around the world as they compete for trophies and prizes in the sport's signature event. — Michael Benninger
Oceanside Pier, Oceanside, worldbodysurfing.org
8.19: Yoga After Dark
Grab a mat and let the night sky lead you through this practice where participants all wear headphones filled with tranquil music to drown out the downtown noises. — Michael Benninger
Horton Plaza Park, downtown, yogaafterdarkevent.com
8.19: Turf & Surf BBQ Classic
More than 30 of the nation's top pitmasters prepare briskets, ribs, chicken and tri-tip while trying to win your vote — and $15,000 in prizes — at this BBQ lover's event that includes unlimited food samples, five specialty brews and free admission to the track. — Michael Benninger
Del Mar Thoroughbred Club, Del Mar, dmtc.com
8.19: 41st annual America's Finest City Half-Marathon & 5K
Choose either a 5K around Balboa Park or half-marathon from the Cabrillo Monument to Pan American Plaza, then follow it up with post-race festivities including live music, flavorful fare and a craft beer garden. — Michael Benninger
Balboa Park, downtown, inmotionevents.com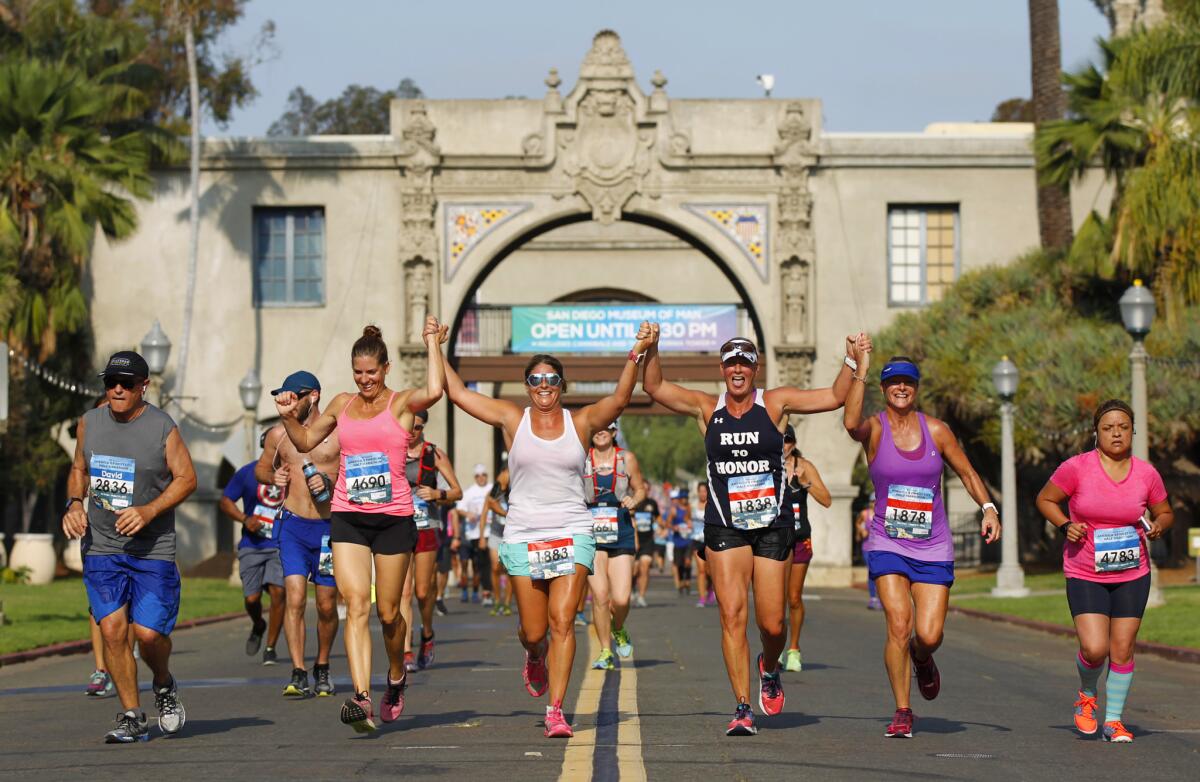 8.19: Lord of the Wing
A ticket for this event will give guests access to the Karl Strauss tasting room including chicken wing samples from all participating restaurants and two Karl Strauss craft beers. Proceeds from the contest will benefit PB Clean and Safe Program.
5985 Santa Fe St., Pacific Beach, pacificbeach.org/event/lord-of-the-wings
Padres Home Games
8.16-19 vs. Arizona Diamondbacks
More...
Top concerts this week in San Diego (Aug. 13-19)
The reel deal: August movie releases
Art beat: August gallery and exhibit openings
Sign up for the Pacific Insider newsletter
You may occasionally receive promotional content from the Pacific San Diego.