San Diego: This Weekend (July 12-15)
Events around San Diego this weekend include San Diego Pride weekend, the Over the Line Tournament, comedian Marlon Wayans and Horizon Beer Festival.
7.12: 16th annual PIFA Taste of the Pacific Islands
Embrace the flavors of Melanesia, Micronesia and Polynesia at this fundraising food-fest that showcases a fusion of styles from local restaurants famous for their island-inspired eats. — Michael Benninger
Ski Beach, Mission Bay, pifasandiego.com
7.12: Haute to Trot Fashion Show
Emerging designers will gather in La Jolla to show off men's and women's fashion, which will then be for sale, fit for the racetrack when Del Mar kicks off racing season on July 18.
Covo, 1205 Prospect St., La Jolla, eventbrite.com
7.12: OUT to End Gun Violence
Billed as a San Diego Pride and Comic-Con Kickoff, this show at Little Italy's Music Box to benefit The Brady Center to Prevent Gun Violence, will feature Danielle LoPresti and Alicia Champion, East of Eli featuring Supergirl's Chyler Leigh and resident DJ and surivior from Pulse Nightclub, DJ Infinite.
Music Box, 1337 India St., Little Italy, musicboxsd.com
7.12-15: Marlon Wayans
"What I love about Jay Z is that he's an artist that matures and his music matures with him. Like right now, his new album, 4:44, he's talking about grown-man shit. Stuff that's relevant to grown-ass men. He's talking about marriage, and children, and family legacy and wealth... and cheating on your wife, and getting caught, and getting your ass beat in the elevator by her crazy little sister. You know, shit that happens to grown-ass folks. That shit happened to me twice last year." — Marlon Wayans on Woke-ish
@ The American Comedy Co., americancomedyco.com
7.13: Deorro
DJ Deorro (aka Erick Orrosquieta) followed his 26-song 2017 debut LP, Good Evening, with four new singles so far this year — Existence, Offspring, Sonar and last month's Shakalaka with Steve Aoki, MAKJ and Max Styler. — Scott McDonald
@ OMNIA, omnianightclub.com/san-diego
7.13-15: San Diego Pride
The Rally: Kick off Pride weekend on July 13 by tuning into talks from inspiring speakers and recognizing local LGBTQ leaders who continue to unite our city's diverse communities.
Pride 5K Run: On July 14, don your rainbow regalia for this fast, flat 5K that follows the same route as the parade it precedes.
Pride Parade: Join more than 200,000 other cheerful attendees on July 14 for this year's 1.5-mile Persist with Pride parade, which starts on University Avenue near Normal Street and turns down Sixth Avenue before concluding in Balboa Park at Upas Street.
The Festival: Celebrating diversity and inclusion through cultural presentations and exhibits, San Diego's biggest summer bash, July 14-15, returns to the west side of Balboa Park with merchant booths, community resources and four stages of live, local entertainment. JoJo and TLC headline.
Click here for a chance to win tickets to San Diego Pride.
Hillcrest and surrounding area, sdpride.org
7.13-15: Owen Smith
"Marriage, man. It's the words 'I do' I don't like. Ugh. I'd get married it they'd let me said, "I'll do my best.'" — Owen Smith on Conan
@ The Comedy Store, thecomedystore.com/la-jolla
7.14: Audien
Connecticut-born producer Audien (aka Nate Rathbun) hit No. 1 on the U.S. Dance Chart with the 2015 single Insomnia featuring Parson James. In February, Rathbun appeared on a remake of the Montell Jordan hit This Is How We Do It with bi-coastal house duo Party Pupils. — Scott McDonald
@ Parq, parqsd.com
7.14: Opera en la Calle
An open-air opera festival on Saturday will bring together local singers and invited guests to the streets of Tijuana's Colonia Libertad for performances featuring composers such as Gaetano Donizetti, Wolfgang Amadeus Mozart and Johann Strauss.
Fifth Street in Colonia Libertad, Tijuana, flipsnack.com/OperadeTijuana/programa-15-festival-pera-en-la-calle.html
7.14: Ninth annual Vista BBQ Classic 2018
This full-blown country music festival and BBQ cook-off — at a new venue for the first time — combines Old West-style entertainment, a beer and spirits garden and a Best Denim Butt contest, among other attractions. — Michael Benninger
Antique Gas & Steam Engine Museum, Vista, legendaryeventmanagement.com
7.14: San Diego Women's Pride Brunch
Featuring Virginia delegate Danica Roem (the country's first openly transgender woman in a state legislature) as the keynote speaker, this inspiring LGBTQ brunch kicking off Pride in San Diego will focus on empowering women in leadership positions. — Michael Benninger
Gossip Grill, Hillcrest, victoryfund.org
7.14: Horizon Beer Festival
Blending good vibes, mellow beats, and vibrant views, this beer festival showcases world renowned artists and up-and-coming DJs alongside full bars, incredible food and one-of-a-kind interactive experiences. Portuguese producer RAC (aka André Anjos), whom headlines the event, released more than 200 remixes before dropping a pair of full-length, guest-filled LPs in 2014 and 2017. The Grammy-winning songwriter released Peaches (RAC Mix) last month with CRAY. — Michael Benninger, Scott McDonald
Embarcadero Marina Park North, downtown, intothehorizon.com
7.14: Cheech & Chong
Tommy Chong: "I smoked a Tampax once, man."
Cheech Marin: "Really?"
Tommy Chong: "It looked like a joint.
Cheech Marin: "Yeah…?"
Tommy Chong: "It wasn't bad. It had a real familiar taste."
Cheech Marin: "Oh, yeah…"
Tommy Chong: "But it gave a new meaning to cottonmouth, though, man."
— Cheech & Chong on Gotham Comedy Live
@ Pala Casino, palacasino.com
7.14: Sun & Sea Festival
Following a Superheroes in the Sand theme, I.B.'s annual beach bash boasts a pancake breakfast, a community parade, and world-class sandcastle sculptors amid live music, a farmers market and activities for youngsters. — Michael Benninger
Portwood Pier Plaza, Imperial Beach, sunandseafestival.com
7.14: Vigilucci's Beach Bocce Tournament
Scores of teams compete to "kiss" balls as one of San Diego's most reputable restaurant groups hosts its annual lawn bowling tournament benefiting the Boys & Girls Club of Carlsbad. — Michael Benninger
Dog Beach, Del Mar, beachbocce.com
7.14-15, 21-22: Over the Line
Three-player teams with off-color names battle it out to see who can bat balls the farthest as Mission Bay's long-runningBYOB bonanza returns to Fiesta Island. — Michael Benninger
Fiesta Island, Mission Bay, ombac.org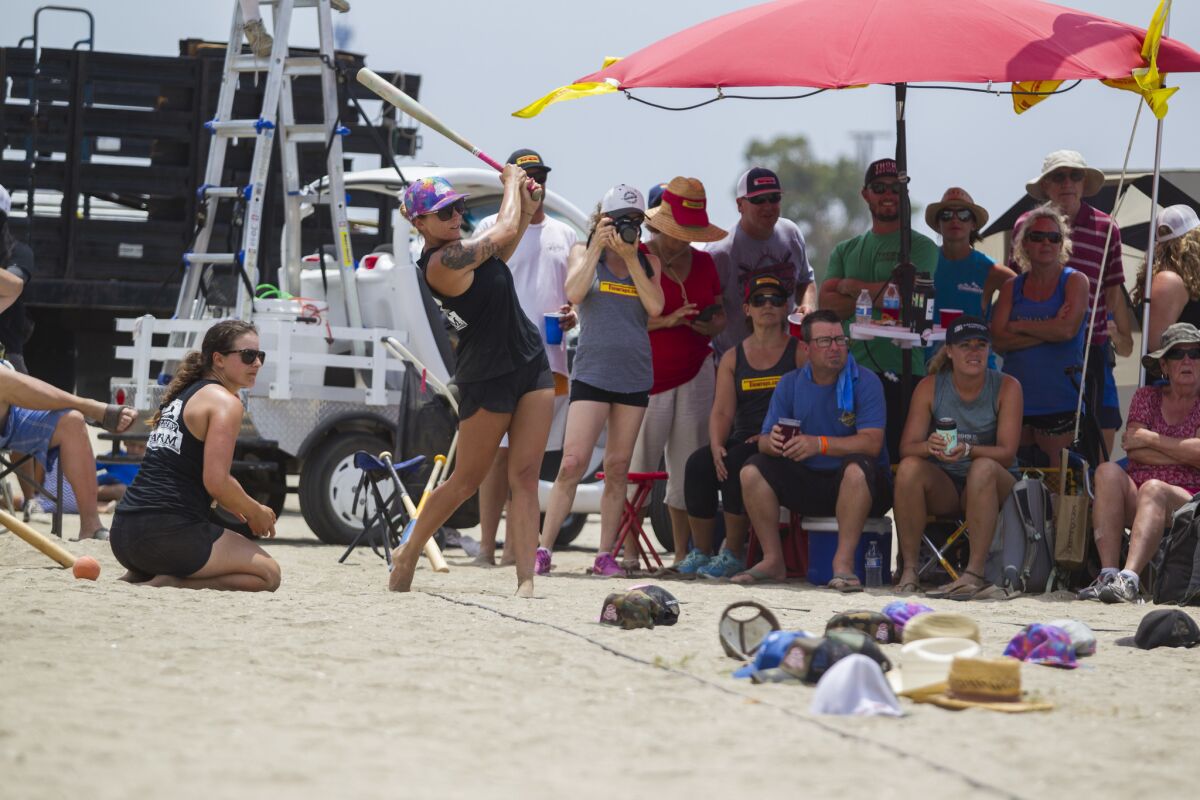 7.15: FIFA Championship Viewing Party
Take to the streets of North Park bright and early in celebration of the World Cup championship game, which will be shown on two jumbotrons along 30th Street, followed by a Sunday Funday Fan Zone After-Party. — Stacy Marquez
30th Street at University Avenue, North Park, explorenorthpark.com
7.15: 10th annual USD Wine Classic
Benefitting the USD Alumni Endowed Scholarship Fund, this oenophile event features a selection of wineries owned or operated by USD alumni, parents and friends. — Michael Benninger
Joan B. Kroc Institute for Peace & Justice, USD
Campus, usdwineclassic.com
7.15: Sixth annual PAWmicon
Play dress up with your doggy for this free, costume-centric pet event featuring music, games and more, all benefiting the Helen Woodward Animal Center. — Michael Benninger
Hazard Center, Mission Valley, animalcenter.org
7.15: Steve Lawler
The award-winning British tech-house DJ recently paired with veteran American record producer Arthur Baker (New Order, Pet Shop Boys, Afrika Bambaataa) on the April-released single, Into The Groove. — Scott McDonald
@ WorldBeat Center, djstevelawler.com
7.15: Goldroom
Ahoy, mateys! Boston-born, L.A.-based DJ and musician Goldroom (aka Josh Legg) braves the high seas to bring a dance party to the people — at sea. Legg's debut album, West of the West, was released in 2016. — Scott McDonald
@ Adventure Hornblower, crssd.com
Padres Home Games
7.12 vs. Los Angeles Dodgers
7.13-15 vs. Chicago Cubs
More...
Top concerts this week in San Diego (July 9-15)
The reel deal: July movie releases
Curtain calls: July performing arts performances
---
Sign up for the Pacific Insider newsletter
PACIFIC magazine delivers the latest restaurant and bar openings, festivals and top concerts, every Tuesday.
You may occasionally receive promotional content from the Pacific San Diego.