How many peanut butter meatballs were sold at the fair?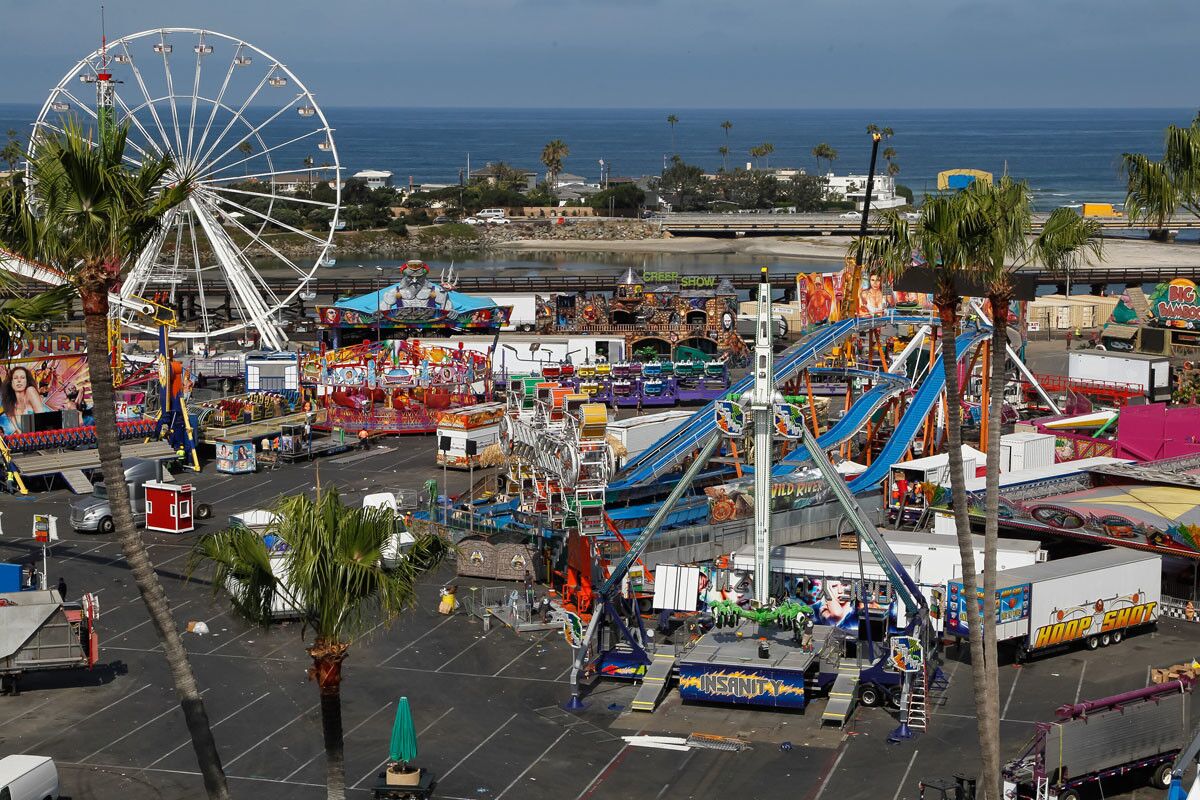 Sweet treats, wild rides, barnyard animals and Western-themed exhibits drew more than 1.56 million visitors to this year's San Diego County Fair - the second largest attendance in the fair's history and about 44,000 shy of last year's record of roughly 1.6 million, officials said early Wednesday.
Just hours after the fair ended its 26-day run, hundreds of workers with trucks, vans and dollies were swarming the seaside fairgrounds packing up equipment and heading for their next stop on the summer fair circuit.
Many vendors said Del Mar hosts their favorite fair of the season and this year's event did not disappoint.
"It started out a little slow, but then it kicked in and got busy," said Scott Martins of Pomona, a vendor who manages 16 photo booths. "It turned out to be a really good fair."
Fairground officials said crowds consumed about 48,000 ears of grilled corn, 30,000 peanut butter meatballs, and 2,600 pounds of Pink's hot dogs, while an estimated 2,500 tried the popular Bungee Plunge attraction. The youngest jumper was 8; the oldest, 71.
Martins said he's been working fairs for 30 years, and this summer he'll take the photo booths to seven different locations across Southern California. Like nearly everybody working at the fair, he said Del Mar is one of the best anywhere because of the people and the climate.
"We had perfect weather," said Nancy Riegler, who runs the Turkey Stampede attraction with her husband, Gil. "There was a little fog in the morning, then the breeze off the ocean. It wasn't blazing hot, and people were comfortable."
The Rieglers have a camel dairy in Ramona, and have been bringing, camels, camels' milk and other farm products to the fair for 25 years. These days they take their turkey show to about a dozen fairs each year, she said, but San Diego is their favorite.
"It's such a pleasure to do our hometown fair," Riegler said.
Their turkey show began about 12 years ago after tje California Farm Bureau said the fair needed "a turkey attraction," she said, and it's hugely popular with young families. The highlight is a race in which about 17 young toms chase a remote-controled truck filled with food.
Not all vendors said business was booming. Jose Venegas, who manages an L & L Concessions stand that sold hamburgers, hot dogs and roast beef sandwiches on the midway, said sales were down 25 percent from last year.
"I don't know if it has something to do with the economy or what," said Venegas, who had to raise his prices this year. "Everything is so expensive, not just here, but in the entire fair."
His location on the midway changed this year, he said, and that could have hurt him, too. His new spot was right across from another large sandwich shop, and the competition there was tough. It was his 17th year at the fair.
Michele Antonelli and her son, Andrew, were packing up their merchandise at the Designer Style Sunglasses booth just off the midway. She said her sales were about the same as last year, and she was happy with that.
"We love it," she said, adding that they have fun every year at the fair. "We love going to the concerts at night when we get off."
Exhibitors at the Design in Wood show in the Mission Tower building saw a steady stream of guests.
"It went great," said Ed Gladney, of the San Diego Fine Woodworkers Association. "We had visitors every day who came in and said this is their favorite exhibit at the fair."
A favorite feature in the exhibit, he said, was a 12-foot dinghy made of laminated cedar strips with mahogany rails and benches and shiny brass oarlocks. Nearby on display were carefully crafted writing desks, ornate tables and chairs made of rare woods with precision inlays.
Still, food and beverages remain one of the biggest attractions at the fair.
This year the San Diego International Beer Festival had 6,055 guests over three days, according to fair officials. The Toast of the Coast Wine Competition and Festival welcomed 1,058 visitors to two tastings in a single day. And the one-day Distilled Spirit and Cocktail Festival at 652 guests.
Sunday's attendance of 93,874 was the largest single day of this year's fair.
Last year, which retains the overall attendance record, was the first-ever 26-day fair and had the advantage of beginning on the three-day Memorial Day weekend and ending with July Fourth falling on a Monday for another three-day weekend.
No one knows exactly what it takes to set an attendance record, said fair spokeswoman Shawn Feisst. Weather, economic conditions, and the calendar are among the likely factors.
"A lot of it has to do with the way the days fall and when school is out," Feisst said. "But it's all speculation. We really just can't tell."
Other fun facts and figures provided by fair officials included:



The Grilled Cheese A-Fair sold more than 3,000 of its top new food item, the Jalapeno Popper Bacon Grilled Cheese Sandwich.

The fair sold 76 kegs, or more than 12,000 servings, of its signature craft beer, Blood Orange IPA from Mike Hess Brewing Company.

The 68th annual livestock auction sold 121 hogs, 74 lambs, 53 goats and 46 cattle.

The Lost & Found Department received 154 cell phones, of which all but 26 had been returned by Wednesday; 147 credit cards; 116 wallets and purses; 105 pairs of glasses; 80 articles of adult clothing; and 61 articles of children's clothing.
philip.diehl@sduniontribune.com; Twitter: @phildiehl

Sign up for the Pacific Insider newsletter
You may occasionally receive promotional content from the Pacific San Diego.