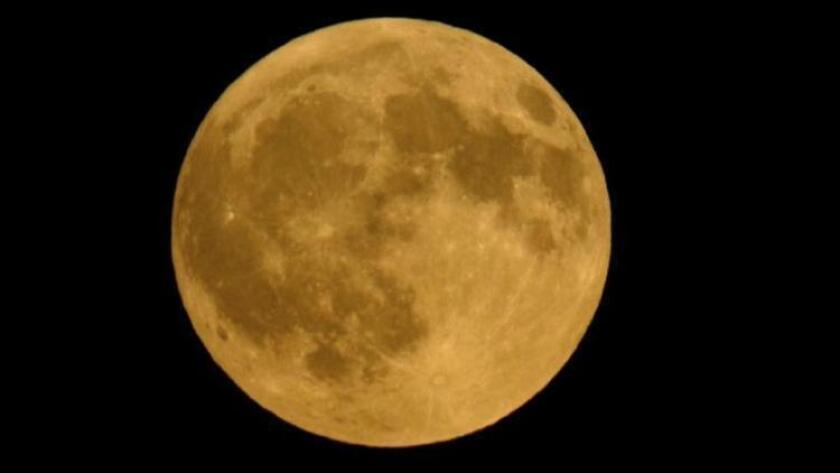 A full moon will be visible across San Diego County shortly after sunset on Thursday, Oct. 5 and the National Weather Service says viewing conditions will be ideal. Skies will be clear, and early evening temperatures will be in the mid-60s at the coast and low 60s across inland valleys and foothills.
Here are a few tips for photographing the full moon:
1. Sunset will occur at 6:27 p.m. Thursday, and the moon will begin rising above the eastern horizon 24 minutes later, at 6:51 p.m. That's a perfect time to take photographs. You'll be able to frame the rising moon against the horizon.
2. It's hard to hold a digital single-lens reflex (DSLR) camera steady enough to avoid vibrations. PhotographyMad.com suggests that you attach the camera to a tripod. The website also recommends that you use a remote camera trigger, or the camera's timer.
3. The BH Explora website suggests that you set your shutter speed at "1/125-second minimum" for the sake of clarity. If you use a short shutter speed, your image might turn out blurry because you're photographing a moving object. The moon travels nearly 2,300 mph as it orbits Earth. That's not obvious to the naked eye, but it's true.
Mark Gee notes in Popular Photography that "it takes around 2.5 minutes from when you first see (the moon) until it totally clears the horizon ... shoot with a relatively fast shutter."
4. And the Digital Photography Bureau says photographers should "set (the) focus to manual and be ready to focus using the live view function."
Twitter: @grobbins; gary.robbins@sduniontribune.com
---