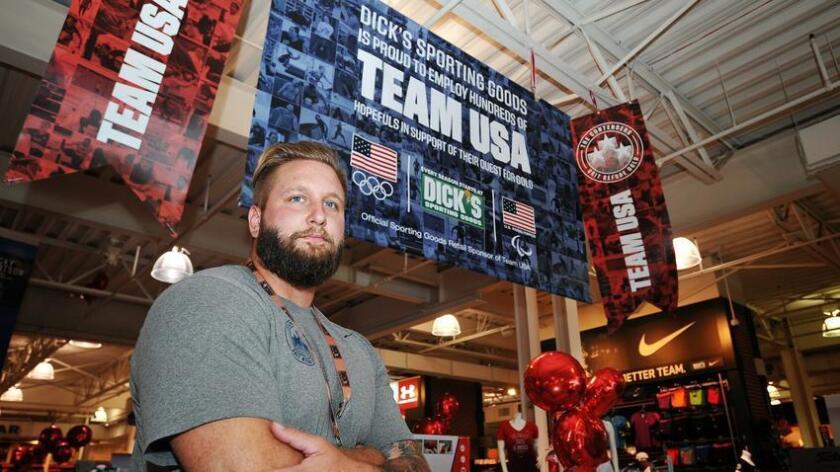 For the past six years, Jared Schuurmans has been a discus-throwing nomad. Like many other Olympic hopefuls, he's had to train and compete while working a string of odd jobs to help support himself.
He's toiled in the maintenance department for U-Haul in Oklahoma and been an assistant throws coach at Oklahoma State. He's walked the floor for 12 hours at a time as a sales associate at the Vitamin Shoppe in Portland, Ore., and, more recently, been employed at Dick's Sporting Goods in El Cajon, helping customers find just the right soccer ball or softball glove.
At 6-foot-4 and 270 pounds - with huge shoulders and arms, a bushy beard and sleeve of tattoos - the 28-year-old from Nebraska looks like a defensive tackle. In fact, the question he most often hears in his current job is, "Did you play for the Chargers?"
But the do-or-die trials can be cruel, even if you've done everything right. Schuurmans paid his dues in the weight room, on the track and in odd jobs since his graduation in 2010, but failed to qualify. With the finals held in a hard rain on July 8 in Oregon, he couldn't control the slippery discus and fouled on five straight throws.
The next opportunity to make an Olympic team is four long years away. He'll take some time to decide if he wants to continue. He felt this was his time. The rain washed away his hopes.
Said Schuurmans, to The San Diego Union-Tribune after trials: "There are a lot of talented athletes who didn't get a legit opportunity to even compete today."
Related
Road to Rio filled with twists
Local working Olympians and Paralympians head to Rio
BMX champ embarks in handy business
Source: DiscoverSD
---