Oceans have artists climbing the walls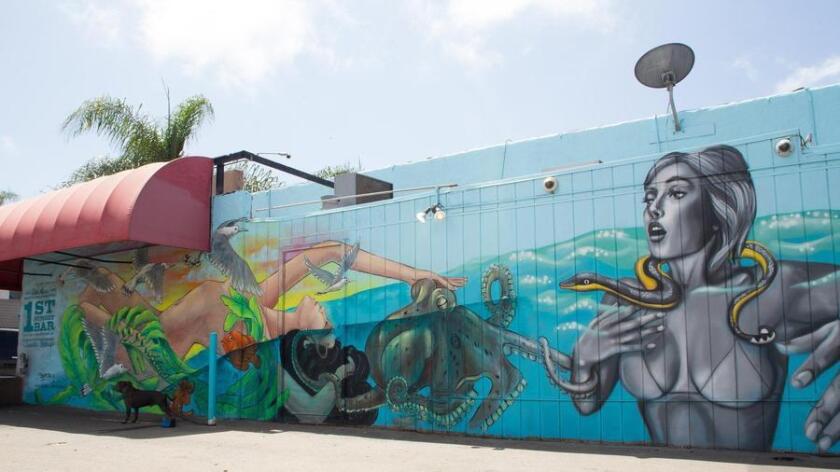 Art lovers - make that every San Diegan - prepare to be dazzled.
PangeaSeed Foundation, the international nonprofit foundation, is hosting "Sea Walls: Murals for Oceans" right here in our SoCal paradise through today. PangeaSeed, which rallies to generate awareness and change regarding ocean environmental issues, is partnered up with Surfrider San Diego, KAABOO Del Mar and Cohort Collective to create 15 murals across the county.
Utilizing 22 local and international artists under the moniker ARTivism, the project channels artistic vision with the voice of our beloved oceans. DiscoverSD recently sat down with Chris Konecki, regional director of PangeaSeed, and Carly Ealey of Cohort Collective to get the scoop.
Q: Why San Diego over, say, Los Angeles?
Konecki: We had another activation in late 2014 but only ended up doing five out of 15 murals. We wanted to "do San Diego right" this time, drum up awareness, and have a full activation.
Q: How were locations chosen?
Konecki: We reached out to our network, through our artists, like-minded individuals, Surfrider Foundation, and the Cohort Collective, and we found passionate people.
Q: How were artists chosen?
Konecki: We are partnered with KAABOO, and they have an extensive portfolio, and we are borrowing them while they are here ... and ultimately reducing the carbon footprint. The Cohort Collective selected the local artists.
Q: So a reader gets an understanding, how many hours are spent painting a mural?
Konecki: Five days in a standard job, so 40-plus hours.
Q: Where will your works be?
Konecki: BJ's Rentals on Pacific Highway. It will be a life-size blue whale. The space is 150 feet, so I will be painting a 110-foot whale.
Ealey: I already painted mine with Amandalynn, at 1st Street Bar in Encinitas. It's about what could happen to the ocean if we neglect it.
Q: If you had to pick one thing, what do you want San Diegans to know about PangeaSeed?
Ealey: To inspire people to care more about the environment, and apply their everyday lives to it.
Konecki: Hopefully the takeaway is that they are part of a larger, closed system on Earth. Every little bit of consciousness helps. If we could change their actions, then we could have a potential snowball.
Q: If you could be one sea creature for a day, what would you be?
Ealey: I would be an orca because they are the top of the food chain, and they are beautiful creatures.
Konecki: Some kind of whale to be that big and hold my breath for 25 minutes. Wait ... I'd be a lobster, they live for 125 years. I'm going for immortality.
Mural locations
Wonderland Ocean Pub, 5083 Santa Monica Ave., Ocean Beach
1st Street Bar, 656 S. Coast Highway 101, Encinitas
BJ's Rentals, 3959 Pacific Highway, Mission Hills
Artist & Craftsman Supply, 3804 Fourth Ave., Hillcrest
Healthy Heights Pet Market, 4404 Park Blvd., San Diego
Zombie Fortress, 4441 Park Blvd., San Diego
The Observatory North Park, 2891 University Ave., North Park
Nomad Donuts, 3102 University Ave., North Park
Cardamom Cafe and Bakery, 2977 Upas St., North Park
Quartyard, 1102 Market St., East Village
Silo in Makers Quarter, 753 15th St., East Village
Bread and Salt, 1955 Julian Ave., Logan Heights
Adrenaline Lacrosse, 24 21st St., San Diego
La Bodega Gallery, 2196 Logan Ave., Barrio Logan
7-Eleven, 197 Palm Ave., Imperial Beach
For more information and to watch a video on PangeaSeed, visit pangeaseed.foundation/sea-walls.
Laurie Delk is an avid art historian, holding a master's degree in art history, with concentrations in the modern and postmodern movements. She has taught classes at Tulane University, and has been published with several art publications including Sculpture Magazine and New Orleans Art Review.
Source: DiscoverSD
---
Sign up for the Pacific Insider newsletter
PACIFIC magazine delivers the latest restaurant and bar openings, festivals and top concerts, every Tuesday.
You may occasionally receive promotional content from the Pacific San Diego.