No music, no life: A Tower Records story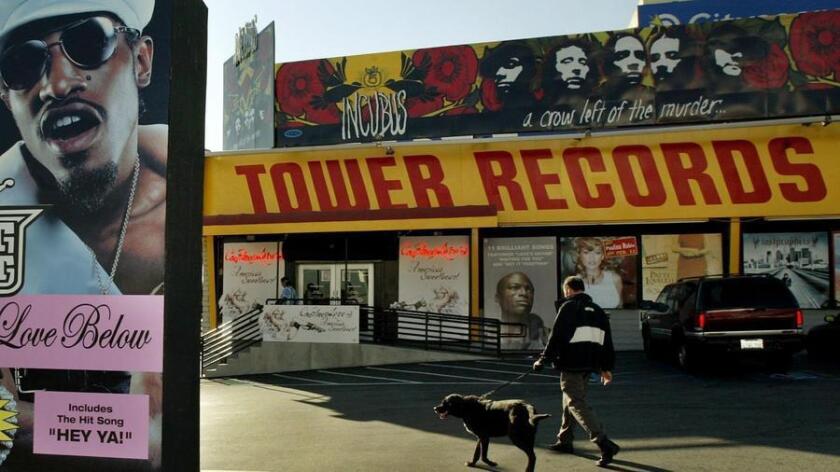 If you ever shopped at Tower Records, it was likely to have left an impression.
The gigantic stores filled with wall-to-wall albums of every genre were designed to envelop and engage.
San Diego's first Tower location opened in 1972 on Sports Arena Boulevard, serving as a de facto satellite hub to the countless shows that took place directly across the street.
By the time it expanded to La Jolla decades later, it was an international and multimillion-dollar corporation that produced its own national magazine and influenced top-tier record labels.
Started in 1960 as part of a drugstore owned by founder Russell Solomon's father, the pioneering retail chain first made its mark on actor/director Colin Hanks in their shared birthplace of Sacramento.
Hanks wasn't born until 1977, and he didn't buy his first album at the store until 1991.
"All Things Must Pass," a documentary about Tower Records comes out on DVD this week.
Courtesy photo
But his new documentary "All Things Must Pass: The Rise and Fall of Tower Records" (coming to DVD Tuesday) is more than a love letter to the retail giant that never saw the end coming.
It's homage to a completely different time in music.
"All Things Must Pass" opens with a simple statement: "In 1999, Tower Records had sales of over one billion dollars. Five years later, they filed for bankruptcy."
The next few sequences are soundless as the camera slowly pans over a desolate Tower parking lot and the empty, dusty bins that once held LPs, CDs, books, movies and 45s.
It's a visual moment of silence for the one-time media mammoth that didn't hear the death knell sounded by the impending arrival of MP3s and file sharing. But it doesn't stay solemn for long.
The film explores Tower through a colorful cast of characters, from store clerks and lifelong employees, to music celebrities such as David Geffen, Bruce Springsteen and Dave Grohl. It even includes film and interviews of dedicated Tower patron Elton John shopping during regular business hours and an old, hilarious radio commercial from John Lennon promoting the store and his 1974 album, "Walls and Bridges."
But the entire film hinges on Solomon. There are pictures and footage of him throughout Tower's nearly 50-year run, and he's also the film's central interview.
Solomon's unshakable vision, especially in the face of those who initially thought his plan was a fool's errand, is infectious. And watching him tell his tale over the film's 94 minutes should appeal not only to those who once shopped at his stores but to committed music fans of any age.
There's something for sensationalists as well, with tales of writing cocaine off as a business expense and using heat lamps to keep people from having sex in the early-years listening booths.
But it's the film's quieter moments - such as employees describing the company's true familylike atmosphere, or a one-time record exec getting emotional while describing Solomon's kindness - that give this movie its heart.
Tower's last U.S. stores, including San Diego's original Sports Arena location, closed in 2006. There is an online marketplace that bears its name, and 85 locations are operating in Japan. But thanks to "All Things Must Pass," as well as the indelible mark the store left on its many customers and employees, the Tower Records legacy will live on.
Music to my ears
My own relationship with Tower Records was cemented with the first concert I ever attended. After relentless begging, my parents begrudgingly took my little brother and me (certainly not old enough by today's standards to attend a live show by ourselves) to see Mötley Crüe and Whitesnake at the San Diego Sports Arena.
Despite the pre-concert hubbub around an already busy store, my parents chose a spot under Tower's iconic red and yellow sign at the Sports Arena Boulevard location as our designated drop-off and pick-up point.
The concert served as our rock 'n' roll baptism, but perhaps more importantly, as our introduction to the world of Tower Records. From getting albums signed during band appearances, to watching performances from great bands in the parking lot, or just simply buying records, I was a loyal Tower customer from that first night until the time they closed the doors.
Scott McDonald is a writer, on-air personality and consultant with 15 years of experience in the San Diego music scene. He has interviewed hundreds of artists, from the legendary to the underground, for print and television.
Source: DiscoverSD
---
Sign up for the Pacific Insider newsletter
PACIFIC magazine delivers the latest restaurant and bar openings, festivals and top concerts, every Tuesday.
You may occasionally receive promotional content from the Pacific San Diego.