KAABOO comedy co-headliner Sebastian Maniscalco owes it all to Stevie Wonder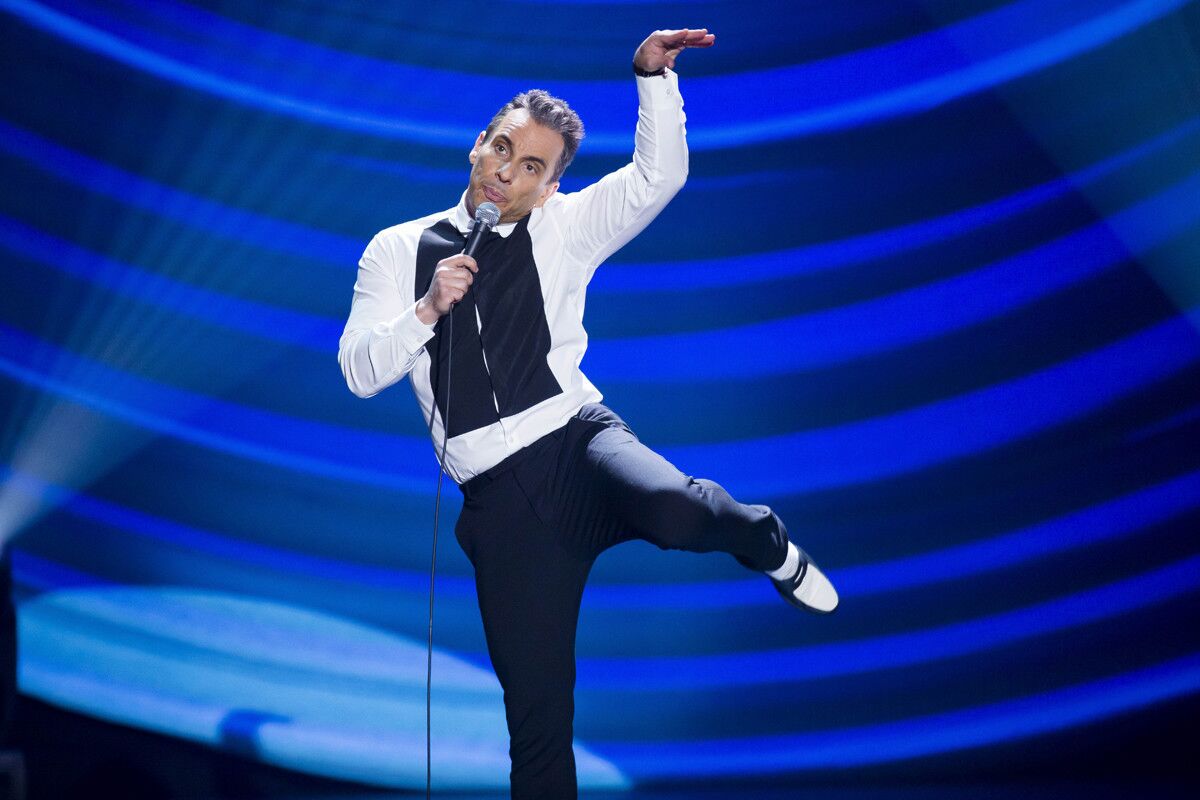 Sebastian Maniscalco may be the only comedy star who can credit the start of his career to a fourth-grade book report, let alone a book report about one of the most revered artists in popular music history.
"I did a book report on the autobiography of Stevie Wonder and I came into class dressedas Stevie," recalled Maniscalco, who headlines the KAABOO Del Mar festival's Humor Me Comedy Stage at 11 p.m. Saturday.
"I had the dark glasses and head movements - I did the report as Stevie. I basically took the impersonation of Stevie that Eddie Murphy did on 'Saturday Night Live,' and made it my own."
Really?
What grade did this Chicago-bred comic get for his theatrical book report, which he delivered in Mr. Fitzgerald's fourth-grade class at John Jay Elementary School in the Illinois suburb of Mt. Prospect?
"I think I got an 'A'," replied Maniscalco, speaking from the Los Angeles home he shares with his wife and four-month-old daughter.
"But it wasn't because it was welt-though out, but because of the commitment. I just read half the book. I thought that if I came dressed as Stevie and got laughs, I'd get a good grade."
Maniscalco, who now has four Showtime cable TV specials to his credit, is quick to note he was not the class clown.
"I was the shy kid in the back of the room," he said. "I was watching the class clown, and - in my head - saying: 'Sit down!' "
The future comedian enrolled at Northern Illinois University as an accounting major. He tried switching to journalism, before earning a bachelor's degree in Corporate Organizational Communications.
"I still don't know what job I would have gotten with that degree," mused Maniscalco, who this year debuted on the Forbes' list of highest-paid comedians, thanks to his annual income of $15 million.
KAABOO Del Mar
When: 1 p.m. to 1 a.m. Friday, 11:30 a.m. to 1 a.m. Saturday, 11:30 a.m. to 9 p.m. Sunday
Where: Del Mar Racetrack and Fairgrounds, 2260 Jimmy Durante Blvd., Del Mar
Tickets: $129 daily; $259 two-day ticket; $299 three-day ticket
Phone: 855.798.5995
Online: kaaboodelmar.com
His worst day job during college was glazing hams. He wore a fire-retardant white suit, while "handling a blow-torch for 12 hours a day." He smelled so bad when he got home from work that his father told him to change in the garage.
Maniscalco moved to Los Angeles in 1998. As he struggled for a break as a comedian, he got his "best-ever day job" as a waiter in The Windows Lounge bar at the Four Seasons in Beverly Hills.
His best tipper was basketball legend Shaquille O'Neal who - by coincidence - will perform Friday at KAABOO as DJ Diesel, his record-spinning musical alter-ego.
"Shaq was a pretty damned good tipper!" Maniscalco said. "He'd have coffee and fruit, and never asked for the check. He'd just slip a $100 bill under his plate.
"As far as the worst tipper, there have been plenty of those. So it went from zero to $100."
During his nightly dinner break at the Four Seasons, Maniscalco would hop in his car and drive to The Comedy Store in West Hollywood, in his waiter's uniform.
He would do a 15-minute set on stage, then drive back to the Four Seasons to resume waiting tables. One night, he found himself taking drink orders from a couple that - barely an hour earlier - had watched his routine at The Comedy Store and now wondered why their waiter looked so familiar.
Maniscalco's autobiography, "Stay Hungry," will be published next April by Simon & Schuster. In January, he and fellow comedian Pete Correale began co-hosting "The Pete and Sebastian Show" on Sirius XM satellite radio's Raw Dog Comedy Channel 99. The two also do a podcast on sebastianlive.com/podcast/.
"I think failure on stage definitely helps you grow," Maniscalco said. "If I fail, it makes me try harder. In stand-up, if you are always funny, it doesn't challenge you to be better."
Sign up for the Pacific Insider newsletter
PACIFIC magazine delivers the latest restaurant and bar openings, festivals and top concerts, every Tuesday.
You may occasionally receive promotional content from the Pacific San Diego.