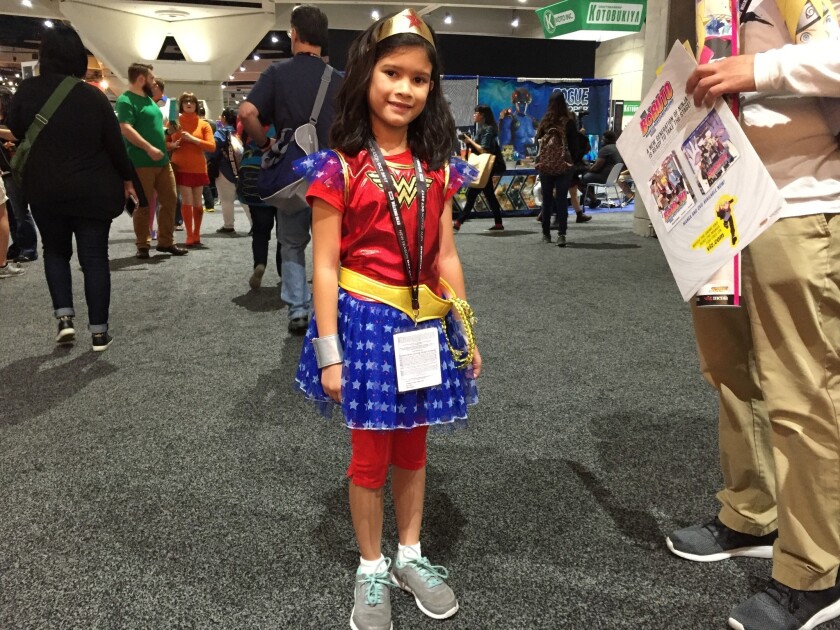 It's official. Wonder Woman has taken over Comic-Con in 2017.
The blockbuster movie "Wonder Woman" was an instant phenomenon after its release in June, and the impact the film and the hero are having on girls and women everywhere was easy to see at the convention in San Diego.
Wonder Woman, of course, isn't a new symbol of strength. Some of the Wonder Woman cosplayers in downtown San Diego were dressed in the classic costumes that have graced Comic-Con for years. Cindy Wallace, for one, hasn't seen the new movie and doesn't plan to. The 53-year-old prefers - and dressed up like - Lynda Carter from the TV series "Wonder Woman" that aired in the 1970s.
But this year's film has empowered women anew, inspiring them to dress like actress Gal Gadot.
Here are 14 women who went to Comic-Con as Wonder Woman and their reasons for loving the character.

Arianna T., 7
"She has confidence. I really want to be a warrior too and tough."
Mary Mayrose, 32
"I love her. I've loved her since I was a little girl. You can see from all the little girls here that they're so happy. You can feel that she inspires people and that she pushes you to be both soft and embrace all the good stuff about being a women. You can be soft and be beautiful and also be powerful and stand up and do your stuff."
Samantha Cash, 24, and Gretchen Cash, 20
Samantha: "The women on Themescyra are celebrated not just for being female and beautiful but they were also strong and independent. [The movie] wasn't making them overly feminine or overly masculine it was just women being strong."
Alison Widdoes, 42
"I saw the most recent movie and it was so powerful and inspiring. I was so amped. I literally ordered the costume right after I saw it. I didn't know how badly I needed to see a movie with kickass women that were powerful, classy, dynamic women. It didn't pander. It wasn't about needless violence or overly sexualizing something, it was just righteous and that spoke to me."
Cindy Wallace, 53
"I watched Wonder Woman as a little girl and have always thought of her as the greatest superhero. She inspired me. It's the bulletproof wristbands that did it for me. She's invincible. She started the whole idea that women are empowered and we can get out there and kick some butt too, we don't have to be a man to get the job done."
Devlyn Hill, 11
"I think Wonder Woman is a good role model because she tells girls that they can do what they want and don't always have to follow all the rules. They can be independent. She's awesome, she has really cool powers and she dresses the coolest in my opinion."
Cathy Jones, 56
"She's a hero in her own right. She wasn't raised to think that she couldn't do things. In our world, men and women are equal and should always be treated as equal. Not one superior to the other. She is a great equalizer."
Holly Reeder, 32
"I saw the movie and loved her. She's strong and she's had to go through a lot to get where she did. She was naïve at the beginning and progressed to learning about the world and I think every woman goes through that at some stage."
Justine Ganan, 22
"The movie was definitely something that inspired me. I just love the character and everything about her. It's awesome because little girls haven't always had women characters to look up to and it's awesome that Wonder Woman is something that's getting the younger generation into comic books now."
Ivy Blumberg, 57, and Hayley Greenfield, 27
Ivy: "It's great characters and we're a mother daughter pair who like to dress up together. She's brave and forgiving and caring and willing to give up her life, willing to fight."
Alexia Johnson, 28
"I'm a huge Wonder Woman fan and go as Wonder Woman literally every single year. I collect the comic books. I'm totally into it. She stands for a lot more than just a superhero. I think she shows girls that you can be a strong, empowered person and you can really stand up for what you believe in."
Brooks Pauly, 45
"The more wonder women, the better. It's really emotional; it's really powerful. I hope what she's going to mean for the world is that people start recognizing that women have just as much voice and great ideas and power to add to all the world's problems and solving them."
---