'Atomic' woman Charlize Theron wows on Comic-Con 'Women Who Kick Ass' panel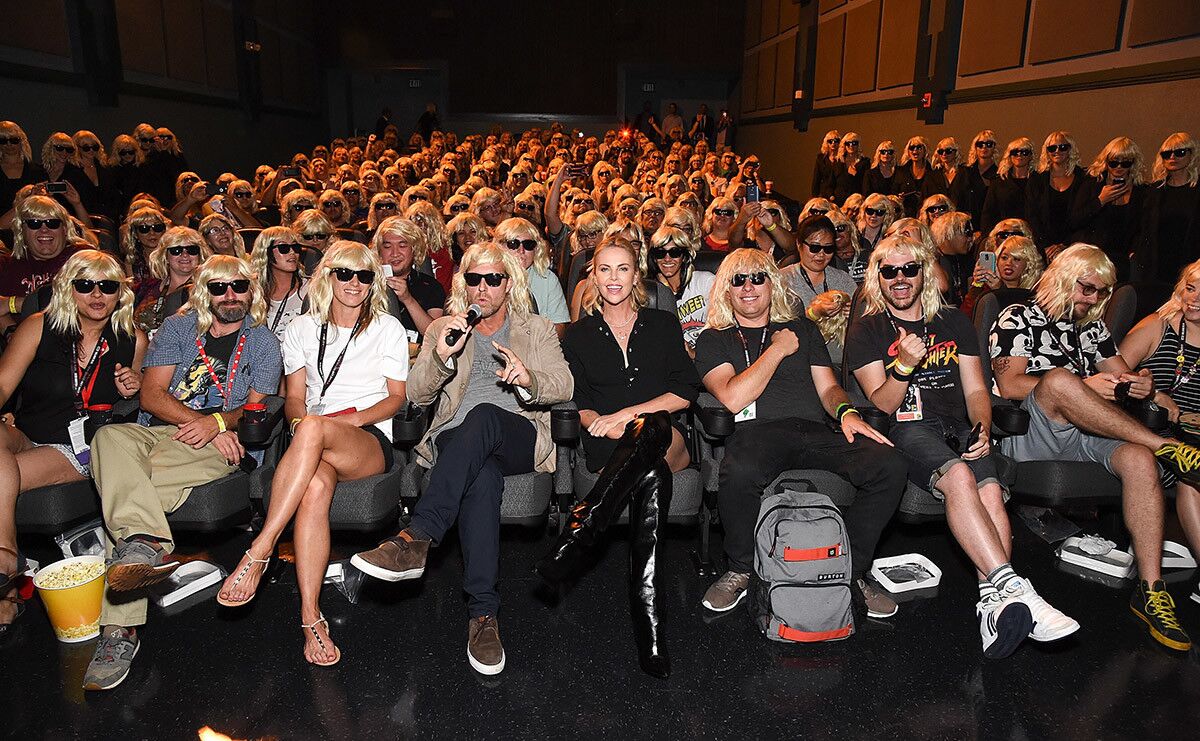 She's fierce. She's strong. She's a warrior. And yes, she can do it all.
These traits, and many others, were evident as Charlize Theron took the stage at Entertainment Weekly's "Women Who Kick Ass" icon panel on day three of Comic-Con.
During her interview with Entertainment Weekly senior writer Sara Vilkomerson, the Academy Award winner touched on a number of topics centering on women empowerment, a focus that arose from her upcoming film "Atomic Blonde."
Theron, who produced and stars in the film, said that she had been interested in finding a protagonist who was unapologetic. Yet, after years of searching, she decided to take matters into her own hands and play "Atomic Blonde's" Lorraine Broughton.
"I saw great potential in this character," Theron said. "She had the ability to live and breathe in a world where she could play by the same rules that men get to play all the time, and that was something that I really loved."
While filming, Theron explained that she wanted her character to seem real and attainable. During fight-scene choreography, she said it was important for Lorraine to fight like a woman would fight.
"Every move that we had in the fight sequences, I was annoyingly always asking, 'Well, can a girl do that?'" she said. "I wanted to make a movie as bad ass as this and not have anybody come up to us and say 'A girl can't do that.' "
Seeing the completion of her fight scenes was one of Theron's proudest moments, she said.
"What we set out on was so impossible," she said. "We really didn't think we'd be able to pull it off."
Theron's strength and attention to detail are elements that had fans in applause after giving them a sneak peek of the film that premieres on July 28.
However, fans were thirsty for more kick-ass empowerment. In the Q&A portion of the panel, one attendee introduced the topic of Hollywood's gender pay gap. Theron, who fought for equal pay in her film "The Huntsman: Winter's War," said that everyone, both fans and members of Hollywood, can work together to put pressure on movie studios and producers to make more female-powered movies.
"With social media, we need to keep this conversation going," she said. "I always say to studios, 'Make more female-driven movies, not just actors, but directors and writers.' And they always say 'Well, we would if people go and see them...' I mean that's really how we're gonna get women to take control of having some kind of an ownership of any part of our industry."
As Theron moves forward with her career, she said she and the characters she plays are not that different.
"I was raised to not think I can't do something just because I'm a woman and not to feel held back," she said. "And you go into the world and you feel it and are aware of it, and you want to still believe that's not true. ... We come face to face with that at some point in our lives and then we have to figure out a way to work through that, and I think all of those qualities have kind of been with me when I make these characters."
Sign up for the Pacific Insider newsletter
PACIFIC magazine delivers the latest restaurant and bar openings, festivals and top concerts, every Tuesday.
You may occasionally receive promotional content from the Pacific San Diego.