Billy Crystal talks comedy, La Jolla Playhouse, (#$@*!) cellphones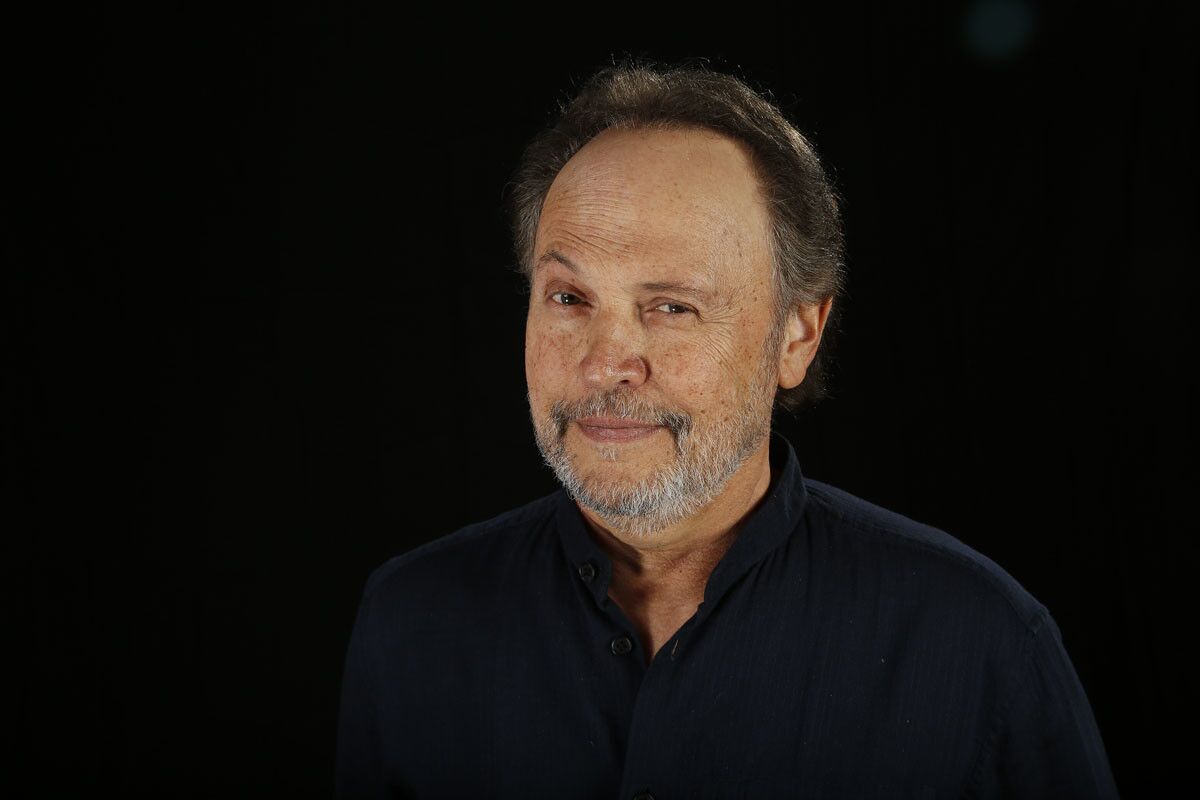 Billy Crystal is surely not the only comedy legend who earned his first big laugh as an elementary school student, but he may be the only one who credits his initial success to being clumsy in the cafeteria line.
"I had my food on my tray," he recalled. "I tripped, by accident, and dropped the tray - and everybody laughed. The next day I came in and dropped it again! And here I am, 60 years later, still dropping trays."
What Crystal is not noted for is dropping f-bombs, whether it's in his interviews, his books, his Broadway hit, "700 Sundays" (which got its start at the La Jolla Playhouse in 2004), or in his classic comedy movies, which include "When Harry Met Sally," "City Slickers" and "Analyze This."
But the veteran star made a four-letter exception during a recent 30-minute phone conversation previewing his Feb. 16 solo show, "Spend the Night with Billy Crystal," at Jacobs Music Center's Copley Symphony Hall.
His uncharacteristic expletive came during a discussion of cellphone use at concerts, plays and other live arts events. It's an increasingly ubiquitous phenomenon that prompts the otherwise affable star to seethe with frustration and anger.
"You have no idea how disconcerting and insulting it is that somebody is so short-minded as to be texting, or checking their messages, while you're talking on stage," Crystal said. "It's awful, especially in theaters.
"I was performing on Broadway and someone in the second row, a woman, was on her phone - constantly - as soon as I came out. I started playing the whole show to her, saying: 'Get the f--- off of your phone!' "
"Pardon me," Crystal said to his interviewer, who required no apology for the justifiable epithet. "Then I could see her mouth go, to whomever she was talking to: 'I have to go; he's looking at me'."
Crystal let out a loud sigh of exasperation.
"Spend the Night with Billy Crystal"
When: 8 p.m. Feb. 16
Where: Jacobs Music Center's Copley Symphony Hall, 750 B St., downtown San Diego
Tickets: $71-$221
Phone: (800) 745-3000
Online: ticketmaster.com
"Men will put their phones in their shirt pockets, and it lights up and looks like E.T.," he lamented. "And, on stage, you hear it ring and are interrupted by it. Using cellphones is one of the worst traits about audiences and it's like it's accepted now.
"One of the things I hate about performing is the disrespect people have. So I hope people will be more responsible. We work very hard with the ushers in the theaters I perform in to make sure people don't use their phones."
Why audience members pay good money for their tickets, only to rudely blather on phones or text and check emails during performances, remains a mystery. Not so, the solution, which has less to do with policing by ushers than with common sense and respect from attendees.
"It's up to people to turn their phones off," Crystal agreed.
"This need they have to be in touch with (other) people all the time is really sad to me. I get it if you are a doctor who's on call. But, otherwise, if you're coming to a show, aren't you coming to get away from all that?"
Here are highlights from our far-ranging interview with Crystal, who discussed ...
His "Spend the Night with Billy Crystal" tour: "We call it that because people feel like they are at the dinner table with me. It's that personal to them, and that relaxed, and that's what I love about it. I'm on my feet 90 percent of the time, telling stories and recollections, showing film clips. It's a very fun night of re-living memories."
Drawing from current events in his show: "You know, I don't do much of that, though it's hard not to now. These other comics out there say something, and somebody boos or yells. There's so much anger out there. I'll talk about current events in a certain way, but it's not my focus. What's funny today won't be funny tomorrow. ... It's a very confusing time and a very edgy time now. Somehow, it doesn't feel like this is our country - it will take some time for things to settle."
The La Jolla Playhouse: "My experience in La Jolla was such a great one. When we work-shopped '700 Sundays' there in 2004 with Des MacAnuff, who would later direct the show, it was a turning point in my life. I think we did 14 or 15 shows there, and - five months later - we were on Broadway. It was so fast! And it was incredible to work with such talented people as the ones in La Jolla. It gave me the confidence to be funny and touching."
His breakthrough role on the TV series "Soap": "I never thought about it as 'This will make me famous.' I thought: 'This is a really daring show, and if we can do it right, it could be important.' It wasn't about what it would do for me, but what I could do for this character. I thought that, if we could play it right, we could do something that hadn't been done before (a gay character in a sitcom) on TV. I hadn't seen it in so many years and recently found some DVDs of 'Soap.' I watched it, and thought: 'You know what? This was on 40 years ago!' I was really proud about it."
Craving the spotlight from a young age: "I needed that attention. To get out in front of people, it's one of the places I feel most comfortable. I'm an uncomfortable person in front of small groups. But in front of 200 people, or 2000, I'm comfortable."
His tenure as a middle-school substitute teacher: "When I would come in, I was what they called a 'per diem floater.' So I would report every day. If anybody was out, I'd take over any kind of class, even if It was something I wasn't skilled at, which was everything! But mostly, I'd teach was English and phys ed. I'd take questions from the students and sometimes break in new material. Because I was just starting out in comedy. And if somebody is in a chair, looking at you in a classroom, it's really no different than in a comedy club."
Doing a Spinal Tap reunion: "Hey, yeah, of course. One last tour! But I want the royalties on the 'Mime is money' hats! (Crystal's character in the 1984 movie, "This is Spinal Tap," was "Morty, the mime, waiter," who memorably declared: "Mime is money! Come on, move it!").
Advice for Jimmy Kimmel on hosting the Oscars: "I was talking to Kimmel the other day. He's very witty and did a really good job on the Emmys. When everybody asks me about hosting the Oscars eight times. I tell them: 'Just look like you want to be there. Work hard to write good jokes and don't over-stay your welcome. Just pick your spots and make sure the show moves along.' The most important thing is having a really good time. And it's difficult for the audience, because they're all nervous and uncomfortable. So pick jokes that work."
Jack Palance doing one-armed push-ups during his 1992 Oscars Best Supporting Actor acceptance speech: "I think it was the greatest set-up for a joke in Oscars history. Plus, I was one who had helped create that part (for Palance) in 'City Slickers.' Jack was in the first movie I ever saw as a kid, 'Shane.' And here I was in 'City Slickers,' acting with him in a role he won an Oscar for doing. It was such a thrill. And that happened to be one of the better shows in the history of the Oscars. Because he did (the push-ups). it gave me a running start for the rest of the show. Did I send him a thank-you card? Um, no - he already had the Oscar!"
His creative impetus: "I haven't stopped working since high school; I really haven't stopped. I love to tell stories. I love to create things from out of the blue, and create new people, characters, stories, movies. Whatever they end up becoming is just an extension of the stories you tell from the time you're a little kid. I was always imitating my relatives. ... I was always interested in creating someone else and becoming someone else."
Retirement: "I never even use the word. I got to know (comedy pioneer) George Burns pretty well. I was with him in Las Vegas when he was 95, and I watched him do an hour and a half performance. Afterward, I asked him: 'Will you ever retire?' And he said: 'To what? What would I do?' "

Sign up for the Pacific Insider newsletter
You may occasionally receive promotional content from the Pacific San Diego.