San Diego concerts: SZA to take victory lap at SDSU, EXTC will rock the Casbah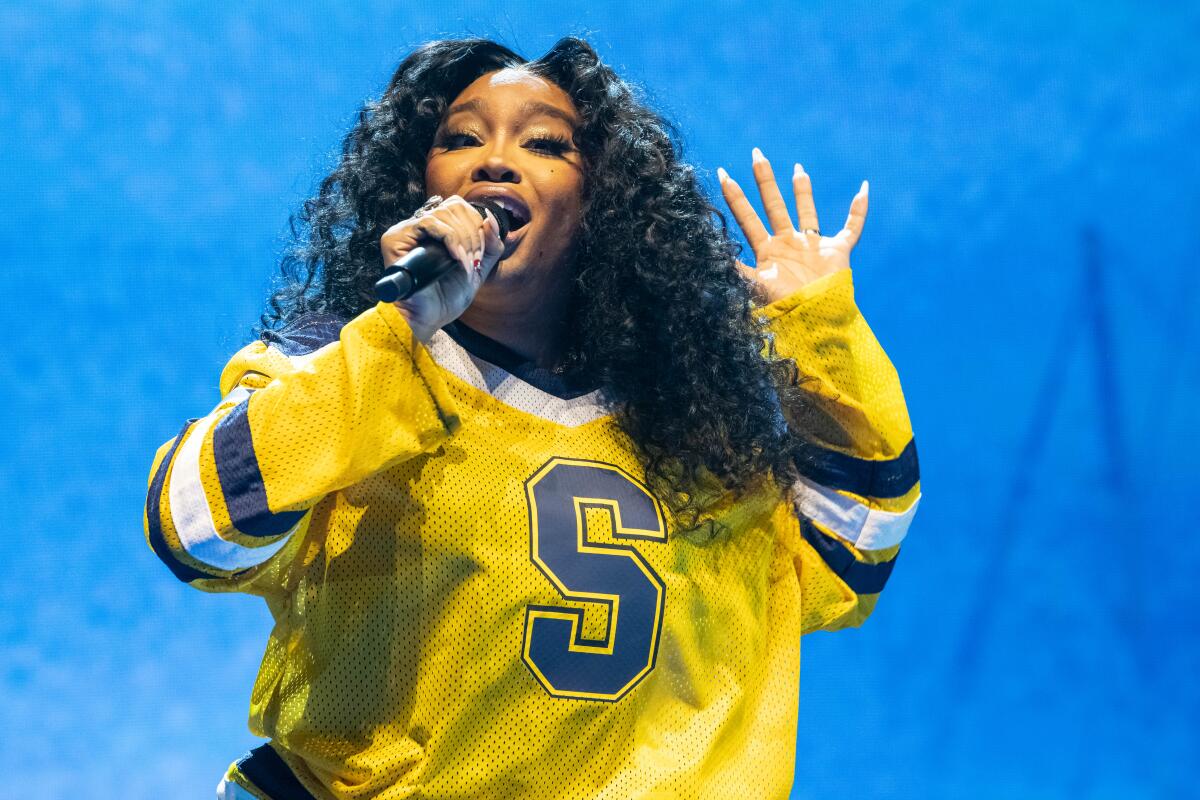 SZA is having a record-breaking year, while Marsalis will perform at Irvine's Segerstrom Center for the Arts with the talent-packed quartet he has led since 2009
SZA, with Omar Apollo
SZA is on a major roll.
"SOS," her first album since 2017, was released in December and has been streamed more than two billion times.
It topped the national Billboard charts for 10 nonconsecutive weeks — a female artrist record last achieved by Adele back in 2015 and 2016 — and includes this versatile singer's biggest hit to date, "Kill Bill," a moody revenge fantasy that references director Quentin Tarantino's films of the same name.
In February, SZA shared a Grammy victory with Future and DJ Khaled for their song, "Beautiful," then launched her "SOS" tour in Ohio.
The superstar singer made history as the biggest victor in Grammy history. But she lost in the Album, Song and Record of the Year categories, making her night a triumph and a disappointment
On March 3, she was honored as Billboard's Woman of the Year. SZA will perform a sold-out show here Monday at Viejas Arena. It's her first area concert since she opened for Kendrick Lamar here in 2017.
Kendrick Lamar delivered a championship-worthy performance Sunday at San Diego's Mattress Firm Amphitheatre.The first hip-hop artist to ever win a Pulitzer Prize for music, he is headlining Top Dawg Entertainment's North American Championship Tour.Lamar performed several songs Sunday from the "Black Panther" film soundtrack album, which he curated, including "All the Stars," a duet with TDE label mate SZA.SZA's 40-minute solo set showcased her powerful singing and ability to command attention performing intimate ballads in a large outdoor venue.Kendrick Lamar knows how to deliver a winning punch — make that a night full of winning punches — without hurting a soul.
SZA's performance at the nearly 20,000-capacity North Island Credit Union Amphitheatre demonstrated her ability to command an audience's attention in a sprawling setting. That was a doubly impressive accomplishment since she did so largely with introspective ballads that showcased her expressive singing.
"SOS" finds the 33-year-old SZA (born: Solána Imani Rowe) extending her contemporary R&B foundation to include everything from emo and country to lo-fi and arena-rock, and she handles each well.
At 23 songs, "SOS" seems a bit over-extended. But if this really is SZA's last album — as she suggested in a recent interview — her desire to pack a lot into it is understandable. Her SDSU concert should be a memorable victory lap and then some.
8 p.m. Monday. Viejas Arena at Aztec Bowl, 5500 Canyon Crest Drive, SDSU. Sold out. ticketmaster.com
Branford Marsalis Quartet
It's been six years since multi-Grammy Award-winning jazz sax dynamo Branford Marsalis and his quartet last performed in San Diego. With no return engagement here in sight, a trip to hear them in Orange County this weekend is a sound option.
Equally skilled on tenor and soprano saxes, Marsalis has led his current quartet for 14 years. It features pianist Joey Calderazzo, bassist Eric Reevis and drum marvel Jason Faulkner, the group's youngest member at 32.
"My goal is to play music better, play the saxophone better, never stand still and (to embrace) newness," Marsalis said in a 2018 Union-Tribune interview. "Don't fall for the fool's gold; just do what you do better."
Multifaceted saxophone star Branford Marsalis has cited several reasons over the years for his decision to step down in 1995 from his high-profile position as the music director and band leader on "The Tonight Show with Jay Leno."
The Marsalis quartet's most recent album, 2019's "The Secret Between the Shadow and the Soul," is a gem. It vividly demonstrates how fiery, nuanced and intuitive a gifted band can be after years of playing together without any changes in personnel.
Marsalis and his band will perform two concerts Sunday at the Samueli Theatre at the Segerstrom Center for the Performing Arts in Costa Mesa. The intimate, 320-seat venue seems like an ideal setting in which to savor the groups near-telepathic musical interplay.
4 p.m. and 7 p.m. Sunday. Samueli Theater, Segerstrom Center for the Arts, 600 Town Center Drive, Costa Mesa. $79-$89. (714) 556-2787; scfta.org
EXTC, with DJ Vaughn Avakian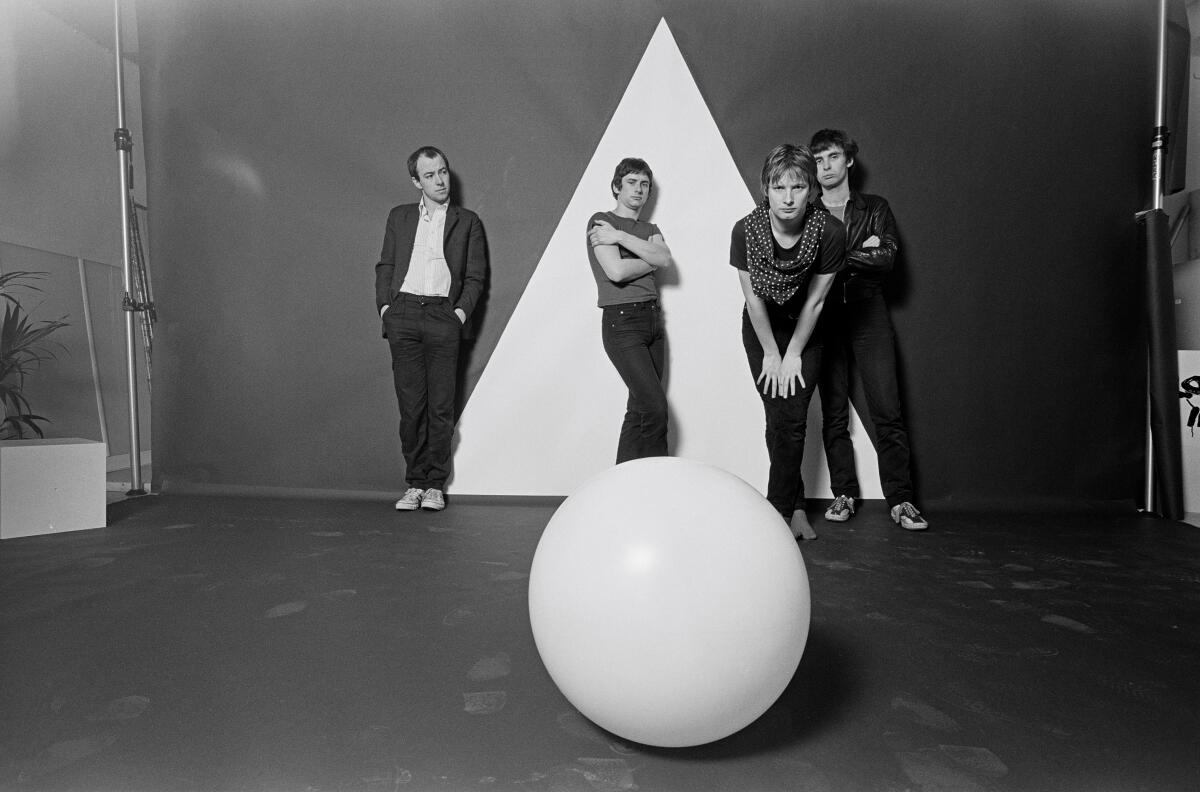 How many drummer-led English rock bands that rose to prominence in the late 1970s are now touring with a slightly altered band name — and three musicians who were never in the original band?
Take a bow EXTC, which is fronted by former XTC drummer Terry Chambers.
The lineup of this XTC tribute group also features former The Vapors and Joe Jackson singer/guitarist Steve Hampton, former Rick Wakeman bassist/singer Matt Hughes and guitarist/singer Steve Tilling.
Tilling was a member of TC&I, the shortlived band launched in 2018 by Chambers and XTC alum Colin Moulding. In 1976, Moulding co-founded the band that soon morphed into XTC with Chambers and singer, guitarist and principal songwriter Andy Partridge.
After becoming a quartet, the group quickly evolved into one of the most impressive and distinctive English bands of the 1970s and '80s. Credit for this goes to its increasingly assured musicianship and Partridge's audacious songwriting skills.
XTC stopped touring in 1982 after a San Diego concert, where Partridge's growing physical discomfort with doing live shows grew so intense that he stopped performing altogether. He has since focused on songwriting, recording and production work. In 2012, he and San Diego music standout Mike Keneally teamed up for a terrific album, "Wing Beat Fantastic — Songs Written by Mike Keneally & Andy Partridge."
Mike Keneally and Andy Partridge team up for truly 'Fantastic' album
EXTC's performance here Saturday at the Casbah will offer a stroll down memory lane for devotees of XTC. It is also significant for another reason: XTC's final performance anywhere took place here at the California Theater — 41 years ago — just a mile and a half away.
8:30 p.m. Saturday. The Casbah, 2501 Kettner Blvd, Middletown. $25-$30. casbahmusic.com
george.varga@sduniontribune
Sign up for the Pacific Insider newsletter
You may occasionally receive promotional content from the Pacific San Diego.