Beyonce becomes all-time Grammy Awards winner with 32 wins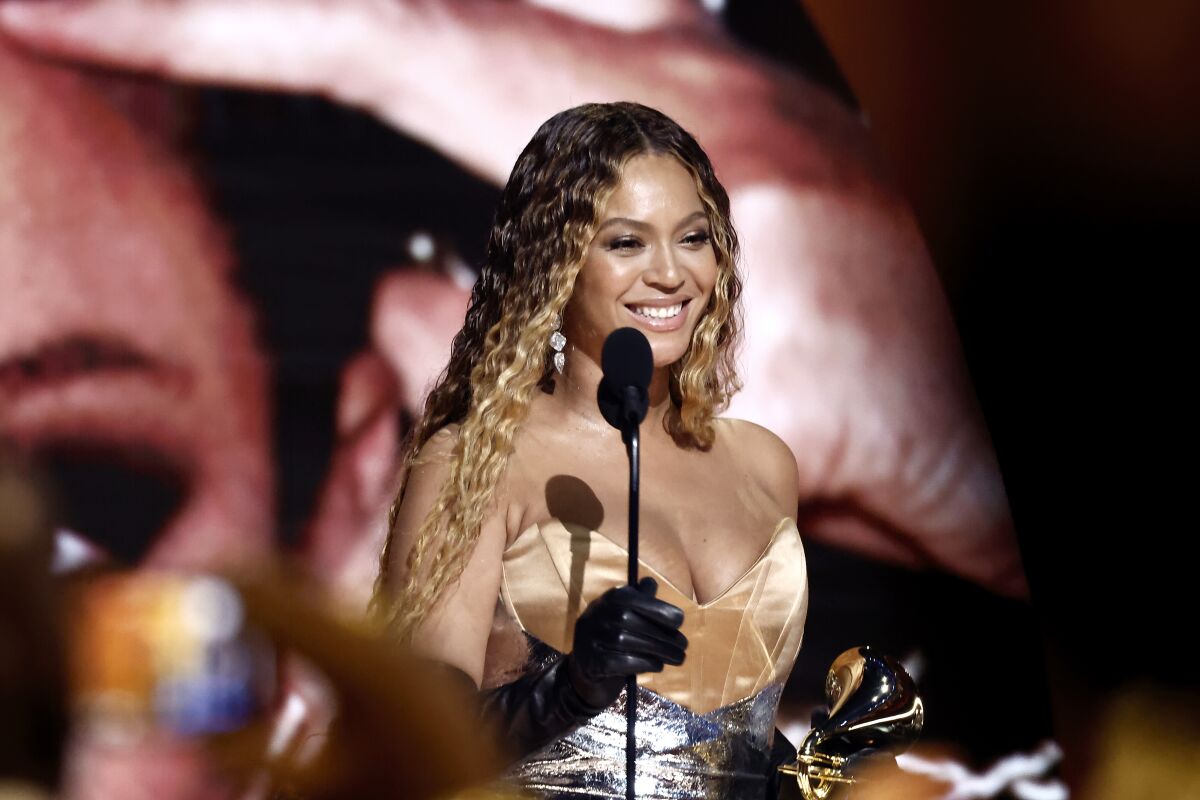 The superstar singer made history as the biggest victor in Grammy history. But she lost in the Album, Song and Record of the Year categories, making her night a triumph and a disappointment
History was made — and repeated — in a number of key ways at the 65th annual Grammy Awards Sunday in Los Angeles, where Beyoncé's latest victories made her the biggest winner in Grammy history.
The vocal superstar and pop-culture icon arrived with a field leading nine nominations — and 28 previous Grammy victories. She left with four more for her 2022 album "Renaissance," but not, significantly, for Album of the Year or Record of the Year, two categories she has yet to win.
What would the perfect Grammy Awards be like? "Everyone wins every award they were nominated for!" says Grammy honcho Harvey Mason Jr.
Those upset wins went to, respectively, Harry Styles for "Harry's House" and Lizzo for "About Damn Time." The Song of the Year Grammy, a category which Beyoncé was also nominated in, went to a visibly stunned Bonnie Raitt for her understated ballad, "Just Like That."
Accepting her award, Lizzo cited Prince as an inspiration. She then paid tribute to Beyoncé, saying: "You changed my life ... you clearly are the artist of our lives."
But not, clearly, of a majority the 11,000-plus voters of the Recording Academy, under whose auspices the Grammys are presented. That made Beyoncé's historic night both a triumph and a disappointment, especially given that only three Black women artists have ever won the Album of the Year Grammy.
After winning two awards during the livestreamed-only, pre-telecast portion of the show — and a third before she had even arrived at the telecast — Beyoncé won her 32nd career when "Renaissance" earned her Best Dance Electronic Album honors.
The superstar singer is up for five more awards during the telecast portion of the Grammys, which will see her compete for Album, Song and Record of the Year honors
Her latest Grammy victories saw the former Destiny's Child singer surpass orchestra conductor Sir Georg Solti, who died in 1997 and held the record of 31 Grammy wins until Sunday.
"I'm trying not to be too emotional and I'm trying to just receive this night," Beyonce told the cheering audience at Crypto.com Arena.
"I want to thank God for protecting me ... I'd like to thank my uncle Jonny, who is not here but he's here in spirit. I'd like to thank my parents — my father, my mother — for loving me and pushing me. I'd like to thank my beautiful husband and my beautiful three children. I'd like to thank the queer community for your love and for inventing the (dance) genre."
Her other wins came for three songs from "Renaissance": Best R&B Song for "Cuff It," Best Traditional R&B Performance for "Plastic Off the Sofa" and "Best Dance/Electronic Recording for "Break My Soul."
She did not sing, although her husband, rap giant Jay Z, was featured during the closing performance at the show, which ran nearly 20 minutes over its scheduled 3-1/2 hour time.
Typically, the number of performances during a Grammys telecast outweigh the number of awards presentations, and that was again the case Sunday.
The performers ranged from the show-opening Bad Bunny, who was rousing, and Lizzo, who was not, to multiple-winners Styles and Brandi Carlile, who sang in low gear and high gear, respectively. One of the highlights was a tribute to Motown Records that teamed Motown legends Stevie Wonder and Smokey Robinson with country star Chris Stapleton for a sizzling version of Wonder's "Higher Ground" that was the highlight of the show.
There were also several "In Memoriam" performances honoring artists who died last year, with Kacey Musgraves saluting Loretta Lynn with "Coal Miner's Daughter"; Raitt, Sheryl Crow and Mick Fleetwood paying tribute to Fleetwood Mac's Christine McVie with "Songbird"; and rapper Quavo of the group Migos paying musical homage to his former band mate, Takeoff, with help from the Maverick City Music, on "Without You."
An Atlanta-bred contemporary worship music collective, Maverick City Music won four Grammys Sunday, all during the pre-telecast. Their wins came for Best Gospel Album (for "Kingdom Book One Deluxe") Best Gospel Performance/Song (for "Kingdom"), Best Contemporary Christian Music Performance/Song (for "Fear is Not My Future," a collaboration with Kirk Franklin) and Best Contemporary Christian Music Album (for "Breathe")
And there was a 50th anniversary of hip-hop salute that featured nearly 30 solo artists and groups, including The Roots, Public Enemy, Queen Latifah, Lil Baby, Missy Elliott, Grandmaster Flash, Future and La Jolla resident Swizz Beatz.
The Grammy-winner, who is married to Alicia Keys, is the co-creator of the popular 'Verzuz' rap-battle webcast series. He and Jay-Z shared a Grammy win in 2011 for 'On to the Next One.'
While well-intentioned the 13-minute hip-hop salute felt rushed and like a belated attempt to make up for the Recording Academy's history of overlooking and underplaying the genre in the major Grammy categories.
Only two hip-hop albums have ever won the Album of the Year award, a fact that may have at least partly inspired the first-ever Dr. Dre Global Impact Award, which went to the Los Angeles hip-hop pioneer for whom it was named.
"Wow, I did not expect that," Dre told the audience.
There were several other firsts at Sunday's awards ceremony.
Sam Smith, the nonbinary English singer, and Kim Petras, a German trans woman, shared the win for Best Pop/Duo/Group Performance for "Unholy," which they later performed on the show in a segment that found Smith dressed as the devil.
"Sam wanted me to accept this award because I am the first transgender woman to win this award," Petras said during the duo's acceptance speech, earning cheers from the audience. She also thanked her mother and Madonna, the latter for "fighting for LGBTQ rights."
Perhaps not coincidentally, Madonna had taken the stage to introduce the performance by Smith and Petras.
"Are you ready for some real controversy?" asked Madonna, whose severe, chin-to-ankle black ensemble looked like something from the "One Flew Over the Cuckoo's Nest" Nurse Ratched mortuary clothing line.
"Here's what I've learned after four decades of being in music," Madonna continued. "If they call you 'shocking,' 'scandalous,' 'troublesome,' 'problematic,' 'provocative' or 'dangerous,' you are definitely onto something."
Singing sensation Samara Joy, who performs March 19 at the Conrad Prebys Performing Arts Center in La Jolla, was a surprise winner for Best New Artist. The 23-year-old Bronx native became the first jazz artist since Esperanza Spalding in 2011 to win in that category. Joy also won the Grammy for Best Jazz Vocal album on Sunday, for her Verve Records debut, "Linger Awhile."
"Thank you so much. I am so grateful," said Joy, whose delight and shock at her victory rivaled that of Song of the Year-winner Raitt.
Raitt had already won the Grammys for American Roots Song (for "Just Like That") and Americana performance ("Made Up Mind") during the pre-telecast segment of the show. Her Song of the Year win for "Just Like That" earned her a standing ovation from the audience inside Crypto Arena.
"This is just an unreal moment," said Raitt, who cited the late singer-songwriter John Prine as an essential musical inspiration.
"Thank you for honoring me, to all the academy (members) that surround me with so much support and appreciates the art of songwriting as I do. I was so inspired for this song by the incredible story of the love and the grace and the generosity of someone that donates their beloved's organs to help another person live, and the story was so simple and so beautiful for these times."
Actress Viola Davis become the 18th person to achieve EGOT status. The Emmy-, Oscar- and Tony-award winner won her first Grammy.
Her win came in the Best Audio Book, Narration and Storytelling Recording category for "Finding Me." One of the other nominees in the category was Oscar-winning actor Jamie Foxx, who in the late 1980s studied classical music and composition at San Diego's United States International University.
"Oh my god!" Davis said as she accepted her award during the pre-telecast segment. " I wrote this book to honor the 6-year-old Viola, to honor her life, her joy, her trauma, everything. It has been such a journey. I just EGOT!"
Jazz pianist Geoffrey Keezer, a former North Park resident, was nominated for the fourth time this year and came away with his first win. His victory came in the Best Instrumental Composition category for "Refuge," a song from his absorbing 2022 album, "Playdate."
"It was devised during the end of (the COVID) lockdown; we have a 5-year-old," Keezer said backstage in response to a question from the Union-Tribune.
"It was really supposed to be an old-school (jazz) blowing date. We added an 18-piece string section and French horns, and it got bigger and bigger, as my projects tend to."
The Grammy for Best Latin Jazz Album went to "Fandango at the Wall in New York," a recording that was born at the San Diego/Tijuana border.
The album is by Arturo O'Farrill and The Afro Latin Jazz Orchestra, featuring the Congra Patria Son Jarocho Collective. The collective is headed by Jorge Francisco Castillo, a retired Chula Vista librarian and Tijuana Tijuana resident, who is the founder of the free, 16-year-old Fandango Fronterizo Son Jarocho Mexican string-music festival, which is held concurrently on the Tijuana side of the U.S.-Mexico border and at San Diego's adjacent Friendship Park.
Four-time Grammy Award winner Arturo O'Farrill and his Afro Latin Jazz Ensemble made history with their 2018 Tijuana concert at the U.S.-Mexico border, the subject of a new film
The "Fandango at the Wall in New York" album is an outgrowth of the 2018 "Fandango at the Wall" concert and live album, which was recorded and filmed on the Tijuana side of the border wall and at adjacent sites. The fate of Fandango Fronterizo is unclear, given ongoing plans to continue building a new, 30-foot high wall there.
"This all began in 2007 (with) my friend Jorge Francisco Castillo," O'Farrill, a UCLA music professor, said in his acceptance speech during the pre-telecast.
The errant Willie Nelson, at 89, was the oldest winner of the night, taking Best Country Album honors for "A Beautiful Time."
Sign up for the Pacific Insider newsletter
PACIFIC magazine delivers the latest restaurant and bar openings, festivals and top concerts, every Tuesday.
You may occasionally receive promotional content from the Pacific San Diego.