Re:SET concert series, a mini-Coachella, headed to San Diego and 11 other cities, with LCD Soundsystem, boygenius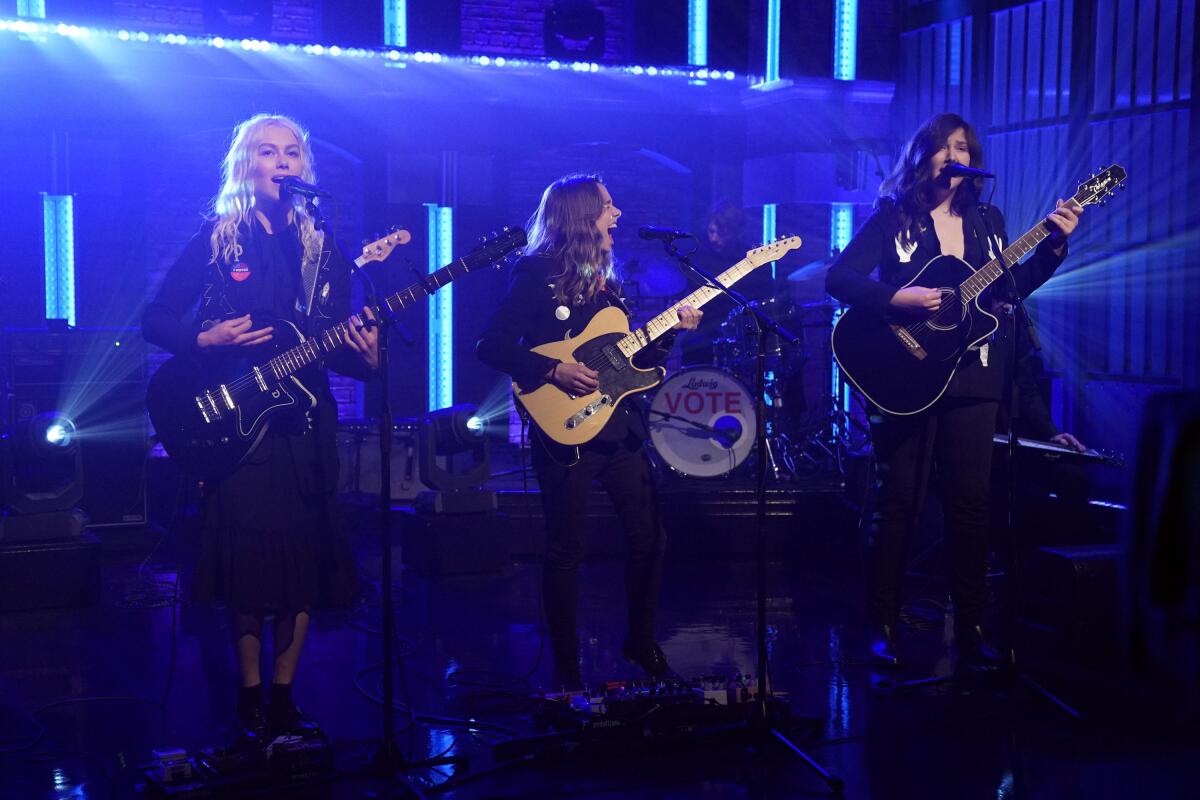 The summer festival will visit 12 U.S. cities over four June weekends. The lineup that also includes Steve Lacy, James Blake, Clairo and other acts.
The producers of the new Re:SET concert series, which will be held for three days in San Diego and 11 other U.S. cities in June, aren't calling their event a mini-Coachella.
But with a lineup headlined and curated by such Coachella veterans as LCD Soundsystem and Steve Lacy, plus 2023 Coachella co-headliners boygenius, it may be difficult to avoid invoking Coachella's name.

For the record:
12:41 p.m. Feb. 2, 2023After this article was published, the promoter of the three June Re:SET concerts at Thrive Park at Snapdragon Stadium informed the Union-Tribune that the daily capacity of 20,000 he had provided is incorrect. The actual capacity will be limited to 12,500 per day.

Update:
12:41 p.m. Feb. 2, 2023
That contention is bolstered by the fact that Re:SET's lineup also includes such Coachella alums as Idles, Jamie xx, Toro y Moi, Big Freedia and James Blake. Moreover, Re:SET is produced by AEG Presents, the company that has been behind Coachella since 2001.
Up until a few years ago, it may have seemed unthinkable that One Direction boy-band alum Harry Styles would headline the festival. Times have changed
The Re:SET tour will open Friday, June 2, featuring concurrent shows with different lineups, at San Diego's 12,500-capacity Thrive Park at Snapdragon Stadium, Pasadena's Brookside at The Rose Bowl and Stanford University's Frost Amphitheatre.
Those three venues also host Re:SET on June 3 and 4, with hopscotching lineups that will alternate each day from city to city.
The San Diego iteration kicks off June 2 with a lineup headlined by boygenius, the trio that teams singer-songwriters Phoebe Bridgers, Lucy Dacus and Julien Baker. The other acts one the bill that day include Clairo, Dijon and Bartees Strange.
Lucy Dacus may be indie-rock's biggest buzz artist of the year, thanks to her wonderfully assured and ambitious new album, "Historian," but any trappings of stardom are elusive.
They'll be followed June 3 with San Diego performances by LCD Soundsystem, Jamie xx, IDLES and Big Freedia/L'Rain, along with DJ sets from DFA Records Family. The June 4 San Diego lineup features Steve Lacy, James Blake, Toro y Moi and Fousheé.
The tour then moves to New Orleans, Atlanta and Dallas for the June 9-11 weekend. From June 16-18, Re:SET will be held in New York City, Boston and Washington, D.C., before concluding June 23-25 in Nashville, Chicago and Columbus, Ohio.
The lineups of musical acts will be the same each weekend, with boygenius, LCD Soundsystem and Steve Lacy headlining on respective days. Only the cities and venues will change. Each act will do a full performance.
"We challenged ourselves to conceive an event that would give both the artists and the fans a different experience," Gary Gersh, AEG Presents' President of Global Touring and Talent, said in a statement Tuesday.
"At the end of the day, they both want the same thing: great locations, incredible sound, fantastic sight lines, and the best local options for food and drinks. Re:SET is a very fairly priced, artist-driven weekend where you can hang with friends and enjoy an evening of amazing music."
Daily general admission tickets for all Re:SET concert tickets are $99.50 each. Three-day passes and VIP packages will also be available, but prices will vary from city to city. In San Diego, those prices will be $250 for three-day passes, $275 for one-day VIP passes and $650 for three-day VIP passes.
The June 2 and 3 San Diego concerts will begin mid-afternoon and run until 11 p.m. The June 4 concert will run from mid-afternoon until 10 p.m.
Ticket pre-sale registration for all concerts on the tour began at 8 a.m. Tuesday, Pacific time and 10 a.m. Eastern time.
A pre-sale for members of the fan clubs of the Re:SET artists will be held Feb. 7, from 10 a.m. to 10 p.m., local time in each city. A local pre-sale in each city will be held Feb. 9, from 10 a.m. to 10 p.m., local time in each city. Tickets will go on sale Feb 10 at 10 a.m. local time in San Diego and Washington D.C., and through other ticketing agencies in other cities.
Ticket information for all of the Re:SET concerts, along with a list of all dates and venues on the tour, is available online at resetconcertseries.
Sign up for the Pacific Insider newsletter
You may occasionally receive promotional content from the Pacific San Diego.