Grammy Awards preview: Will history be made, or repeated?
What would the perfect Grammy Awards be like? "Everyone wins every award they were nominated for!" says Grammy honcho Harvey Mason Jr.
Beyoncé or Adele? Kendrick Lamar or Bad Bunny? Willie Nelson or Buddy Guy? Wet Leg or Maneskin? Dave Chappelle or Louis C.K.?
Regardless of who wins or loses at the 65th annual Grammy Awards on Feb. 5, its honcho Harvey Mason Jr. knows exactly what the perfect edition of the Grammys should be like. "Everyone wins every award they were nominated for!" he said, laughing heartily.
Mel Brooks, 96, Willie Nelson, 89, John Mayall, 88, and Buddy Guy, 86, are among the oldest artists to earn nominations
Mason is himself a five-time nominee as a songwriter and producer whose first nomination came for co-writing "He Wasn't Man Enough, a 2000 hit for Toni Braxton. As of May 2021, Mason is also the first Black CEO in the history of the Recording Academy, the nonprofit music-advocacy organization under whose auspices the Grammys are presented.
That dual perspective makes him uniquely qualified to weigh in on the successes and challenges of the music world's most prestigious, comprehensive and sometimes controversial annual awards fête.
"There are 91 categories — and one winner per category. That leaves a lot of unhappy nominees," Mason, 54, said in a recent Zoom interview from his Los Angeles recording studio.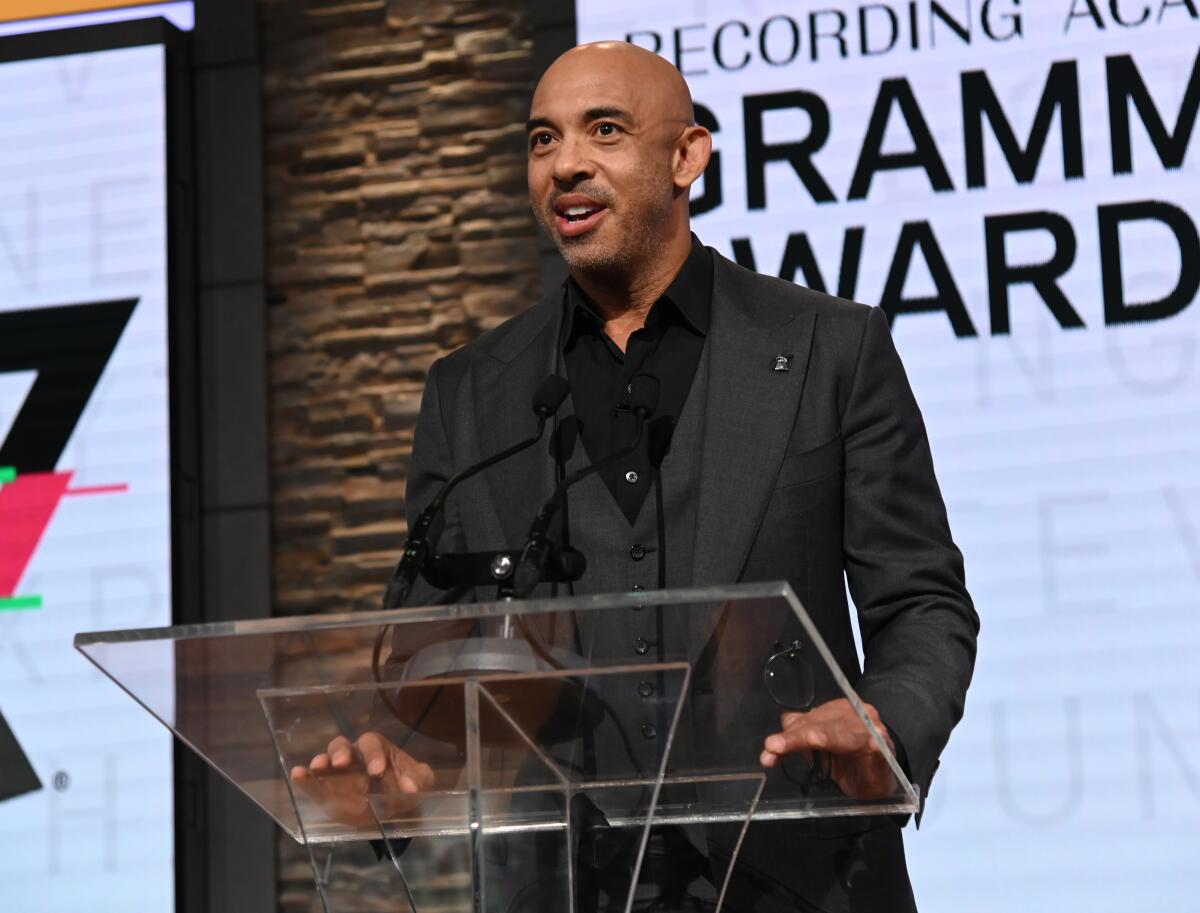 Forward-looking initiatives
Since assuming his position at the academy, first as interim CEO in January 2020, Mason has spearheaded a series of forward-looking initiatives to make the organization more diverse and responsive to change.
Since 2019, the academy has added 1,913 women to its voting membership, with a goal of adding 2,500 women voting members by 2025. Membership among traditionally underrepresented communities has increased by 38 percent, Mason noted proudly, while Black representation now accounts for 22 percent of the membership, more than double from just a few years ago.
On Thursday the academy will present its second annual Black Music Collective Global Impact Awards at an invitation-only Los Angeles ceremony. The honorees include Dr. Dre, Lil Wayne, Missy Elliot and Epic Records CEO and Chairwoman Sylvia Rhone.
The event is designed in part to inspire communication and forge alliances with Black music-makers who have been critical of the academy in the past.
"We've been able to understand things that we can do differently, and better, and make changes," said Mason, who was instrumental in the academy's September 2020 creation of its Black Music Collective.
The collective's launch came just a few months after the Mason-led academy announced its partnership with Color of Change — the nation's largest online racial justice organization — to create change and new opportunities for Black music-makers.
Asked about the main concerns that have been conveyed to him by people in the Black Music Collective, Mason replied: "It's pretty specific, and there are also some in-the-weeds details. But mostly they're saying that we need to make sure that Black music is fairly, equally represented, especially knowing that 33 to 34 percent of music created and consumed is Black music.
"So, we need to make sure we're cognizant of that as we're building out everything we do — our membership, our words, our television presence, our (year-round) programs. The time we have had with the with the Black Music Collective has been invaluable to making sure that we're seeing things through that lens, and making sure we're paying very close attention to equity around Black music and Black music people."
As the head of the Recording Academy, one of Mason's biggest challenges has been to bring greater flexibility and transparency to an organization that has been criticized for being too opaque, too entrenched and too resistant to change.
"My priorities for the year ahead are to try and utilize the power of music and the platform of the academy to do good," he said.
"So, it comes down to the advocacy work we do. What are we going to do advocate for music people? How are we going to make sure the legislation and other protections are in place for music people to continue to be able to make a living and to be fairly remunerated for their art, their craft? And that comes down to education, making sure the next generation of people are being introduced to music and being educated around music and knowing the power of what music does
"I like to believe the work that we're doing is very important. And I think that the Grammy Awards show is a great representation of that. But it's only one night of the 364 other days a year that we're working to support music people."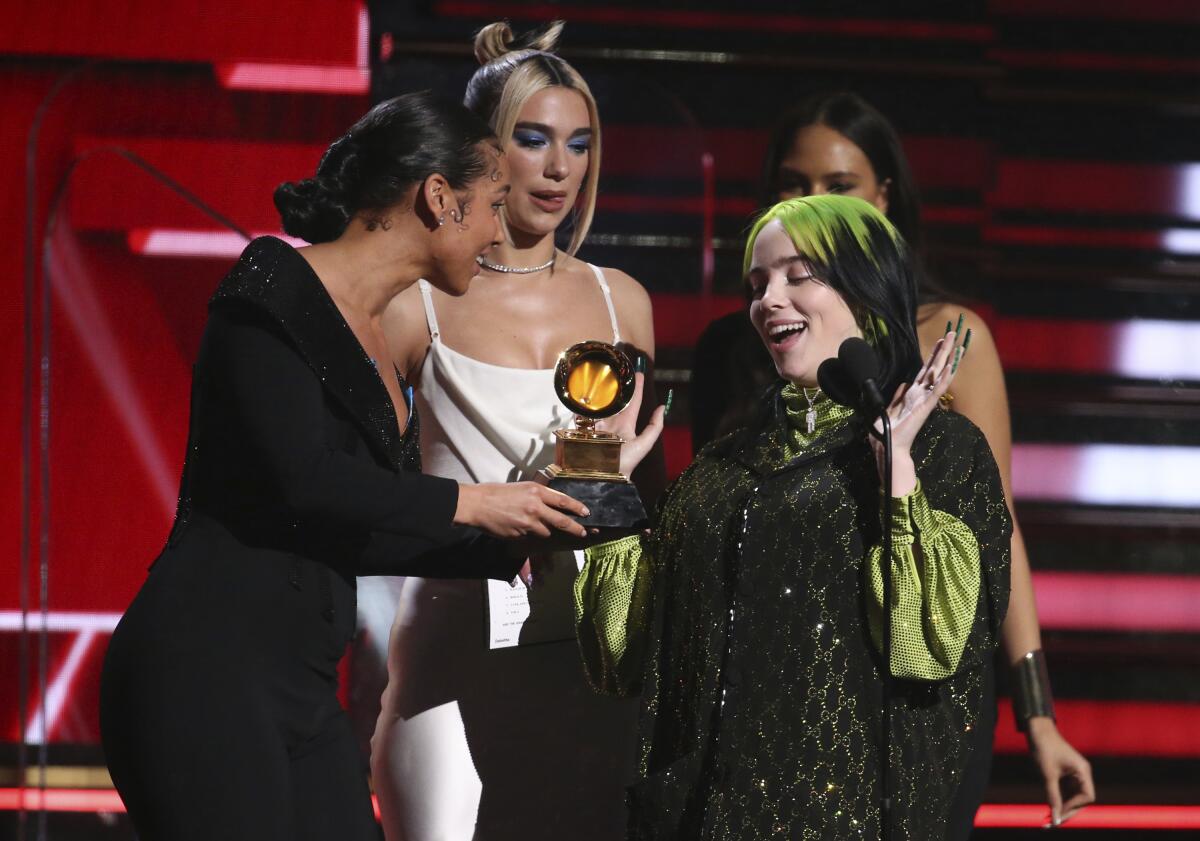 New Grammy categories
This year has seen the introduction five new Grammy categories, including Best Song for Social Change, Best Spoken Word Poetry Album, and Best Score Soundtrack for Video Games and Other Interactive Media. They join the multiple Grammy categories for hip-hop, Latin, jazz, rock, pop, classical, Americana, gospel, composing, arranging, and more.
Winners in the marquee categories will be announced next Sunday during the 3-½-hour telecast at Los Angeles' Crypto.com Arena (formerly Staples Center). The show will air in in San Diego on KFMB Channel 8, nationally on CBS and will stream on Paramount+. It will be preceded by the online-only Grammy Premiere Ceremony, where winners in all but 10 or so categories will be announced.
"There were almost 20,000 submissions this year," Mason said. "So, it's really difficult to think about all the people that don't get nominated or don't win.
"But what we like to think about is the celebration of music. The Grammys are about coming together and highlighting music and the accomplishments of music for the year — the great artists, songwriters, producers, engineers and (other) music people — from all different genres, from all different parts of the world, all uniting around music during Grammy week."
As in previous years, some of the 2023 nominees have the potential to make history — if they win.
A key example is Puerto Rican reggaeton and Latin-trap vocal superstar Bad Bunny, 28, who last year became the first artist in any genre to headline two back-to-back stadium concerts at San Diego's Petco Park.
His chart-topping "Un Verano Sin Ti" ("A Summer Without You") makes the 28-year-old the first Album of the Year contender in Grammy history to be nominated for an all-Spanish-language recording.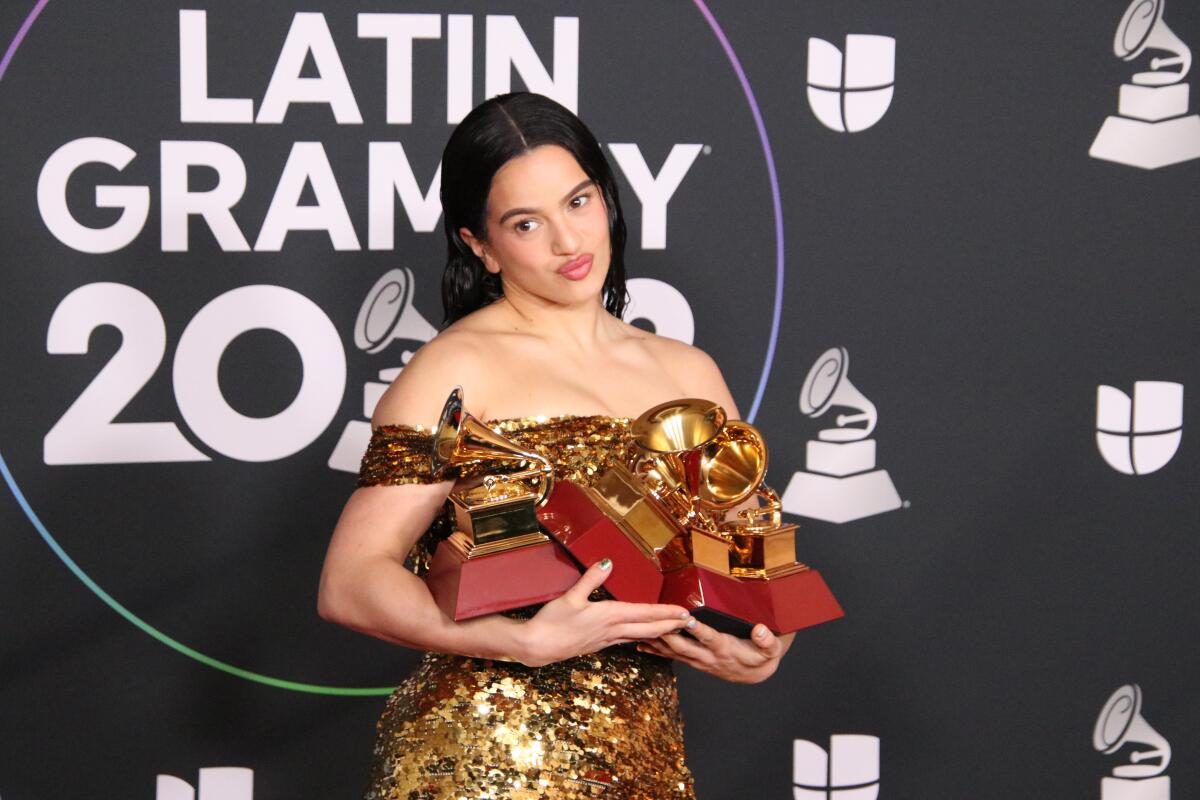 Rosalía honored but omitted
That distinction could have been shared by Spanish singing sensation Rosalía, whose "Motomami" was one of last year's most acclaimed releases and — in November — made her the first woman in Latin Grammy history to win Album Of The Year twice. But Rosalía, 30, is only nominated in two low-profile categories, not for Album of the Year.
Then there's Bonnie Raitt, whose "Just Like That" earned her a Song of the Year nomination. At 73, she is the only Grammy Lifetime Achievement honoree vying in a major category this year.
But the 2023 contenders who will likely draw the most attention and dominate online discussions are Beyoncé and Adele, who have gone head-to-head at the Grammys before.
Both are again nominated for Album, Record of the Year and Song of the Year, the awards' most high-profile categories. That was also the case in 2017 when Adele won in all three — and had two other Grammy wins as well.
Beyoncé has a field-leading nine nominations this year, two more than Adele. But being the top nominee does not ensure victory, as Beyoncé and her fans know all too well.
She also had nine nominations in 2017, but went home with just two wins, both in comparatively minor categories. Yet, while she last year surpassed bluegrass-music queen Alison Krauss as the female artist with the most Grammy wins (28 to Krauss' 27), Beyoncé has yet to win for Album or Record of the Year.
She has only won once for Song of the Year, back in 2010, for "Single Ladies (Put a Ring On It") Her husband, rap icon Jay Z, who entered the 2018 Grammy telecast with a field-leading eight nominations went home without a single trophy. Bruno Mars, who makes new music that sounds retro, was the night's biggest winner.
You can lead 13,000 Grammy Award voters to hip-hop, but you can't make them cast their ballots for it — at least not when it comes to the most prestigious categories in the world's most prestigious annual music awards fete.
Adele was visibly chagrined when the 2017 Album of the Year trophy went to her for "25," not to Beyoncé's profoundly stirring "Lemonade," which addressed social, political and racial issues with equal grit and grace.
"I can't possibly accept this award, and I'm very humbled and very grateful and gracious but my life is Beyoncé," Adele told the audience at the Staples Center in Los Angeles and millions of TV viewers worldwide. "The 'Lemonade' album, Beyoncé, was so monumental, and so well thought out, and so beautiful and soul-bearing .. all us artists adore you."
With nine and seven nominations, respectively, either Beyoncé or Adele could emerge as this year's biggest winner on Feb. 5. Unless, that is, one of the other leading nominees — whose ranks include Kendrick Lamar, Harry Styles and Brandi Carlile — score major upsets.
If Beyoncé triumphs in four of the nine categories in which she is nominated this year, she will become the biggest winner in Grammy history. Ballots are cast by the academy's 12,000-plus voting members, who are all music-industry professionals.
Regardless of which artist prevails, expect much animated online discussion, and debate, to follow. The reasons are as simple, and complicated, as black and white, the included and the excluded.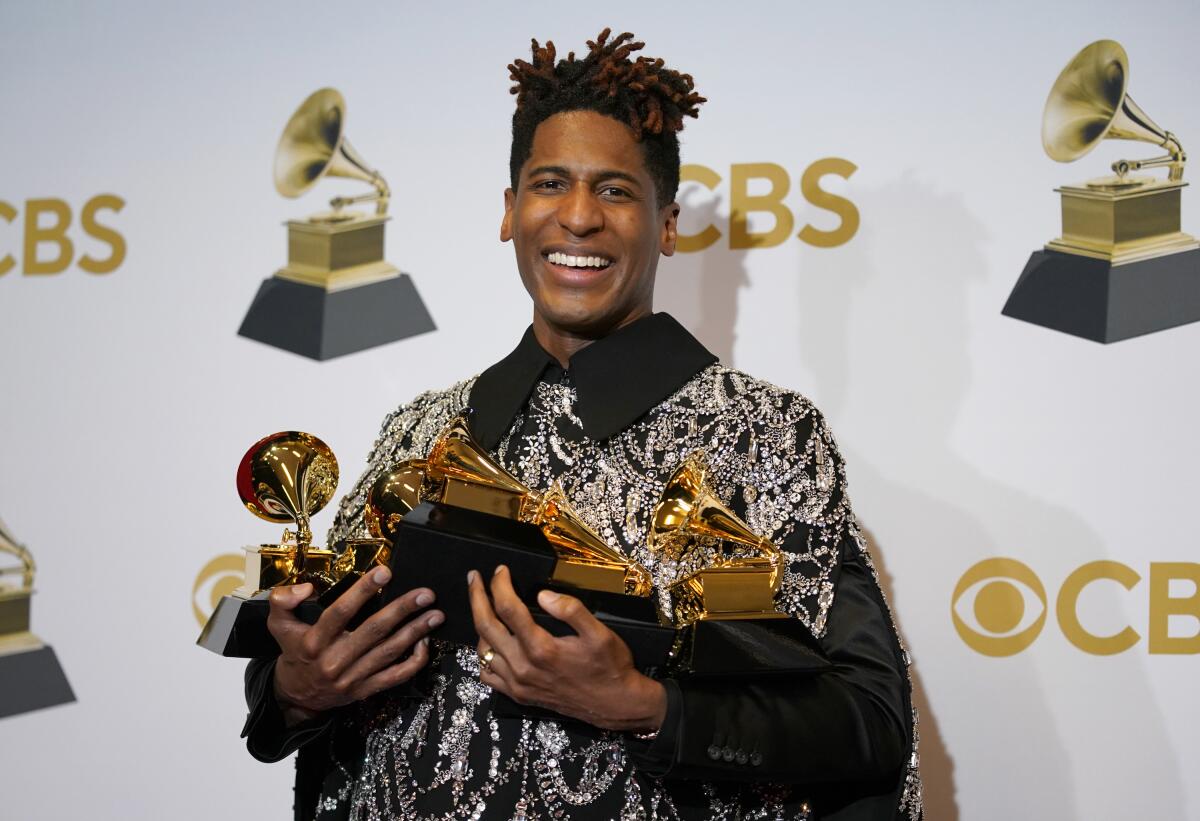 A spotty track record
Since 2004 only three Black artists — Herbie Hancock, Jon Batiste and, posthumously, Ray Charles — have won for Album of the Year. During that same period, Taylor Swift has won that category three times and Adele twice.
Since the Grammys debuted in 1959, only 11 Black artists have won for Album of the Year. And only three of those 11 winners have been women — Natalie Cole, Whitney Houston and Lauryn Hill. Moreover, only two hip-hop albums have ever won Album of the Year honors: Hill's "The Miseducation of Lauryn Hill" in 1999 and OutKast's "Speakerboxxx/The Love Below" in 2004.
Eminem, who is White, has won the Best Rap Album Grammy six times, giving him more victories in that category than any Black artist in a genre created by Black artists. Jay Z has only taken home the Best Rap Album award once, despite having been nominated 11 times since that category debuted in 1996.
Accordingly, the Grammys have been rebuked and even boycotted by some Black artists, who charge the awards are out of touch and do not reflect the creative and commercial impact of their work. It also demonstrates why the Grammys are maligned and coveted, sometimes almost in the same breath.
But criticism that the Grammys play it safe — too often rewarding the predictable and conventional over the edgy and innovative — is nothing new. It certainly predates the introduction of the Best Rap Performance category in 1989.
That 1989 award went to DJ Jazzy Jeff & The Fresh Prince (a/k/a rapper-turned-actor Will Smith) for their frothy hit, "Parents Just Don't Understand." But the duo opted against attending, as did the other inaugural nominees in that category.
"We ultimately ended up boycotting the actual ceremony because (they) refused to televise the presentation of the rap award," Smith wrote in "Will," his 2021 memoir. "We felt like that was a slap in the face. Rap music had outsold the industry that year. We deserved to be there."
By coincidence, 1989 was also the year the Grammys debuted a category for Best Hard Rock/Metal Performance Vocal or Instrumental. Uproar ensued when Jethro Tull beat out, among others, Metallica and AC/DC for the win.
"It was an unsavory moment," Jethro Tull's leader, Ian Anderson, told the Union-Tribune in a 1990 interview.
"I have seen videotapes of the show, and the boos are quite audible ... Metallica now has the honor of being among the many influential, successful and creative groups of all time who have not won, because there are a lot of them."
Metallica's snub didn't last long. The band won Best Metal honors the next three years running and now has eight wins and 18 nominations to its credit.
Beyoncé, Jay Z, neck and neck
As for Jay Z, he is now tied with his wife, Beyoncé, for the most nominations by an artist, with 88 each. But none of his 24 wins as a solo artist have been for Album, Song or Record of the Year. Along with Best New Artist, these are the only categories in which all Grammy voters can cast ballots, rather than only voting only for nominations in their field of expertise.
How does one of the world's biggest pop music superstars play second fiddle, in real time on a concert stage, to the world's biggest pop music superstar?
Of the 12 nominations Jay Z earned between 2017 and 2019, just one of them — for "Everything is Love," his 2019 collaboration with Beyonce — resulted in a win (for Best Contemporary Urban Album).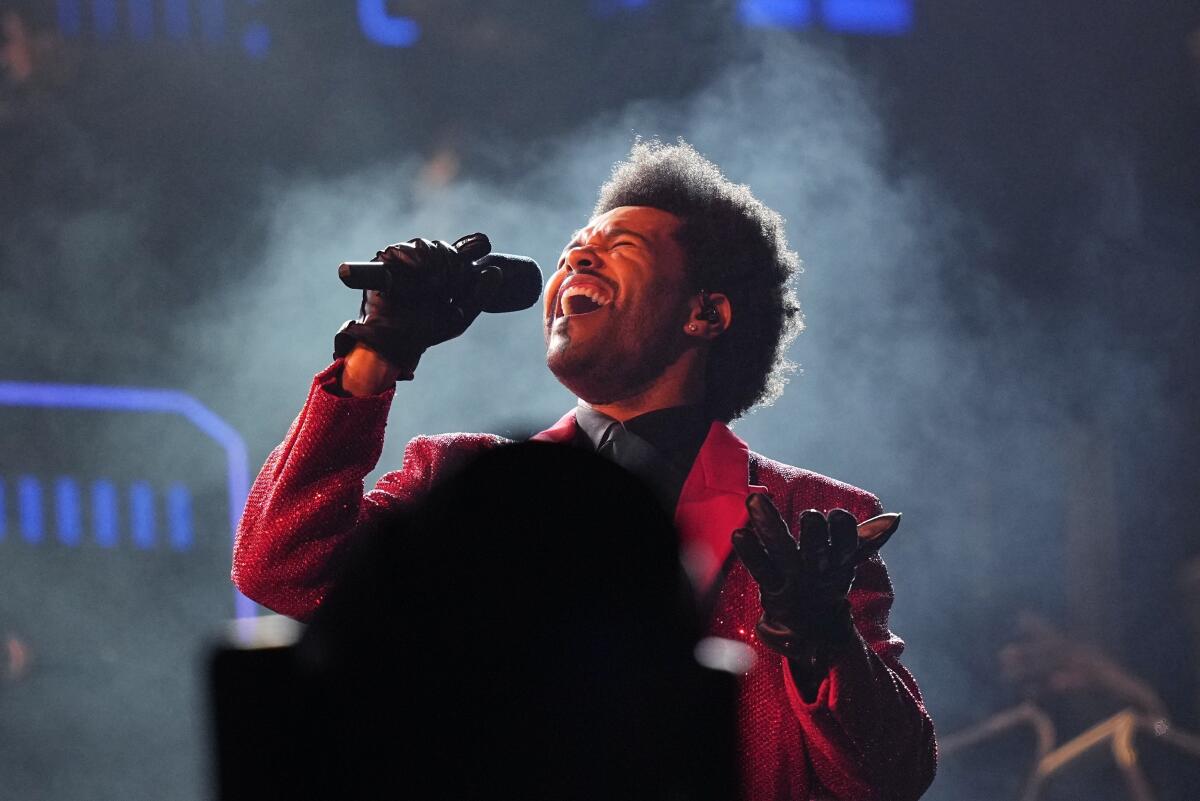 Tellingly, this year's list of nominees does not include Drake or The Weeknd, two of pop-music's most successful artists of the past decade.
For the second year in a row, both declined to submit any of their eligible recordings. They did this to protest the nominating process and the disregard that has been demonstrated for hip-hop and Black music.
"I don't want to speak specifically about either of those two artists," Grammy honcho Mason said. "But I will say that my goal for all artists, big and small, is to feel like the academy is a place that represents them and that it's a place that is accurately and transparently honoring music.
"But more importantly than that, I want all these people to understand the true value of the Recording Academy, which is to serve music to uplift us. Of course, the trophies are important. And the nominations, we have to get those right, we have to be relevant and timely on how we are honoring music.
"But my real goal is to make sure people understand the hundreds of millions of dollars that we push back into the music community, all the work we do to advocate for music people and to support and educate them ... whether they submitted (for nominations) or not."
That hip-hop has historically not fared well in the top three Grammy categories partly reflects the aesthetic preferences of older voters. They tend to favor the authenticity of "real music" made on "real instruments" over the digital sampling and laptop production technology embraced by many hip-hop artists and producers.
"I'm sorry, but I'm not a rap fan," said veteran saxophonist, composer and arranger Tom Scott, 74, who has 13 Grammy nominations and two wins to his credit.
The two-time Grammy Award winner counts Joni Mitchell, Frank Sinatra, Ravi Shankar, Whitney Houston, Blondie and all four former Beatles among his recording collaborators
"I'd love for them to come up with their own style of music, rather than sampling. I know I'm sounding really old-fashioned, like an old fart."
Scott still receives his Grammy ballot each year. But, he notes: "I stopped voting three or four years ago. I'm a member in absentia. I'm just not into it anymore."
Mason, in turn, stresses that the academy now requires "95 percent" of its voting members to provide recent credits each year to prove they are still actively engaged in music.
"If we're going to get (representative) Black-music nominations, we have to make sure the Black membership is right," he said. "If we're going to get the right rock nominations, we have to get people who are working in rock and creating rock music involved.
"So, to that initial question, do we have some work to do? Yes, because we fell behind in membership. When it came to Black music and hip-hop, specifically, we didn't have the right membership, reflective of the music community, to make sure that we are getting the right membership involved, so that we can continue to evolve our nominations and all our processes around awards...
"Our goal is not to just represent one group or one set of people, or one genre. We want to represent all music."
The 65th annual Grammy Awards
Hosted by: Trevor Noah
With performances by: Bad Bunny, Lizzo, Brandi Carlile, Mary J. Blige, Kim Petras and Sam Smith, Luke Combs, and more to be announced
When: 5 p.m. to 8:30 p.m. Sunday, Feb. 5, on KFMB Channel 8 in San Diego, CBS-TV nationally and on the Paramount+ subscription streaming service
Grammy Awards Premiere Ceremony
Hosted by: Randy Rainbow
With performances by: Anoushka Shankar, Blind Boys of Alabama, Carlos Vives, La Marisoul from La Santa Cecilia, Arooj Aftab, Madison Cunningham and Samara Joy
When: 12:30 p.m. Sunday, Feb. 5 (awards will be presented in 80 or so of the 91 Grammy categories)
Where: Livestreaming at live.grammy.com and youtube.com/grammy

Sign up for the Pacific Insider newsletter
You may occasionally receive promotional content from the Pacific San Diego.