That time Lisa Marie Presley and then-husband Michael Jackson bought rare editions at a San Diego book store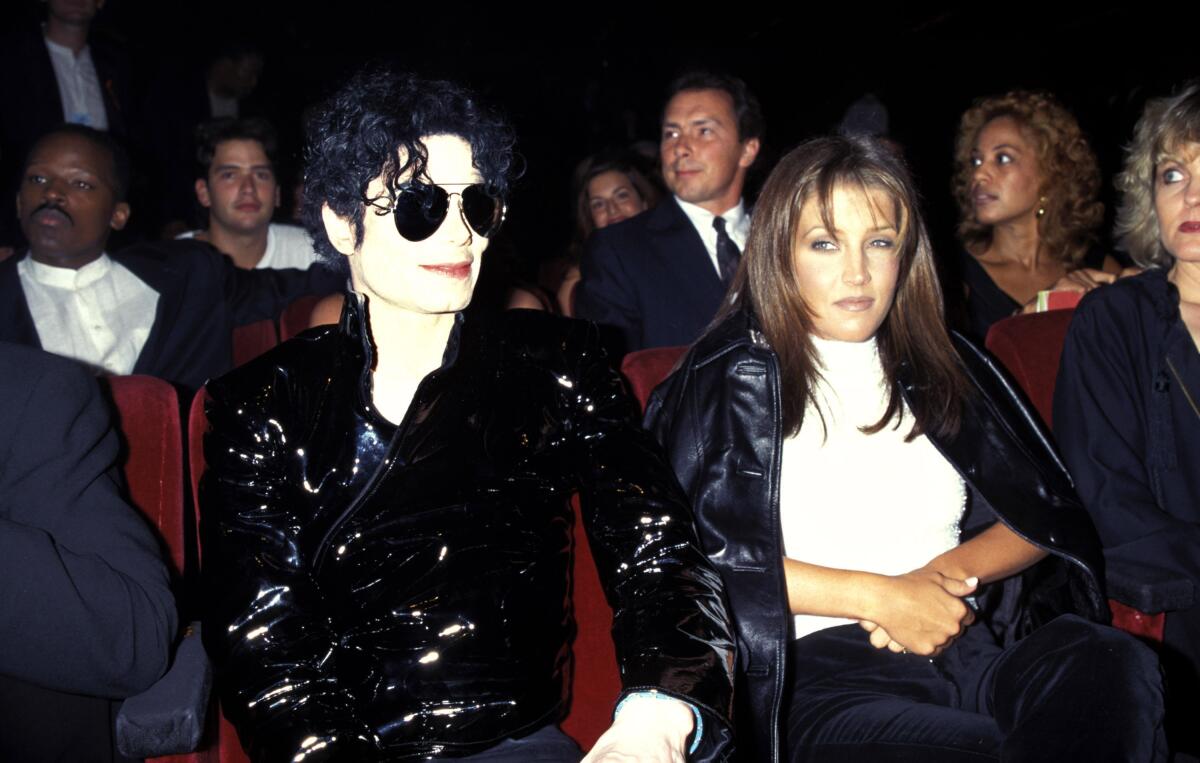 It is unclear how many times Lisa Marie Presley may have visited San Diego on her own. But Elvis Presley's daughter, who died Thursday in Los Angeles at the age of 54, did make one especially memorable visit to a downtown San Diego bookstore in 1995 with her then-husband, Michael Jackson.
Jackson was in town to accept an award at a private music industry confab at the San Diego Convention Center. His visit to the now-defunct bookstore with Presley took place the same day.
Here's a 1995 article published in the San Diego Union-Tribune about what happened:
The King of Shop pops in, and speaks volumes
By GEORGE VARGA
March 1, 1995 / San Diego Union-Tribune
Michael Jackson has never been booked on any criminal charges — thanks to his vast fortune, high-priced coterie of attorneys and, of course, the possibility he is innocent of any wrongdoing beyond exceptionally bad judgment. But the enigmatic pop superstar got booked, in a manner, when he visited San Diego last week with his wife, Lisa Marie Presley.
Before appearing at the San Diego Convention Center late last Thursday afternoon, where he received a music industry award and promoted his new album, Jackson went to Wahrenbrock's Book House downtown. He emerged more than two hours later with three large boxes full of mostly out-of-print books — total cost: $1,300 — along with an order for a two-volume set of poems by Longfellow.
"We got a call last Wednesday asking if he (Jackson) could come in to shop Thursday, after hours, when the store is closed, so he could have full privacy," said Jan Tonnesen, a Wahrenbrock's manager for the past 15 years. "As it turned out, a scheduling conflict necessitated his coming in during the daytime."
Jackson and his entourage arrived shortly after 1 p.m. in two Lincoln Continentals and a black van. Four bodyguards came in first to check out the store and position themselves at strategic points. Jackson then entered through a rear door, hand-in-hand with his wife, Presley.
It would not have been surprising if Jackson's presence had created a stir, especially since the reclusive singer was wearing a natty ensemble topped off by his famous black-and-gray fedora and a red satin surgical mask. But the few other book buffs on hand barely raised an eyebrow, according to Tonnesen, who was impressed by his famous customer's experienced shopping methods.
"He shops frequently at Heritage Books in Los Angeles, and they apparently recommended us to him," Tonnesen, himself a veteran musician, said of Jackson.
The books Jackson selected covered a broad range of topics, from herbal healing, poetry and Southern cooking to various works of fiction, Italian architectural portfolios and books on Michelangelo, Norman Rockwell and other artists.
"He also got a stack of 12 Hardy Boys books and 12 Nancy Drew books," Tonnesen said. "And he specifically asked me for information on Marie Antoinette. I went downstairs to our basement, got him a short stack of books on her and apologized that it was all I could find. He was very gracious."
Classical choices
Music also was on the mind of Jackson, who is rumored to be planning a summer concert tour to promote his forthcoming double album of greatest hits and new material, "HIStory Book I."
"He requested several books on Beethoven and Mozart," Tonnesen said. "Not books of their lives, but on their music and how they created it. He picked one out of my hands a reprinted edition of a book written by Mozart, and said, 'I've been looking for this.' "
"I tried to make him feel as at ease as we could, and to approach him as a bookseller would approach a regular customer — despite the fact he was wearing a red silk surgical mask. We left him to his own devices."
As for Jackson's wife, Lisa Marie, "she was just looking, but didn't pick anything for a while," Tonnesen said.
Asked if he considered saying anything to the daughter of the late Elvis Presley, Tonnesen replied: "Are you kidding? I wanted to say, 'Hey, have you ever seen a copy of 'Elvis — What Happened?' But I didn't. I wanted to make them as comfortable as possible. I'm a bookseller, and I was doing my job."
When it came time to pay, a member of Jackson's entourage presented an American Express Card.
"I said, 'I'm sorry, we don't take American Express,' " Tonnesen said. "So, apparently, they had to send someone back to their hotel to get another credit card.
"He (Jackson) did not talk down the price. He saw books he wanted and gave them to his minions to carry. When he left, he was holding a two-volume set of the letters of Michelangelo that he seemed very happy with ... he seemed quite taken with Michelangelo."
Musical alter ego
Jackson surely didn't know it, but his interaction with bookseller Tonnesen was rife with irony.
That's because by night, Tonnesen has spent the past 11 years as the guitarist (and sole member) of the Troy Dante Quintet, the mathematically challenged "backing group" of San Diego pop-music satirist Jose Sinatra.
With Sinatra, the soft-spoken bookstore-manager-cum-guitarist has frequently spoofed Jackson through biting, sometimes sophomoric song parodies.
Sinatra's lyrics to Jackson's "Bad" include the revised chorus: I've got to go bad, so bad ... "We Are The World" is performed as "We Are The Whales" (sample lyric: We are the whales, we are the mammals, we are the ones who beach ourselves in front of Hamel's).
Sinatra and Tonnesen also poke fun at the aftermath of the abortive 1984 Pepsi commercial in which Jackson's hair caught fire. To the melody of Martha Reeves & the Vandellas' "Heat Wave," Sinatra sings: It's not Michael Jackson, something's not right; his nose is too skinny, his skin is too white.
"I was certainly struck by the irony," Tonnesen/Dante said of his encounter with Jackson. "Many of the parodies of his songs that Jose and I play were running through my head as I talked to him (Jackson)."
Ever the professional (bookseller, that is), Tonnesen refrained from disclosing his role as a musical satirist to Jackson.
"I was tempted to," the bearded guitarist admitted. "But I thought that would have made him feel uncomfortable."
Tonnesen also refrained from alerting Sinatra to Jackson's presence at Wahrenbrock's, thus averting a potentially historic meeting between the self-proclaimed King of Pop and San Diego's self-proclaimed musical love god.
"Jackson's people specifically asked that we not call anyone, and we followed their request to the letter," Tonnesen said. Sinatra, reportedly distraught at the missed opportunity to meet Jackson, was unavailable for comment.
Sign up for the Pacific Insider newsletter
You may occasionally receive promotional content from the Pacific San Diego.