Guitar wizard Mike Keneally, a member of six bands, starts new chapter with COVID-era solo album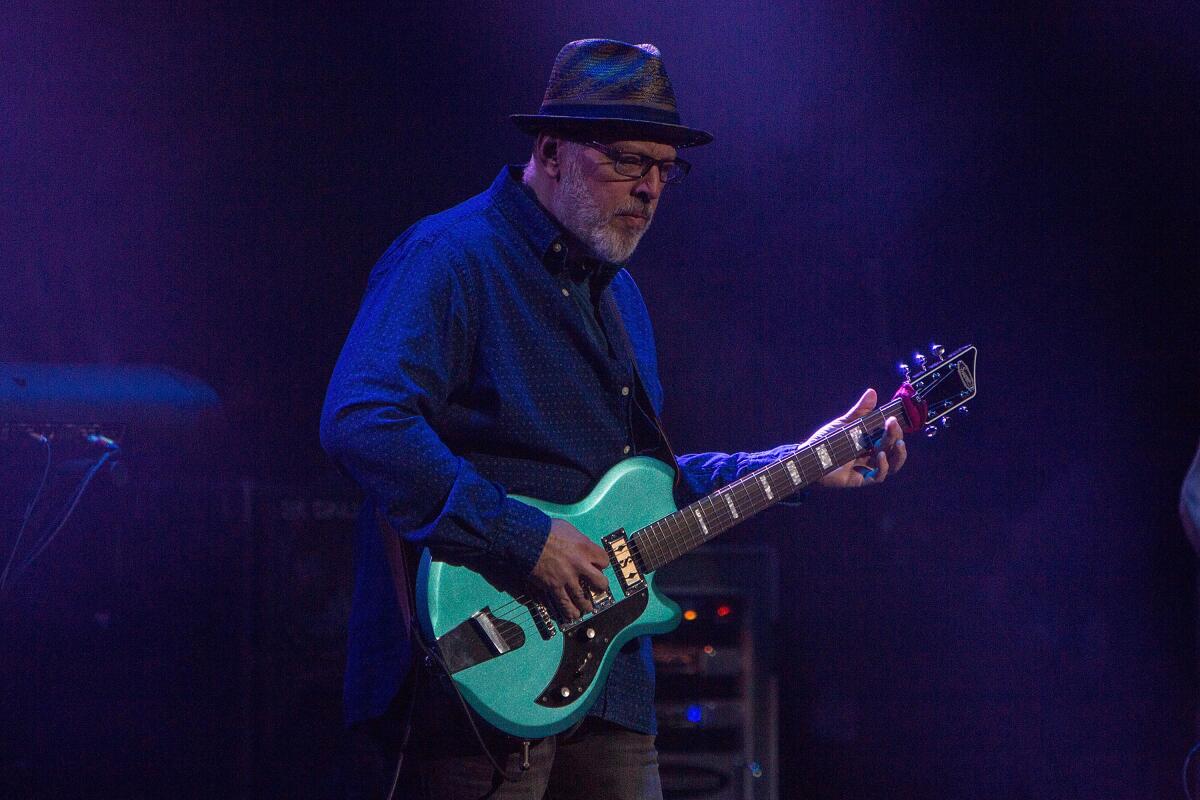 His new album was recorded mostly at home during the COVID shutdown, with long-distance cameos by Steve Vai and Malcolm Mortimore
Guitar and keyboard wizard Mike Keneally has made several dozen albums as a band leader and has been featured on 200 or so more by other artists. His collaborators have ranged from former San Diegan Frank Zappa and the great soul singer Solomon Burke to avant-jazz trumpet great Wadada Leo Smith, Indian violinist L. Shankar and award-winning vocal group The Persuasions.
But until the pandemic shutdown of 2020, Keneally had always recorded his albums in top-notch studios or on concert stages. He worked with leading San Diego audio engineer Mike Harris, whose other clients have included U2, Willie Nelson and Switchfoot.
The late Frank Zappa, who was posthumously inducted into the Rock & Roll Hall of Fame, is being honored anew by an all-star group of Zappa band alums. Holograms are involved.
The shutdown erased those options. Keneally was left to helm his wonderfully absorbing new album, "The Thing That Knowledge Can't Eat," largely on his own. He did so in the thin-walled condo in Alpine where he lived until recently with his wife, Sarah. (The couple moved five months ago to a ranch in the mountains of northeastern Arizona.)
"That was a big learning curve for me to do it at home," said Keneally, 61, who rose to international prominence when he joined Zappa's band in 1987.
His new album will be released Feb. 24 but can be pre-ordered now online at keneally.com.
Advance copies will be available at each of the five stops on Keneally's January mini-tour with his band, Beer For Dolphins, which kicks off Friday night at The Grand Ritz Theater in Escondido. As an added bonus, during the intermission at his Friday concert he will answer questions submitted by audience members via email.
"This album went much slower and I was much more finicky about getting exactly what I wanted," Keneally noted. "So much of this record took longer to do because it was me, by myself, micro-analyzing everything."
What results was well worth the extended wait.
From the near-Broadway piano lilt of "Logos," the jaunty, multi-vocal opening cut, to the breathtaking intricacies of "The Carousel of Progress," which concludes the album with a finely calibrated art-rock flourish, "The Thing That Knowledge Can't Eat" is a multifaceted aural treat. It showcases Keneally's accomplished songwriting skills and dazzling musical prowess without him showing off.
The New York native, who grew up in San Diego, is capable of playing just about anything he wants on guitar or keyboards. He is also capable of deftly playing both instruments simultaneously, as he demonstrated during his tenure with Zappa in the 1980s and during his more recent nine-year stint in the band of guitar star Joe Satriani.
But what Keneally does especially well on his new album is to serve the music at hand, be it by playing various instruments or singing multiple vocal parts. At just 42 minutes in length, the nine songs on "The Thing That Knowledge Can't Eat" make their points with well-calibrated precision.
A condo in Alpine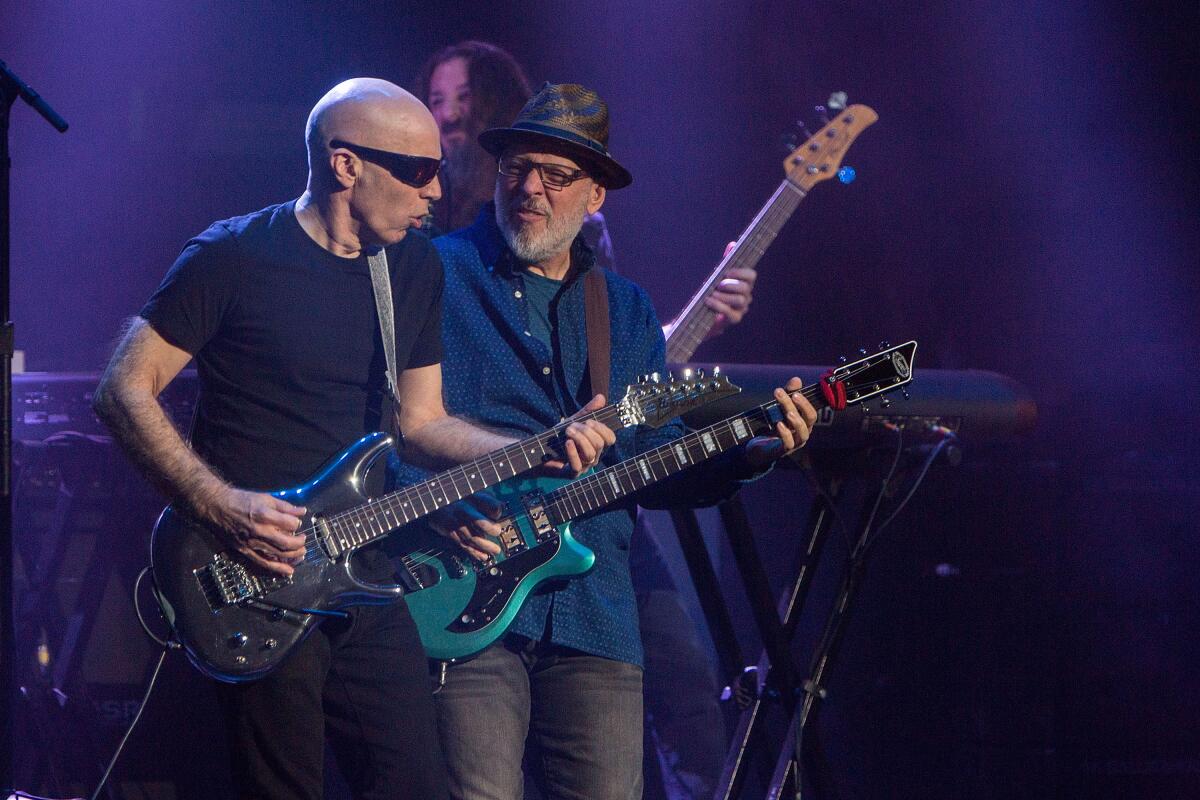 "For me, it's unusually concise," agreed Keneally, speaking last week from his new Arizona home.
"I had a whole other CD completed and thought about maybe putting out a two-CD set. But I thought this one makes a complete album and statement.
"It starts off with fairly straightforward songs and the last three selections are multi-section suites that go to different places. I thought that was an interesting way to structure the album."
Mike Keneally and Andy Partridge team up for truly 'Fantastic' album
Keneally had written two of the songs on "The Thing That Knowledge Can't Eat" prior to the pandemic. But he completed them after the start of the pandemic — when all of his tour dates evaporated overnight — and did the bulk of the album in his Alpine condo during the shutdown.
While Keneally has made one-man albums before, his latest release features some musical pals who he invited to remotely create and record their instrumental parts from home.
They include former Gentle Giant/Barney Kessel drummer Malcolm Mortimore and former Zappa band guitarist Steve Vai, who trades fleet solos with Keneally on the whimsically titled "Celery."
"I thought Steve's style would fit the song, so I asked him and he had the time and was way into doing it. Steve sounds phenomenal!" Keneally said.
"I met Malcolm at a Gentle Giant convention in 2017 and he was totally on board when I asked him if he'd play on this album."
If he wanted, Keneally could make multiple albums with his many musician friends and still not fit everyone in. Then again, he is currently a member of at least six different groups, including his own Beer For Dolphins.
They include The Zappa Band, which teams him with other Frank Zappa alums, ProgJect, a progressive-rock super-group, and the genre-blurring quintet The Bird Brain, whose debut EP came out last year.
Keneally is also a key member of the band led by Canadian singer-songwriter Devin Townsend. And he expects to resume working with Dethklok, a death-metal ensemble created to bring to life a fictional band that was featured on the animated Adult Swim TV series "Metalocalypse."
Last summer, Keneally toured abroad with his European trio. He also been working on a long-term project with Rock & Roll Hall of Famer Todd Rundgren.
The three-time Rock & Roll Hall of Fame nominee isn't letting the COVID-19 pandemic keep him and his nine-piece band from doing a unique 25-city concert tour
"I'm really grateful for all the opportunities I've had and continue to have," Keneally said.
"I'm open to all of it. If somebody asks me to do something I'm completely unsuited to, I'll do it. Because if somebody thinks I have something that will benefit their project, I'm always curious why they feel that way. I really enjoy changing things up and playing with disparate artists who are stylistically different from each other.
"It keeps my chops up and keeps me challenged. Those are primary ingredients to ensure my continued survival and growth while learning something new in the process. I would not summarily dismiss any project offered to me. Because one person's cheese is another person's soufflé."
Singing Keneally's praises
What do other guitarists think about Mike Keneally? We asked them.
Joe Satriani: "Mike is a genius guitar player and keyboard player."
Consistency has long been a hallmark for Joe Satriani.
XTC co-founder Andy Partridge: "He is such a ludicrously, laughably good musician. He's a frightening musician, so that's a delight."
Nels Cline of Wilco: "Mike is one of the absolute wizards of guitar wizards that only other music people really know about… He's terrifying! He's remarkable."
From Charlie Haden, Yoko Ono and the Grateful Dead's Phil Lesh to John Zorn, Wadada Leo Smith and Julian Lage, this six-string great has collaborated with a dizzying array of musicians
Guthrie Govan of The Aristocrats: "Mike plays things that are not physically possible, and he's a ridiculously musical guy. I really enjoy his songwriting and his chops as an arranger. But his musical mind impresses me more than anything."
The genre-leaping trio, which features guitar great Guthrie Govan and Joe Satriani's virtuoso rhythm section, performs Friday at UCSD's Price Center East Ballroom.
Living in the material world
The inspiration for the title of Mike Keneally's new album, "The Thing That Knowledge Can't Eat," comes from the 1994 book "Of Water and the Spirit: Ritual, Magic, and Initiation in the Life of an African Shaman" by noted West African author Malidoma Patrice Somé.
Keneally uses the word "Yielbongura" from Somé's book as a background vocal texture in "The Carousel of Progress," the concluding song on his new album.
Somé, who died in December 2021, wrote : "In the culture of my people, the Dagara, we have no word for the supernatural. The closest we come to this concept is Yielbongura, 'the thing that knowledge can't eat.' This word suggests that the life and power of certain things depend upon their resistance to the kind of categorizing knowledge that human beings apply to everything.
"In Western reality, there is a clear split between the spiritual and the material, between religious life and secular life. This concept is alien to the Dagara. For us, as for many indigenous cultures, the supernatural is part of our everyday lives. "
Keneally only learned of Somé's December 2021 death after the album art for "The Thing That Knowledge Can't Eat" had been completed.
"If I'd realized this sooner, I would have dedicated this song to him in the liner notes, so I very humbly dedicate it to him here (in thsi interview), instead," Keneally said. "Gratitude and respect sent out to Malidoma Patrice Somé — thank you for the inspiration."
Mike Keneally & Beer For Dolphins album release concert, with the Travis Larson Band & the Taz Taylor Band
When: 7 p.m. Friday
Where: The Grand Ritz Theater, 301 East Grand Avenue, Escondidio
Tickets: $32.16
Online: showpass.com/the-thing-that-knowledge-cant-eat/
george.varga@sduniontribune.com
Sign up for the Pacific Insider newsletter
You may occasionally receive promotional content from the Pacific San Diego.