Grammy 2023 Lifetime Achievement honorees include former San Diegans Ann and Nancy Wilson of Heart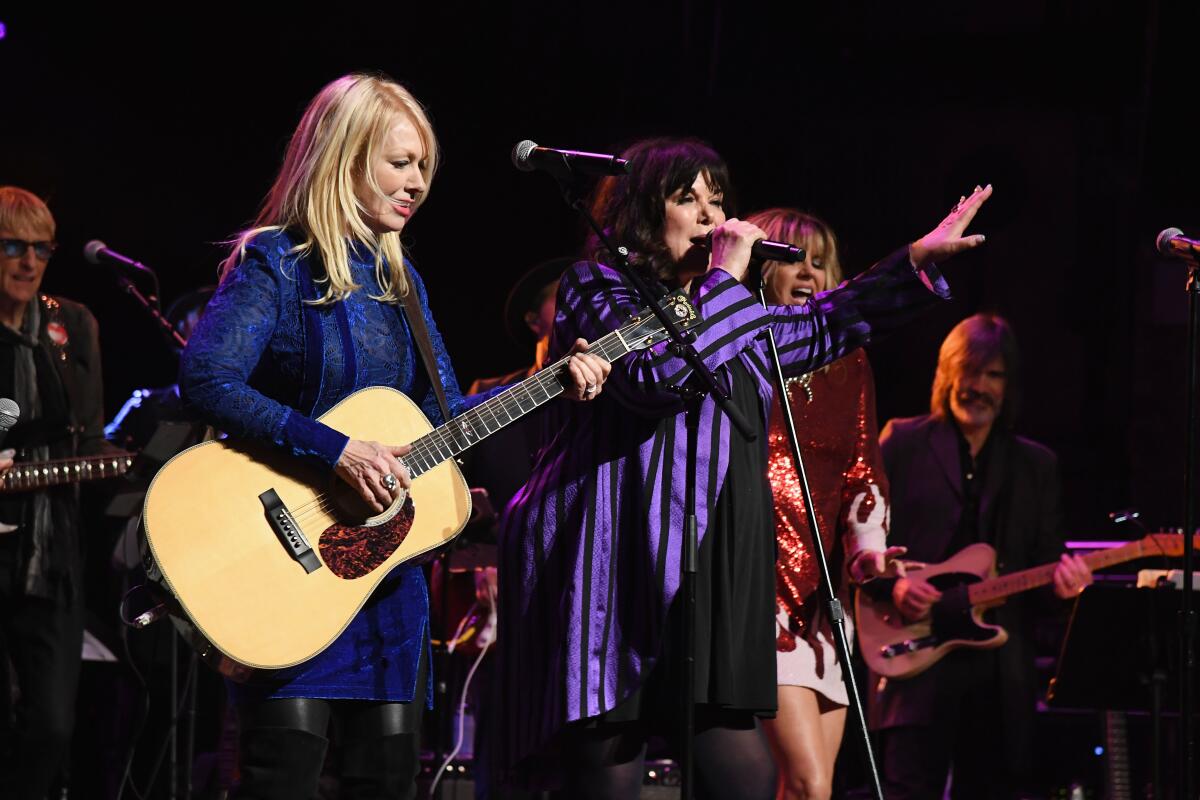 Other honorees include Nirvana, The Supremes, Bobby McFerrin, Nile Rodgers, Ma Rainey and Slick Rick "The Ruler"
Ann and Nancy Wilson, whose lifelong passion for music took root when they were growing up in San Diego County, are among the eight artists who will receive the Recording Academy's 2023 Lifetime Achievement Awards.
The Wilson sisters, who rose to fame in the 1970s with the band Heart, were inducted into the Rock & Roll Hall of Fame in 2013. They will be in illustrious company when they receive their Grammy Lifetime Achievement Awards at an invitation-only Special Merit Awards ceremony in Los Angeles at the Wilshire Ebell Theatre.
This year's other Lifetime Achievement Awards honorees include The Supremes, Bobby McFerrin, Nirvana, blues pioneer Ma Rainey, Chic band co-founder and noted producer and songwriter Nile Rodgers, and rapper Slick Rick. The honorees were announced Thursday morning.
Mel Brooks, 96, Willie Nelson, 89, John Mayall, 88, and Buddy Guy, 86, are among the oldest artists to earn nominations
The Special Merit ceremony will be held Feb. 4, one day before this year's edition of the Grammy Awards ceremony. It will apparently be the first Special Merit ceremony to be held at the Wilshire Ebbell since 2015.
In 2016, the ceremony was transformed into a CBS TV special billed as "GRAMMY Salute To Music Legends." It was put on hold because of the COVID-19 pandemic shutdown.
Buddy Guy, George Harrison, Pierre Boulez, the Louvin Brothers, Ray Kurzweil, the Bee Gees and others honored at Saturday's Special Merit Awards
The Lifetime Grammy Achievement Award is the latest honor for the Wilson sisters, one of whom — singer Ann, 72 — was born in San Diego. The siblings grew up, in part, at Camp Pendleton, where their father was stationed more than once as an officer in the U.S. Marines.
Heart's hard-rocking debut album, "Dreamboat Annie," was released in 1975. But the artistic impetus that set Ann and Nancy on their shared musical path took place in 1964 when they went to their grandmother Maudie's house in La Jolla to watch the debut of The Beatles on TV's "The Ed Sullivan Show."
The Rock & Roll Hall of Fame inductee steps into solo spotlight: 'I've been meaning to do this album for ages'
"Our goal was that we were going to be in The Beatles," Nancy Wilson recalled in a 2021 Union-Tribune interview. "We were not going to date The Beatles or marry The Beatles, but to be The Beatles. We already knew how to harmonize from singing with our aunts, uncles, cousins and grandparents."
The Grammy Lifetime Achievement Awards are not the only honors that will be given out Feb. 4 at the Grammys' Special Merit Awards ceremony. This year's Recording Academy Trustees Awards recipients include legendary music photographer Henry Diltz, the late jazz piano great and music educator Ellis Marsalis and Stax Records co-founder Jim Stewart. The 2023 Technical Grammy Award honorees are Andy Hildebrand and the Audio Engineering Society.
"The Academy is proud to celebrate this diverse slate of influential music people spanning numerous genres and crafts as our 2023 Special Merit Awards honorees," Recording Academy CEO Harvey Mason Jr. said in a statement Thursday morning.
"Each creator on this list has made an impact on our industry — from technical to creative achievements — representing the breadth of music's diverse community. We're excited to celebrate this group of legends next month that continues to inspire and shape the music world."
Sign up for the Pacific Insider newsletter
You may occasionally receive promotional content from the Pacific San Diego.